11 Top Trends Dominating Logistics And E-commerce In The UAE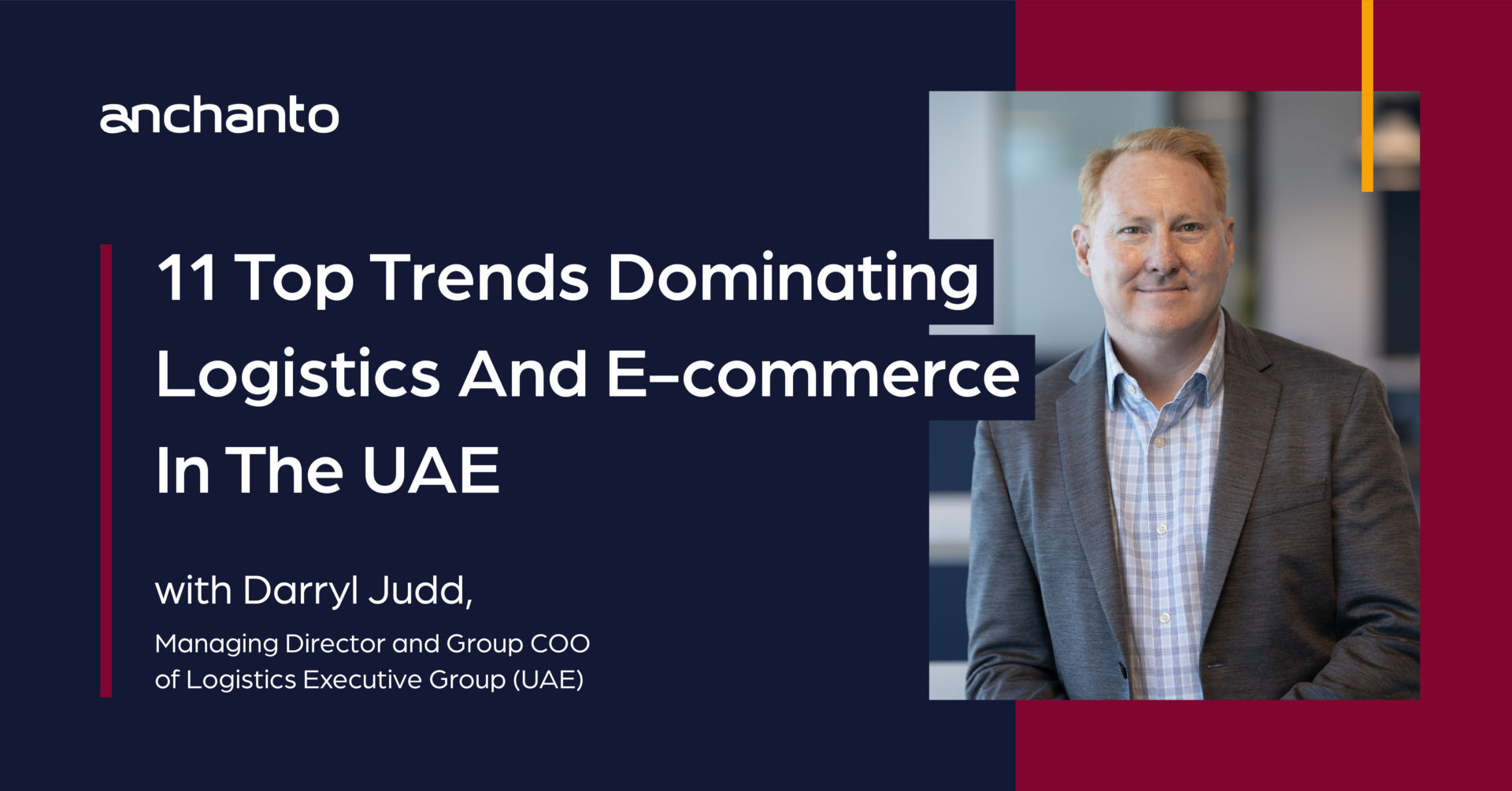 Investment in infrastructure is a well-known priority in the Middle East. Particularly in the logistics segment, where significant infrastructural development is expected to generate revenues of over $30 billion by 2025.
The modern logistics infrastructure connects major transportation and trade hubs, distribution centers, free zone areas, warehousing areas, and freight terminals. Connecting all of these segments is an opportunity for local and foreign trade and of late, e-commerce.
The logistics and online retail markets are encouraging each other's progress in the Arabian region. And this is expected to transform the present landscape of the two sectors.
The UAE is expecting a 23% annual revenue growth from e-commerce, which we anticipate to be fueled by the logistics sector among other factors.
We had the opportunity to discuss with Darryl Judd, Managing Director and Group COO of Logistics Executive Group (UAE) the course of e-commerce logistics in the UAE and region. Our conversation with the logistics industry veteran uncovered these compelling trends.
1. GCC to become a central hub for inventory and logistics
The GCC (Gulf Cooperation Council) is a hub for trade given its central location and strong ports. So today, across the GCC, logistics companies are leveraging their strategic location and enriching services with technology to centralize inventory for cross-border retail. This will allow them to enhance the position of the UAE, Saudi, and other countries in the GCC as the primary holders of inventory.
As logistics firms in these regions prepare themselves to engage more overseas customers, they will have a unique opportunity to provide. This is revolutionary as it promises better market connectivity, faster delivery, and reasonable costs.
In Dubai itself, re-exports make up over 30% of trade throughout the city. Goods worth billions of dollars from electronics to nuts and spices and more come to Dubai before they are traded off to a host of countries around the globe.
Darryl believes the GCC will increasingly be a pivotal staging point and a central inventory hub, with technology being essential to manage supply chain flows.
He says, "Today, the UAE acts as a holding point for inventory, with much of the goods flowing from Asia, Europe, and Africa. The network capability, huge presence of free trade zones, and connections out of the Middle East are growing only to increase the value proposition for staging goods from the Far East destined for the global markets.

The size and rapid growth of the consumption and online markets that is being seen across the GCC allows BCO's the opportunity to position and leverage central inventory pools in the region for local markets. Yet, they can distribute fast and effectively across the global using the strategic location of the UAE.

Buyers in the US, Europe, and Africa can draw from a common pool of inventory that accelerates the supply chain. This is better than having a consignment shipped to the US where it remains unsold as demand drops and increases in other markets once the seasons are reversed."

What happened here is they used their inventory wisely and were pulling from a central pool. This decision with the supply chain was based on order insights received from customers lined up. With the right technology like order and warehouse management software, it's quite simple to manage a central pool no matter the market location.
2. Progression of fulfillment efforts within the UAE
Online retail has developed slowly due to various hurdles like delivery accuracy and speed as the addressing system was still maturing. Today, logistics companies have handled last-mile delivery hurdles and bridged the communication gap between customers and delivery service providers. E-commerce fulfillment has also evolved to the point where there's more confidence in online shopping.
"We're at this really interesting dynamic, and technology is key. I think for logistics companies that have pivoted into e-commerce or are developing capabilities in e-commerce, it is important to be nimble, flexible and importantly, they must use data in a manner that enables supply efficiency by serving their customers with B2B, B2C, or D2C solutions model," claims Judd
But for this, deployable technology is vital. Large organizations with multiple brands in their portfolio or big distributors can afford to invest in building their inventory management systems. But it has to be nimble enough to adapt to their business practices quickly and efficiently as customer behavior changes.
"The emergence of technology like Anchanto, which can be deployed quickly and seamlessly, is nimble enough to create flexibility between changing demand and more importantly at the cost scale that makes it economical to plug it into your market becomes a critical enabler. And it's only that shift in technology with SaaS models that can you improve the fulfillment function," says Darryl Judd.
3. Offline to online retail pivot to continue
The retail landscape is continuously evolving with more companies offering online shopping supported by reliable e-commerce platforms, payment gateways, communication features, and delivery channels.
Darryl Judd remarks on this saying, "Today, many individuals have great confidence in buying online. Buyers know they're going to get what they ordered, they know it's at the right price point, they can communicate with merchants, and their orders are more visible now while in transit, which gives them even more confidence."
According to a study by The Mastercard Economics Institute, 20% of the digital shift in retail is set to remain. The report also points out that e-commerce subscriptions for wine clubs, weekly grocery delivery, and clothing are on the rise. The retail subscription share of total spending increased by 1.5x from 2020 to 2021 in the UAE, making the online pivot a trend to look out for.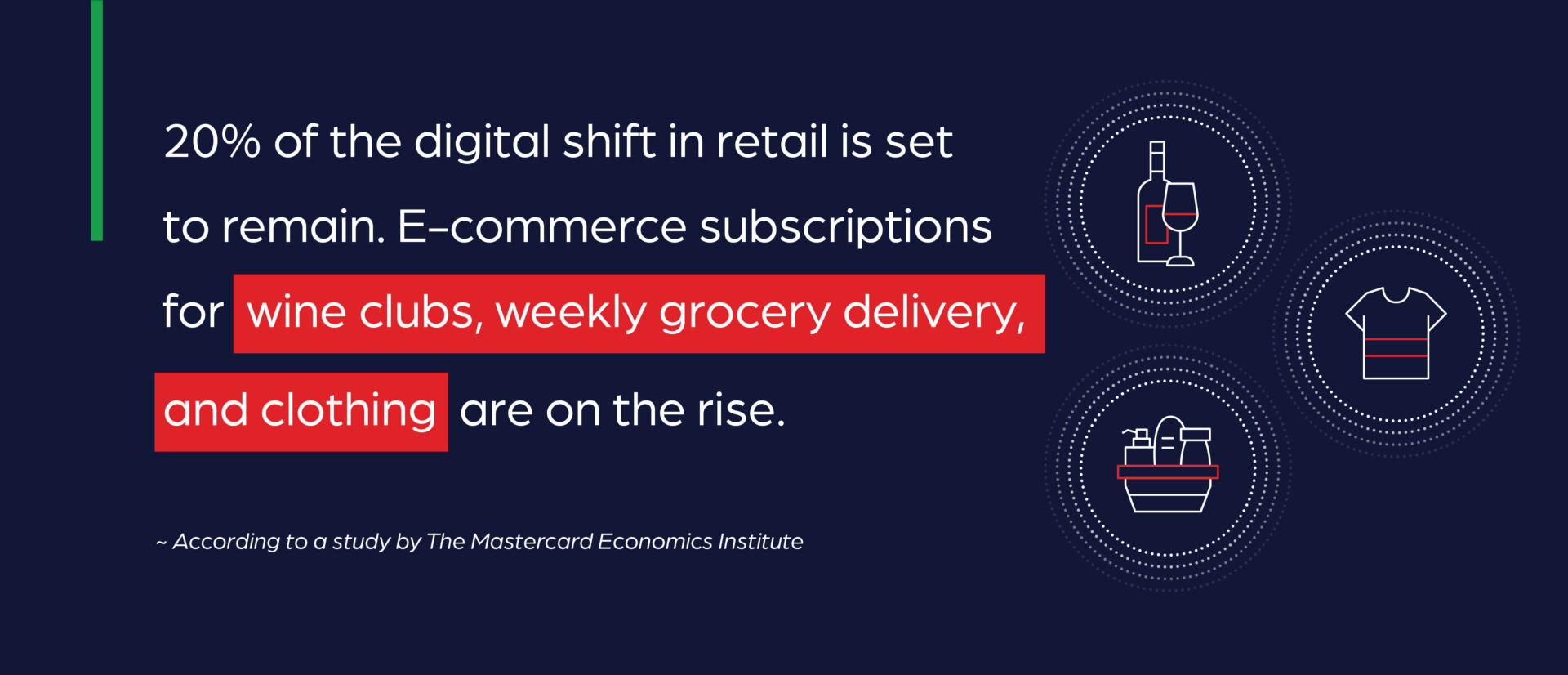 4. Logistics companies to encourage e-commerce, B2C, and D2C retail
While many businesses come to realize the advantages of e-commerce, they don't have the warehousing, logistics, and management systems to cope with large volumes of small-quantity orders. But, logistics companies implementing order management technology can manage this inventory efficiently and even encourage clients to try e-commerce.
"Let's consider an example, if you take Anchanto Order Management and your logistics' backend system and connect them, you can say to your customers, 'Look, I already house your B2B goods, have you ever thought about going online?' With the power to automate and integrate, you can help manage orders and inventory. Additionally, your customers will have the opportunity to connect to different marketplaces, and control and manage their catalog there," explains Judd.
With a seamless connection between logistics players and marketplaces, retail businesses can quickly begin to sell on platforms previously out of their reach, like Lazada, Amazon, and others. And more importantly, they can manage fulfillment complexities through their logistics partners with technology that enables them to support B2C services.
5. Growth and penetration of African e-commerce
Africa is at the doorstep of the UAE and it's interesting to see how their e-commerce is unfolding. Africa is forecast to exceed half a billion e-commerce users by 2025, which equals a steady CAGR of 17% in terms of online consumers.
Beyond the massive uptake and the next wave of e-commerce growth that's coming within the country, suppliers in Africa are also scaling internationally.
Darryl says, "Many African brands are now exporting outside their local markets through the enablement and reach provided by online marketplaces to global markets. You could say 9% of all African e-commerce is occurring outside of Africa. This was unimaginable a few years ago and it still would be without advanced technology and efficient logistics."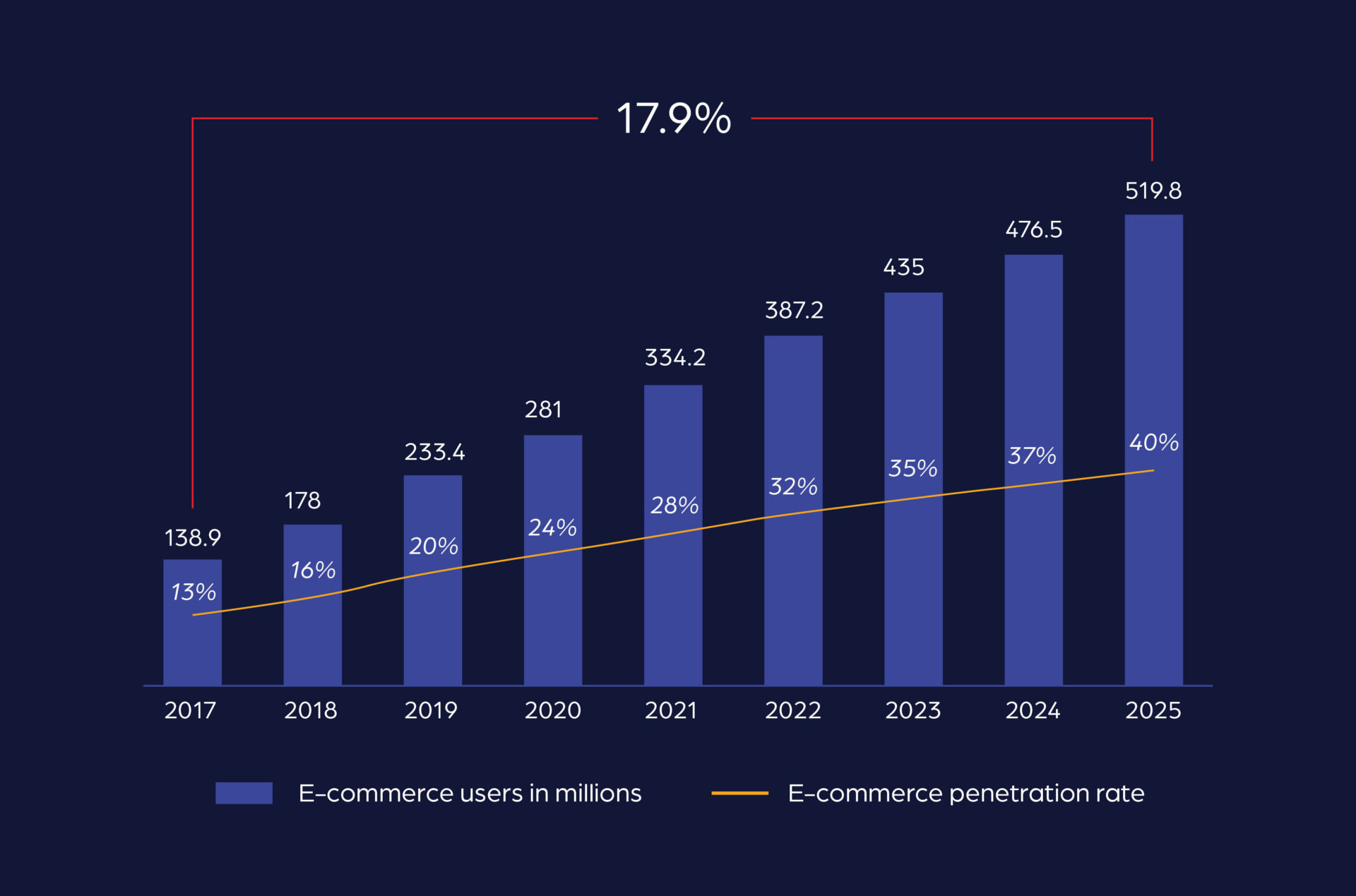 6. Reduction in brands doing their warehousing and logistics
Initially, the B2C fulfillment space wasn't as strong as it is today making retailers and distributors handle fulfillment themselves. Now, logistics companies have developed their B2C capabilities and become more consumer confident. They incorporate technology to automate repetitive tasks and fine-tune their services to meet customer and end-consumer requirements.
"Back in the day, having your agnostic logistics company meant you were able to optimize it, giving you control. Today, managing these aspects is challenging when selling goods is your core activity," explains Judd.
Developing the logistical aspect of a retail business means building best-in-class systems and continuously investing in them to serve customers better and maintain the appropriate balance of assets – be it a warehouse or a vehicle. So, brands have to decide if they want to invest in their brand, product innovation, and growth or the infrastructure that connects them to their target market.
Judd believes there is a real opportunity for logistics companies to play a smart role by bringing smart innovation to market, being incredibly customer-centric, and understanding the benefit of cargo owners (BCOs).
He says, "BCOs are serving customers in a manner that is fluid and constantly evolving. And working with these BCOs that are adaptive and continuously optimizing and innovating the logistics channel means you can focus on what you do best."
7. Simplification of the supply chain
The supply chain is currently incredibly complex. And every time inventory changes hands, whether it's from a manufacturer to a transporter, to an ocean liner, to a port, to a warehouse, warehouse, and so on data is changing. This adds to the complexity of the supply chain and brings about more points of failure as customer expectations could be missed.
And because this complexity is challenging to monitor, it often gets out of hand resulting in mistakes, misplacement, delays, and lost inventory.
There is massive working capital tied up in the inventory moving through the supply chain, and no revenue materializes until a customer makes a payment. For them to do that supply chain simplification is essential.
"I think, we'll see supply chains become more simplified in the coming years. There'll be more cooperation between asset owners to enable their networks to move more as an integrated network. I believe an essential part of this is the use of technology to pull all of that together giving customers the confidence, and visibility needed to make smarter business decisions," says Darryl.
8. Logistics companies to plug into food delivery and transport networks
Besides the convenience of being able to buy products from the comfort of their homes, consumers today want fast delivery – either on the same day or the next day. But executing this is expensive for logistics companies.
Judd suggests that logistics companies in the UAE could partner with existing transport modes that do same-day delivery like food delivery businesses. This is already happening to a certain extent and is likely to scale.
He says, "Logistics companies are now realizing that apps like Uber are transport modes they can use. And if companies activate these for other commodities such as parcels, prescription products, etc., they can speed up e-commerce deliveries."
To take advantage of these networks, a technology platform that can communicate delivery requests is vital. This is possible with a WMS (Warehouse Management System). Logistics companies handling fulfillment can connect with food delivery companies, convey their order delivery addresses and time frames, and then the delivery company can assign food pick-up and delivery routes to drivers based on the product delivery route they're taking.
9. Liberalization of the UAE market
Given the amendment of commercial laws allowing non-native investors to own up to 100% of local companies, overseas firms can look forward to expanding their business in the UAE.
Darryl Judd says, "The new business environment we have is going to open up the marketplace. Foreign companies can now come and set up wholly without local sponsors. This is going to fuel the next wave of the smaller brands."
Developing a company in the UAE could be a turning point for many retail brands ready to invest in cross-border expansion. The country has a strong economy and could give immense exposure to companies due to its reputation as a popular hub for trade.
10. Online marketplaces to become more powerful
E-commerce has gained significant momentum in the last three years. And given the response to digital retail, online marketplaces have also started becoming pre-eminent. Novel marketplaces are on the rise as the demand for convenient online shopping is increasing faster than ever.
Darryl gives an instance of this saying, "Noon.com wasn't around 10 years ago in a market dominated by very few outlets. But now, it is a very strong online player in the UAE."
Additionally, businesses in the UAE now find it comparatively easier to work with widespread marketplaces like Lazada, Amazon, and others with the opening of more marketplaces, improved connectivity, and availability of multichannel and order management technology.
"More importantly, businesses can manage the complexity of fulfillment through their partners and the deployment of technology that enables them to now offer fine-tuned B2C services. Whereas previously they may have offered a B2B only or an extension of it was more challenging to achieve," adds Darryl.
11. Logistics companies to focus on customer-centricity
To attract a large influx of customers, it is necessary to give them what they desire through customization. This approach also enables businesses to stand out from the competition.
"Initially, logistics companies built warehouses and customers would come. Now, it takes more to capture customers. Logistics firms must build solutions that connect customers to their consumers. So, I think we'll see logistics companies become increasingly customer-centric in their approach just as the front end of retail brands focus on understanding all the things important to their valued customers," mentions Judd.
To develop logistics solutions their customers will enjoy, these companies in the UAE are investing in SaaS Order Management Systems (OMS) and e-Warehouse Management Systems (WMS). Logistics providers like Aramex, are focused on digitization and using a whole range of technologies to provide customers real-time visibility, improved experience, and ultimately faster deliveries.
If you'd like to know more about the technology driving these trends across e-commerce and logistics in the UAE reach out to our experts today. If you're considering exploring the Middle East or global market through e-commerce or multi-channel retail, we're happy to share our insights.