6 Benefits E-commerce Brands Can Achieve With Digital Shelf Analytics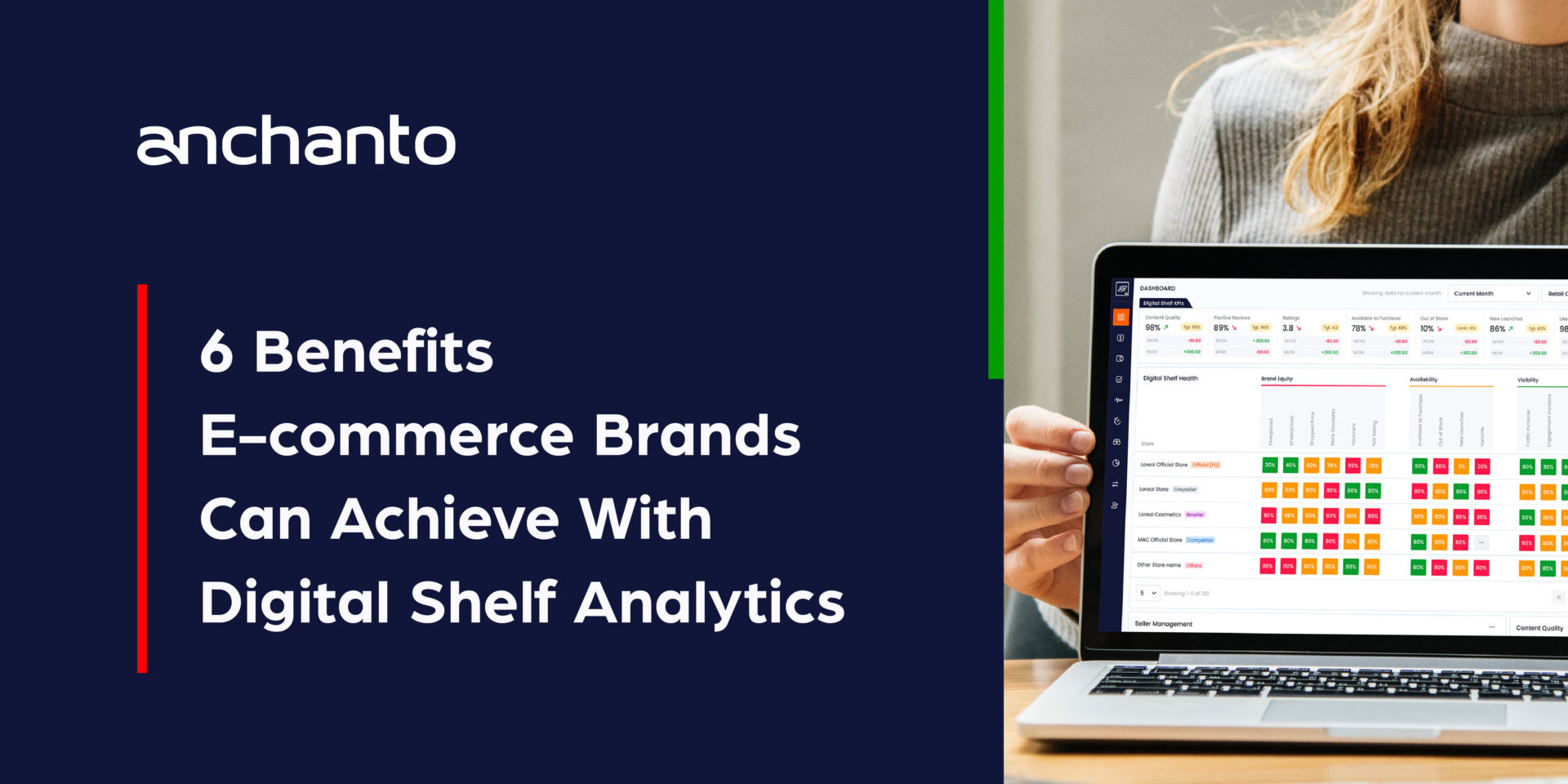 1. Introduction
In recent years, the world of e-commerce has witnessed a dramatic rise in popularity as a result, the e-commerce landscape has become a competitive arena with brands and retailers of all sizes.
To truly comprehend the magnitude of the online retail competition in 2023, here are some astonishing figures to consider:
2 million businesses worldwide sell on Amazon [1]
1 million+ brands and retailers sell on Lazada [2]
18.3 million+ sellers have accounts on eBay [3]
Beyond these, other major marketplaces across the globe are also seeing thousands of businesses signing up to their platforms.
So, how do you stand out in this loud and crowded space?
Once you crack that, how do you deal with price wars? How do you identify and reduce potential gaps between your and your competitor's offerings? How do you hold onto your market share and revenue while expanding profitably?
The solution is simple – digital shelf analytics.
But before we dive into this, let's see how far you can get without real-time market insights.
2. E-commerce Can Work Without Digital Shelf Analytics, But at a Cost!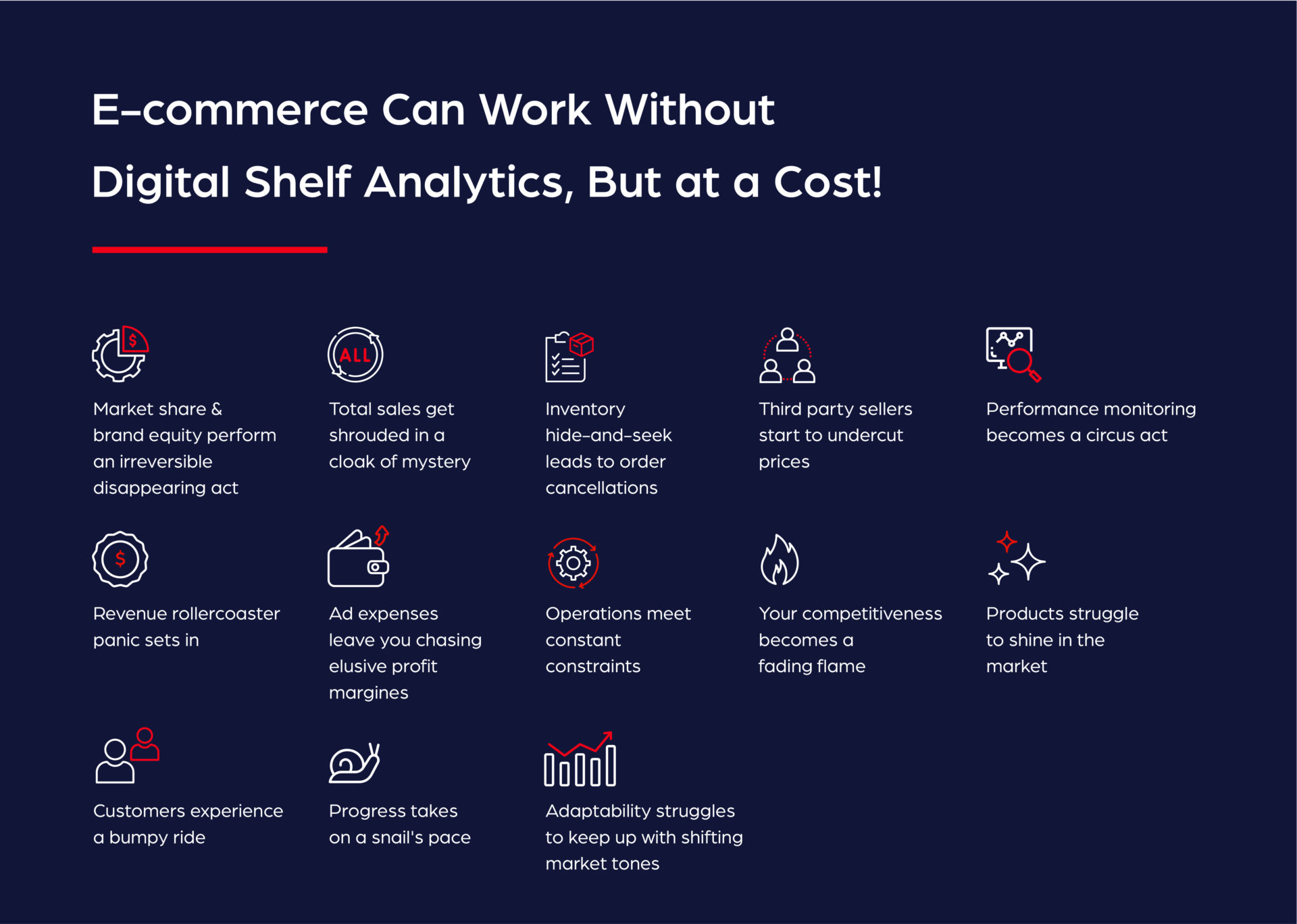 While you can sell online without digital shelf analytics, its absence comes with a long list of costly challenges that impact business performance and growth. Here are some of the situations that may occur:
Market share and brand equity perform a disappearance act
Not knowing your share of search or position in the e-commerce market against your competitors can lead to ill-informed decisions. The parameters for competing will also be unknown without knowledge of what your competitors are doing better than you.
Total sales become shrouded in a cloak of mystery
The inability to track your own sales will lead to inaccurate revenue and profit calculations. It will also impact your pricing and promotions strategy. Effective pricing is crucial to maintain e-commerce competitiveness. But with a lack of valuable data on competitor pricing, price elasticity, and market trends your businesses may struggle to set competitive prices, potentially leading to lost sales or lower profit margins.
Inventory hide-and-seek leads to order cancellations
Misrepresenting stock online can lead to overselling or out-of-stock products that cause customers to cancel orders frequently. Without the right means to track inventory across your storage locations you won't be aware of your low stock levels or buffer stock.
Third party sellers start to undercut prices
Grey sellers and resellers may undercut your brand's authorized price leading to reduced profit margins. Without digital shelf analytics to monitor their market listings, tracking their pricing and holding them accountable is difficult.
Performance monitoring becomes a circus act
Without the infrastructure to generate digital shelf health analysis, you have to monitor your and your competitors' business performance manually. This will require dedicated resources to track and analyze data, which can be inefficient, especially as the business scales or in the case of brands with complex distribution networks.
Revenue rollercoasters panic sets in
Failing to price your products competitively (that is if you overprice or underprice products) and not knowing what customers want will affect your profits and revenue significantly. Working against customer expectations is only going to enhance your expenses and diminish profits.
Ad expenses leave you chasing elusive profit margins
A lack of visibility on the share of search and keyword ranks will affect your ad and SEO bids, causing poor return on ad investment. You need to know what your target audience is looking for when it comes to your products. Based on this insight you identify the keywords ideal prospects use to ensure they reach your product listings.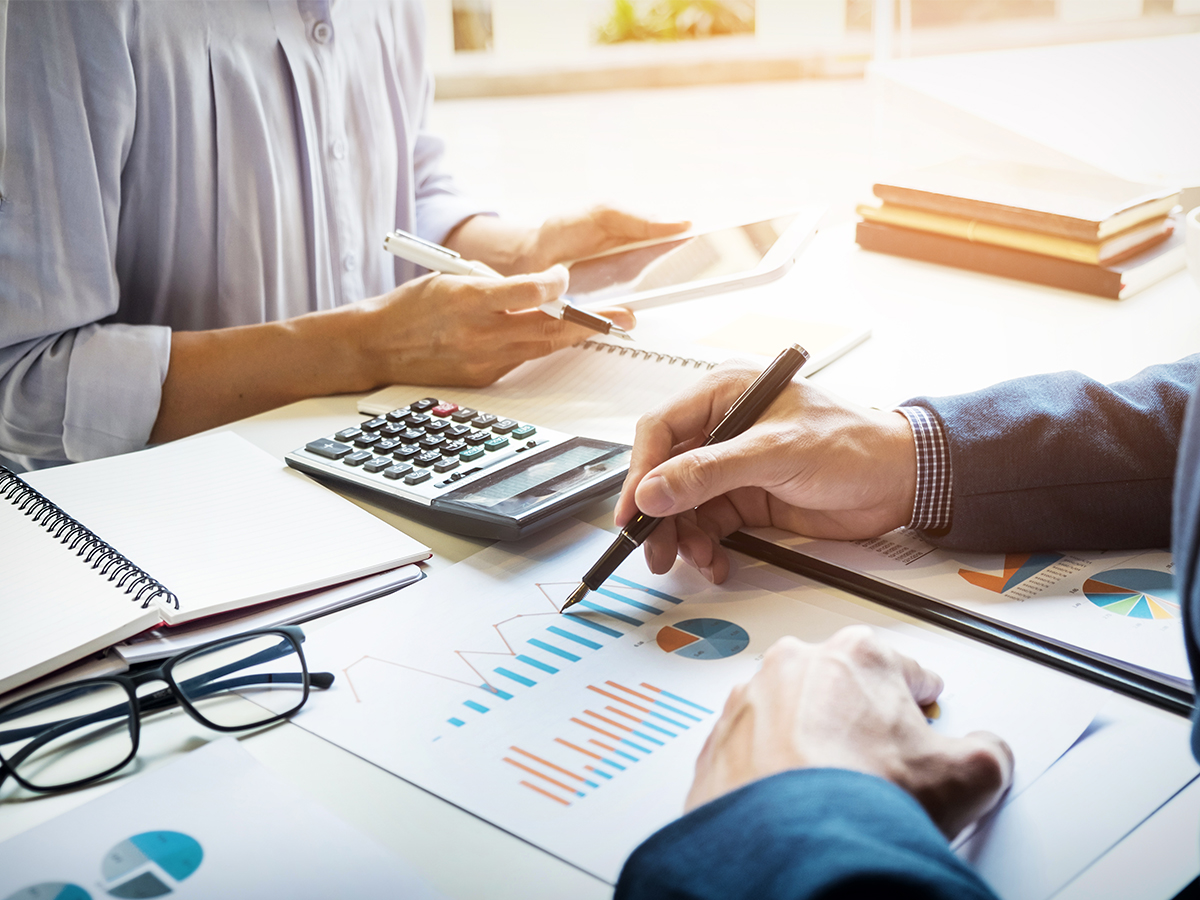 Operations meet constant constraints
Your business may struggle to make data-driven decisions and may not be able to fully optimize their e-commerce operations without insights from digital shelf analysis. This can impact optimizing product visibility, pricing, assortment, and merchandising
Your competitiveness becomes a fading flame
In the highly competitive e-commerce landscape, if you lack digital shelf health analysis, you may find it challenging to stay competitive. Without an understanding of customer preferences, pricing strategies, and market trends, your competitive advantage reduces, you miss growth opportunities, fail to identify potential issues or gaps, and struggle to respond effectively to market changes. Moreover, you cannot monitor competitor insights like price changes, promotional strategies, and customer reviews. This can leave you blindsided by your competitors' moves.
Products struggle to shine in the market
Digital shelf analytics provides insights into how products are positioned, displayed, and presented on e-commerce platforms. Without this information, your business may struggle to optimize product visibility resulting in lower discoverability, reduced click-through rates, and ultimately, decreased sales. You also lose sight of your third-party sellers' performance with your products and become dependent on their delayed (and sometimes erroneous) sales reports.
Customers experience a bumpy ride
Understanding customer preferences is essential in e-commerce today. Without customer behavior data, such as search patterns, browsing habits, and purchase preferences, your team and partners may find it challenging to select the right mix of products to meet customer demand, leading to inventory inefficiencies and missed sales opportunities. You will also have limited insights to optimize product placement, product descriptions, and visual elements to enhance the customer experience.
Progress takes on a snail's pace
Analyzing your digital shelf allows your business to monitor performance metrics, track key performance indicators (KPIs), and identify areas for improvement. Without this data, you may struggle to identify and address issues, potentially leading to stagnation and missed growth opportunities.
Adaptability struggles to keep up with shifting market tones
E-commerce is a dynamic and rapidly evolving landscape. Without insights into market changes and emerging trends, your teams may find it challenging to adapt strategies and offerings to evolving customer demands.
3. Traditional Methods are Killing Your Business
No matter the sport, you want to be prepared with knowledge of your capabilities, competition, the playing field, and smart tactics to win before stepping into the game.
With online retail, it's no different.
But how you collect information on your performance, the competition, the playing field, and put together your play (or strategy) can significantly impact your outcome.
Currently, many businesses are going into e-commerce blind or functioning with limited or dated insights on three key aspects. These include:
The digital space
Key competitors
The target audience
Here are some of the resources commonly used to gather digital shelf and market insights in e-commerce and their limitations:
Market data reports from companies like Nielsen Holdings, Gartner, and Forrester Research are incredibly insightful but also valuable for a limited period of time and lack real-time information.
Business intelligence (BI) tools offer significant advantages in terms of data analysis and decision-making, but they have certain limitations, like data integration complexities due to data collection from different sources requiring extensive mapping, transformation, and consolidation.
Marketplace dashboards offer great insights but again data consolidation is required when selling across different marketplaces.
Manual analytics is another approach to assessing performance, competition, and markets. But this is a big investment as multiple resources are required in-house and very often analytical data may be dated, inaccurate, or delayed.
Online retail is a complex space with opportunities but also pits that can hurt your business. So, visibility is invaluable in e-commerce and the best way to acquire it is through real-time digital shelf health insights.
What's the best way to mine these golden insights?
The simple answer is digital shelf health monitoring technology.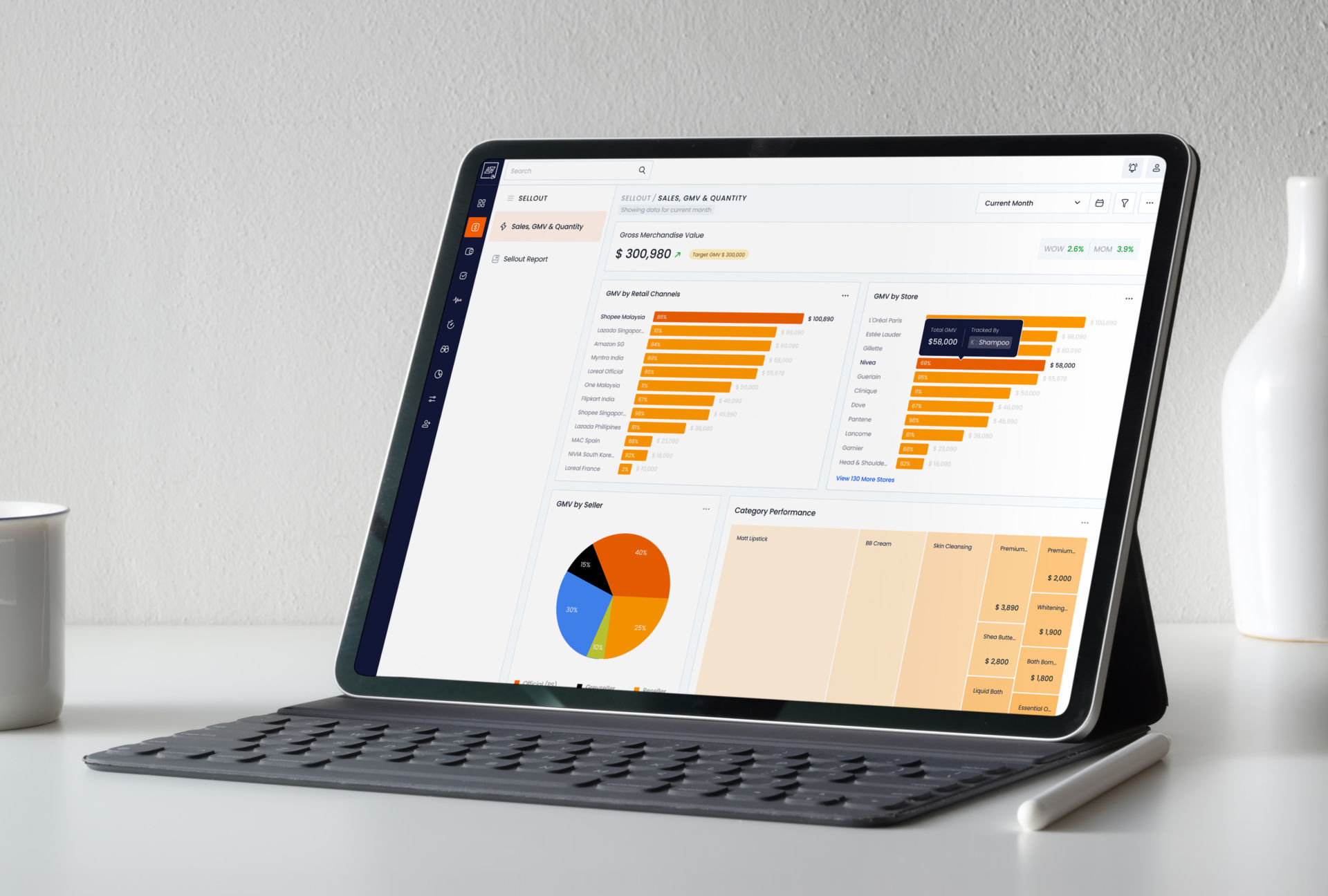 4. What is Digital Shelf Analytics Technology Capable of? Which Capabilities do Enterprises Rely on?
Digital shelf health monitoring technology goes beyond basic online presence data gathering. It offers a comprehensive set of capabilities that enable brands and retailers like you to gain a competitive edge. It provides valuable insights into product visibility, content quality, pricing strategies, competitor activities, and customer sentiments. By leveraging these capabilities, you can make data-driven decisions, improve your digital shelf performance, and accelerate your growth.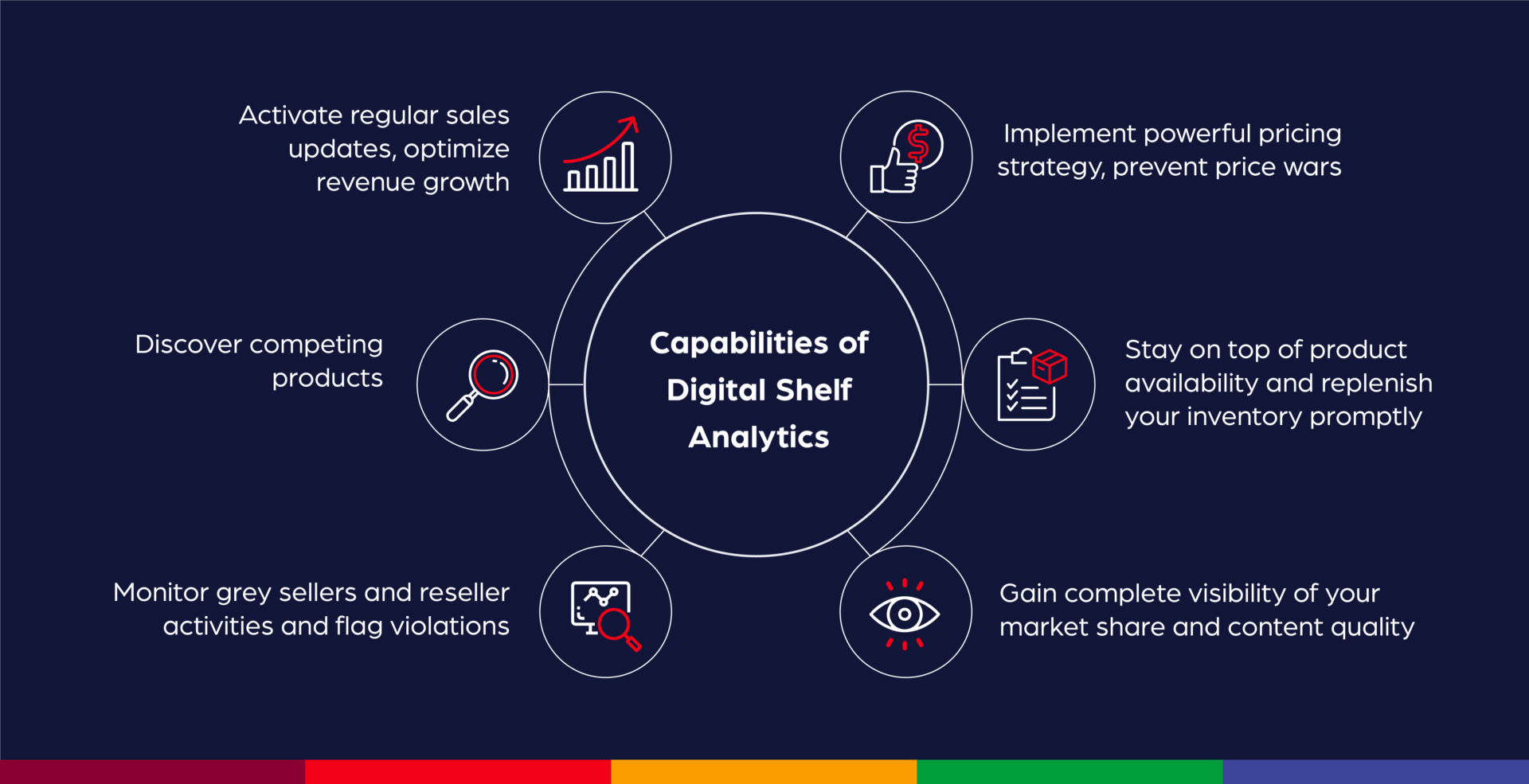 Let's dive deeper into the top capabilities of this technology and their impacts:
a. Implement powerful pricing strategy, prevent price wars
With the right technology stack, you can monitor price trends and accordingly price your new products. You can analyze products similar to yours to determine if yours are overpriced or underpriced and take immediate action to avoid losing revenue in price wars. Monitoring competitor discounts and promotions is another possibility to keep your product price more competitive.
b. Gain complete visibility of your market share and content quality
Take your customer experience to the next level with digital shelf insights about your content quality in terms of product images and descriptions. Capture the market perception of your products and address customer concerns through a sentiment score based on your online ratings and reviews. Some digital shelf analytics platforms also compare your brand visibility, engagement, and traffic with your competitors' to measure your share of search so you can fine-tune your customer touchpoints.
c. Stay on top of product availability and replenish your inventory promptly
Monitor product availability across your online sales channels over set time frames to stay on top of your stock levels. At the same time, monitor existing products and new launches by your competition across different platforms to improve your strategy. You can also compare your product sales with competing products and ensure your variant is stocked up accordingly.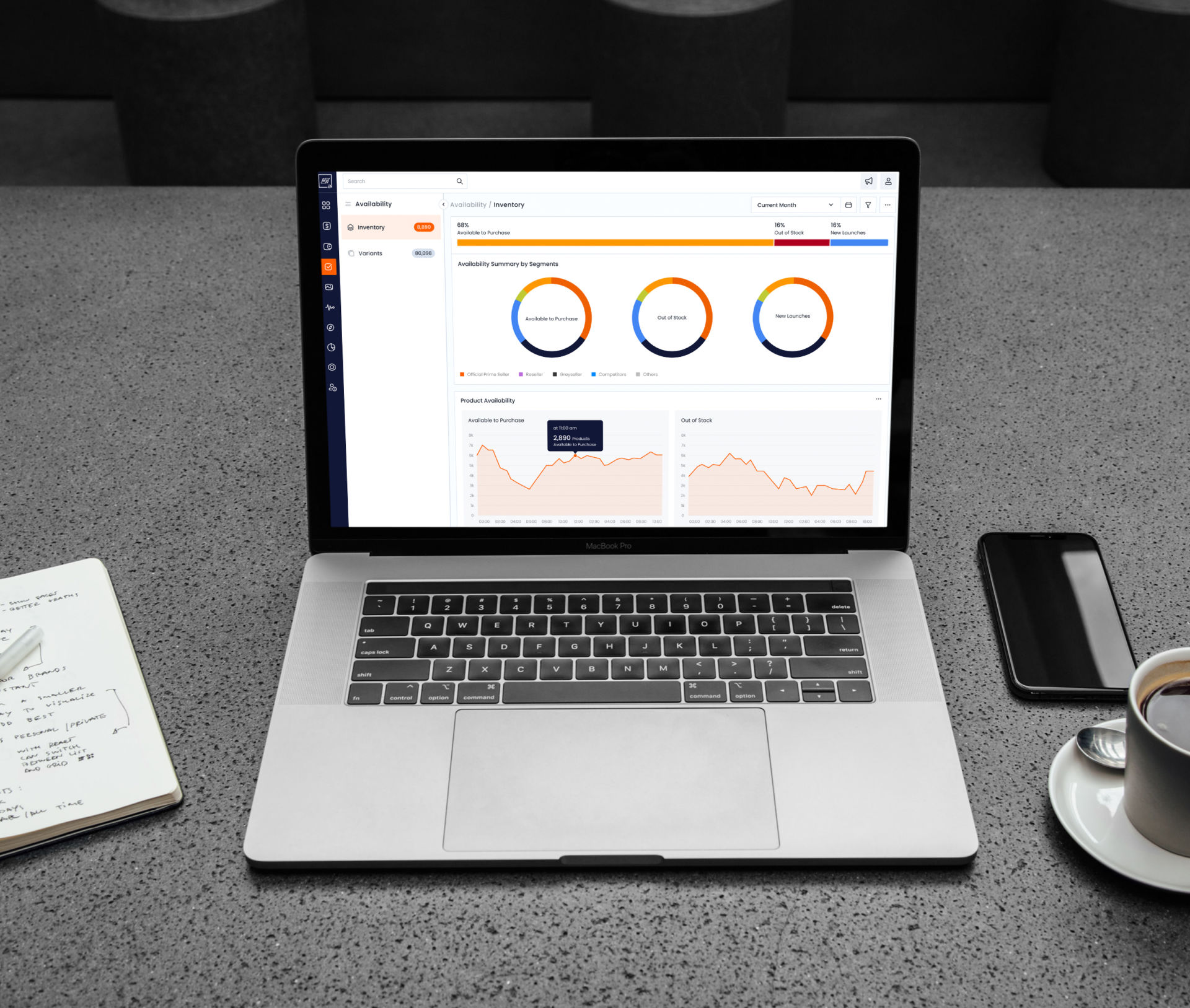 d. Activate regular sales updates, optimize revenue growth
Get a clear picture of your GMV by marketplace, brand, seller, and category multiple times a day with the appropriate digital shelf technology. You can streamline your efforts and resources by monitoring top-performing and low-performing products by units sold and GMV and make data-driven decisions with detailed charts of bestselling brands based on channel performance. Your sales and marketing can even leverage specific reports by price range and units sold to optimize revenue.
e. Monitor grey sellers and reseller activities and flag violations
Clearly compare resellers, grey sellers, and official brand stores across diverse pricing parameters to ensure you're not losing out on revenue due to violations by third parties or partners. With direct integrations to your backend operations system, your digital shelf analytics technology can protect brand value and consumer trust by flagging price violations by grey sellers and resellers
f. Discover competing products
Explore what competing products your competition sells and compare them side-by-side based on parameters that matter to you. For example, selling price, reviews score, discounts offered, and more. You can identify similar products based on common keywords and get detailed information for stand-alone products and store with pricing history, promotions, likes, and more for thorough comparisons.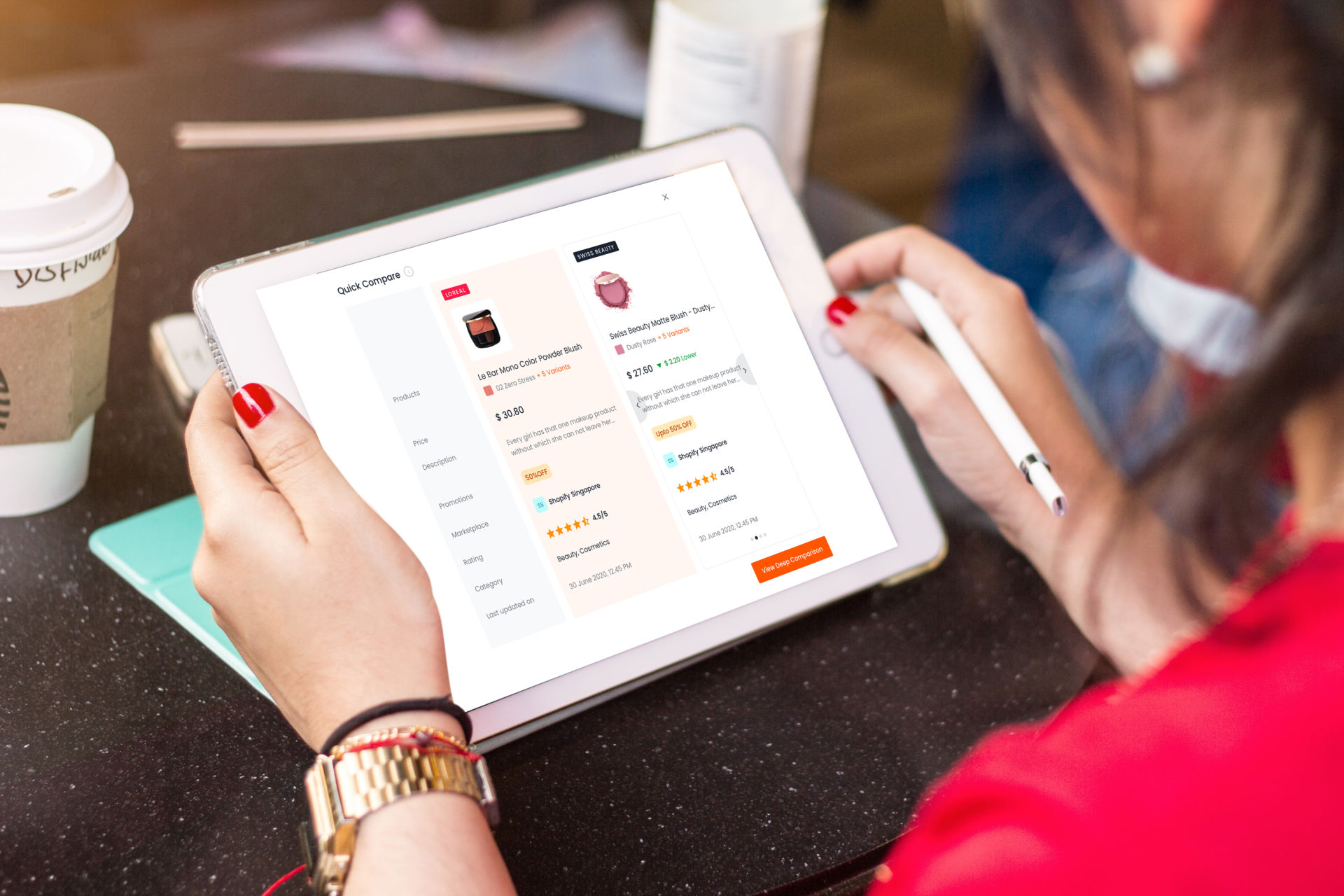 5. Time to Out Perform with Digital Shelf Analytics
The future of Digital Shelf Analysis is promising for brands and retailers aiming to gain a competitive advantage. By leveraging digital shelf data, you can make informed decisions, optimize product offerings, and enhance the customer experience.
In today's fast-paced business environment, not embracing digital shelf analytics is a risk you cannot afford to take. Disregarding the power of data-driven decision-making with technology solutions can lead to a major loss. That's because data is the ultimate requirement to maximize your digital shelf presence and minimize competition and loss of market share.
Now is the moment to seize the advantages of digital shelf analytics. By investing in this game-changing solution, you can position your brand at the forefront of the industry, outperform rivals, and captivate their customers with tailored offerings and exceptional experiences. The future belongs to those who recognize the potential of this technology and act upon it. Don't miss out on the incredible opportunities awaiting your brand in the world of digital shelf analysis.
Want to know more about digital shelf analytics technology?
Reach out to our e-commerce experts!