7 Reasons Why FMCG Brands and Warehouses in E-commerce Need Order and Inventory Software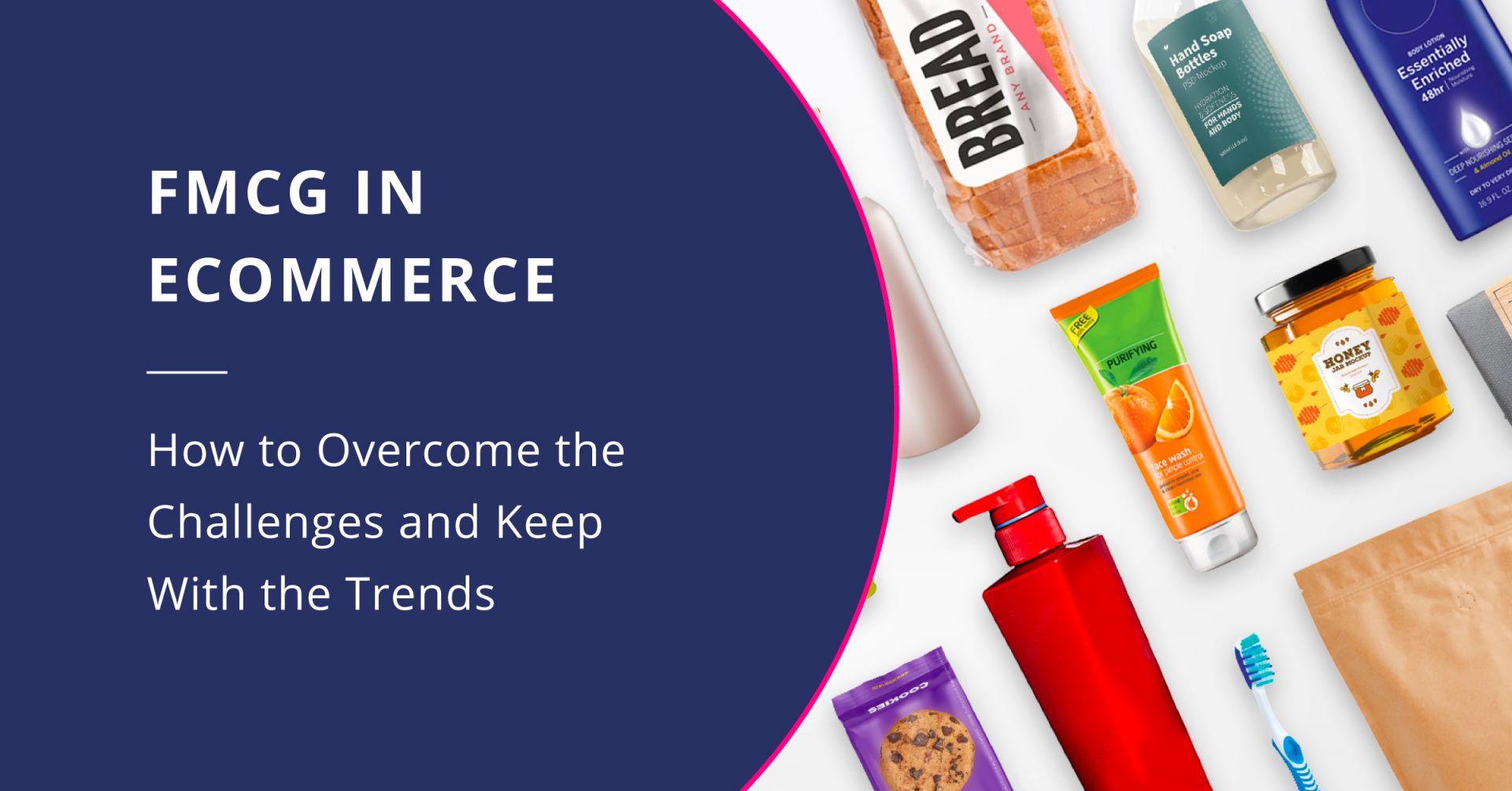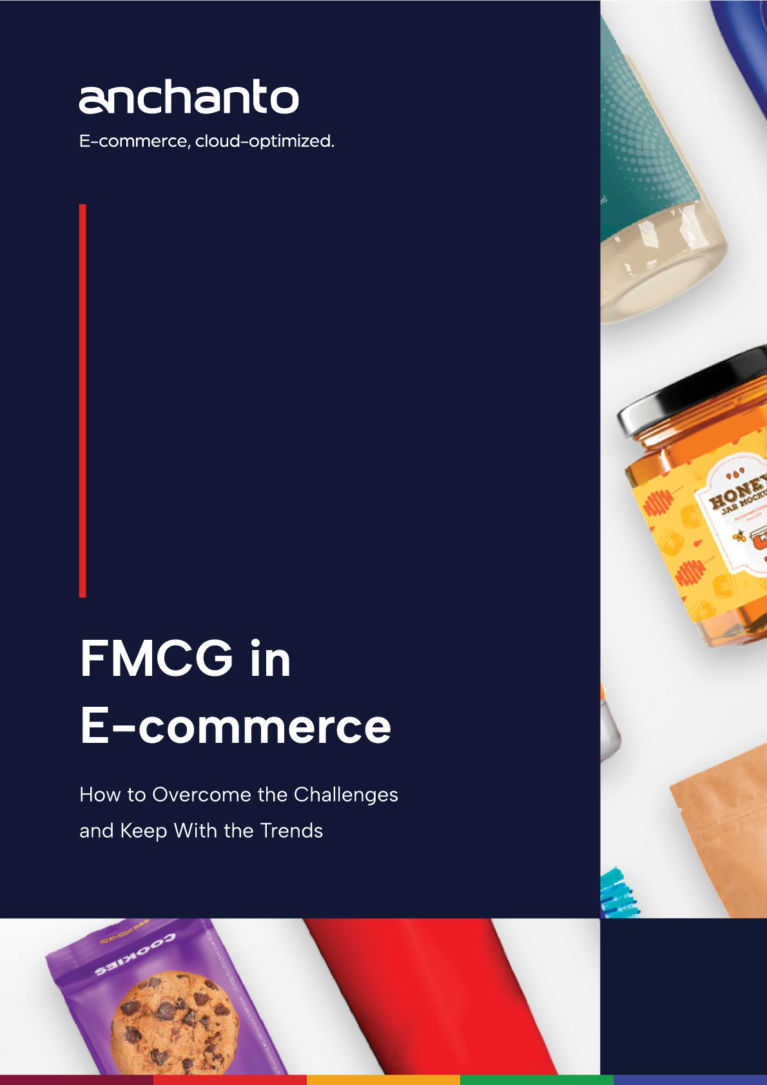 Short on time? Download now and read on the go.
1. Introduction
By 2025, the online market share of FMCG (fast-moving consumer goods) is expected to be 10%[1]. Though this number may appear small, it's positive to see this offline-centric industry growing online.
FMCG e-commerce is particularly doing well in China (25% FMCG e-commerce sales)[2], South Korea (24.4%), Taiwan (11.4%), Great Britain (11.4%), France (8.3%), and Japan (8.1%).
In the Asia Pacific region, the spends on FMCG were up by 5%[3] in the first quarter, which is higher than the 3.4% increase seen in the first quarter of 2020.

2. What is driving the FMCG industry growth
The FMCG industry flourishing online as a result of the convenience this retail model offers. The three prominent factors that provide this irresistible convenience are:
a. Ease of digital payments
Digital and mobile wallets are a leading choice of payment globally[4]. During a measured period of time, Worldpay estimated that digital and mobile wallet payments accounted for 44.5%[5] of worldwide online transactions. And in the Asia Pacific Region, online wallets account for 60% of online transactions.
b. Increasing desire for free shipping
According to a customer survey, 96%[6] of the respondents said that free shipping is an important factor when shopping online. This makes free shipping almost a norm in the online retail industry. Faster shipping options also add to the convenience of shopping for FMCG products online.
c. Low online prices
Around 64%[7] of online shoppers wait for sales to buy products online and about 59% search for discount coupons before making an online purchase. Usually, products sold online come at a discount during specific days of the week or month, this stimulates online purchases.
3. Challenges in FMCG e-commerce
While the FMCG industry works in a similar way to other industries in e-commerce, it is still unique. This is because it is more like a collection of industries. There is a wide range of unrelated (or semi-related) product groups under this segment from cooking oil to shampoos and conditioners, groceries, over-the-counter drugs, paper products, confectionaries, and more.
As a result, brands, distributors, and warehouse operators catering to the FMCG industry mainly face challenges revolving around large quantities and diversity.
Let's deep dive into the primary challenges to understand the obstacles FMCG products unleash in e-commerce.
a. Difficulty in coordinating inventory with demand
The number of products managed under the FMCG vertical alone is more than most industries. Due to this sheer volume of products, it's difficult to manage them and coordinate their inventory with small quantity e-commerce orders.
Moreover, FMCG products are fast-moving items because they are purchased on a regular basis. If stocks run out for these products, consumers tend to panic. This puts more pressure on brands, distributors, or warehouses to ensure the steady availability of these goods.
b. Inability to serve online and offline demand simultaneously
There is a clear split between online and offline consumers for electronics, appliances, cosmetics, and even clothing. But with FMCG products, people don't really mind where they shop for these products. That means, most consumers are comfortable with online as well as offline options.
However, managing online and offline retail isn't a pain-free process for FMCG. Both these retail models function independently, making it challenging to synchronize them for better sales and inventory visibility and performance data. This negatively impacts stock management efforts, inventory availability, and the general fulfillment of online and offline demand.
c. Product listing delays and mistakes
Unlike fashion, FMCG goods don't need a lot of assets (product images and videos). Here, it's okay to have one or two product images per listing. But the sheer volume of FMCG products managed by a brand or distributor is where listing becomes tedious.
Additionally, new FMCG products are continuously being launched, which means more catalogs and listings are required. These must include the correct nutritional information, price details, and expiry and batch information.
If there is any manual aspect of managing product listings, it will create a major bottleneck while launching these products on different sales channels. And given the volume of FMCG products managed by brands or distributors, there are high chances of errors while manually uploading or updating product listings for campaigns, nutritional information, and expiry and batch details.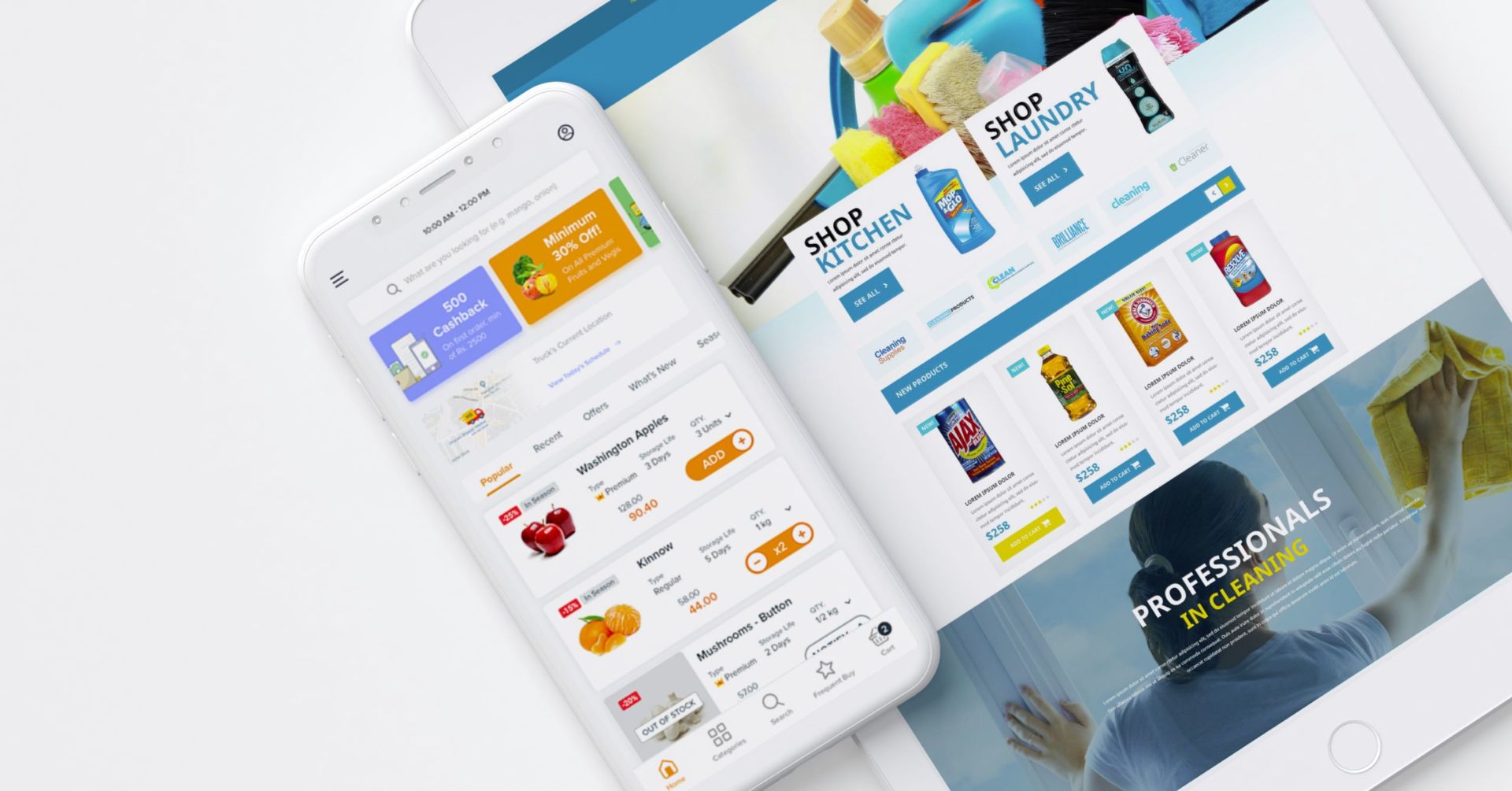 d. Limited capabilities to manage perishable products
Many of the products in the FMCG market are perishable items, which makes it essential to incorporate stock rotation practices. These rotations could include first-in, first-out (FIFO) or first-expired, first-out (FEFO) to reduce expired stockpiles.
However, it's a massive task sifting through millions of products from thousands of categories to ensure items nearing expiry are sent out first. Maintaining a sheet of all product batch expiries is a great effort, but a sheet won't sound an alert when product batches are close to expiring. Similarly, it will take a great deal of time to go through a long FMCG product sheet every week or month to stay on top of inventory perishability.
e. Inability to maintain accuracy and customer experience
FMCG products move in and out of stores and warehouses at crazy speeds. As they are continuously consumed and used, the supply chain for these products is always active. This means less time to pay attention to details, making it challenging to maintain accuracy.
For example, with thousands of orders from different channels, it's easy to deliver the wrong quantities or products. In other cases, due to the large volume of orders, it's easy to lose track of what's out of stock and accept orders for these products. This often leads to poor experiences for customers.
Additionally, without a firm grip on your supply chain, it's impossible to split orders and fulfill the ones you have the stock for and postpone the ones that are out of stock. As a result, you'll need to cancel out-of-stock products.
f. Disorganized B2B and B2C order processing
Employing B2B and B2C workflows is cumbersome as they both function differently. B2C orders require picking and fulfilling by piece while B2B orders are picked, packed, and fulfilled by the pallet. This difference and the number of orders for each business model can be problematic to support simultaneously.
You need to be able separate the orders conveyed to your warehouse and fulfillment partners. Without a proper breakup, the chances of errors increases.
g. Lack of meaningful consumer data and business insights
It's unfeasible to leverage real-time data and insights from all FMCG sales given the number of orders flowing through different channels and tiers of distributions. It usually takes time to collect this information and interpret it. This translates to delayed corrective actions, which hampers customer experience.
4. Solutions to manage the challenges in FMCG e-commerce
To overcome the problem areas of the fast-moving consumer goods market, there are different solutions you can try. The most effective ones involve technology, restrategizing, and adopting blended retail models. For a clear understanding of why these work, here are a few proven solutions that use technology like order and inventory software for FMCG businesses to deal with the industry better.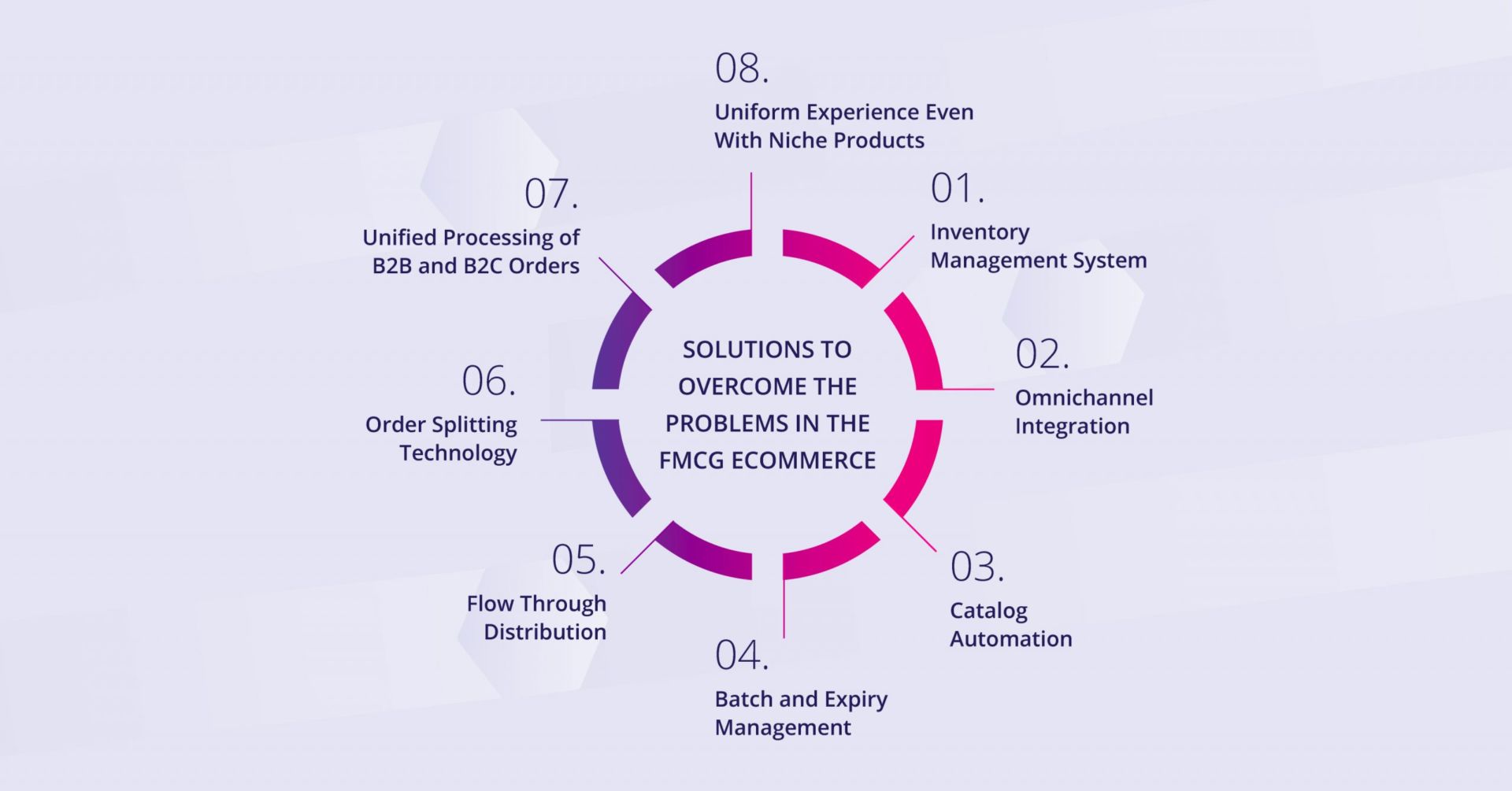 a. Inventory management system
In the FMCG industry, inventory is tough given the volume of inventory that needs managing. And, when your retail model is meant to accommodate online and offline purchases, handling your vast inventory and orders is even more stressful.
To overcome these obstacles you need an inventory management system to track stock movements. It will keep you updated on the stock quantities entering and leaving the warehouse, stores, or distribution centers.
It will also play a key role in stock replenishment. Restocking is one of the hardest tasks in the FMCG industry. If you have a system that offers inventory visibility and stock quantity alerts, it will be easier to manage inventory levels.
b. Omnichannel integration
With an omnichannel presence, you can be available wherever customers are comfortable making purchases. But to manage these channels and the inventory they need, you require technology like an OMS or order management system.
This dynamic system will integrate all your sales touch points into a centralized ecosystem. That way, you can monitor sales, inventory levels, and take action to ensure stocks are replenished in time.
c. Catalog automation
To push past the bottlenecks that arise when launching a multitude of FMCG products on multiple channels, consider catalog automation and sales platform integrations. For this, you'll need a tech system like a PIM (product information management) system or an OMS, or an OMS with PIM capabilities.
These tech solutions allow you to launch your products on different retail platforms in a matter of minutes. All you need to do is save your product information and related assets to these systems and they can be shared with the respective marketplaces of stores to create listings.
You can also grant access to your authorized distributors and retailers so they use these products in their listings. That way, your products are represented uniformly across all retail channels.
d. Batch and expiry management
An ideal way to stay in tune with batch expiry is to take on another layer of stock management called stock rotation. With an advanced WMS, it is easy to implement this feature and identify stock items that have expired and are nearing their expiry dates. Moreover, it ensures that all items closest to expiry are sold first when orders come in.
e. Flow through distribution
Flow through is a distribution method that ensures products move quickly through the e-commerce supply chain. Consumers are looking for fast fulfillment today, and flow through offers this speed.
You can increase order processing speed and directly move goods from inbound to outbound. Flow through also allows you to further:
Optimize your warehousing

Distribute or supply goods from the supplier to the consumer with limited storage or handling time)

Receive products through an inbound door then transfer it directly to the outbound dock

Quickly sort, screen, and unload inbound products to identify their end destinations

Fulfill partial orders

Move correct products while incorrect ones are being processed for returns

f. Order splitting technology
When a shopper orders multiple items from you at a time, it's not uncommon that you might have run out of one of the products that they ordered. In such a situation, order splitting technology can help you fulfill all the items that are in stock and ensure that the pending item is fulfilled immediately once stocks are replenished.
Another way to deal with this situation is with a Warehouse Management System. Through these tech stacks, you can immediately identify which are the other warehouses or stores nearest to the customer to fulfill their pending order. This avoids delays, cancellations, and poor experiences.
Not all e-commerce and inventory management systems offer these facilities, so ensure you thoroughly review them before making a choice.
g. Unified processing of B2B and B2C orders
In the FMCG market, there is a higher demand to process B2B and B2C orders from the same system. This requires supporting both operations simultaneously. In such a case a versatile WMS is ideal. It will be able to classify B2B and B2C orders separately even though your product inventory is centralized.
Every time an order is received, the system will identify the kind of order (B2B or B2C), the product required, and the quantity. This information will be sent to a picker in the warehouse closest to the product. For a B2B order, they will be informed that the order fulfillment requires the picking of complete cartoons and not individual product pieces. Similarly, with B2C orders, they will be given the precise number of pieces needed per order.

h. Uniform experience even with niche products
Organic foods, whole foods, and premium consumer goods are niche products in the FMCG industry. Established brands are focusing more on these products[8] of late to plump their e-commerce margins.
However, even though these are niche category items, inventory management, availability, and fast delivery are crucial. Centralizing your inventory for these products will allow you to offer them across sales channels with the same level of experience as regular products.
Consumers are looking for immediate consumption irrespective of how niche a product is. So, treat these products like the fast-moving goods that they are and ensure they are fulfilled quickly.
To manage these nice items, their inventory, orders, and promotions effectively invest in inventory centralization technology like order and inventory software for FMCG businesses.
5. Trends to look out for in the FMCG industry
The FMCG industry is evolving continuously to set new standards and keep up with consumer demands. The industry is largely run offline, but even physical stores are now incorporating online strategies. The objective for this is to refine the shopping experience and stay connected with the pulse of consumers.
Other notable trends in the FMCG industry include:
a. Using D2C to control customer experience
According to Hugo Harris, a Director at PwC[9], many FMCG brands are looking to create or expand a direct-to-consumer (D2C) channel to gain access to their consumers so that they can own the delivery of consumer experience.
In addition to this, FMCG brands want to get to know their consumers better so they can improve their product demand, develop new products for different life-stages. That way, they make the most of the customers they already have.
"FMCG companies long to know more about their customers. Specifically, customer demographics. They want to know the age, location, gender, marital status, and spending trends," says Vishal Desai, Country Head for Malaysia at Anchanto.
All of these details are lost when using a traditional tired distribution model. But with a D2C strategy, knowing where and whom the demand is coming from is so much simpler. Moreover, it ensures insights needed for the next strategic business steps like launching a new store.
What does this mean for brands?
A greater edge over competition

Another sales channel requiring management

Agility to make decisions at a microsegment level
b. Blending online and offline efforts
When it comes to FMCG products, consumers don't think too much about cost as these are low-cost items as opposed to electronics, accessories, and luxury goods. Consumers are more concerned about convenience, fast delivery, and less time wastage when they buy FMCG products.
To heed this demand, FMCG brands are integrating their online and offline retail efforts. Some FMCG firms are considering hyperlocal channels as they promise speed and assortment of local stores along with the safety and convenience of e-commerce, claims Aditya Malik Director at Strategy &, part of the PwC network[10].
Others are also using the click and collect method also known as "curbside pickup" or "buy online pick up in store." This model of retail allows consumers to have their purchases ready for them before they even enter the store or set out to collect them. It saves time, allows consumers to check their purchases before taking them home, and they can also buy more from the store if they forgot an item.
What does this mean for brands?
Order processing and fulfillment complexities

Sorting commissions for online and offline channels and distributors

Analyzing customer fulfillment expectations and demand
c. Growing expectations for express delivery
Approximately 61% of online shoppers[11] are willing to pay extra for same day delivery. And a majority of people looking for same day delivery options expect their orders to be delivered within one to three hours. This is a growing demand, especially with online FMCG products. Consumers are used to quickly purchasing toiletries, groceries, and other FMCG products from offline stores and expect a similar experience online.
Online shopping removes the inconvenience of driving to the store and waiting in line to pay for purchases. And, with quick deliveries, consumers appreciate this form of retail even more for everyday purchases.
What does this mean for brands?
Need for seamless order fulfillment

Larger online order volumes

Integrations with last-mile delivery partners to measure delivery speeds
d. Convenience through subscriptions and promotions
The subscription business model boosts average spending, enables gathering and usage of customer data to better serve them, and inspires loyalty. it also provides value to consumers longing for convenience, novelty, and curated experiences.
North America dominates the subscription commerce market today, but the Asia Pacific region[12] is also ramping up its subscription efforts. Europe, the Middle East, and Africa are similarly pushing their subscription efforts.
Promotions, coupons, and product bundles and kits are equally playing a part in keeping customers loyal. They add value to the shopping experience, boost revenue, and make it easier to launch new products.
What does this mean for brands?
Collection of customer data to determine purchase frequency

Need for a specialized system to allocate inventory for assured orders

Requirement for a system to manage product promotions
6. Conclusion
As a comprehensive industry, FMCG demands order and efficiency for smooth business. Technology has proven to be an ideal companion in this regard for several FMCG businesses and brands, irrespective of their business model. With tech stacks like order and inventory software for FMCG businesses, it's easier to control these elements of e-commerce. These systems also provide a deeper look at consumer preferences for improved strategies and support new efforts to serve clients better.
If you're looking to uncomplicate your retail efforts across sale channels and take on new trends with ease, technology is your key. The possibilities are endless with the tech solutions available today.
Just ask the experts at Anchanto.