Anchanto Integrations Updates – February 2023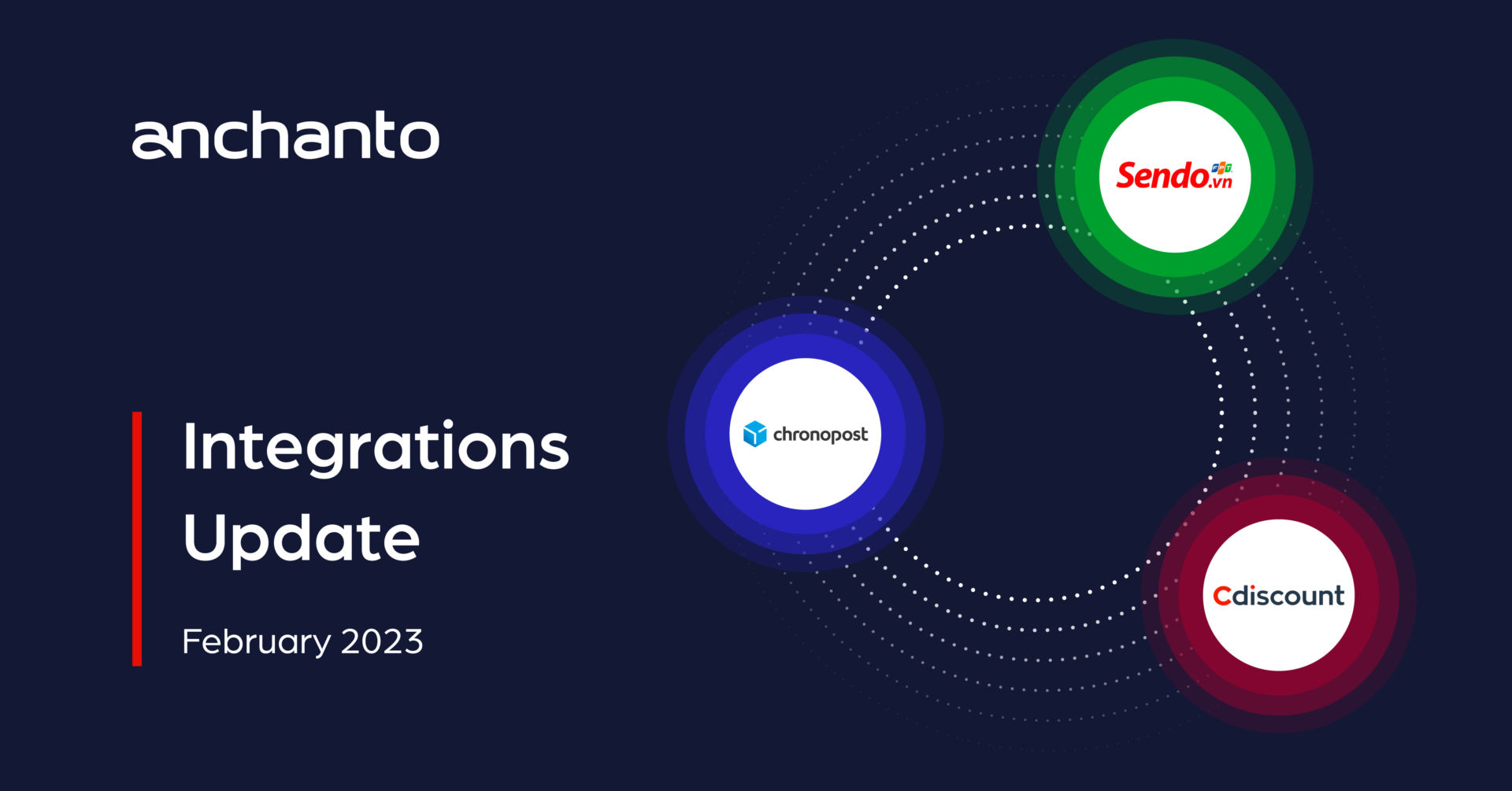 When it comes to e-commerce success, the factor that contributes most to it is integration.
From local marketplaces to shipping carriers with a wide network in a region, to achieve growth, you must be integrated with the right ones.
After all, there are no shortcuts to success but the road can definitely be smooth.
From one new integration in Vietnam, a special highlight, and some exciting new names that will soon be ready for you, our February updates are ready.

Manage selling on Sendo and reach new customers in Vietnam!
Sendo is a marketplace that connects buyers and sellers worldwide while specifically catering to shoppers in Vietnam. Launched in 2012, Sendo sells over 10 million products and has more than 200,000 shops for its customers. The platform also offers exchange and return facilities for 48 hours post-delivery. Leading categories on Sendo include Home and Kitchen equipment, Fashion Apparel, Healthcare, and Gardening.

Currently, Sendo is integrated with the latest version of Anchanto Order Management. and this integration supports both Senmall & Normal Sendo shops.
Functionalities: 
Inventory Management 
Centralize and Auto-sync Inventory

 

Get Low-on-Stock and Out-of-Stock Alerts for replenishment

 

Set/Add Buffer Stock centrally

 

Easily Import Bulk Products

 

Monitor in-process stocks in real-time

Manage Stocks based on Batch and Expiry Management

Maintain Quality based Inventory Counts 

 
Order Management  
Centrally View all your brands on one dashboard

 

Easily View, Manage & Process all orders with a single order process flow

 

Track the complete order cycle

 

Monitor status-wise orders 

 

Download the Anchanto-generated and/or marketplace-generated shipping labels and invoices

 

Automate the seller delivery orders via Anchanto-integrated 3PLs

 
Catalogues & Listings 
Super-fast product listings

 

Easily add, monitor, and edit products and their descriptions

 

Easily list the non-listed existing products available in Anchanto OMS to Sendo

Specialized functionalities to update listings on select channels

Easily track the product status and error if any from Sendo

Simplified steps to create Kits & bundles 

 
Promotions Planning 
Plan, Create, and execute large-scale promotions

View and track Active, upcoming & past price, and Anchanto OMS promotions

 

Manage Multichannel (online and offline) promotions

 

Single-click Abort Live Promotions Functionality

Generate Customized Promotions Report 

Set the promotions with fixed and percentage discounts

Set gift with a purchase based on various conditions

 
Logistics & Warehousing 
Easy flow for order assignment to pickers and packers

 

Easily assign channel-wise Last-mile carriers

 

Track the order movement in the Warehouse

Configure User Roles

Consolidate front-end and back-end processes

Get real-time logistics updates 

 
Analytics & Reports 
Manage multiple stores sales on one dashboard and in a single currency

Check high and low-performing products & categories at a glance

Achieve control & visibility on sellout data

Track brand-wise performance

Easily compare the sales performance of 2 or more sales channels for a specific period

 
Know more about Anchanto <> Sendo Integration 

---


Chronopost is a leading parcel delivery company in France, with a strong focus on ensuring sustainable operations. Owned by DPDgroup in France, Chronopost has a network of 87 branches, 12 hubs, and 19,500 local go-between points across the country. In Europe, they have 42,000 pick-up points and they currently deliver to 230 countries.
Coming soon on Anchanto! Stay tuned for more.  
Know more about Anchanto <> Chronopost Integration

---

Established in 1998 in Bordeaux, Cdiscount is a French e-commerce marketplace offering leading brands to its customers across the region. With the goal to work towards responsible consumption and highlight recycling and reuse of products, the company has partnered with "Envie" network to do its bit.
Currently, the marketplace is frequented by 20 million visitors each month. The leading categories on the market are home appliances, decor, furniture, electronics, fashion, and beauty. For businesses looking to sell on Cdiscount, there are no opening fees or sales limits on the marketplace. The platform currently has 10.2 million active users and almost every shopping category.
Coming Soon on Anchanto, stay tuned for more!
Know more about Anchanto <> Cdiscount Integration

---

For all your shipping carrier requirements in the Philippines, we have Entrego shipping carrier integration which offers fulfillment and logistics solutions. With the vision to enable trade and commerce for all partners, Entrego offers reliable and effective logistics solutions. They offer services like Parcel Management for Corporate Solutions.