Australia's eCommerce Industry: Everything You Need to Know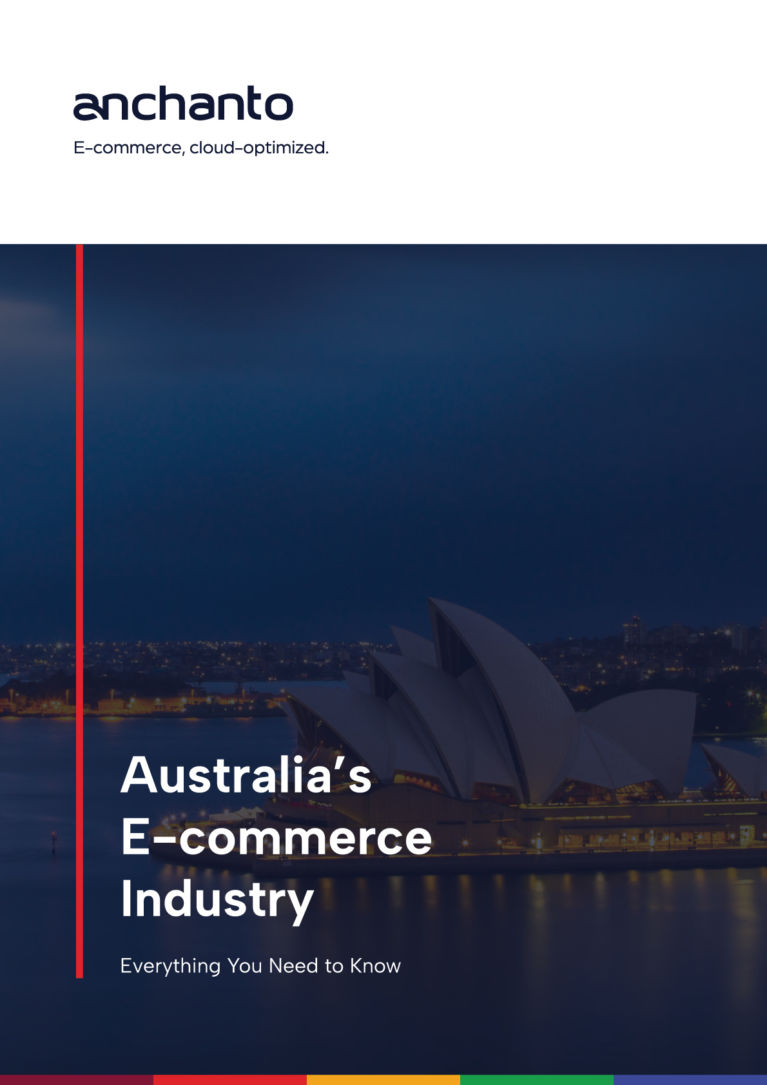 Short on time? Download now and read on the go.
1. Introduction
With just over 10 million households in Australia, eCommerce has reached roughly 91% of them. ECommerce is here, and it's only going to get bigger.
But, how can you take advantage of Australia's $37 billion industry?
You need to know the country's eCommerce industry inside and out.
You'll need to know the answer to questions like:
What are the latest eCommerce trends in Australia?

How can I succeed in the Australian eCommerce market?

What are the top eCommerce marketplaces in Australia?
First, let's look at the future eCommerce trends in Australia.
2. Five trends that will dominate the next decade of Australian eCommerce
Whether you already sell in Australia or are looking to expand there in the near future, it's essential to keep your pulse on eCommerce trends.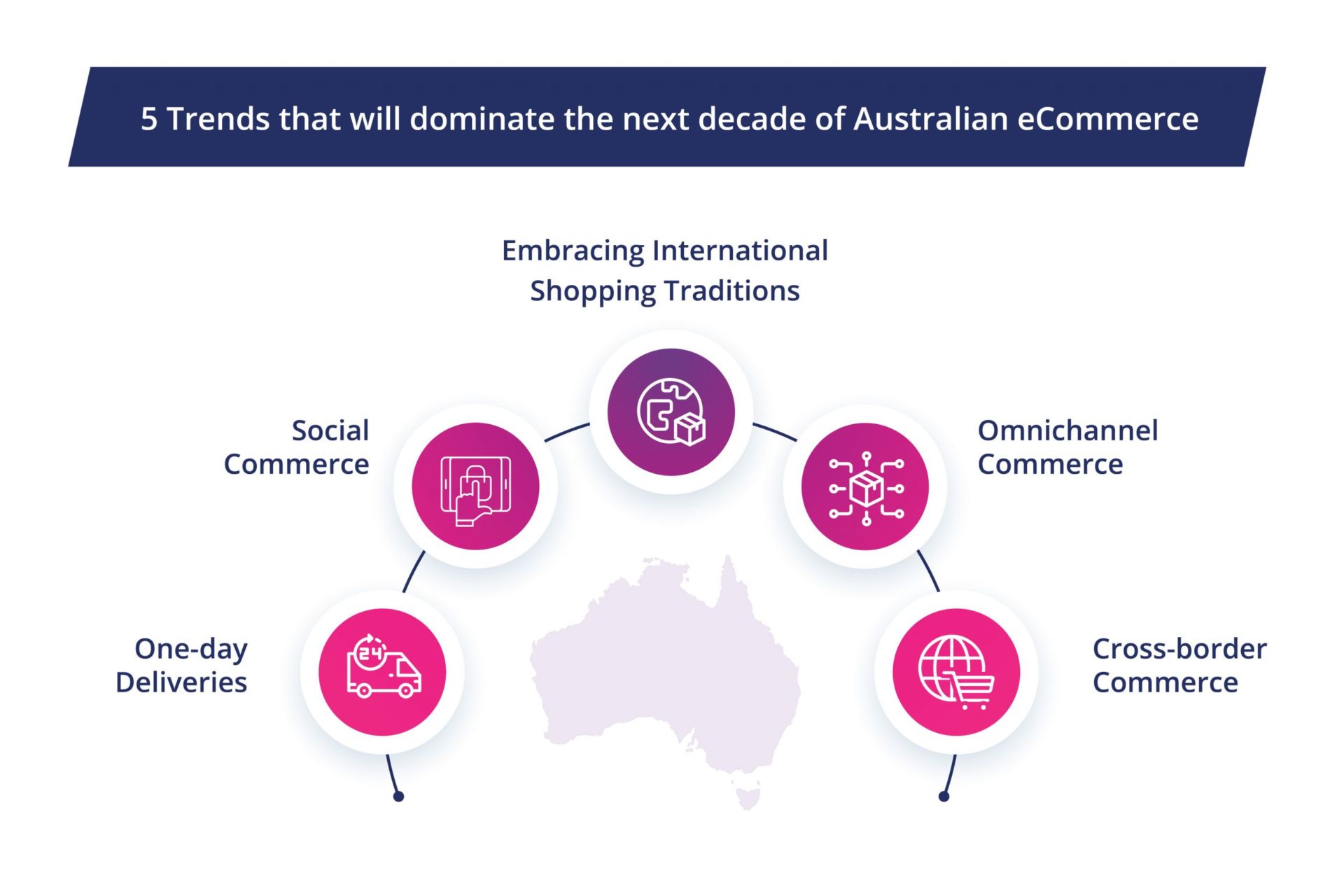 In Australia, there are five key trends that we believe will dominate the eCommerce industry.
a. One-day deliveries
Spurred on by Covid-19 safety concerns and, perhaps, Amazon's delivery habits in the US, Australians now want faster delivery. A Commonwealth Bank survey found that younger Australians place a high value on express and same-day deliveries.
However, due to the country's size and its relatively young economy, the logistics infrastructure isn't quite ready to handle country-wide one-day deliveries. As a result, retailers are turning to "Click and Collect" to speed up delivery for their customers.
That way, your customers still enjoy the online shopping experience, only stopping in briefly to pick up their package.
If you haven't yet, start putting together a plan to implement in-store pickups in 2022 and beyond.
b. Social commerce
Social commerce is all about meeting your customers where they're comfortable and spending a lot of their time. After all, 71% of Australians use social media for up to 2 hours per day.
Selling through social media is also less intrusive than other means as consumers that view your content are usually already interested in products similar to yours.
The shift towards social commerce is highlighted by developments like:
Shopify partnering with TikTok

Facebook creating a fully-fledged shopping experience

Social media platforms integrating seamless shopping functions into content
If that's not enough of a reason to focus on social commerce, 70% of consumers prefer learning about new products through native, shareable content rather than traditional advertising.
c. Embracing international shopping traditions
Yearly sales like Black Friday and Cyber Monday are usually considered American events. However, consumers in Australia are beginning to participate more in these shopping traditions.
In 2021, 8.9 million Australians were expected to participate in these shopping events with a predicted spend of $5.5 billion.
These numbers indicate that Australians are becoming more aware of the value of bargain `hunting, typically waiting for large sales to snag a bargain.
d. Omnichannel commerce
Over 73% of customers use multiple channels during their shopping experience, so it pays to provide this convenience to your customers.
Some key commerce channels include:
Click and Collect: Also known as in-store pickup, Click and Collect allows your customers to browse your online store until their heart's content then pick up the items when they're available.

Try and Buy: Takes the guessing game out of online purchases by giving customers a trial period to try the products before committing to the full purchase.

Multi-store Fulfilment: By setting up each store as its own "warehouse" you can fulfil orders from the most efficient location. Multi-store fulfilment is best used with Automatic Order Routing (AOR) which sends the order to the closest warehouse or store.

In-store Picking-Packing-Dispatch: This allows your customers to shop as much as they'd like since you'll deliver the products at a later date. With this channel, it's important that you sync your in-store PPD and online orders through order management software.
Omnichannel selling also helps boost sales across the board in brick-and-mortar and online stores. Customers that engage with brands across multiple touchpoints spend 4% more in-store and 10% more online than their single-channel counterparts.
But, regardless of whether you have a physical presence or not, you need to ensure a seamless and similar customer experience across all platforms.
e. Cross-border commerce
Cross-border commerce grew at a blistering pace in previous years, averaging 16% year over year. However, due to the unforeseen pandemic, these consumer habits have slowed down recently.
A few major factors causing the slowdown include:
Global supply chain bottlenecks

Freight delays

Fewer air travel options
In saying that, the Australian eCommerce market has grown dramatically, finishing off 2020 with $53 million in online sales—virtually double the previous year. Total online sales revenue is expected to be roughly the same in 2021 as well.
On top of this, over 1 million Australian households made their first online purchase which signals a substantial shift in buying preferences.
As supply chains correct themselves and shipping options become available again, international eCommerce brands should position themselves to take advantage of the growing Australian market.
Alternatively, you can leverage one of the in-country logistics solutions that we'll cover later in this post.
3. Australia's largest eCommerce marketplaces
Australia's international and local eCommerce marketplaces have continued to see extraordinary growth in recent years.
Some major eCommerce marketplaces include:
Catch: Catch is one of Australia's biggest eCommerce platforms boasting 25,000 sales per day with an average spend of $130. Sellers on the platform can gain access to unique promotions to boost their sales.

Amazon Australia: Only being a recent addition to Australia hasn't stopped Amazon from reaching over $1 billion in net sales in 2020. With Amazon, you have access to 300 million global customers and the option of letting them handle fulfilment.

eBay: One of the original marketplaces in Australia, eBay attracts 12 million unique visitors each month. This constant stream of customers has helped thousands of stores generate more than $1 million in sales.

MyDeal: An Australian owned and operated marketplace, MyDeal provides access to millions of customers each month and helps its sellers improve their stores through tailored business development advice.

If you want to succeed in Australia's eCommerce space, these are the marketplaces that you should turn to first.
"We've observed that businesses experience more sustained success when they perform background research on the audience/trends of each channel before they choose to enter. Each marketplace has a unique customer base with unique buying habits, therefore, it is important for sellers to consider these factors. If you're not sure, speak to a marketplace representative to find out more as it may determine your ranging and marketing strategy for the specific channel."

– Damien Mersini, Partnerships Program Lead at Catch
4. Five largest carriers and 3rd party logistics companies in Australia
While there are many carriers and 3PL companies within Australia, there are only a few significant players in the market.
According to recent reports, these are the largest five carriers and 3PLs in Australia:
Special mention
Asendia are cross-border commerce experts with a delivery network spanning 200+ countries and four continents (including Australia and the APAC region.) They deliver millions of items each month through their e-PAQ parcel solutions, making them a great solution for Australian cross-border commerce.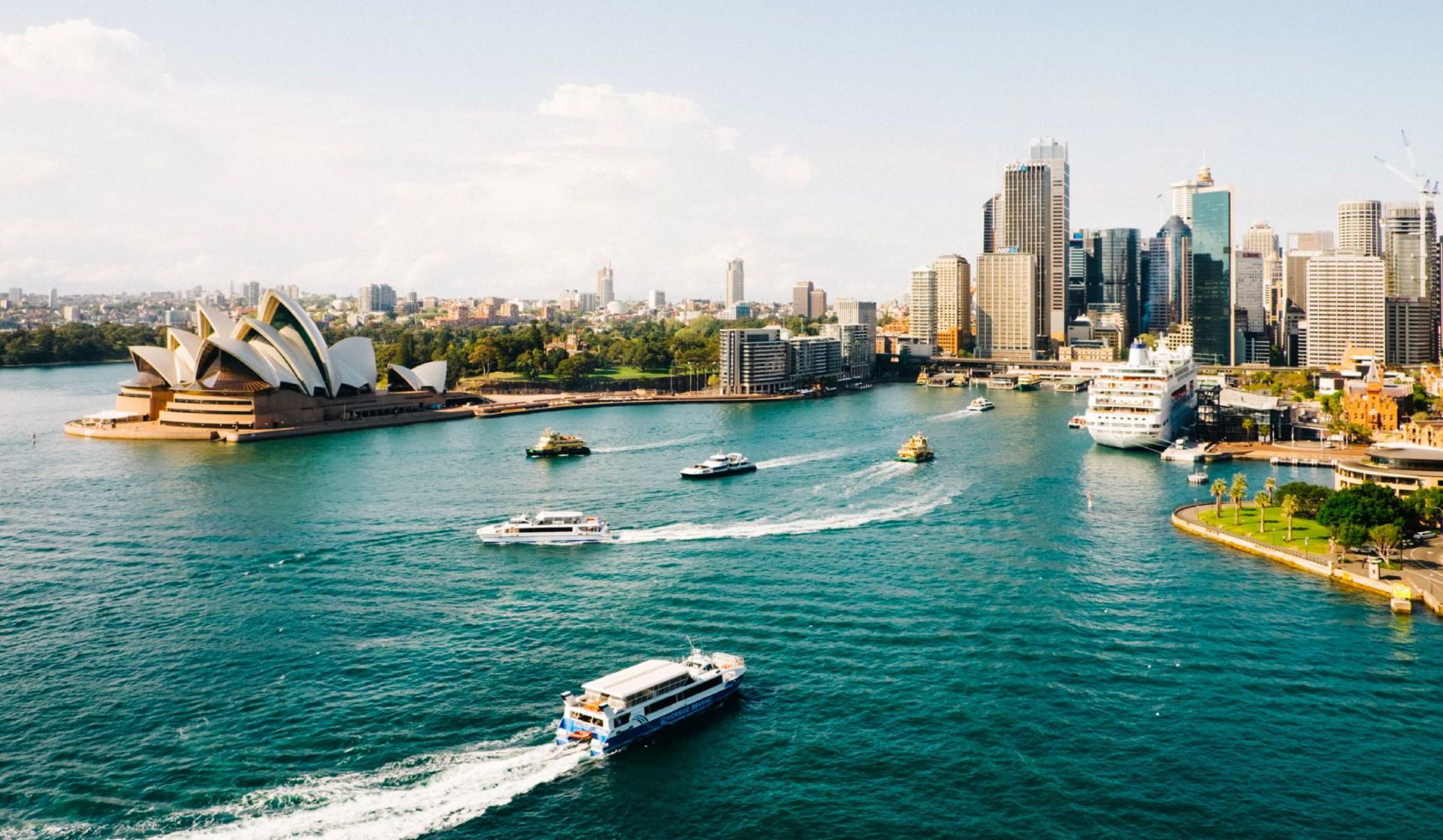 5. How to succeed in the Australian eCommerce market?
If you're thinking of expanding into the Australian market, there are a few things you should know to position your business well.
a. Multi-channel marketing strategies are a must
Employing multiple channels makes shopping easier for your customers and provides them with a range of experiences.
For example, you can provide in-depth information about your brand and products through long-form blog posts. At the same time, you can share eye-catching pictures through Instagram to stir demand.
Using a multi-channel marketing approach, you can target customers at different stages of the buying process and cater to their media preferences.
How can you implement a multi-channel marketing strategy?
Set up the relevant channels so that your customers can contact you and engage with your brand

Ensure consistent communication regardless of the number of contact platforms they use

Share unique content on each channel to encourage customers to use every channel.

Integrate all your channels and tools into one centralised database to accurately track your customers' purchasing journeys.
Multi-channel strategies allow you to engage with your customers where and when they need it, as well as allow you to craft a multi-faceted customer experience.
b. Leverage the right technology and tools for your business
You can simplify the complexities of creating a global eCommerce brand using technology.
Some popular eCommerce technologies are:
Webstore builder: Webstore builders make setting up and customising an online store quick and simple. Some popular options today include Shopify, BigCommerce and Wix.

Accounting tool: Keeping track of transactions, assets & liabilities and revenue & expenditures manually is difficult for small businesses and virtually impossible for large organisations. Simply this process with accounting tools like Quickbooks, Xero or Freshbooks.

Enterprise Resource Planner: ERPs help commerce businesses implement omnichannel solutions, increase productivity, manage human resources and more. Some popular ERPs include Oracle NetSuite and Microsoft Dynamics 365.

Order Management System: OMS's, like Anchanto OMS, allow you to implement automated multi-channel selling, track important order data, forecasts stock needs and much more.

Warehouse Management System: WMS's provide everything you need to manage your warehousing. Systems like Anchanto WMS help you streamline operations and address any logistics issues that arise.

Product Information Management: PIM software ensures that Stock Keeping Units are updated correctly and automates the onboarding of products. Some examples include IBM Product Master and Productsup.

Digital Asset Management: DAMs simplify the management of your digital assets by consolidating all your product data in one place. This data can include, marketing assets, product information and more. Popular DAMs available include Adobe Experience Manager Assets and Brandfolder.
Whichever eCommerce technology you decide to use, it's a good idea to use a middleware technology like Anchanto's to consolidate all your technology and tools into one place.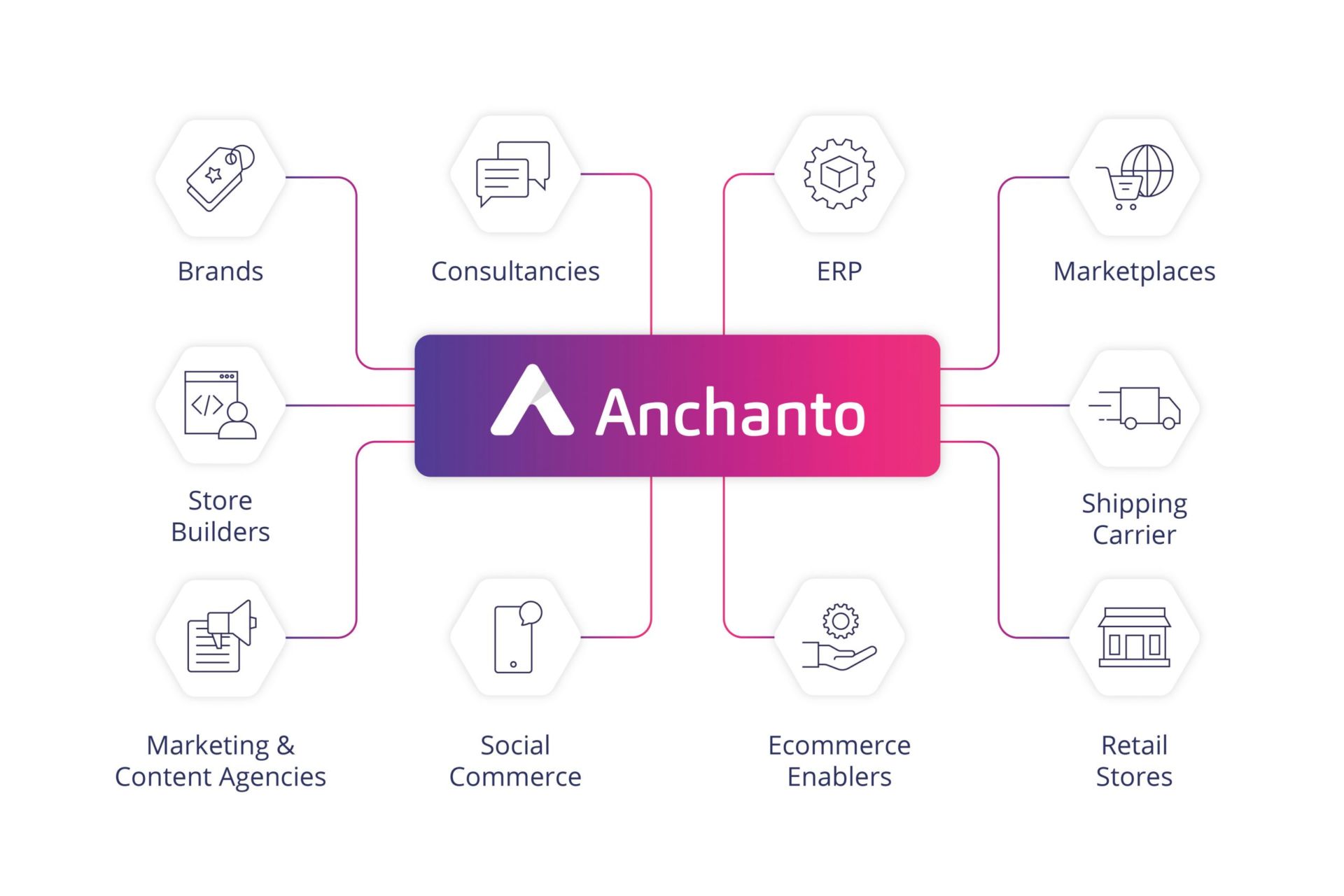 c. Partner with logistics companies that can help you grow
There are many types of logistics companies in Australia, so it's possible to find the perfect solution for your shipping needs at any one time.
Some of your options include:
End-to-end solutions (4PL): 4PLs, also called Lead Logistics Providers (LLPs), manage not just fulfilment but transportation and technology as well. They act as a single contact for managing a supply chain and often manage multiple 3PL solutions for their customers. DHL eCommerce is a great example of a successful 4PL solution.

3rd Party Logistics (3PL): 3PLs are the companies that actually fulfil your orders through housing and distributing stock. Some examples of 3PLs include Asendia and Starshipit.

Couriers and shipping aggregators: These logistics companies take care of the last leg of eCommerce—customer deliveries. Solutions like Sendle pick up stock from your warehouse or a 3rd party's and make sure customers receive it.
Finding the right logistics company is a matter of balancing price with value. After all, you wouldn't want to choose the cheapest option only to run into shipping issues like late or missing deliveries and poor customer service.
Some things to look for in your chosen logistics company include:
Satisfactory service-level agreement terms that the logistics company will abide by

Mature logistics infrastructure to support business growth and seasonal sales fluctuations

Insurance that will protect your products in transit

Technology (WMS, OMS, etc.) that can provide real-time data on inventory and fulfilment.
d. Know your audience
Knowing your audience is key to providing the best customer experience.
Remember, Australian consumers value:
Fast deliveries

Interacting with brands on their favourite platforms

Uniform experiences across multiple channels

Learning about products through content rather than advertisements

Getting great discounts during shopping events
Besides meeting these overarching preferences, you'll also need to conduct deeper research into your target demographics to give them the experience they desire.
Improving customer experience is all about how you treat them in every aspect of your business—pre- and post-sale. And the customer experience starts from the very first impression they have of your brand.
Why is customer experience important?
Because 86% of customers are willing to pay more for a great experience. And the more they enjoy their experience, the more loyalty they feel towards your brand.
You can provide a good customer experience by ensuring a seamless experience from when a customer first views your media, brand or product until they make a purchase and beyond.
"Businesses will always give themselves a head start when they enter channels with clean product data that best highlight their products' value proposition. Using healthy data such as clean images, clear descriptions, accurate inclusions/specifics, barcodes, and compliance information will not only help sellers increase their search traffic, but also improve product conversion as consumer trust builds."

– Damien Mersini, Partnerships Program Lead at Catch
e. Faster deliveries
To stay competitive certain eCommerce companies tend to choose the cheapest shipping methods—which also take the longest.
However, Australians are placing extra importance on speedy deliveries after their experiences during the early stages of the pandemic. Just over half of the Australia Post survey participants said deliveries from overseas were taking too long in 2020.
The good news is, you don't have to overspend on expedited shipping since there are many 3PL fulfilment options within the country.
f. Speak their language
Speaking a consumer's language is more than simply communicating in their local language. Even though countries like the UK, USA, Canada and Australia all share the English language, their cultures, preferences and values are different.
Localising your content involves using local slang, humour, imagery, measurement systems, currencies and many more factors.
Implementing all these details into your content, products, and brand is what will help you succeed in the Australian market.
6. What does this mean for Asian businesses that want to expand into Australia?
While Australia and Asia are in the same APAC region, their culture, shopping behaviours, and values vary. But that doesn't mean it's impossible to expand your reach. By implementing the six tips above, you'll have the best chance of success.
Make sure to keep in mind:
What Australian customers value

Choosing the right logistics partner

Finding ways to fulfil your orders quickly

Localising your content to speak like a local company

Leveraging the right technology—OMS, WMS, PIM and more

Creating an effective marketing strategy for each of your eCommerce channels
If you have any questions or concerns about the eCommerce industry in Australia, reach out to one of our eCommerce experts for support.
7. How can Australian businesses expand into Asia?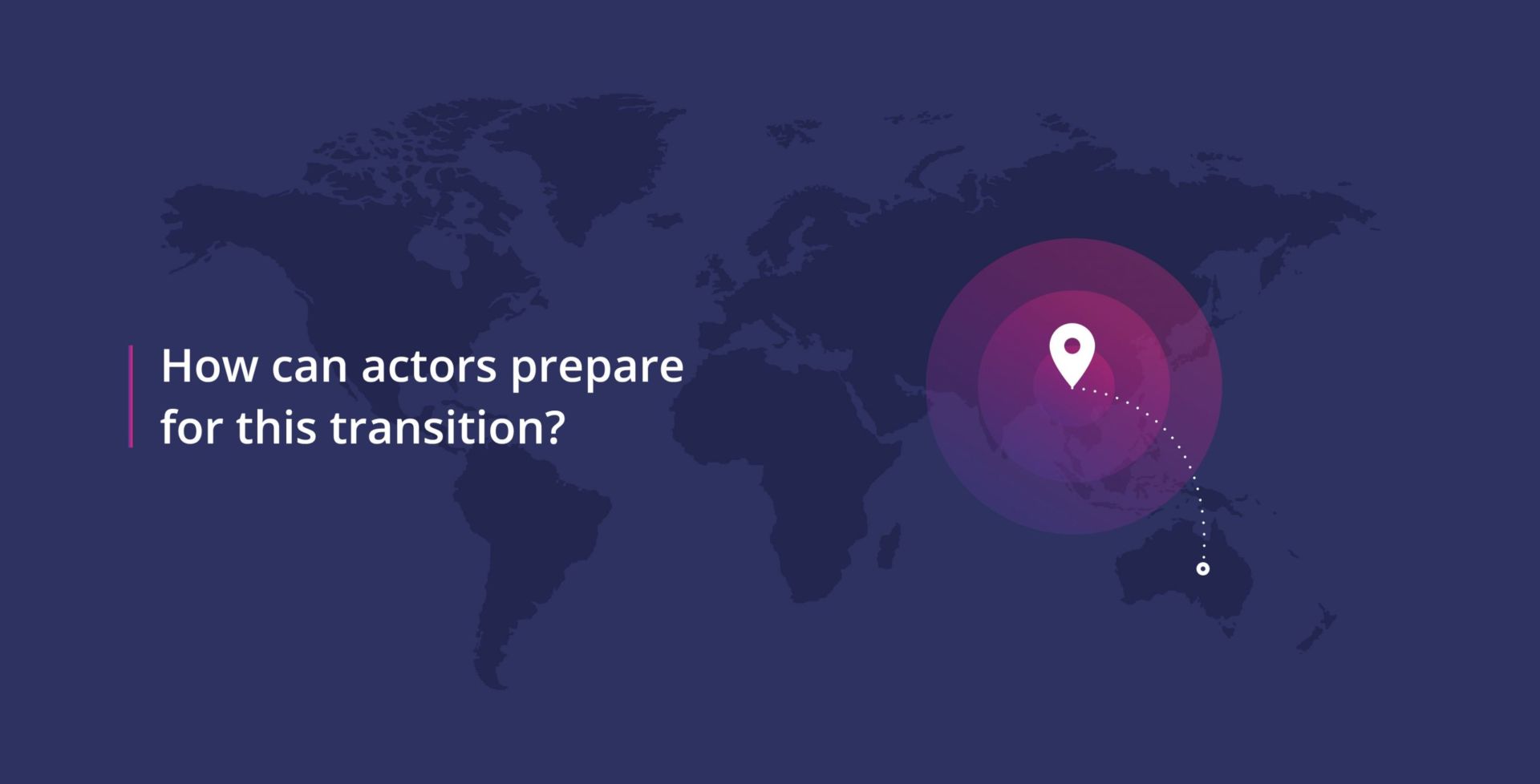 Ecommerce sales are dominated by countries in Asia, with over 60% of online sales coming from the region.
China, in particular, is expected to contribute a vast majority of that number, with $2.77 trillion in expected sales in 2021. Japan and South Korea are also expected to chip in their share at $144 billion and $120 billion, respectively.
While these numbers are exciting, it's essential to prepare yourself for the transition.
A. Identify your target market
Like you've done with your customers in Australia, you'll need to conduct customer research for your new market.
However, the caveat is that each country has specific preferences and spending and shopping habits.
So before you choose your market, ask yourself, "What is the state of the market in each country?"
For example, in Thailand, popular eCommerce products are:
Health & Beauty

FMCG

Home Care
On the other hand, Singapore consumers focus more on:
Fashion

Electronics

Home

Health
B. Choose the right technology and logistics partner
Unlike Australia, eCommerce in Asia is spread throughout many countries with their own logistics, rules and marketplaces. This variety can make expanding into Asia a nightmare unless you get the right help.
You want to look for technology that can:
Easily integrate multiple marketplaces

Provide real-time tracking and insights

Centralise your inventory and fulfil orders quickly

Connects you with trusted logistics partners

Cut out the need for various tools for each region
If you tick all these boxes, your expansion into Asia will be seamless.
C. Make yourself aware of the challenges of eCommerce in Asia
As you've probably guessed, there are some unique challenges to eCommerce in Asia, and that's why we're here to help.
a. Cross-border logistics
Navigating and each country's logistics options can be complex. With changing regulations, different customs requirements and global pandemics, conditions can change instantly. That's why it's crucial to build solid partnerships with logistics partners on the ground.
For this, you have two main options:
Begin communicating directly with the hundreds of potential partners and evaluate their potential, eventually finding the right partners through trial and error.

Skip the research and leverage Anchanto's trusted partner network that's already enabling cross-border logistics for companies around the globe.
By leveraging existing networks, you can focus on what matters most—your products.
b. Competitive markets
Southeast Asian countries, in particular, are no stranger to cross-border eCommerce, with almost 40% of transactions done internationally. This openness makes the markets highly competitive.
To compete in these challenging markets, you should:
Conduct in-depth research on each new market before you expand

Focus on one market at a time and refine your sales process before expanding

Tap into local knowledge from importers, resellers and distributors as they can educate you on the local market

Take part in local traditions like Lunar New Year and create sales based on these themes. For example, using cultural imagery (if appropriate) throughout your website, social media and product pages.
Above all, you need to become crystal clear on who will be buying your products. You need to know their needs, wants and how your product can fulfil them—and then communicate that value.
c. Diverse demographics and spending habits
Each country in Asia has its own cultures, spending habits, and demographics, so you can't create a blanket strategy for the region.
To give you an idea of the diversity:
The median age of online shoppers in Singapore is 42, while it's almost half that (24) in The Philippines.

Indonesia has seven leading commerce platforms, while Singapore only has three.

There are over 30 different marketplaces across the region.
To cut through this noise, you have to focus on each market individually. It's a good idea to rely on local partnerships and eCommerce experts who know the region inside and out.
d. Localising your content
To communicate with the diverse markets of Asia, you'll need to localise your content.
Localisation goes a step further than simple translation by incorporating a country's cultural norms, preferences, regulations and other factors into the new content.
To optimise your content for eCommerce in Asia, you should:
Take a mobile-first approach

Build relationships through social media

Localise your marketing material, blog, product descriptions, imagery and other aspects of your product and brand

Take part in regional events like Singles' Day, 9/9 and Double 12
e. Financial issues
Since there are many countries in the region, you'll need to deal with many different currencies, taxes and payment methods—which are always changing.
For example, in Thailand, any imports worth more than 1,500 Thai Baht (THB) will be subject to an additional 7% VAT. Similarly, Singapore will begin to levy 7% to 9% GST when customers purchase low-value goods in 2023.
It's important to be aware of these and let your customers know that purchases may be subject to additional in-country charges.
When it comes to payment methods in cash-predominant countries like Indonesia, The Philippines and Thailand, you'll need to ensure your business has a way to process it. A common remedy is to use a marketplace like Lazada or Shopee who will handle payments for you.
It's also a good idea to display product prices in the local currency so that buyers know what to expect. And since you're dealing with different currencies, you'll need standard operating procedures for storing or converting local balances.
f. Government regulations
With different governments come different laws and regulations surrounding the sale of products.
For example, in Thailand, there are multiple laws that govern eCommerce, such as:
The Consumer Protection Act of 1979: Gives customers the right to comprehensive product information where falsification of the information could result in criminal prosecution.

Copyright Act of 1994: Copyright infringements carry a fine between 50,000 and 800,000 baht and potential jail time.
You should also be aware of prohibited products, for example, e-cigarettes and vapes in Thailand.
Above all, make sure that whichever country you decide to sell your products in, you abide by local consumer laws.
8. Make sure you're ready to succeed in the Australian eCommerce market and beyond
In this article, we've covered the major aspects of the Australian eCommerce industry, including current trends, eCommerce marketplaces, logistics providers and more. We've even analysed how Australian brands can venture into Asia.
Regardless of where you decide to expand, ensure you:
Do the required research to understand your market and the customers within it

Develop partnerships and leverage their knowledge on the local market

Be aware of the challenges of each market

Leverage omnichannel selling to meet your customers wherever they are

Use eCommerce ​​technology like Anchanto to simplify cross-border and multi-channel selling
Want to expand your brand internationally?
Reach out to one of our eCommerce experts to get all of your questions answered.