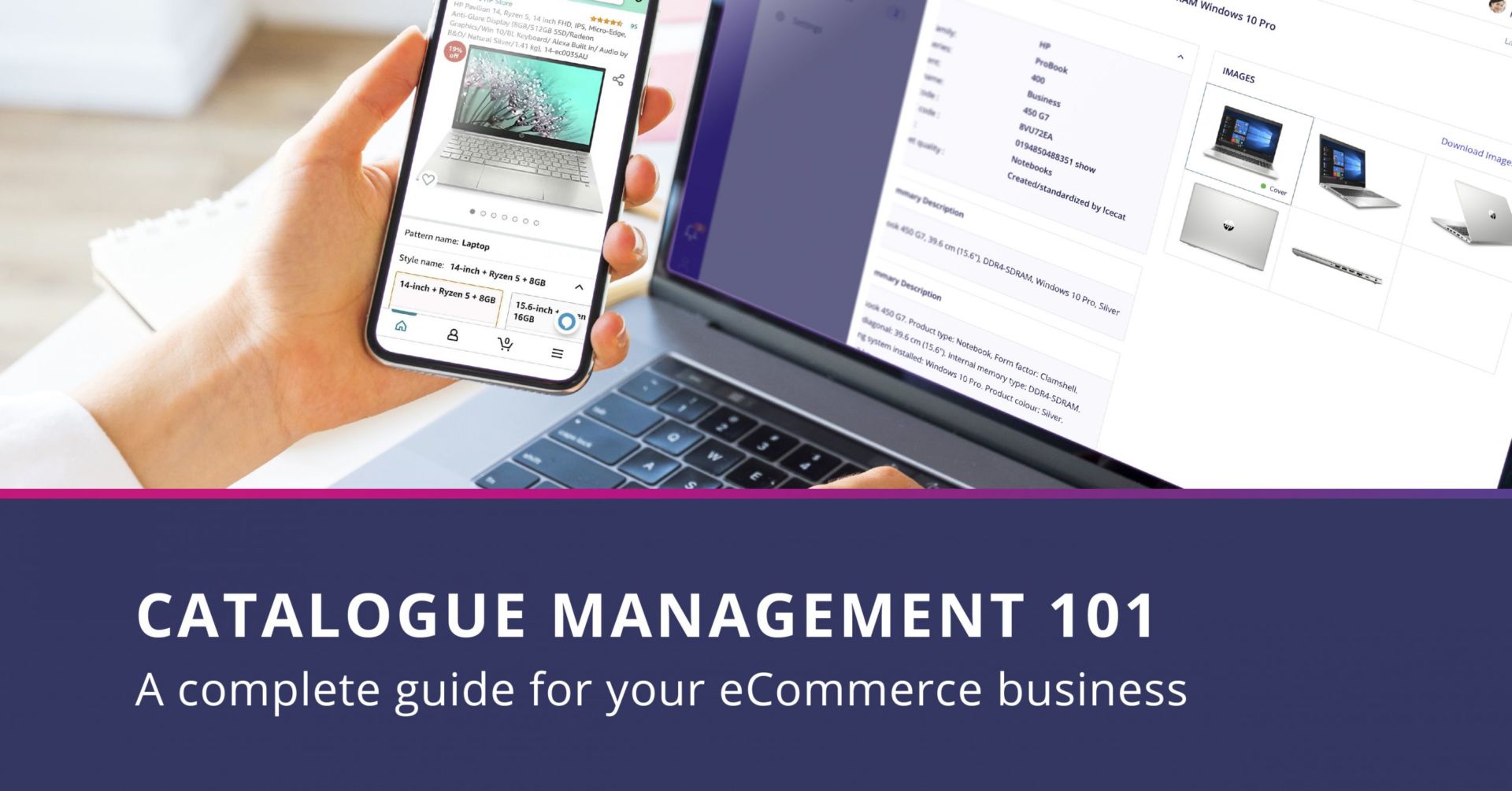 Catalog Management 101: A Complete Guide for your E-commerce Business
1. Introduction
Unlike in offline retail, most online setups do not have sales executives to assist customers with their requirements. Shoppers depend on product catalogs to learn more about a brand's offerings and to make their choices. Even if they intend to ultimately shop offline, approximately 81% of shoppers conduct online research[1] before making a purchase. This means product catalogs directly impact both e-commerce and traditional shopping experiences and are pivotal for better sales.
To leverage product catalogs for the purpose of sales, it's essential to optimize them with relevant information and visuals (images and videos) that answer the questions shoppers have about products. Product-related content is vital to around 87% of consumers[2] to make a purchase decision. Hence, it is imperative for any business to make product catalogs engaging, insightful, and consistent to clear doubts. In addition to creating catalog content, brands must take the time to centralize their catalogs across the various platforms, even if they are sold via tiered distributors and retailers. That way, the standard of their products is maintained no matter who sells them.
In this catalog management guide for e-commerce businesses, we will cover all of the steps necessary for effective catalog creation and maintenance.
2. How Poor Catalog Management Impacts Experience And Revenue
It's already clear that product catalogs, especially descriptions, and images have a big impact on purchase decisions. But besides this, they also impact the rate of returns, cart abandonment, and the trust shoppers have in any e-commerce business. For example, if a brand's product description and images do not match the actual product, the possibility of a return is very high. Inaccurate product catalogs occur when retailers and distributors don't have access to the authorized product marketing content. This can create a poor representation of a brand and, in turn, impact their sales. Some of the most common negative impacts a brand may face due to poorly crafted catalogs have been listed below.
a. Bad customer experience across channels
When brands use a tiered distribution system, members of the distribution channel create their own listing content. Unfortunately, this creates inconsistency and poor-quality listings of a brand's product across different channels. Brands go to great lengths to create engaging and exciting content to represent their products online. But, most distributors don't make the same effort when producing product information. This can deteriorate customer experience with specific products across different online retail channels.
b. Loss of revenue
According to a recent eMarketer survey, 83% of the respondents[3] stated that product images are very influential in their purchase decisions. Similarly, 82% said that product descriptions and specifications make a big difference to their purchase decisions. Usually, if customers see insufficient, poorly articulated product details and shabby images, they may be unsure of the authenticity of the listing. This can lead them to competitor products and revenue loss for the brand.
c. Tarnished brand image
When customers see a poor-quality listing, they do not associate it with the seller but directly with the product brand. So it's the brand image that takes a direct hit when product catalogs are substandard. And, once people have a specific impression of a brand, it's hard to change their minds. Therefore, it's vital to have all distributors and sellers of a brand maintain standard product catalogs that are designed by the brand itself.
d. Loss of control over customer experience
Again, brands with tiered distribution models may find it difficult to regulate or audit the quality of listings prepared by sellers or distributors of their products. This makes it challenging for them to control customer experience and are dependent on others for their success in the e-commerce market.
e. Low product visibility
When product listing elements like the titles, descriptions, specifications and other textual data are vague or incorrect, it can push products to the bottom of search lists on digital market spaces. Moreover, the use of wrong terms will make listed products invisible to potential buyers.
f. Difficulty in comprehending listings
Poorly formatted and conceptualized text can be difficult or boring to read. For online shoppers to be engaged and take action when they come across a product, its listing must be exciting, informative, and easy to read. If not, it will drive away buyers.
g. Indecisiveness
Aimless product descriptions and vague images make it difficult for customers to confirm purchase decisions for a specific product. This often results in cart abandonment. Should the buyer come across another product with clear details and a call to action, they will certainly choose the latter.
3. Tips for creating an engaging catalog
As it is quite visible, maintaining standard product catalogs is essential for uniformity, better control over customer satisfaction, and ultimately higher sales. To ensure uniformity across online distribution channels, businesses need to get their catalogs right. This section of our catalog management guide for e-commerce businesses conveys tips to design product catalogs that attract customers and encourage sales.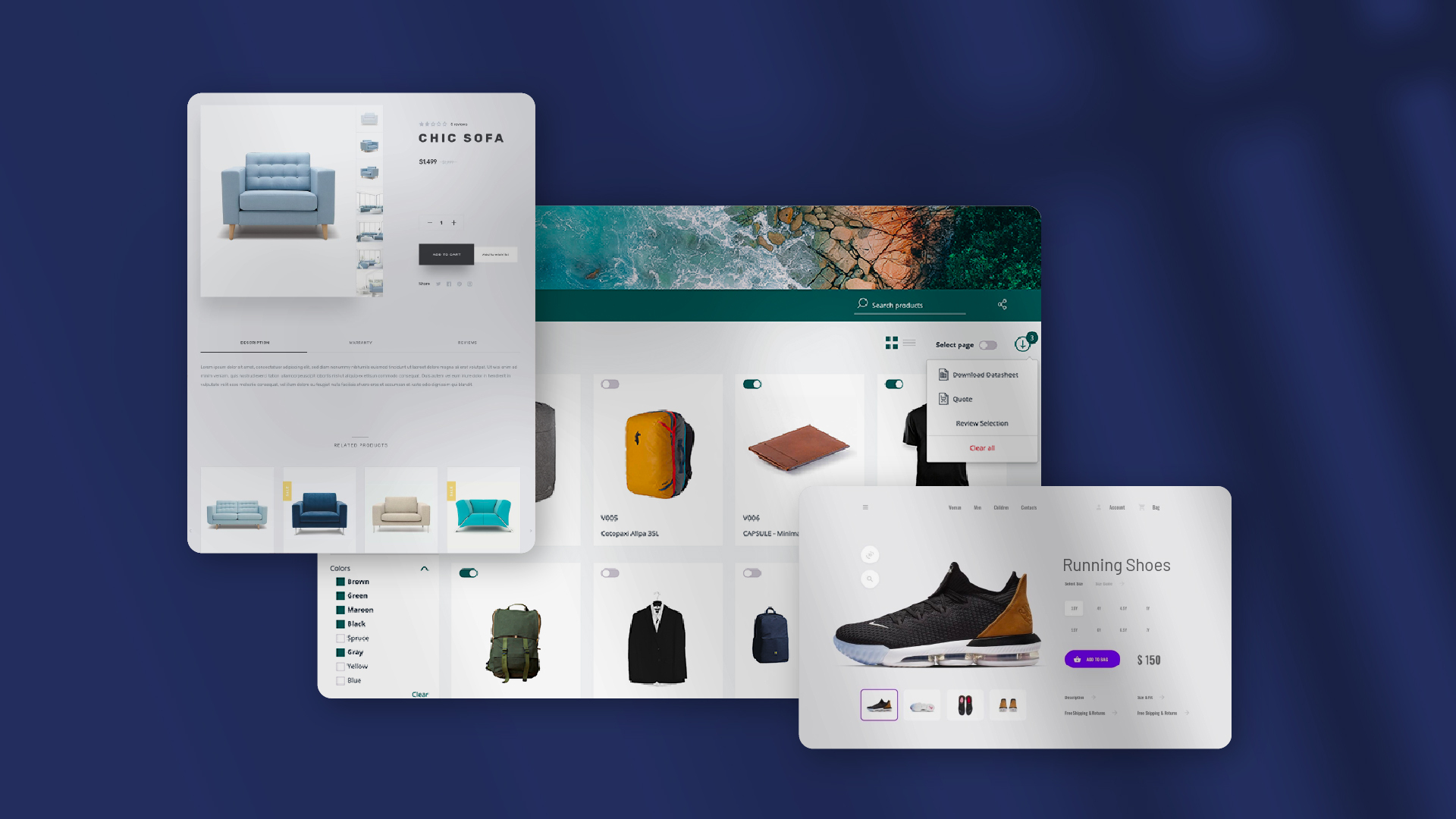 a. Create SEO-rich descriptions
SEO is all about making online searches convenient for internet users. It is particularly helpful for online shopping. Online buyers in search of products to satisfy their needs will type into Google or an online marketplace search the item they are looking for. If they want something specific, like a "pair of medium size blue faded jeans," they will type these words into the marketplace search. Brands selling this kind of product should incorporate these keywords into their product titles, descriptions, and highlights. Once their product information is uploaded online, search engines and marketplace software will index the content, and when search keywords match this information, it will be pulled into the results. In simple terms, when brands include relevant descriptive terms in their online product catalogs, customers looking for their products will be able to find them easily. Using product-specific keywords in titles and descriptions helps build SEO on marketplaces. This not only enhances product visibility, but SEO-rich descriptions help brands acquire free promotion on marketplaces. This reduces marketing expenses and doubles up ROI.
b. Capture high-quality product images from different angles
People process images faster than text, and when shopping for a product online or in person, they expect to see it before they purchase it. Online shoppers desire to inspect products from various angles for a full understanding of their looks and features and to make up for being unable to see and feel the product in person. Some marketplaces insist on specific product angles to maintain a standard experience for their customers. Meeting these requirements and even exceeding them, can enhance the shopping experience.
Moreover, the quality of images used in product listings significantly influences the interest of shoppers and their intentions to make a purchase. High-quality images that allow viewers to easily zoom in are ideal for product listings on marketplaces, web stores, and even marketing platforms like Pinterest and Facebook. The ideal image size is 1,000 pixels or larger in either height or width.
c. Use infographic designs
Once customers are drawn to a product based on its images, they want to learn about its features, usage instructions, and care and maintenance directions. Making this information easy to find and exciting to read can actually impact shoppers favorably. Use marketplace and web store tools that make product features more evident and interesting to read. For example, in addition to detailed textual descriptions, brands can also include charts, videos, high-quality images, brand stories, and more on each product page to create infographic designs. This can positively stimulate traffic, conversion rates, and sales.
d. Incorporate bullet point features to summarize and emphasize product benefits
Bullet points help online shoppers do a quick scan through the products they are interested in and identify if they have found what they truly want. Let's consider a buyer is looking for genuine leather shoes, but the products listed in their search results are a mix of PU (polyurethane) leather and genuine leather. Instead of reading through the entire product description, the product features listed as bullet points will help the buyer determine which products to shortlist and learn more about.
e. Create lifestyle images to show the product in use
Apart from the basic images uploaded to display the different angles of a product, lifestyle images can also be added. They help buyers envision the use of a product in different ways. For example, a scarf can be used in many ways, including some pictures of this product being used in various manners can really help buyers see how versatile it is and how it may fit into their wardrobe.
f. Add cropped images that highlight key features of the product
To emphasize a pattern, logo, or other minute details, it's vital to list an enlarged section of product images. Some clothing and bags have a specific stitch that is synonymous with their brand or high quality. Using images to emphasize this can help clients understand the worth of the product they are looking at.
g. Introduce video content to explain the product better
Product videos are more engaging than images. They allow for better explanations, exciting experiences, and convey more information. These videos do not have to be cinematic. They can be simply descriptive, where a person explains or reviews the product in question. Like lifestyle images, lifestyle videos could also have a positive impact on shoppers. Perhaps they can be used to display the usage of the product, its effectiveness, scope, durability, and more.
4. Catalog Management Technology
Once product catalogs are created, brands need to maintain and store them in a location that allows easy access for all those who will use them. For this, a suitable technological infrastructure like PIM and DAM systems that efficiently store digital assets and manage them appropriately.
A. What is a Product Information Management System (PIM)?
PIM deals with all of a company's product information and how it's presented across marketing and retail channels. The purpose of this system is to ensure that all product-related information and content designed for customers to see is distributed in high-quality. It also guarantees that the content issued is consistent across all platforms. Apart from maintaining a company's standard and image in the market, PIM also ensures that all customers are informed sufficiently about company products. Irrespective of where their products are being sold.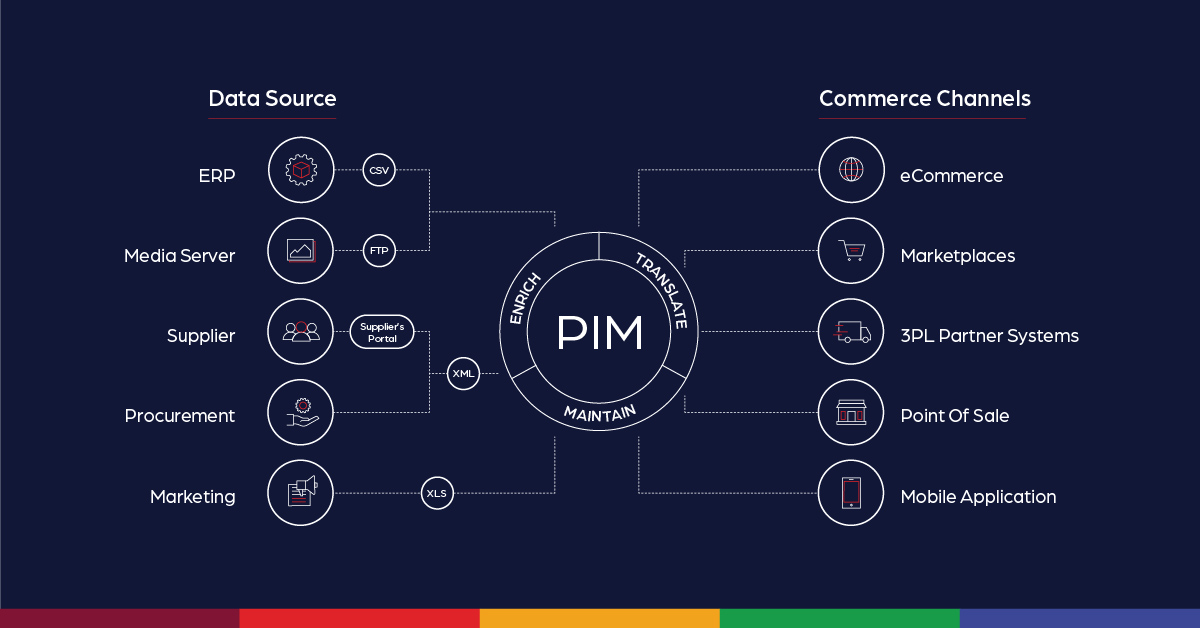 "We recognize a lot of spending goes into Product Data Marketing, unfortunately, this data doesn't always reach the place where and when it matters most. By syndicating product data via a platform like Icecat you cover that last step, all connected platforms will have "automated" access and can continuously align with your latest product communication. This increases online reach and at all times your product information is up to date and available for your customers to make sound purchase decisions."  Peter Sol, Chief Commercial Officer at Icecat N.V.
B. What is a Digital Asset Management System (DAM)?
DAM systems deal with company assets that are not focused on their products. These assets include digital documents, images, logos, meta information, and even presentations and pitches. This system can be used by sales and marketing teams to collect data and material that will be relevant for promotions.
With a DAM system, businesses can also organize their brand guides, videos, images, and more. The system protects all the assets it collects and ensures easy accessibility whenever required. This way, it's easier to manage company assets and function efficiently.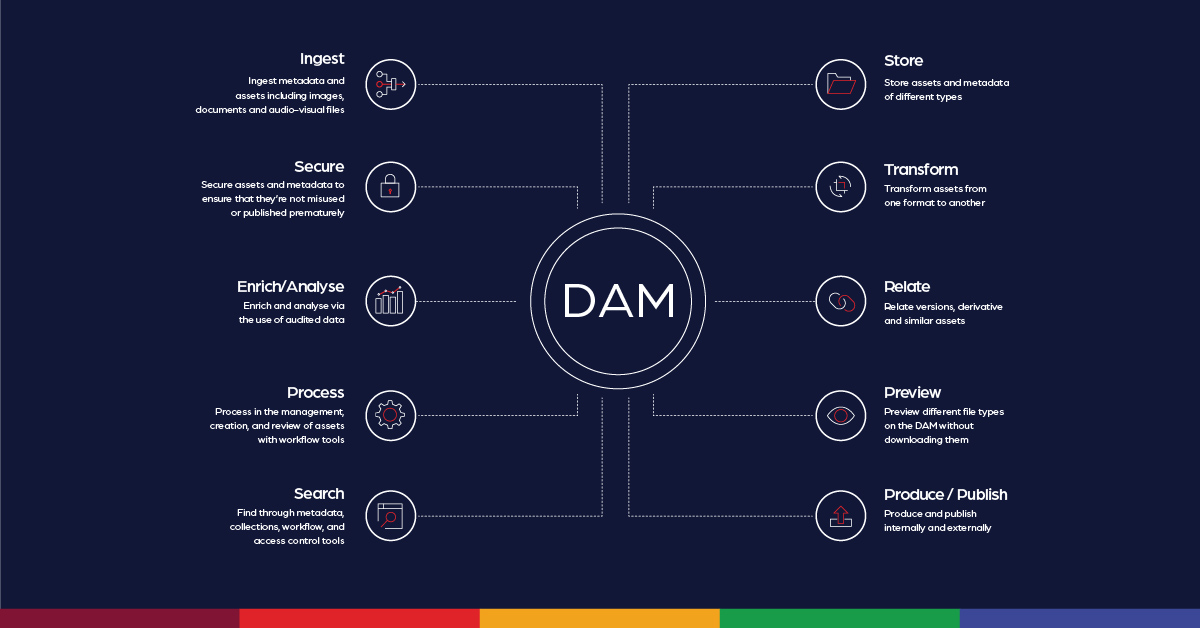 5. PIM and DAM in e-commerce
In e-commerce, PIM systems can be used to store textual information about product SKUs, while DAM systems can collect images, videos, and similar product-related assets. These systems can also store the different components that make up a master catalog created by a brand. This will include strategic content, keywords, professional images, product videos, product usage guidelines, care instructions, material blends, ingredients, and other comprehensive details and digital assets.
a. Benefits to brands using tiered distribution models
With all the different elements of a master catalog in these systems, it is easy to share them with distribution partners for the purpose of online listing and promotions. That way, they use approved content that reinforces the brand image and enhances the online shopping experience for customers.
b. Benefits to brands using direct distribution models
If a brand distributes its products on its own, for example, across different online retail channels or its own online stores, it may face difficulty in uploading listings for its hundreds or even thousands of SKUs. In such a situation, PIM and DAM technology can assist with systematic listing. These systems will collect the data and assets relevant to each SKU and allow centralized access to them. This means the catalogs of multiple SKUs can be cloned and uploaded to the relevant retail channel.
c. OMS Systems With PIM and DAM Integrations
Today, some OMS systems have PIM and DAM inherently in their catalog management sections. This enables users to maintain high-quality product catalogs across distribution channels and automate the listing process. That way, no matter in which part of the world a brand is distributing its products, shoppers associate the brand and its offerings with quality.
Many online shoppers also appreciate qualitative product catalogs as descriptions, images, and videos are the primary way they learn about products online. And the more detail put into catalogs, the more shoppers will see that the brand is interested in making it easy for them to understand their product, its features, and usage.
6. Achieving greater sales with better listing management
The PIM and DAM module of OMS systems allow brands to store product information and also manage their product catalogs and listings with ease. These subsystems help create new listings, change existing ones, and even automate them. For more insights into how beneficial PIM and DAM integrations in an OMS can be, here are some of their competitive advantages: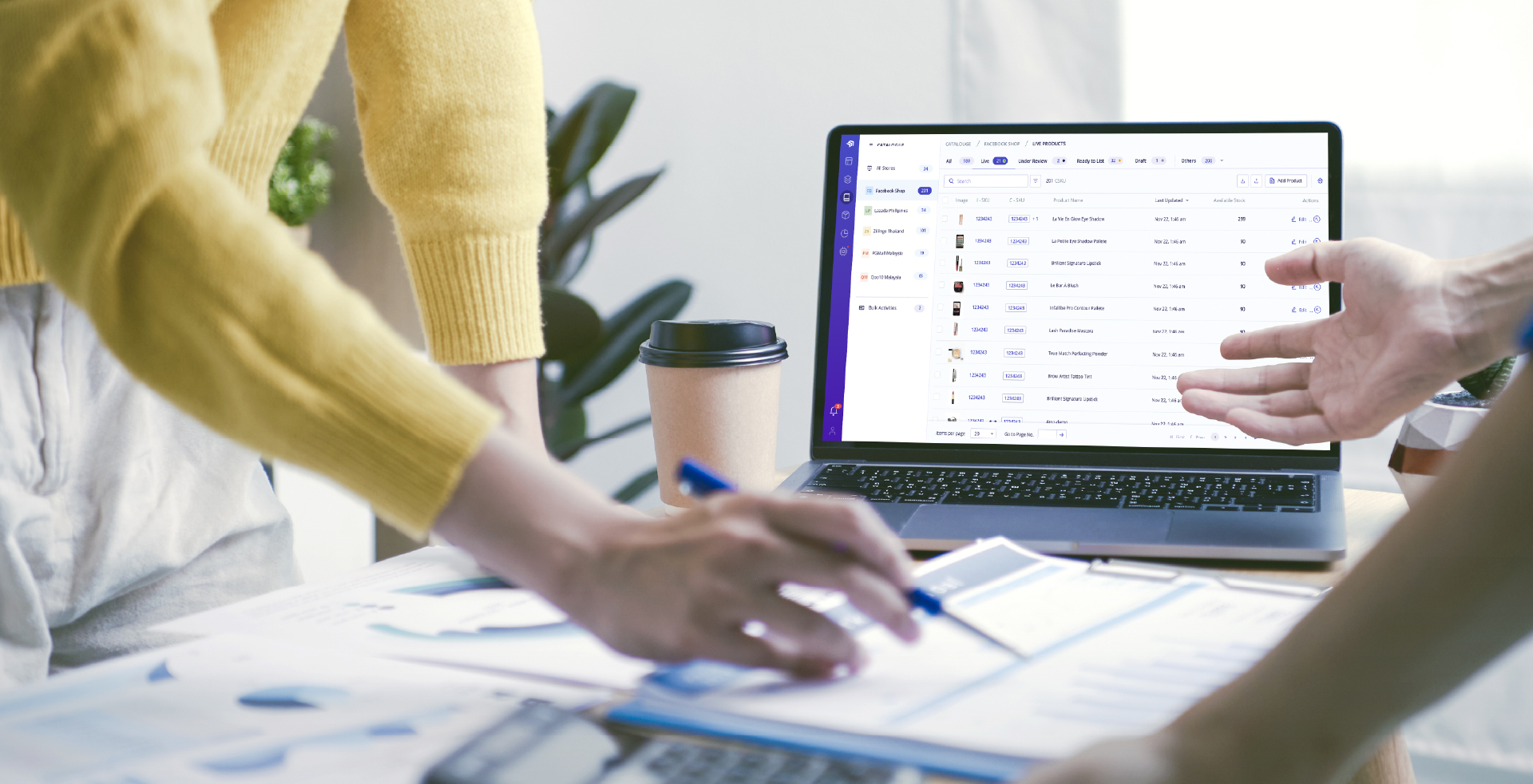 a. Freedom from tedious, repetitive tasks
Different online marketplaces like Amazon, Lazada, and even online stores have their own specifications when it comes to product images. These specifications may be related to image formats, dimensions, angles, backgrounds, etc. This makes it challenging to process images for each marketplace. But, with automated catalog management, there's no need to stress. The system will help resize and arrange images as per marketplace criteria. So no matter which site a brand is listing its products on, the appropriate images will be uploaded.
b. Ready to upload templates
Copying product details and specifications off of an Excel sheet onto marketplace listing forms can be tedious work with hundreds of products to upload. Similarly, manually uploading Excel sheets of each product onto different e-commerce platforms can waste a lot of time. With a listing management system, businesses can take their products to the online market much faster. Listing management systems use inbuilt templates as per various online marketplace specifications. They also meet the listing guidelines for each product category. This ensures that the product specifications required by the marketplace are uploaded correctly.
c. Shorter go-to-market time
Using listing management software significantly reduces go-to-market time and allows for faster exposure across online platforms. As the software provides ready-to-upload templates, brands and distributors can easily clone listings across marketplaces and launch new products immediately. Even if a business is considering exploring a market in a different country, it doesn't have to worry about setting up. It can establish its presence online in any location overnight without the need to create new product catalogs.
d. Efficiency in managing seasonal catalogs
Seasonal catalogs usually include products related to a specific season (summer or winter) or festivities (the holidays, new year, etc.). Manually listing and taking down these seasonal catalogs across different marketplaces can be time-consuming. But automated listing management can speed up the process. They also have templates in sync with marketplace criteria for seasonal sales, which enables the creation of suitable product catalogs. These catalogs can be uploaded across online retail channels in a matter of minutes. During marketplace sales, brands can also create product bundles and kits with this technology to take advantage of market trends or encourage the sale of slower-moving items.
e. One-time upload catalogs
Advanced listing technology requires businesses to upload new product catalogs only once. The PIM and DAM modules store all product-related information and can clone it as and when necessary across different marketplaces based on their requirements.
f. Error elimination
To create a trustworthy image in online markets, brands need to minimize errors and inaccuracies in their product listings. They will mainly interact with consumers through the text and visuals representing their product. Incorrect or incomplete listings can compromise customer experience and ruin brand reputation. Fortunately, this can be avoided with listing management software. The intelligent technology automatically compiles and uploads the appropriate data for each product across various marketplaces. It also ensures all critical data is uploaded with the relevant SKUs.
g. Better quality and consistency of product data
Given that OMS systems with PIM and DAM integrations clone high-quality product information and images created by brands, it's very easy to maintain consistency across online retail platforms. This is vital when using tiered distribution models, selling across borders, or selling on new marketplaces. Consumers prefer brands that are consistent with their product representations. If there is a variation in listing quality of the same product on two marketplaces, consumers may feel uncertain about the brand selling them. This may discourage purchases from the brand.
h. Reuse of assets to increase ROI
A lot of time and money goes into creating engaging product descriptions, images, and videos. To ensure the investment made in these assets is worth it, PIM and DAM cataloging technology reuses them across marketplaces. This broadens the scope of their success in attracting buyers and increases business ROI.
7. Capabilities To Look For In PIM And DAM Cataloging Systems For E-commerce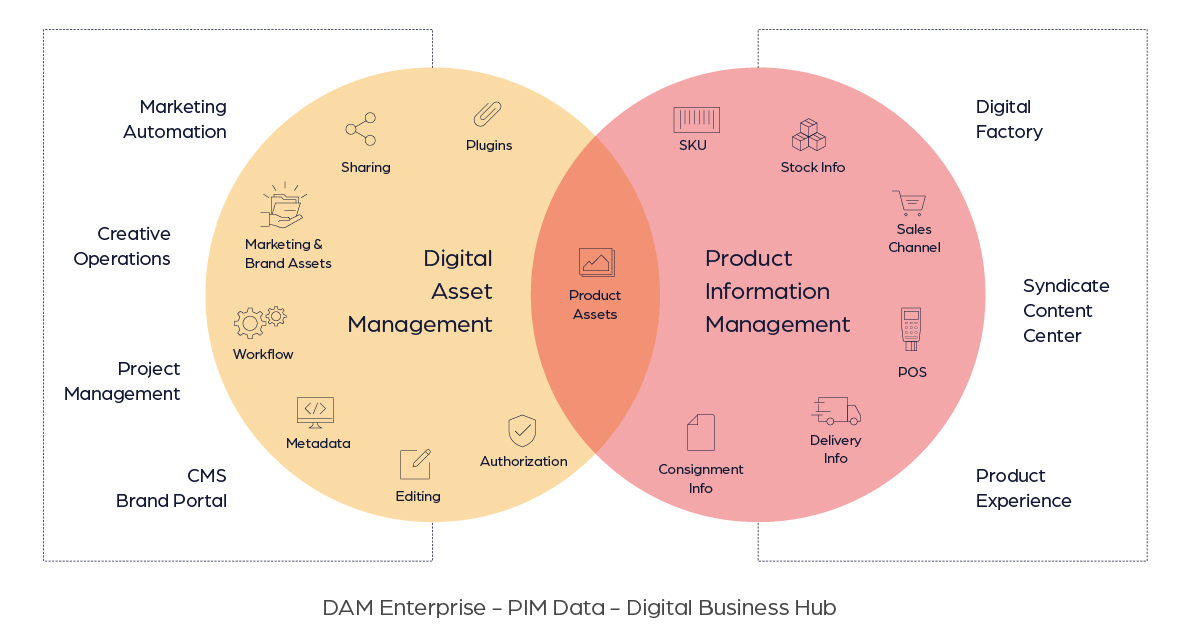 While cataloging technology with PIM and DAM features provides significant advantages, it's wise to remember that not all cataloging software is created the same. There are some systems more advanced than others, and this can result in confusion when looking for practical cataloging software. To help brands and businesses identify the ideal cataloging technology, our catalog management guide for e-commerce businesses has covered these  must-haves to look out for:
Clear listing visibility: The system used for cataloging must provide a tabular view for comfortable viewing of all product listings. The listing view should be easy to read and understand. At the same time, it should be customizable to the user's preference. For example, it should be easy to see all the product listings of a specific marketplace. That way, brands can perform quick overviews and find what they need for reference.
Catalog filters: For the purpose of editing product information listed across marketplaces, it's essential to have a system that enables customized views for selected products. This is made possible through catalog filters that are designed to target items with common specifications.
Search and modification settings: When a cataloging system offers a search feature, it's easy to narrow down the hunt for specific product listings that need to be modified on any or every retail channel. Centralized cataloging systems reflect changes globally. That means any changes made to a product listing will be reflected across every e-commerce channel where the given product is listed.
One-click catalogs clone: For shorter go-to-market time, cataloging systems must support one-click catalog cloning. The system must be able to duplicate partial and entire product catalogs so they can be listed with ease on new marketplaces. Manually copying catalogs can delay brands from taking advantage of booming markets and profitable trends. But a bit of automation can help them strike fast when the returns are high.
Bulk product export/import: Brands using tiered distribution models need to share product catalogs with their distributors or suppliers. In this case, exporting and importing their multiple product listings in bulk is crucial. Cataloging systems that can manage bulk product data export and import make it easier to share product information and maintain consistency on every retail channel.
Control over live listings: Live listings refer to those product catalogs that are uploaded on various e-commerce channels and visible to shoppers. When a listing is live, monitoring it is vital to control the customer experience. With this feature, brands can make immediate changes and edits to product information based on customer reviews and insights.
Dynamic selling price alterations: From time to time, product pricing will fluctuate, especially during sales. To appropriately make changes to the pricing of specific products, a catalog management system must allow dynamic selling price alterations across live listings. Through this feature, brands can accurately update product prices of all their product listings on different marketplaces.
Management of real-time channel-specific information: With a centralized catalog management system, brands can access and view their product listings in real time from a single dashboard. This enables them to review their product information on any e-commerce platform in a few clicks. They also have the advantage of making changes to all or a few listings from a single location. There's no need to log into multiple seller centers. The change made through the cataloging system should reflect across all the relevant online retail channels.
Auto category mapping: Cataloging systems that have auto category mapping make it easier to put products into the relevant categories created by marketplaces. This feature automatically syncs products into relevant categories from the centralized dashboard without users having to put in much effort.
Inbuilt QC: Those cataloging systems that have inbuilt quality control (QC) attributes check if product listings meet standards set by each marketplace. The system is aware of all the black-listed words, approved image dimensions, and other formats. If the listings uploaded do not meet the requirement, the person uploading the files will be alerted. Based on the alert, changes can be made to prevent being blacklisted by marketplaces.
Product, kit, and group creation: Apart from creating new catalogs, brands can also create customized catalogs for their kits and groups and list them in a few clicks. These catalogs can be cloned and altered to make it easier to create mixed product combinations to sell online.
Bulk catalog actions: Like dynamic price alterations, the catalog management system in use must support bulk actions instead of having to make changes one-by-one. These actions may include content edits and updation or image revisions.
Bulk product listing: This is a basic requirement. All advanced catalog management systems must save efforts by uploading multiple product listings at once. This feature is extremely beneficial when a brand launches new products or is looking to list its over a thousand products on new marketplaces. With bulk listings possible across online retail channels, launching products and brands is faster and simpler.
Update across selected channels: Another very helpful feature catalog management systems must have is selected channel catalog editing. This means that edits and updates to catalogs should be made possible across only the online retail channels that the brand or its distributor chooses.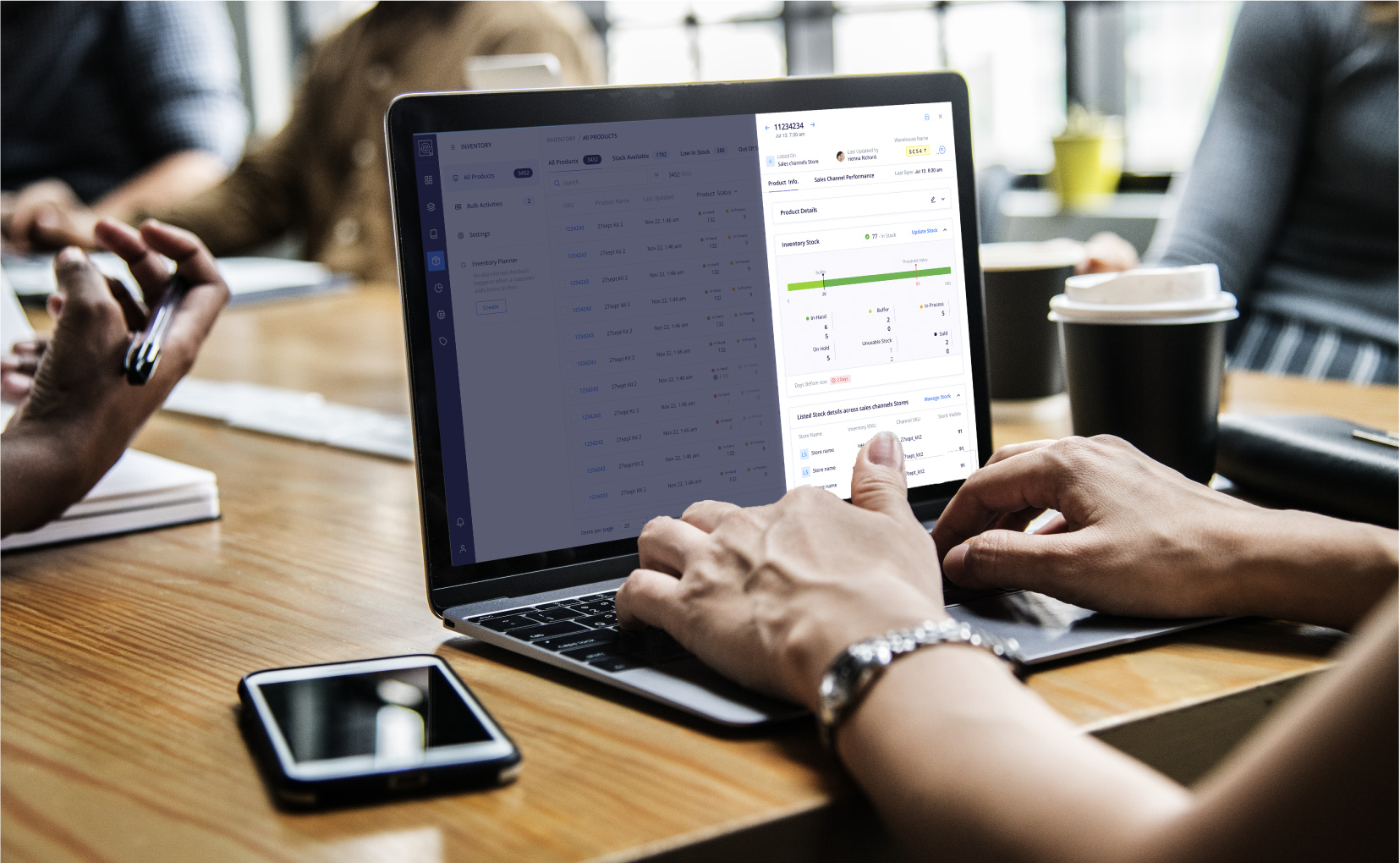 8. Bottom Line
With e-commerce taking center stage across the globe, organizing and managing online retail ventures effectively is the need of the hour. For this, many new forms of technology are available. Catalog management software is just a single component involved in taming the beast that is online retail. Usually, OMS systems possess the diverse qualities needed to take complete control of e-commerce activities. Moreover, they need to help brands deal with rivals and also meet customer demands and expectations. The technology at our disposal today offers automation of several mundane tasks and streamlines operations that require more attention to detail. Implementing some of this right away can increase the operational efficiency and overall productivity of businesses. Customer experience will also develop positively, and brands will be able to emerge successful despite their competition. All they need to do is identify the right tech solutions to help them out.
For insights beyond this catalog management guide for e-commerce businesses, reach out to the experts at Anchanto.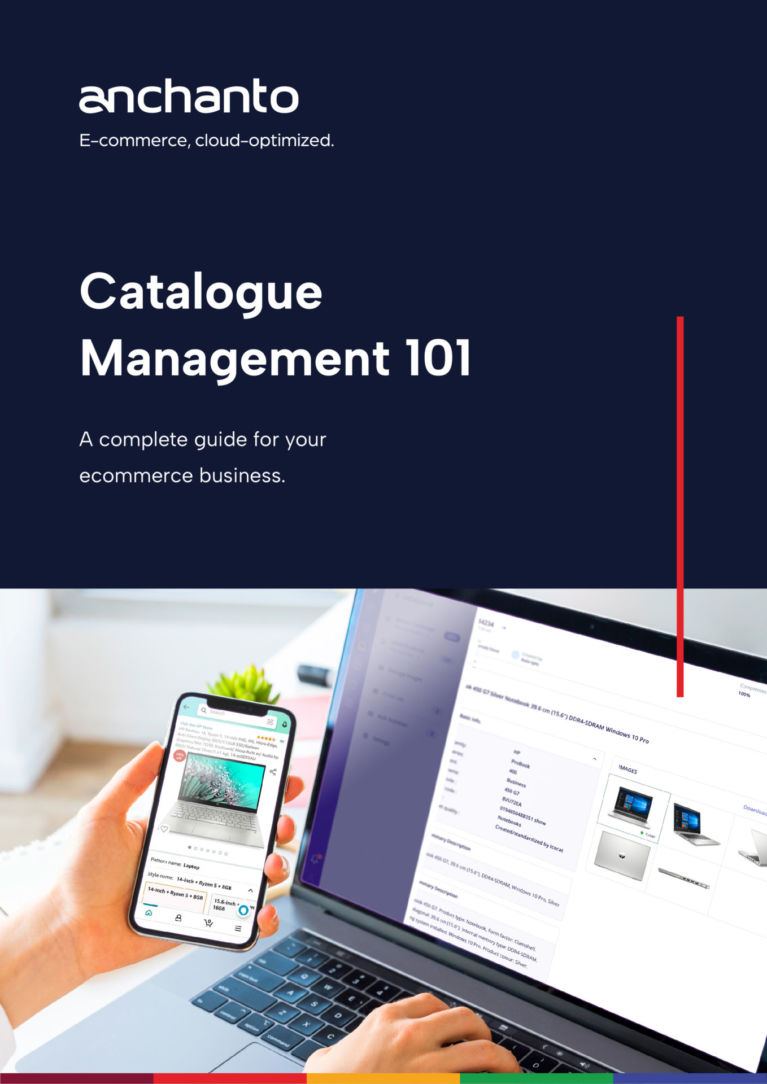 Short on time? Download now and read on the go.