Content Asset Management: A key to multichannel eCommerce success
High quality content and updated product listings play a major role in being successful online. Sellers and retailers have a hard time being even listed on marketplaces if they ignore the significance of their content. As the customers' interests shift from offline stores to online shopping, sellers need to maintain uniformity with the product catalogues and content assets they use across channels.
Digital Asset Management (DAM) and Product Information Management (PIM) are two systems that fully support this objective. When implemented effectively, these tools can help organizations improve brand consistency and maintain rich product content on their sales channels.
Keeping your content resources up-to-date dynamically improves consistency and maximizes brand value. An IDC respondent report in 2018 stated that businesses which implemented DAM systems reduced the risk of downloading outdated content by 70% and also improved their content delivery speed by 27%.
Understanding DAM and PIM Systems
Digital Asset Management (DAM)
A DAM system is your active source for managing all the data related to your product and the category they belong to. It provides specialized version control and search functionality allowing you to maximize the use of your existing digital assets. In short, it is a content hub consisting of all brands (existing, upcoming, discontinued), product images (line products, brand products etc.), metadata of all the SKUs, and more. It also enables you to authenticate public URLs so that the same product information is sourced by official distributors, retailers, or any other actor from your distribution network.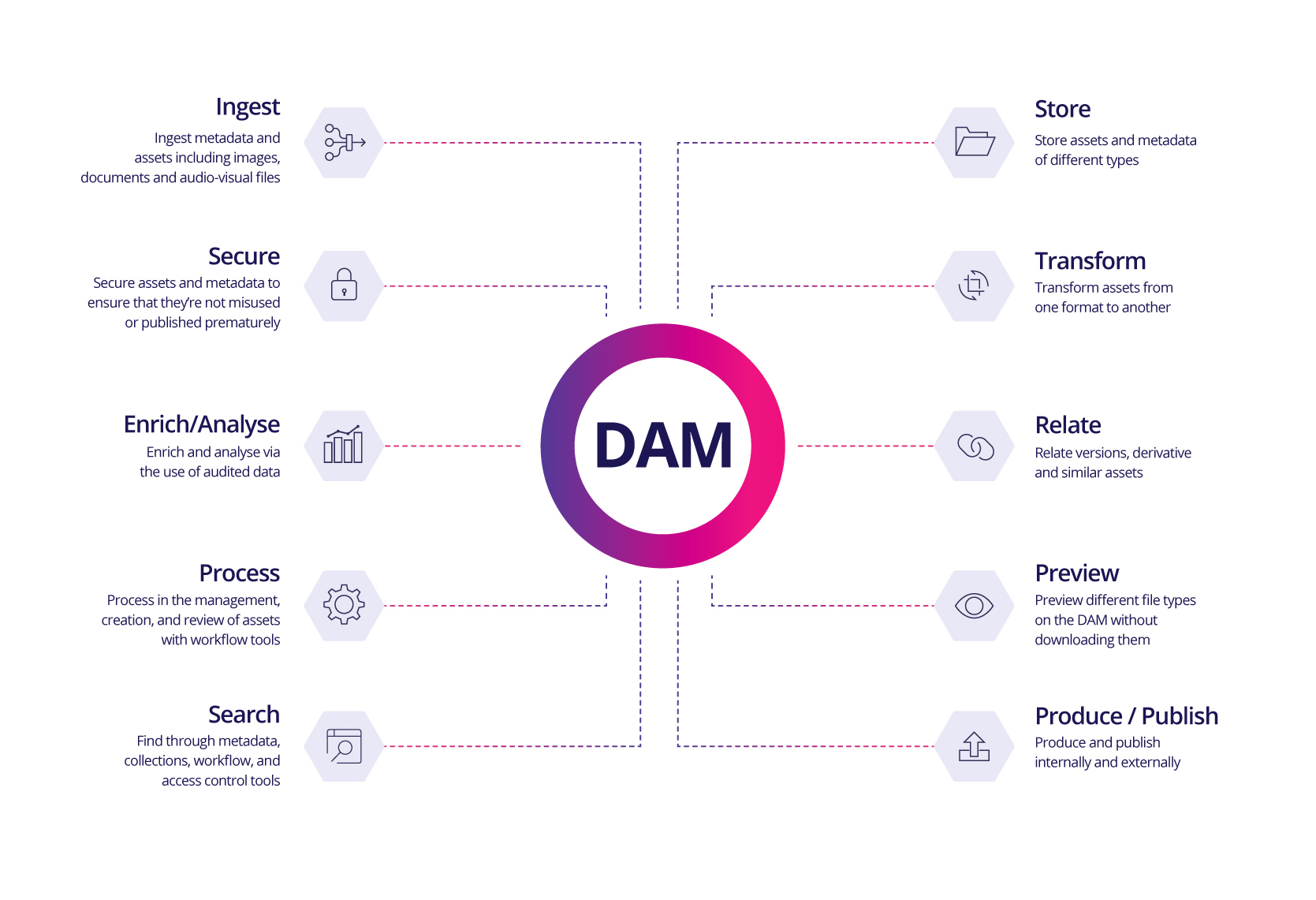 A DAM system further enables your business to maintain control of all these materials and ensure that it shows a uniform brand/ product image across all your sales channels. With a DAM system in place you have a centralised and secured location for digital content; which can be shared internally and externally, and consistently up-to-date.
Product Information Management (PIM)
A PIM system, on the other hand, is powered by the information provided by a variety of internal and external sources loaded into the system. Based on the raw product information, a PIM ensures that all SKU specific content of your brands is in order. It further eliminates the risk of errors or gaps that can be detected by customers or online search engines for sales conversion.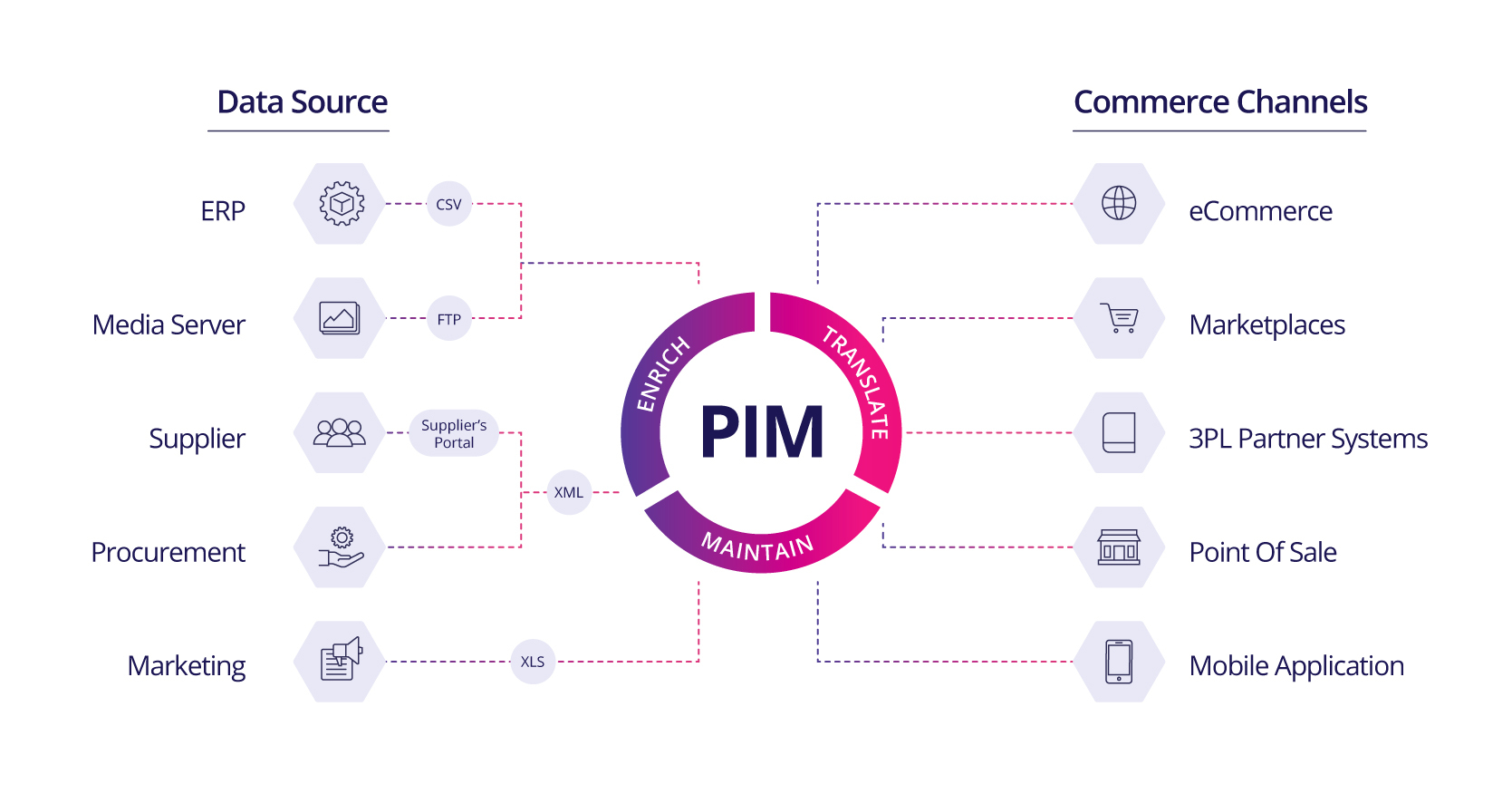 It allows you to automate the process of onboarding, validating, managing, and publishing product specifications to gain a single source of truth. You can spread the enriched, localized data to eCommerce platforms, marketplace listings, print catalogs, points of sale, mobile applications, chatbots, and all other channels.

Why brands need an integrated PIM-DAM system
The benefit of having an integrated PIM-DAM system for all your products simplifies data sharing, search, and use of assets. Rather than manually adding campaign-specific metadata to each asset, you just enter the metadata once, and your PIM- DAM system automatically populates that data across all appropriate sources.
Controlling tiered distribution
If you operate via a tiered distribution model consisting of distributors & retailers, it gets tougher to maintain the same level of content quality across channels. Having a unified content library enables brands to manage digital assets centrally and eliminate inconsistency or poor quality listings.
This in turn helps safeguard the authenticity of the brand, and deliver a rich product experience to the end customers.
Driving sales
Products are the core assets of your business, so it is essential that your product information is completely accurate. When the data is made contextual, emotionally impactful, and specific to the sales channels, it contributes to better sales conversion and satisfied customers.
Customer personalization
Nowadays, customers are more inclined towards gaining personalized shopping experience. And this is made possible by using an integrated PIM-DAM system. Accelerating each customer engagement by exposing them to the right information and enriched media elevates next-level buying experience.
Real-time listing updates
Enabling a better PIM system helps you to quickly create a single source of data for a consistent and seamless shopping experience across multiple marketplaces, web stores, or your online brand stores. You can control real-time product listings, update or change product specifications without having to login through different accounts of all these sales channels.
Clone/copy Product Listings Across Channels
The main benefit of integrated PIM- DAM systems is that you do not need to undergo repetitive tasks of adding the same product information whenever needed. Storing all your product information in the master data enables you to simply copy the stored product information across new channels with one click; thus reducing errors and operational time phenomenally.
Most businesses are now vigilant of the core systems they use and strive to increase their efficiency wherever possible. Integrated PIM-DAM systems enable eCommerce businesses to gradually improve their productivity, their customer experience, and ultimately their sales performance. And as the need for technology to improve synchronization of information and product attributes will continue to grow, adopting an integrated PIM-DAM system will become essential for multichannel operations.
Sources: