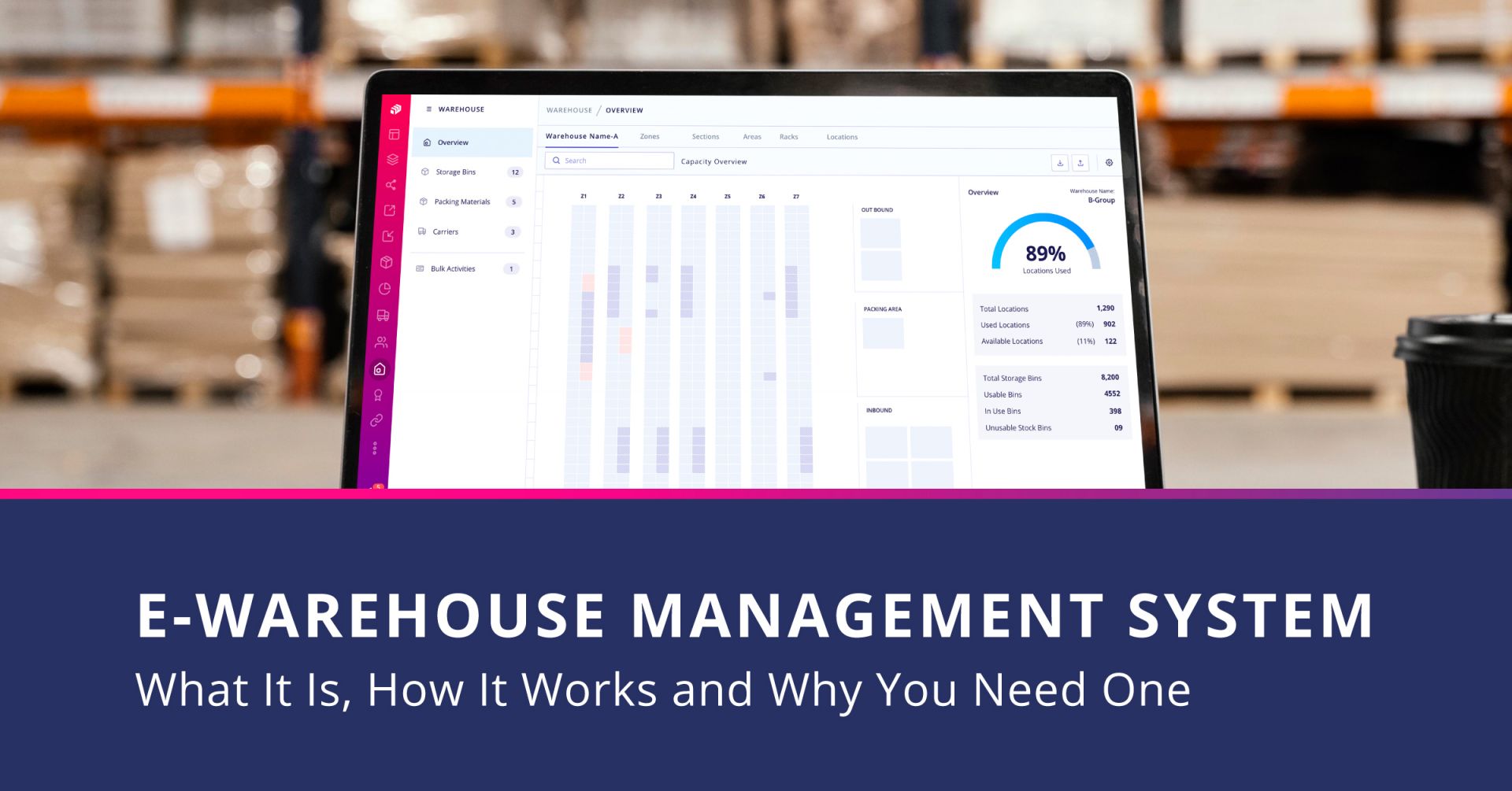 e-Warehouse Management System Explained: What It Is, How It Works and Why You Need One
1. Introduction
In recent years e-commerce demand has risen sharply[1] leading to bottlenecks in the supply chain for many industries. While the rising demand for online retail is an encouraging sign, reducing congestion in supply and fulfillment is the need of the hour.
But, are warehousing and logistic providers equipped for this? Can they meet the growing appetite for online retail?
Research by Forrester predicts that by 2025 online retail will account for 35% of all retail[2]. Based on this prediction, at least 64 million square feet of additional warehouse space will be required for online retail alone.
In addition to meeting the larger storage demand, warehouses are being called on to handle more complexity in the form of B2C (business-to-customer) fulfillment. This will lead to higher operation costs and greater room for error as it calls for:
Managing bin, shelf, and pallet locations of each SKU

Performing regular warehouse and inventory audits

Recording stock levels

Running category-specific inventory reports

Monitoring stock availability and inventory turnover

Reordering products in time to prevent stock-outs, and more
Despite these tedious and repetitive tasks, fulfillment is still the backbone of e-commerce. And warehouses and 3PL (third-party logistics) companies that can figure out an efficient, cost-effective way to perform fulfillment and all its activities will dominate the e-commerce industry. They will contribute to end consumer satisfaction and earn higher profit margins for their clients and themselves.
To ensure optimum fulfillment, warehouse operators must restructure their facilities and workflows. And using an e-Warehouse Management System (WMS) is the best way to achieve this. A WMS provides technological infrastructure to save time, reduce costs, achieve accuracy, optimize staff, and get more out of available storage space.
In the coming sections of our B2C Fulfillment Handbook, we'll learn about e-Warehouse Management Systems, how it manages B2C fulfillment, and what are the essential features to look for in this system.
2. What is an e-Warehouse Management System?
An e-Warehouse Management System or WMS is a cloud-based software that allows manufacturers, retailers, warehouses, and 3PLs to optimize stock management and fulfillment processes. This system enables goods to move through the warehouse quickly and cost-effectively. It also provides visibility of inventory in the warehouse or in transit.
As brands and retailers engage in operations to scale their business, they are on the lookout for warehousing partners to support their needs. Beyond storage, they expect their fulfillment partners to offer them coherent processing functions to reduce order latency, processing costs, and fulfillment errors.
A WMS can accommodate all of this while providing value-added offerings like kitting and final assembly, refurbishment or repackaging, adding images and codes (or promotional material like discount cards, leaflets, etc.,) to packages.
As a cohesive system, WMS technology has had a positive impact on warehousing and logistics. During a survey last year, 83% of respondents in the US said they depended on a WMS[3]. And, on a global scale, the WMS market size in 2020 was valued at $2.64 billion[4]. This same market is expected to grow at a CAGR (compound annual growth rate) of 15.3% by 2028.
So, is an e-Warehouse Management System worth the investment? It certainly is, as we'll learn about e-Warehouse Management Systems in the next section.
3. How does an e-Warehouse Management System handle B2C operations?
An e-Warehouse Management System encompasses several attributes that empower warehouses to serve their clients better. They address common and complex inventory challenges and create a real-time warehouse environment that brands, suppliers, and retailers can trust.
Here are a few specific areas where a WMS proves helpful in managing B2C needs:
a. Streamlining warehouse logistics
Many warehouses face challenges related to space planning, which brings about problems like wasted space, longer processing and delivery periods, and even errors. These problems can shrink their revenue and slowly deteriorate their business.
Thankfully, WMS platforms can help customize workflows and provide picking logic, ensuring the warehouse is fully optimized for inventory allocation and fulfillment. The system uses heat maps to determine the best place for specific items based on the movement of warehouse staff.
b. Quick integrations with partners and platforms
WMS systems offer integrations with different marketplaces so orders placed are directly received at the warehouse, along with business client details, purchase specifications, and delivery details.
Warehouse Management Systems also offer integrations with carrier partners. These include private partners and marketplace delivery partners. ERPs, accounting tools, web stores, and other systems.
These integrations usually take three to four months when done privately by a warehouse. The process requires documentation, setting up the integration, and testing it to verify if it's working. Therefore, they take so long to set up.
But, an e-Warehouse Management System offers ready-to-use integrations with various platforms, ERPs, partners, and more.
c. Real-time insights for reporting and forecasting
An e-Warehouse Management System can collect information related to storage and fulfillment for managers to analyze operations and make improvements. Details recorded include stock quantities, how fast items move every day, every month, and every season, the time taken to dispatch products, and the costs involved.
From the data collected, warehouse operators can determine how much inventory to request from clients during specific seasons. They can also determine if the warehouse needs reshuffling to reduce fulfillment time.
Warehouse clients can also access information like fulfillment rate, inventory levels, picking, packing, and dispatching efficiency related to their inventory with the warehouse. This is achieved through personal accounts with the warehouse's WMS.
d. Digital and paperless warehousing
At many warehouses, the end-to-end processes are still done manually which translates to endless paperwork that may be misread, misplaced, and erroneous. A WMS supports the digitization of warehouse operations like inventory inbounding, outbounding, managing of stock ids, product counts, labeling, picking, packing, transferring, updating, replenishing, order processing, fulfilling, billing, and more. The system automates these processes and eliminates paperwork, reduces human error, and simplifies inventory handling and fulfillment.
e. Resource optimization
A WMS can program the handheld devices (scanners) used by inventory managers and staff to effectively guide them when picking products for shipping. Thousands of orders need to be fulfilled in a day. And these devices programmed with stock details and picking algorithms help pickers locate the desired products from the vast inventory isles.
There is no need to check every storage bin and rack. The handheld device directs the user to the exact product.
For example, if there are five pickers in the warehouse at a particular time and a hundred orders are received, their handheld devices will be updated with the order list. Based on where they are in the warehouse, they will be directed to the products nearest to them for picking. This reduces unwanted movement, saves time, and optimizes labor.
The WMS system uses a heat map to record inventory movement. This allows managers to observe the path pickers take when finding items for delivery, and if they are efficient. Accordingly, inventory can be reorganized for faster movement and easier access based on the orders received.
f. Global visibility of inventory
A WMS offers visibility over all the inventory moving in and out of the warehouse. This includes returns. So, 3PLs can determine where their products are at all times and the status of products in stock.
When it comes to product returns, a WMS system tracks them by recording the receipt of the product. It then initiates the QC (quality check) phase where the returned product is scrutinized for damage or usage. If the product is intact and in good condition, it is added to the central inventory to be resold. If the product is damaged, it will be categorized differently and put away with other items that need to be returned to the supplier.
An e-Warehouse Management System can even update marketplaces and web stores via an OMS with the progress of orders and returns, which then updates end consumers. This makes it a handy system to have.
4. Key features to look for in an e-Warehouse Management System
To ensure they are acquiring the ideal WMS for the goods they deal with, 3PLs need to be mindful of the features these systems offer. The best WMS systems come with the following features: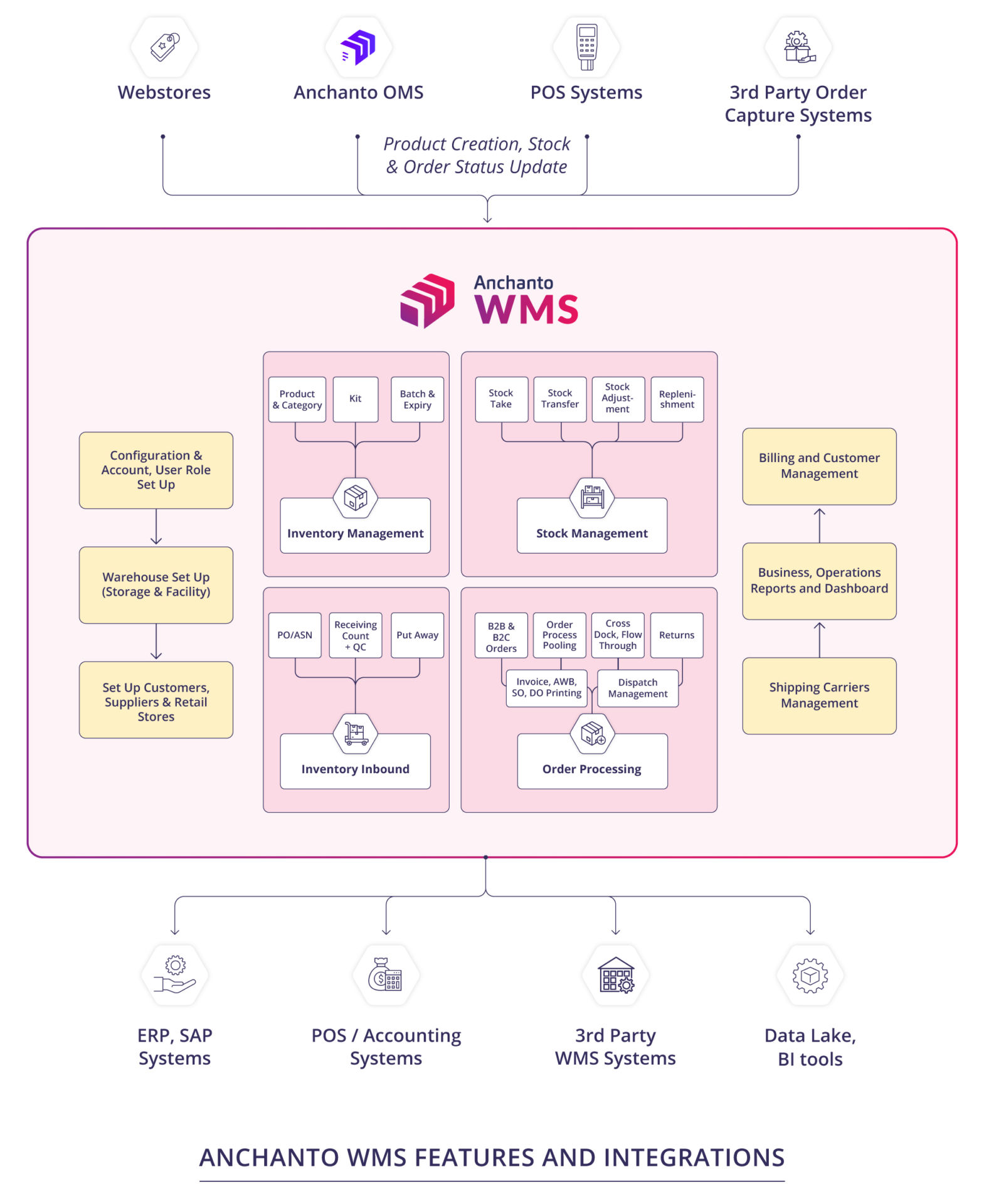 a. Multi-seller onboarding: A WMS must allow warehouses to onboard multiple sellers, retailers, and brands. And every time they land a new client, the WMS must allow integration with the client's sales channels, create invoices, workflows, and allocate space for their products (based on requirements like temperature control). This process of onboarding clients should be quick and easy, so clients can take their product to the market faster.
The e-Warehouse Management System should also receive instant alerts when orders are placed and accurately direct warehouse operators to the desired products. It will increase fulfillment efficiency for all orders coming to the warehouse.
b. E-commerce and last-mile integrations: Check the back-office integrations offered by a WMS to ensure it offers order entries, OMS or sales channel integrations, inventory control, and purchase order modules. A WMS that offers these enables swift and optimal processing of orders.
Carrier integrations are also a must to support warehouses with shipment and last-mile delivery. Some warehouses have their own delivery vehicles but may fall short when covering B2C fulfillment across a district, state, or nation. As a result, they may need third parties for last-mile delivery.
Tracking external last-mile carriers is challenging. But, WMS integrations with their systems provide better visibility. The integration can also work both ways by keeping the last-mile carriers informed about pick-ups or drop-offs.
The WMS system must be able to integrate with other software too for warehouses to simplify their operations and administration. Some of the software the WMS will need to integrate with include ERPs, POS, accounting systems, etc.
c. Real-time inventory tracking: Real-time inventory tracking will enable easy stock-level management. It will alert end consumers when their orders are dispatched and their location while in transit. The warehouse partner will similarly be updated with this information.
d. Mobile-friendliness: The mobile-friendliness of a WMS refers to the mobility and convenience it offers pickers, packers, and other warehouse staff while doing their job. Warehouse employees use hand-held devices (PDAs or production collection data devices) which can be programmed by some WMS systems via an app. This helps the WMS acknowledge and count inventory received, record their details, track products, and process orders.
e. Automated operations: This is achieved through a robotic management system, which is integrated with the WMS. It enables barcode scanning where the WMS reads the barcode and records the product based on the function required and offers directions. It also supports quality checks and product counts.
f. Inventory management: Advanced e-Warehouse Management Systems determine when stocks are low, which products are nearing expiry, where they are stored, and so much more. With this information, alerts, and accuracy, warehouse operators with handheld devices can maintain stock level efficiency, speed up dispatch, and reduce shipping errors.
g. Batch-and-expiry management: Brands tend to call back product batches in the event of irregularities, quality complaints, or issues with products from a certain batch. In such situations, warehouses need to be able to identify the relevant product batches with them to return to the supplier.
Similarly, WMS systems must have the ability to record best before dates to alert warehouse operators and staff about the products nearing their expiration so they can be sold first or removed from the usable inventory.
h. In-depth dashboard and analytics: In-depth WMS analytics and dashboard features are vital to run a tight ship. With all the numbers and data details available in one place, it's easy for warehouses to share information with their clients and determine if their own business operations are working well. Extensive dashboard controls will also encourage better management, flexibility, and accuracy when fulfilling orders.
i. Customizations: No two businesses are the same, even in logistics and warehousing. On account of this, customization is a vital feature for any WMS system. For instance, if the data reports produced by the system need an additional column for deeper insights, the WMS must offer this flexibility. Similarly, it should allow the creation of unique process flows, branding, and more.
j. Kitting and bundling: On top of efficient inventory storage, picking, and packing, A WMS must allow 3PLs to offer other value-added services like advanced inventory centralization.
Here's an example for better understanding: Let's say a client of a 3PL, a cosmetics brand, is running a promotion on its shampoos. It may want to offer a free conditioner with every purchase (i.e., create a promotional kit of shampoo and conditioner). Instead of creating separate inventory for these kits, the WMS should direct pickers to both these products in stock when an order is placed for the promotion.
k. Personalization: 3PLs may want to offer personalized services on behalf of their clients. For instance, if an end consumer orders a product to be delivered as a gift, they may want a personalized message added to it. The warehouse operator can print out this message and add it to the product before packing it. But, as this is an additional service, the WMS billing section should include this charge to the respective party. In this manner, the system should also support the billing of other value-added services from 3PLs.
5. Benefits of an e-Warehouse Management System
Apart from understanding what a Warehouse Management System should do, it's imperative to recognize how it can be applied in different circumstances. To help with this, here are some benefits a WMS can provide.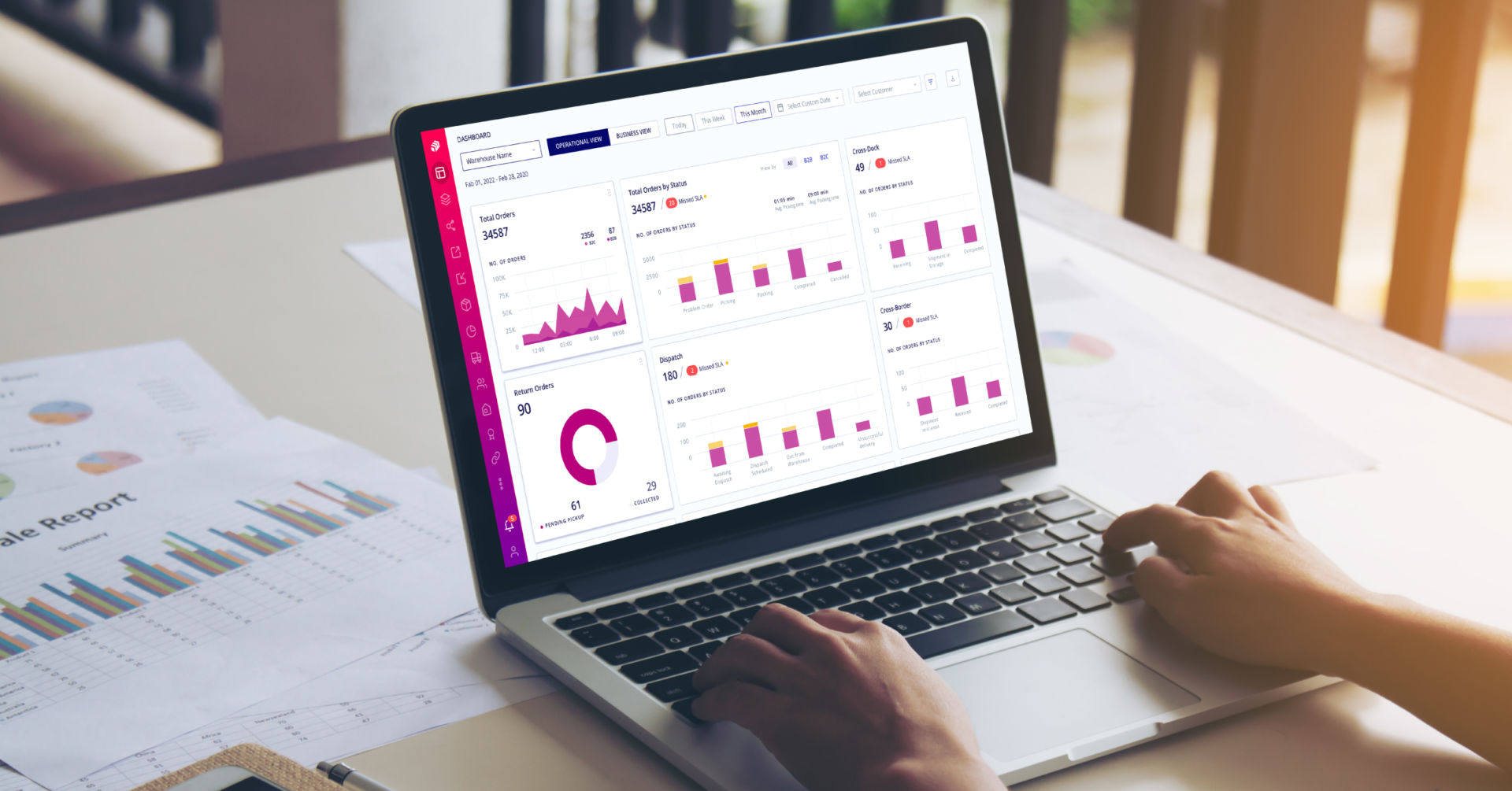 a. Optimum utilization of warehouse space
A WMS analyses the space available in a warehouse based on the features of the products stored and the warehouse tasks. It ensures the storage area is being used to store maximum goods efficiently while optimizing warehouse flows and reducing space wastage and errors. It even minimizes downtime and labor costs arising from unnecessary movement.
b. Management of inventory rotations
Optimal storage and inventory management can also ensure the appropriate rotation practices are being followed. For example, first-in, first-out (FIFO), last-in, first-out (LIFO), or first-expired, first-out (FEFO). This reduces and eliminates expired and outdated stockpiles.
c. No new investment in hard assets
Using a WMS doesn't require investing in bulky physical systems. Most WMS technology is cloud-based and easy to manage from anywhere. As a WMS is a digital asset, it is affordable and is simple to use, with on-demand technical assistance as needed.
d. Easy to serve new businesses
Setting up a WMS is a matter of a few hours, if not minutes. With fast working technology, 3PLs can serve new businesses immediately, provided they have the space and bandwidth. WMS systems support all types of physical inventory and can be updated with product data quickly for effective stock management.
e. Improved inventory accuracy and streamlined logistics
Picking, packing, and delivering orders isn't only faster with a WMS. The system can minimize errors and returns too. It generates barcodes for products with their specifications and location. When scanned, warehouse operators will be able to locate the exact products ordered and prep them for delivery in no time.
The system even produces shipping labels with accurate details, so products are delivered to the exact address. With shipping and last-mile integrations, it's also possible to track delivery partners and communicate fulfillment requirements as they arise.
f. Access to data and insights
For inventory updates, tracking, and performance analysis, collecting data is essential. A WMS keeps a record of all inventory-related information from the moment it comes in until it reaches the end consumer. It also records product return information and transit details to keep the end consumer and sellers updated.
g. Simplified operations
A WMS can integrate with almost any e-commerce marketplace, last-mile carrier, or third-party systems like ERPs. It provides operators convenient access to a broad scope of functions from a single dashboard. This simplifies daily business activities and ensures more control.
h. Improved visibility
An e-Warehouse Management System provides traceability of every piece of inventory coming in and out of the facility. Each item is tagged with its specifications and location. The same process is followed when products are damaged, expired, or returned.
When warehouse staff put away, pick, and pack products, their details and time of activity are also recorded by the WMS. As their actions are monitored along with inventory movement, it's easier to control shrinkage and efficiency.
i. Easy SLA management
Brands and manufacturers selling online need to meet certain SLAs (service level agreements) when they use marketplaces. To ensure these requirements are met when it comes to fulfillment and delivery, the SLAs are transferred to their warehouse operator or 3PL. This may include, acknowledging orders in a specific amount of time, processing them within a fixed duration, and preparing them for a marketplace or third-party carrier.
To guarantee these requirements are met, some WMS systems offer custom SLA workflows to ensure orders are processed and fulfilled as per expectations.
6. How to choose an e-Warehouse Management System?
There are several WMS systems available today, and they all offer a wide range of features and benefits. But, the right solution can really improve order fulfillment and boost inventory management. To help warehouse operators and 3PLs find the ideal WMS for their needs, here are four steps to follow closely: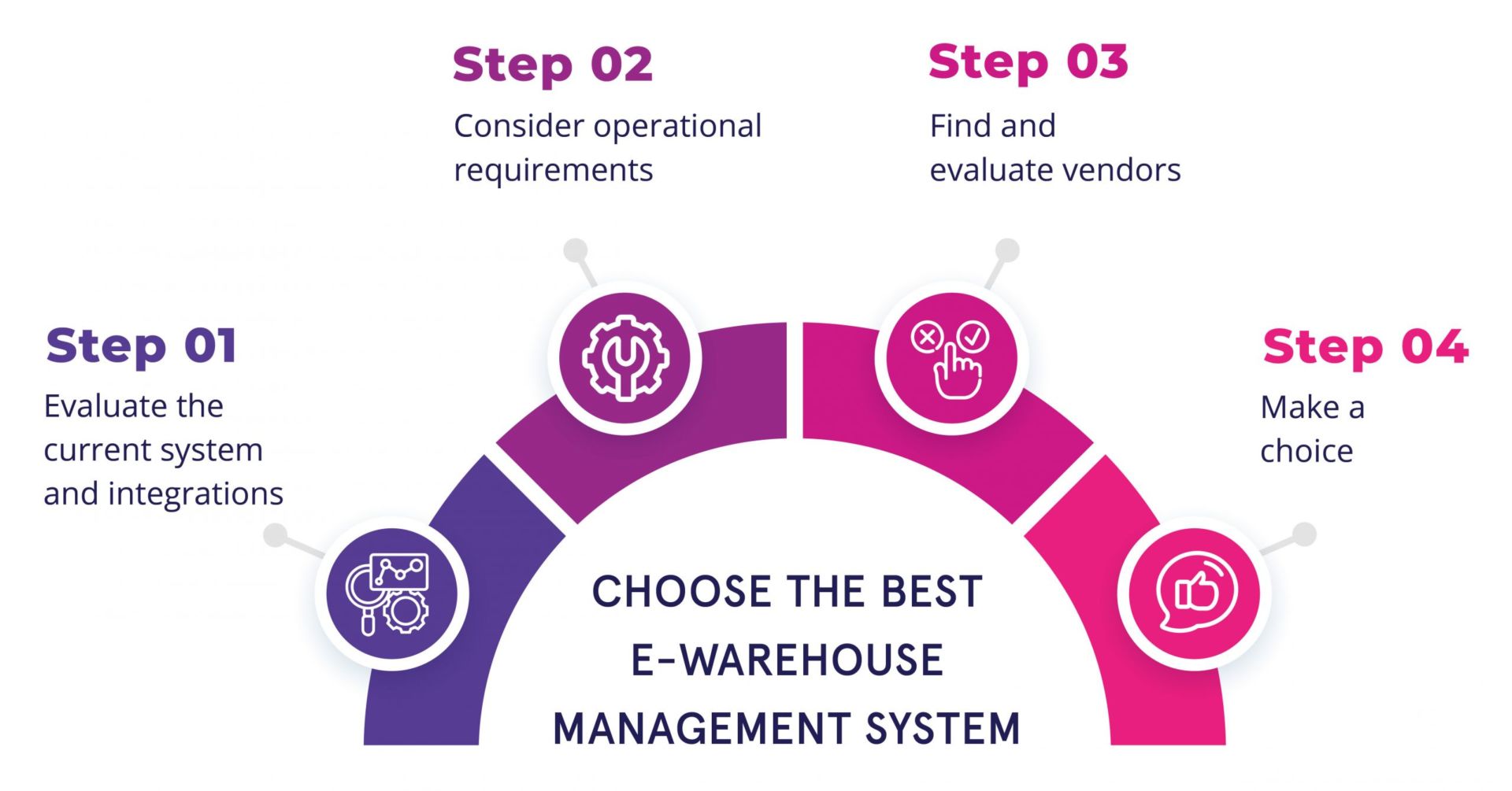 a. Evaluate the current system and integrations
Those in the market for a WMS must assess the system they are currently using. Based on the features of the existing system, they must determine why it isn't living up to expectations. Then make a note of these shortcomings. Similarly, they must determine which sales platforms, ERPs, and last-mile carriers they want to integrate with.
b. Consider operational requirements
Every warehouse is different and so are their requirements when managing inventory. Some want marketplace integrations with WMS to speed up order processing and fulfillment. Some simply need a WMS to manage their basic-level operations.
Others want an advanced system that can track movement in their facility without any lags. They may also want it to support RFID devices and other systems or carrier integrations. The requirements are endless.
As a result, every warehouse or 3PLs must consider what their team requires. Based on this they can look for the ideal WMS.
c. Find and evaluate vendors
Look at the options available in the market by speaking with different WMS vendors. They usually offer product demos to show product features, capabilities, and operations. Sign up for them to see which is easier to operate and support team requirements. This provides a great opportunity to check the ready integrations available with marketplaces in different countries, various courier partners, ERPs, and other software.
Want to try out a powerful modular WMS aligned with warehousing and fulfillment operations for B2B and B2C? Book a demo here.
d. Make a choice
A warehouse management system can provide success and growth by solving major inventory and logistic challenges. Therefore, choosing the right one is essential. If a warehouse or 3PL makes their choice based on their business requirements and growth goals, they should be able to find the ideal WMS for their business.
7. Conclusion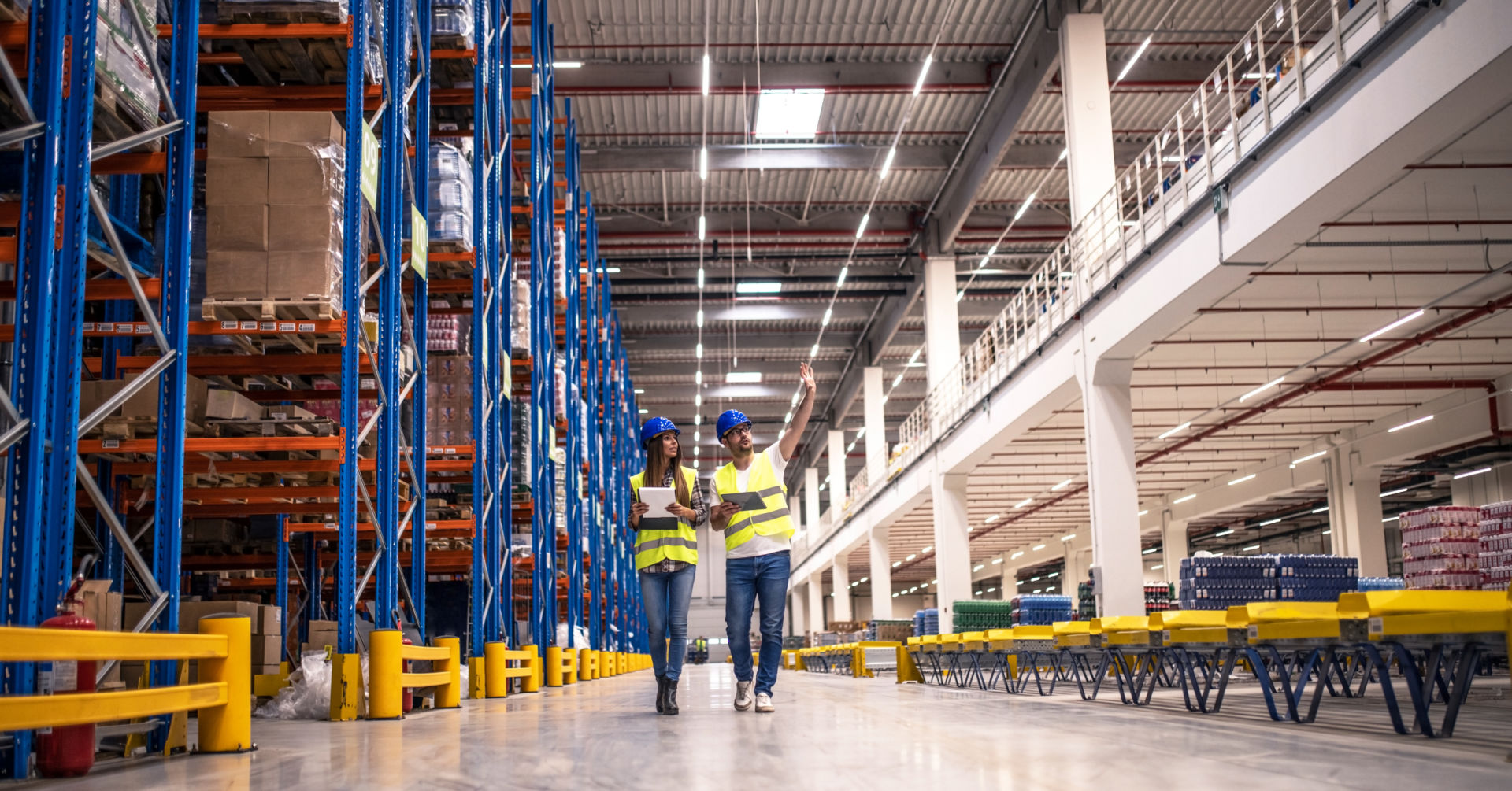 As a 3PL or warehouse operator, the best time to get into B2C e-commerce fulfillment is now as the market is booming. But, to ensure good results, an e-Warehouse Management System is vital. But, any WMS won't do. It's essential to pay attention to the features provided by a WMS for e-commerce and the internal requirements of staff. With an e-commerce management system that matches expectations, the sky's the limit for the warehouse and 3PL.
Beyond the benefit of managing local inventory, a warehouse management system for e-commerce can even take care of multiple warehouses across different locations, which means the expansion opportunities are endless.
To test out a powerful WMS today, reach out to the Anchanto sales team.
We're also happy to provide more insights for you to learn about e-Warehouse Management Systems and their place in your business.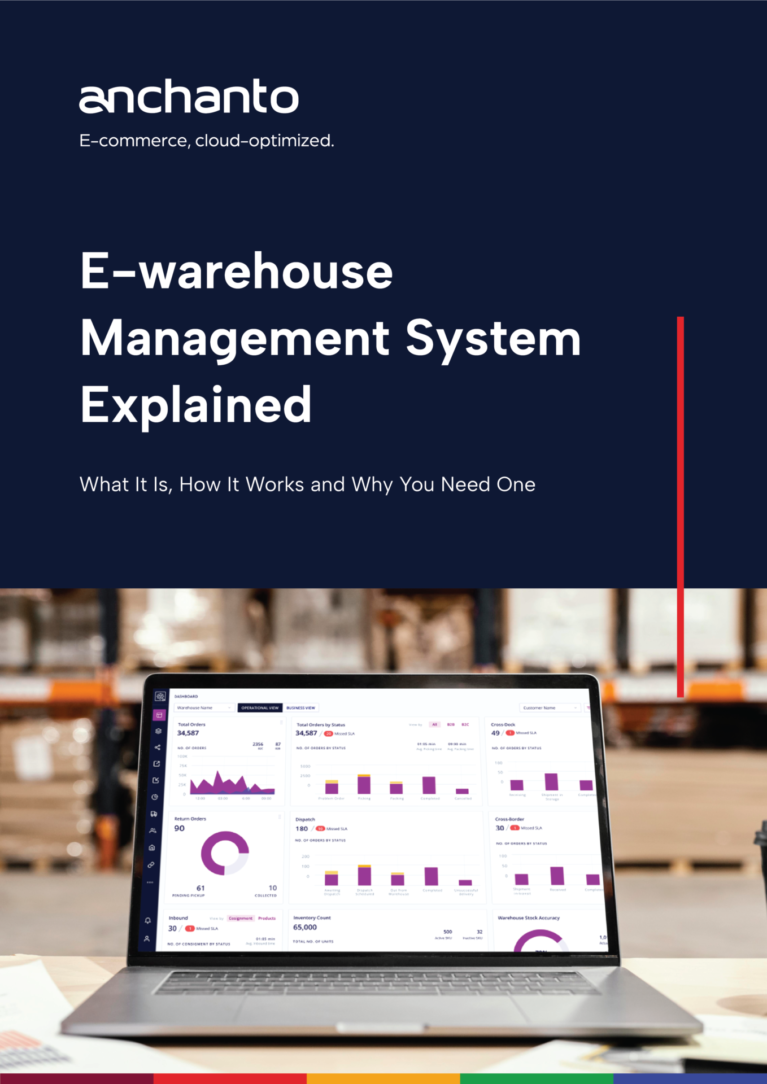 Short on time? Download now and read on the go.