E-commerce Distribution: Challenges and Solutions + Case Studies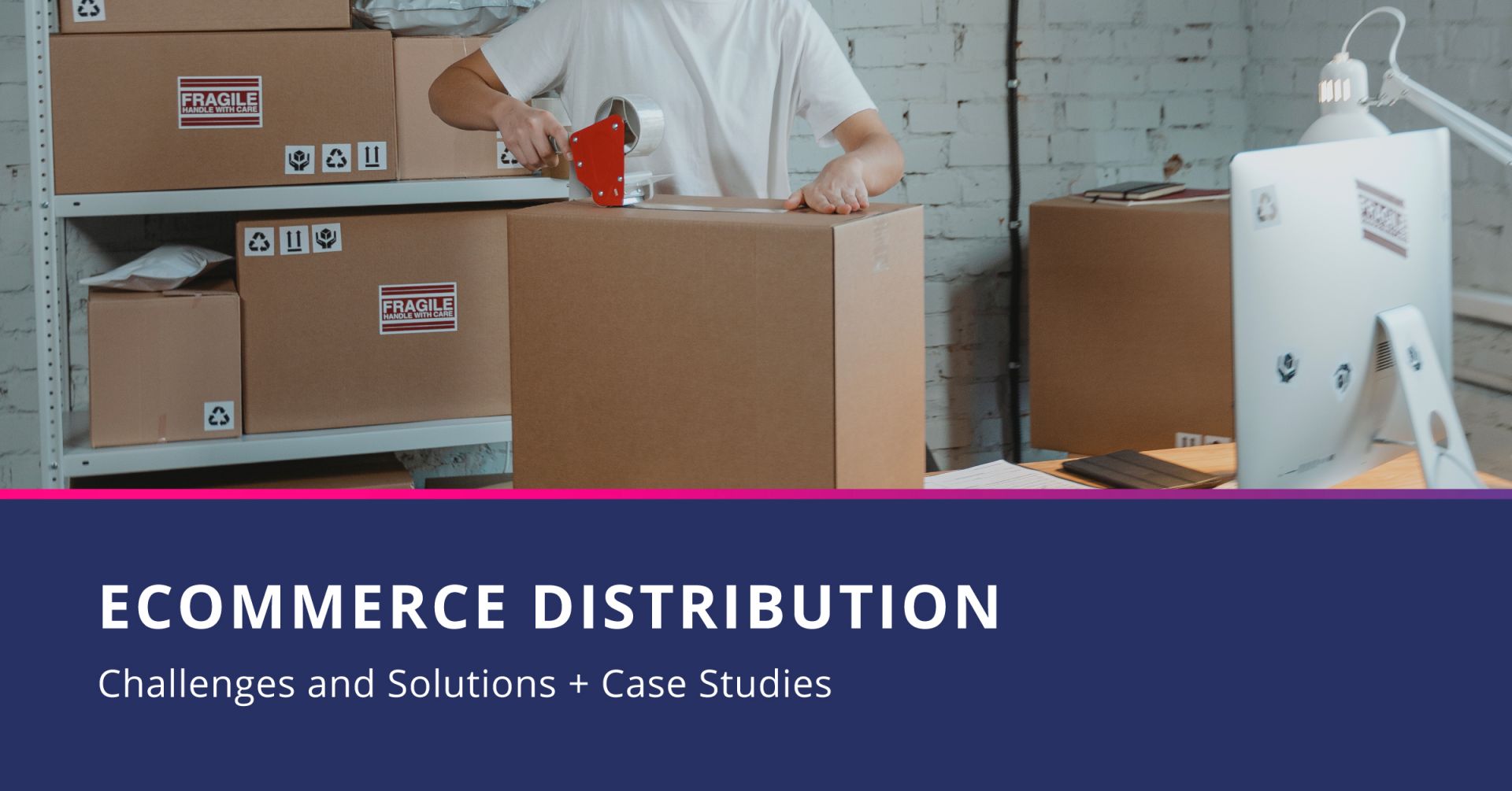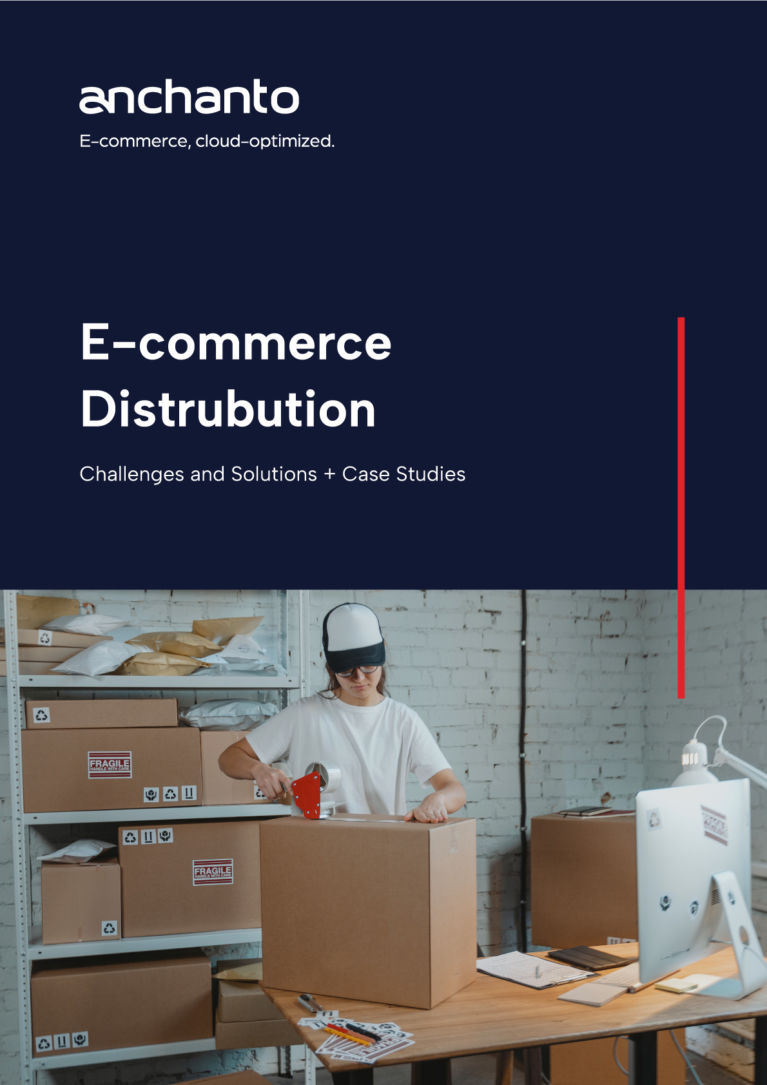 Short on time? Download now and read on the go.
1. Introduction
In just two years, the global e-commerce share (of the retail industry) jumped from 13.8% to 19.8%[1]. By 2025, this share is expected to reach 24.5%. This massive growth is powered by consumer demand for fast and convenient shopping experiences.
To fulfill customer desires, product brands are moving towards B2C or D2C retail models. As a distributor for brands, you too must follow suit as these brands depend on your network and local availability to meet growing consumer needs for online retail and faster delivery.
So the need of the hour is to become an eDistributor whereby you get to take advantage of current market desires and become an indisposable partner to brands. At the same time, it's vital to understand this business model to avoid e-commerce distribution challenges.
2. Distributors in E-commerce
With brands and manufacturers doing direct sales through e-commerce, you may believe the scope for your business is reducing. But that isn't true. Without distributors, brands will incur significant customer acquisition costs and fulfillment challenges.
You also have these benefits available to you as brands move towards D2C:

Fulfillment of bulk quantity orders for brands

Better scope based on your geography and inventory capacity

Brand and product awareness created through D2C efforts by the brand

Lower risk when selling new products as the brand is the first to test for demand through direct to customer sales
As you can see, the potential in the distribution business is massive, but that doesn't mean it's devoid of challenges. Every great opportunity is surrounded by some kind of obstacle. So, let's take a look at what they are.
3. Key e-commerce distribution challenges
Changing demand for distribution practices and the rising need to meet customers' special considerations require you as a distributor to modify your operating model and accommodate e-commerce distribution. However, this can lead to different challenges.
Before you go in search of solutions, you need to identify each of your problem areas. To help with this, here's a list of the top e-commerce distribution challenges faced in the distribution business.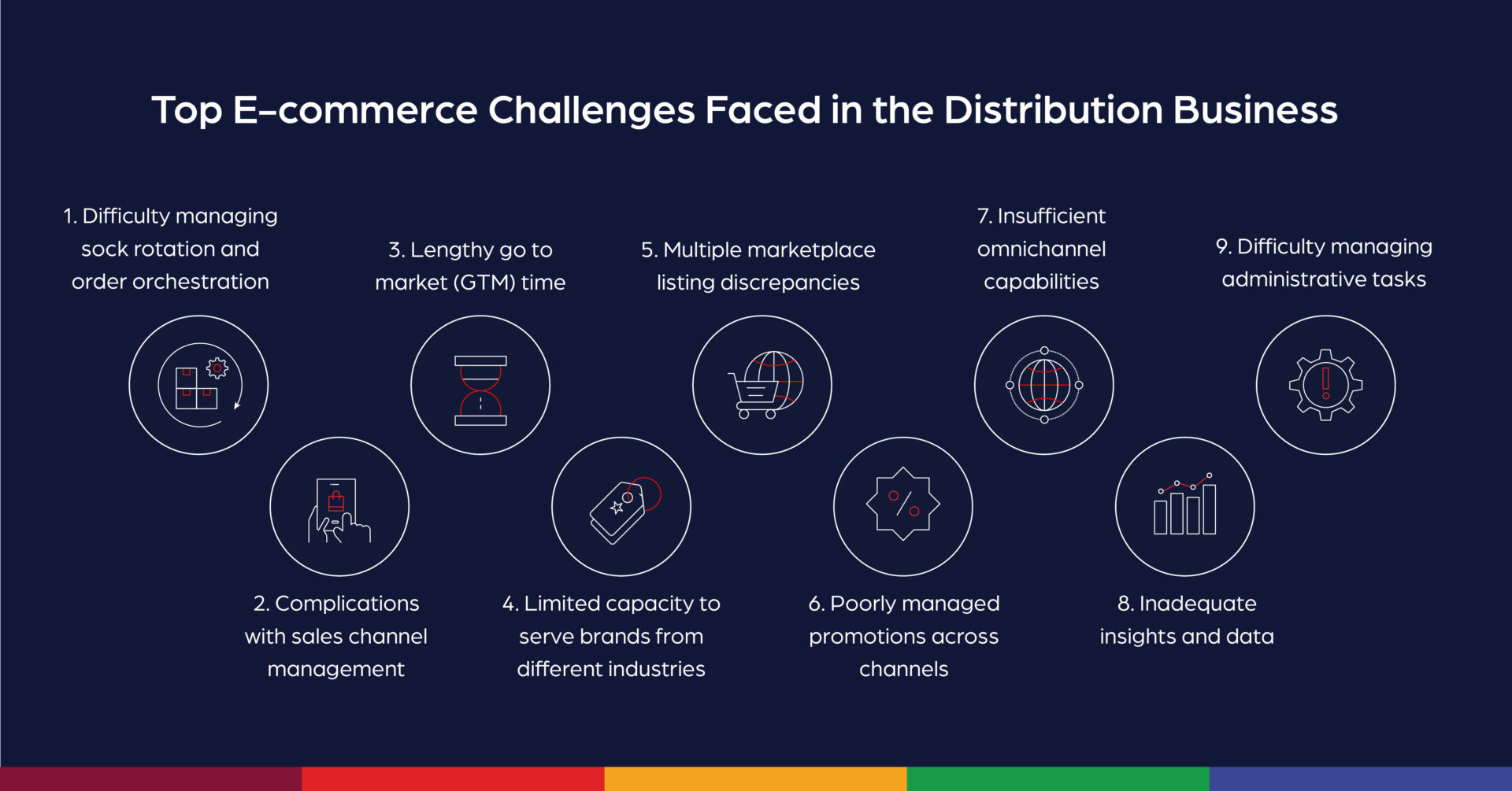 a. Difficulty managing stock rotation and order orchestration
As a distributor, you sell products through different channels. And with each of these sales channels, you must be able to monitor orders and inventory to ensure they are processed quickly. So timely and efficient inventory management and order orchestration are important capabilities to possess.
These functions are all the more essential when dealing with bulk orders of 200 to 50,000 on a regular basis. Without the means to manage stock rotation and order orchestration, it's impossible to have accurate stock and order counts.
With a mix of online and offline sales channels, it's even tougher to manage orders and track dedicated inventory for each of these channels.
Using manual management processes or the same old inventory and channel management technology only adds to the struggle.
b. Complications with sales channel management
As a distributor, you may have different teams handling each client brand's inventory across various sales channels. These resources are essential to you as there are many aspects to manage from product catalogs and listings to product pricing, campaigns, order processing and fulfillment, inventory management, etc.
But this is a costly approach when managing high-volume inventory for different products. By heavily depending on human resources, you spend a lot of money to maintain a workforce. Whenever a new brand comes in or a new channel opens up, more human resources are needed to manage these.
In the event of a product's poor performance on a sales platform or marketplace shutdown, you will need to cut down on staff, which is never easy or good for employee morale and branding. Redistributing staff is equally bad as you'll be paying for resources you don't need.
c. Lengthy go to market (GTM) time
Setting up distribution channels for brands to take their products to market is a big project. It could take a month or more just to complete the paperwork or formalities, make note of all their product details, take count of their stock, and understand how they want to market and promote their products.
Now, that is just the onboarding process. Once that's completed, your next step is to take their products to market, where you'll have to create listings for every product on different marketplaces and platforms.
Manually, this demands a lot of manpower and resources. And depending on the number of sales channels used, the amount of effort required will multiply.
d. Limited capacity to serve brands from different industries
As a distributor looking to expand your services to other industries, you'll need special know-how and capabilities to manage the new inventory carefully.
The products of each industry have their own storage requirements. Failure to comply with these can lead to spoilage, breakage, or misplacement.
Some of the special requirements for the FMCG and pharmaceutical industry are batch and expiry management and temperature control.
For the beauty and cosmetics industry and the electronics industry, separate fragile item storage is a must to ensure delicate products are carefully put away, consciously processed, and proper handling directions are passed on to logistics partners.
But, without an appropriate system in place, it's easy to mismanage products with special storage and handling requisites.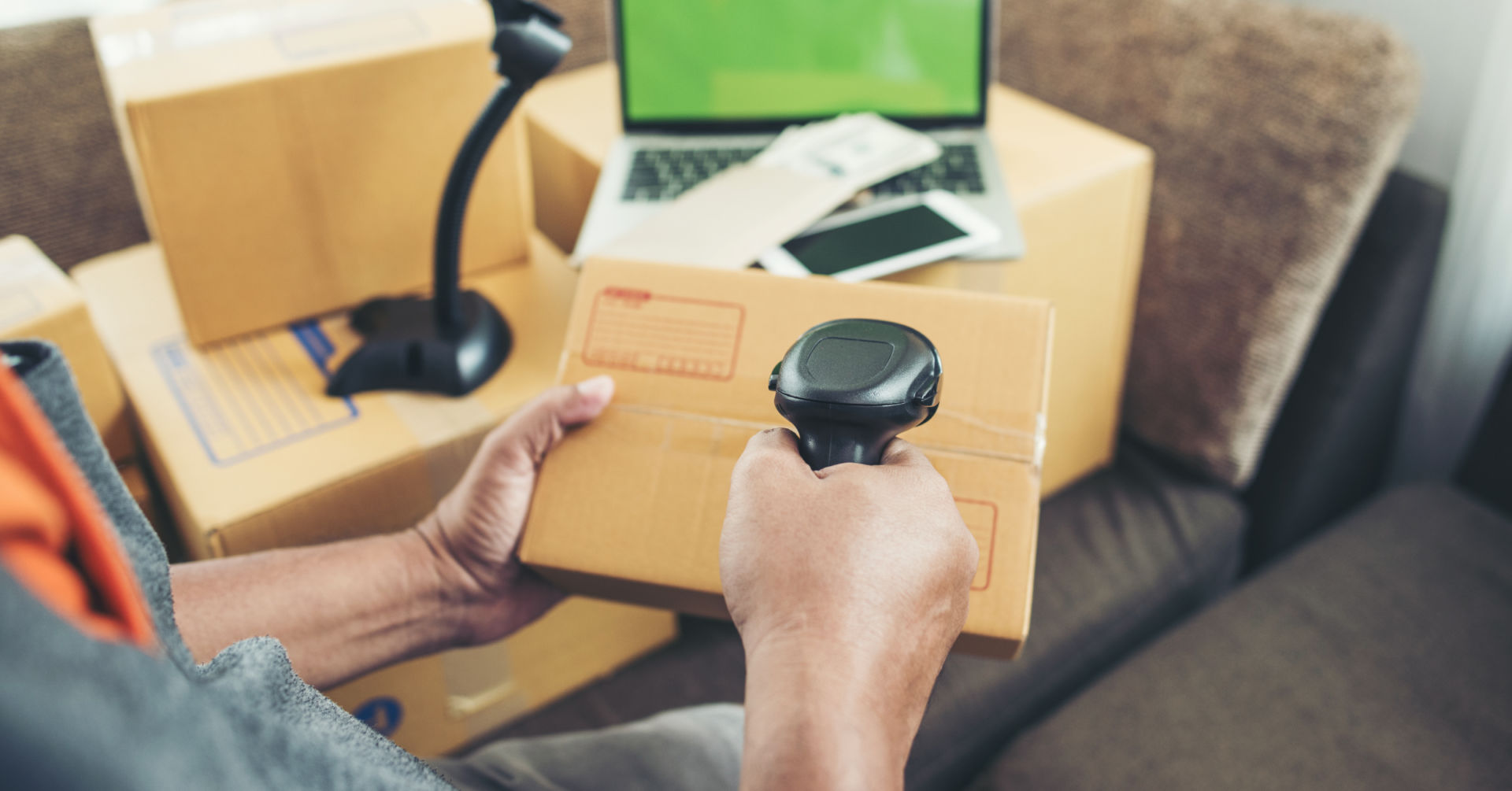 e. Multiple marketplace listing discrepancies
To launch your client brand's products on marketplaces, you first have to upload the product catalogs and await approval from the marketplace.
Most marketplaces have unique listing requirements. For example, one may require footwear measurements in centimeters and another in inches for the same pair of shoes. One platform may need only four images of a product, another platform may request eight.
To meet the criteria, you'll spend days and months putting together ideal catalogs for each platform. And the longer it takes to get the new products online, the longer you have to wait until you earn from these products.
f. Poorly managed promotions across channels
In order to make money from the products you distribute, running promotions is essential. But very often, you may find it difficult to have a stronghold on these promotions running across different sales channels.
You don't receive real-time updates about the progress of your sales campaigns, which makes it challenging to fine-tune them for improved responses. You neither receive insights about which channels are performing better during a promotion or sale. And that makes it difficult to appropriate (devote) stock to the best-performing channels.
g. Insufficient omnichannel capabilities
Brands refuse to give up offline sales channels as they still contribute to a significant portion of revenue. As a distributor catering to multiple brands, you'll have to ensure your client brands are presented with offline retail channels and functions too.
Providing offline capabilities means you will have to manage inventory for this channel. Your brands will expect sales and inventory visibility to assess your success with offline efforts. But. the absence of the right technology will prevent you from providing live, accurate data. And this could impact your relationship with your client brands.
h. Inadequate insights and data
How you sell products and position them will depend on the sales you make through different sales touchpoints. This positioning and sales information must also be shared with client brands.
Preparing sales reports based on each channel takes time when done manually. The data acquired varies from platform to platform and is changing every week. So, by the time the data collection, report preparation, assessment, and submission are complete, several days will have passed, making your report obsolete.
These inadequate insights don't allow for quick and efficient functioning. Urgent decisions become long-drawn-out ones delaying critical matters like GTM, promotions, inventory assignment and restocking, etc. Delays like this can frustrate prospects and customers.
i. Difficulty managing administrative tasks
Beyond managing inventory and sales channels, you're also tasked with the responsibility of maintaining accounts, returns, order cancellations, payment reconciliation, etc. With a mammoth task like this, manual functioning and dependence on old technology often lead to backlogs and mistakes.
At the same time, managing functions separately can cause a disconnect between departments, increasing the chances of data errors, function or record duplication, reduced visibility into the business, and missed opportunities for sales.
4. What can distributors do to solve their challenges
Technology is the way forward for today's e-commerce distributors, and you may already have software in use to deal with the challenges you're faced with. However, ask yourself, does this software really provide seamless support against your distribution challenges? Does it lag in some ways or prove unreliable when you need it the most?
Ryan Chong, Anchanto Malaysia's Senior Manager of Sales says, "Over time, distributors want to boost operation efficiency, that's when they seek new software with improved functioning. For example, distributors doing omnichannel distribution want solutions that sync their offline and online channel orders, centralize inventory, and integrate with ERPs like POS systems."
If you too are looking for richer functionality when it comes to inventory and e-commerce management software, keep an eye out for systems that allow you to perform the following tasks.
These are proven solutions to the e-commerce distribution challenges listed above. They harmonize internal processes and guarantee optimum results.
a. Use progressive order and inventory management systems
Optimum sale channel management is achieved with the help of an Order Management System (OMS) that has the capacity to centralize B2B and e-commerce operations, orchestrate and track orders, and pick-pack and dispatch parcels without errors.

A Warehouse Management System (WMS) ensures accurate inventory count and management based on stock movement. But a progressive system will provide advance shipment notice (ASN) and purchase order (PO) inbounds, programmable putaways, heatmaps and flowthrough, customizable pick-pack, batch and expiry management, and integrated inventory tracking. That way, you have full control of your inventory and the operations taking place within your warehouse.

A combination of an OMS and WMS further guarantees seamless order and inventory processing. It unifies inventory to ensure all sales channels are sufficiently stocked, and orders are fulfilled at optimal speed.
With these systems taking care of repetitive tasks, mixups, mistakes, and delays can be reduced significantly. Your inventory management system should allow you to rotate stock quickly and provide accurate stock counts at all times. All of this is vital for inventory visibility, rotation, and control.
b. Invest in automation for channel management and faster GTM
With the right OMS, you can connect your brands' PIM (Product Information Management system) or centrally store all your catalogs and product listings. This setup will allow you to distribute the right content on all your sales channels for a uniform shopping experience.
The OMS you choose should also enable bulk changes across online sales channels. A feature like this will reduce your dependence on human resources for promotion campaign management.
As the OMS keeps track of orders and inventory for each marketplace, there's even less requirement for human intervention and therefore expenses for maintaining staff.
Likewise, onboarding new products and brands is a massive task that can take weeks or months to complete. A solution to this hurdle is technology that can replicate your efforts from one platform to another by cloning your listings.
Cloning listings eliminates the need to create them manually on different platforms. This can be achieved with a master catalog for all products which is saved in your PIM system. This main catalog will be reproduced across all sales channels you manage with your OMS (offering this cloning feature)..
c. Pair your knowledge and expertise with technology
When dealing with brands from different industries understanding what they require for safe storage and transportation is a must. In addition to this, you require technology to complement your expertise and knowledge.
If you distribute cosmetics, you'll want to grow your business by catering to other product categories too like fast-moving consumer goods (FMCG), pharmaceuticals, etc. To acquire brands as clients in these areas, you need to show them you can manage the shelf life of these products, their fragile nature, and other special needs.
Human expertise and knowledge are great in this regard, but it's impossible to eliminate errors with human intervention alone. Applying technology can prevent mistakes, mishaps, and wastage.
For example, inventory management technology with temperature control, fragile item storage, and batch and expiry management are very handy. They ensure products are stored in the correct conditions and processed for delivery based on expiry.
d. Control promotions through a single dashboard
By integrating all of your retail channels into one platform, you can control them through a single dashboard. A powerful function available through integrations is the ability to manage and oversee promotions across platforms.
By controlling promotions and pricing through a single dashboard you can keep tabs on all the sales you're running and make changes as and when needed. With this potential, you can make the most of every campaign, promotion, and season.
e. Integrate online and offline retail efforts
Even though consumers are moving towards e-commerce, they still prefer offline retail or having some form of offline interactions when shopping. On account of this, you as a distributor need to support omnichannel retail.
Your omnichannel operations may include offline centers for B2C or B2B retail, where purchases are made offline and payments are done online. Or purchases may be made online and picked up from your offline center.
In either case, your order (or purchase) records and inventory need to be synced (through POS integrations) to ensure offline and online transactions are recorded and stock deductions are made appropriately. That way, your inventory count is accurate and you have up-to-date sales data.
f. Compile real-time insights
Positioning your client brand's products in the market is tricky business. Using past sales references can show you how to prepare and where you can succeed. But to reap the benefit of sales trends, you must apply them immediately.
When you use a feature-rich OMS and WMS, you obtain real-time data in an easy-to-view format. This information can be pulled based on sales per channel, returns, promotions, etc.
Anchanto's sales manager, Ryan[2] says, "Distributors want to know which are their fast-moving and slow-moving products on an SKU level. They want a system that offers the generation of an easy-to-read report."
If you expect the same, an advanced OMS will offer you the accurate insights you're looking for. Moreover, you can give your brands access to this data so they have full visibility of your success with their products.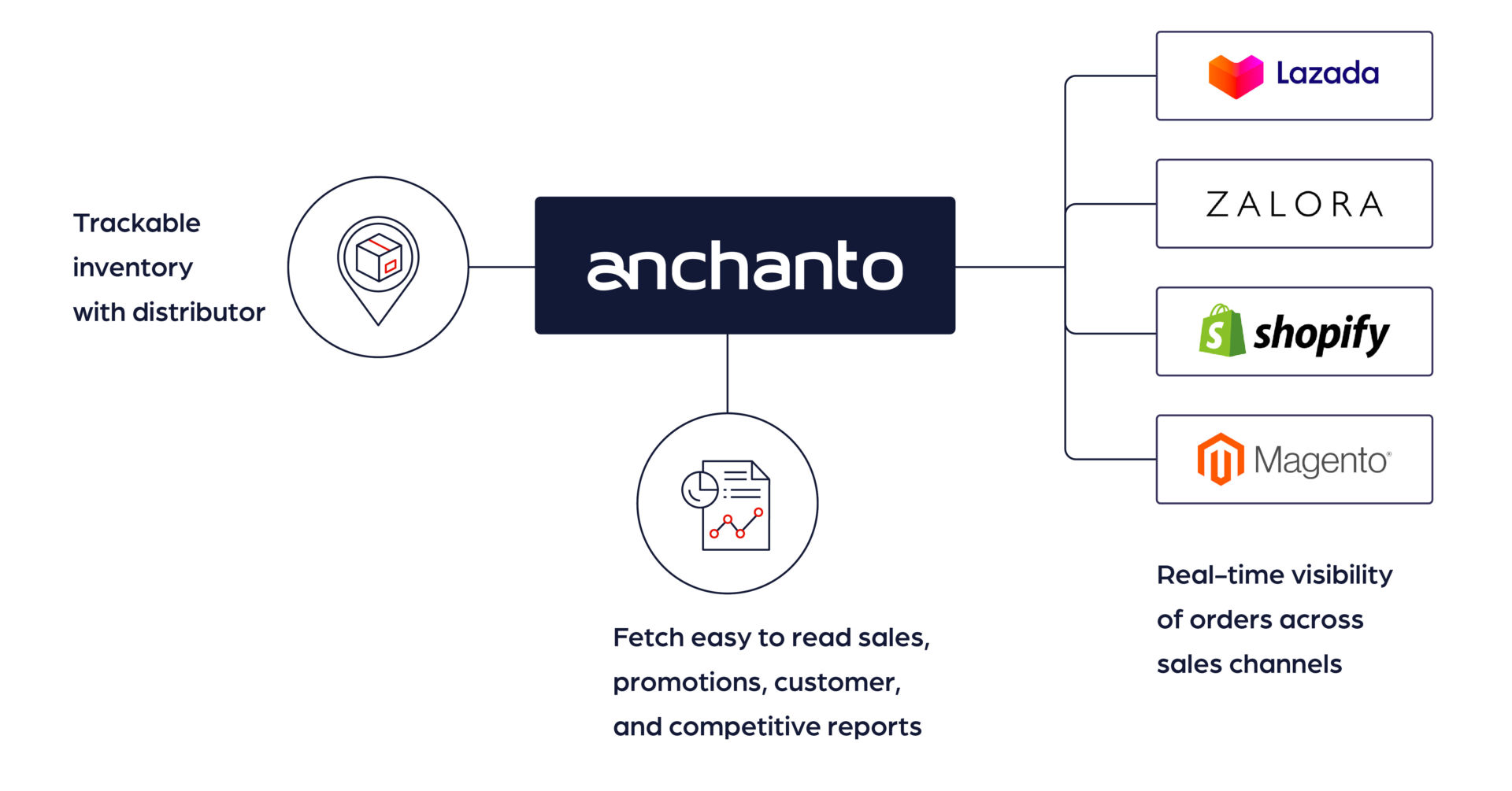 g. Use ERP integrations
Staying on top of all your administrative tasks like accounting, reconciliation, and related operation is easy when you integrate your ERP software with your OMS and WMS dashboard. So every time an order comes in and is fulfilled, your accounts will be updated. Similarly, when cancellations or returns are recorded deductions will be made.
ERP integrations enable core business management under one system. Financials, inventory management, purchasing management, and sales management are all tied together for you to derive optimum insights and obtain control over operations.
5. E-commerce distributor success stories
Now that you know the technical solutions available to you, let's see them in action. Here are two examples of distributors using feature-rich OMS and WMS software and the advantages they provide:
a. Rurutiki (Official Distributor of Nestle Malaysia)
Before employing technology for order and inventory processing, Rurutiki struggled in this area a lot, especially during sales. The distributor's team was spread thin during the sales seasons on account of continuous, large order volumes.
Rurutiki's Director, Corey Tan says, "The experience of processing the orders manually during the 11.11 sales was an unforgettable one. It took the whole company to help out on various jobs. That's when we discovered Anchanto (OMS and WMS technology)."
Upon using the comprehensive OMS and WMS, Rurutiki was able to manage:
4,700+ SKUs

19 e-commerce stores

10,000+ order processing per month
All of their stores and orders are now managed digitally, which reduces errors and offers them full visibility of inventory, orders, and operations.

b. Luxasia (Omni-Distribution Platform for beauty and luxury brands)
Luxasia is responsible for the seamless management of e-commerce distribution operations across 11 countries. Given the scale of its operations, the distributor had limited visibility of its sales and experienced growth restrictions and operational errors.
After implementing an OMS, Luxasia managed to:
Launch 50 brands online, across 220+ shops and e-commerce platforms

Multiply revenue without changing warehousing, staff, or SAP implementation

Gain access to micro-level data for country-wise orders and operations
In a single year, the e-distributor achieved 7X growth and was able to run seamless operations in all its target regions.
6. Conclusion
Embracing e-commerce distribution is an opportunity in many ways – all of which promise higher revenue. As an e-commerce distributor, you are well-positioned to:
meet brand requirements for more sales

close larger ticket orders

provide value-added service directly to consumers
But these opportunities don't do away with the e-commerce distribution challenges you may face as a business. Without the right solutions or feature-rich technology, it's incredibly difficult to venture into e-distribution let alone manage your current business.
Using apt tech solutions will also help you get noticed by brands for promising opportunities and buyers will enjoy shopping with you.
Want to know more about keeping brands and buyers happy as an e-distributor? Click here!
Or reach out to our experienced e-commerce experts here.