How To Stabilize 3PL Operations In E-commerce: Solutions You Can Count On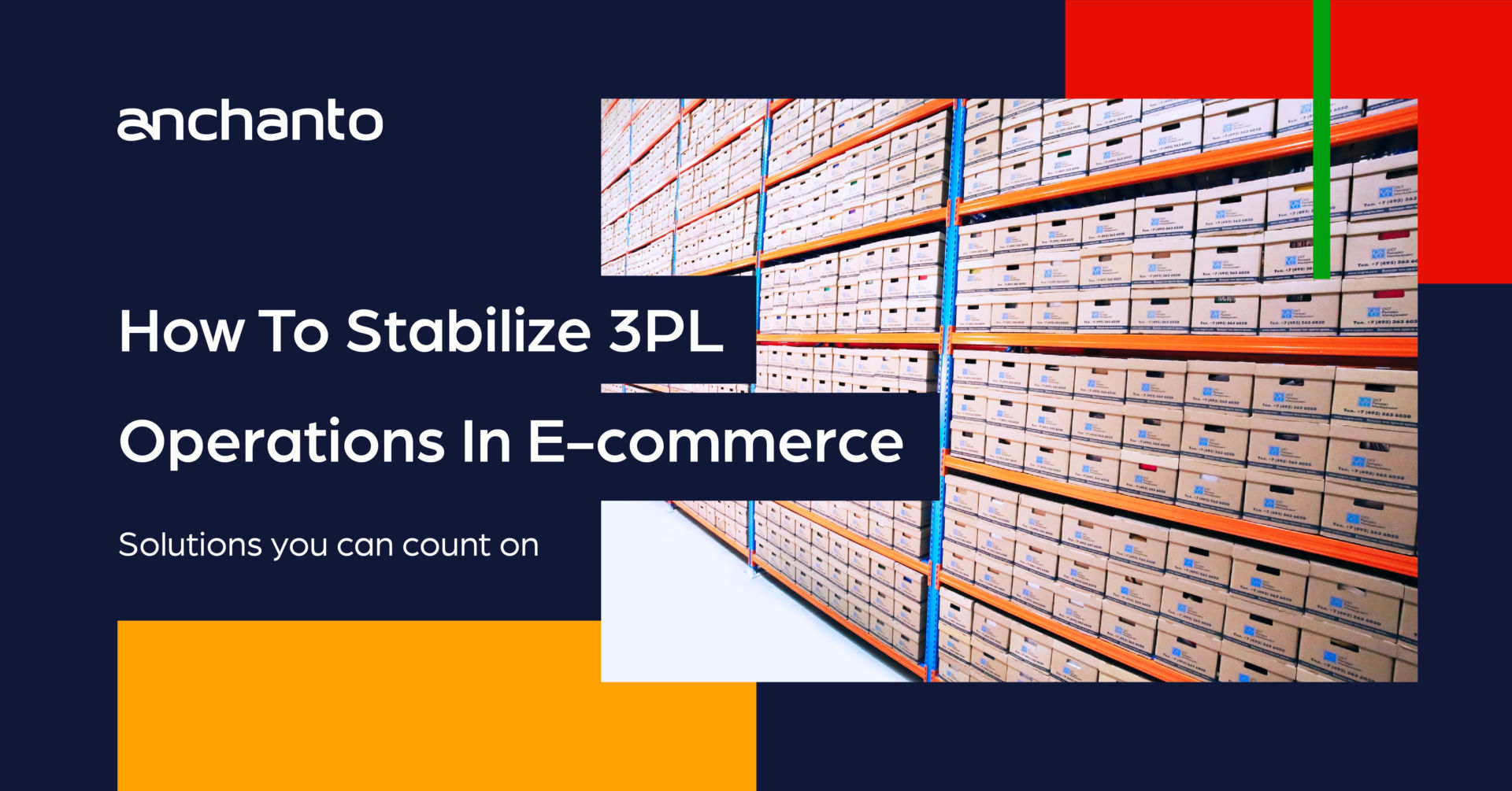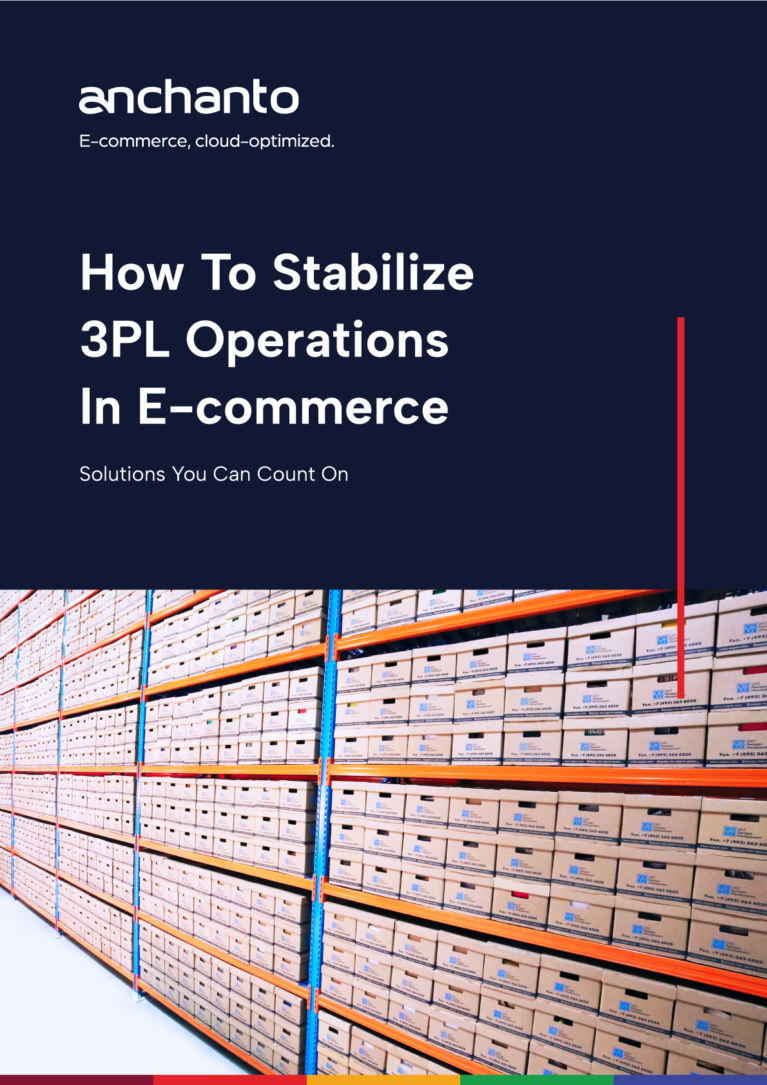 Short on time? Download now and read on the go.
1. Introduction
As a third-party logistics (3PL) company, you are at the heart of the e-commerce industry. Without your warehousing, inventory management, and order fulfillment services, e-commerce would still be a pipe dream or a costly affair available only to a few.
The bridge you provide between virtual retailers and customers have helped e-commerce expand and your industry flourish. By 2028, the global third-party logistics market is expected to reach US$ 1,701.2 billion[1], at a CAGR of 8.26%. The result of this is the rising trend of globalization, which is encouraging several companies to outsource logistics activities to third-party suppliers.
The logistics industry has also grown as a result of changing online consumer tastes and behavior. And beyond receiving, storing, and shipping inventory, 3PLs are now expected to enhance their offerings to improve the retail experience of consumers online.
What are the responsibilities of a 3PL today?
As you're aware, your role as a third-party logistics supplier or warehouse operator requires you to take on important supply chain operations so your customers can focus on growth. This means you have to handle everything along the supply chain – including logistics operations for e-commerce such as:
Scheduling and receiving inventory
Sorting, recording and managing stock
Preserving the condition of products received
Meeting special storage and fulfillment needs
Tracking storage, fulfillment, and shipping rates
Picking, packing, and shipping inventory
Kiting and bundling products as needed
Managing orders for thousands of products
You are also responsible for several other duties when you take possession of your customers' inventory. For example, you must manage product counts, labeling, regular inventory reporting, and shipping notifications to buyers. These are just some of the many things your 3PL business is required to manage for brands, distributors, enablers, and retailers so they can work on their core business.
But, large e-commerce order volumes complicate supply chain management and increase the challenges of today's 3PLs like you. The high expectations for speed, accuracy, special arrangements, and flexibility also add to the complications.
Do you have what it takes to exceed the expectations of your customers despite the large volumes of small order quantities synonymous with the e-commerce industry?
Or are your 3PL operations in e-commerce faced with challenges?
2. Challenges experienced when performing 3PL operations in e-commerce
To deliver the high service level that your customers require, you need to scale up operations, integrate services with your customer's sales network, and work faster and smarter. But this can prove challenging as managing e-commerce logistics involves several moving parts.
Here are a few areas where you may experience difficulties with your day-to-day 3PL operations in e-commerce and the reasons that may cause them: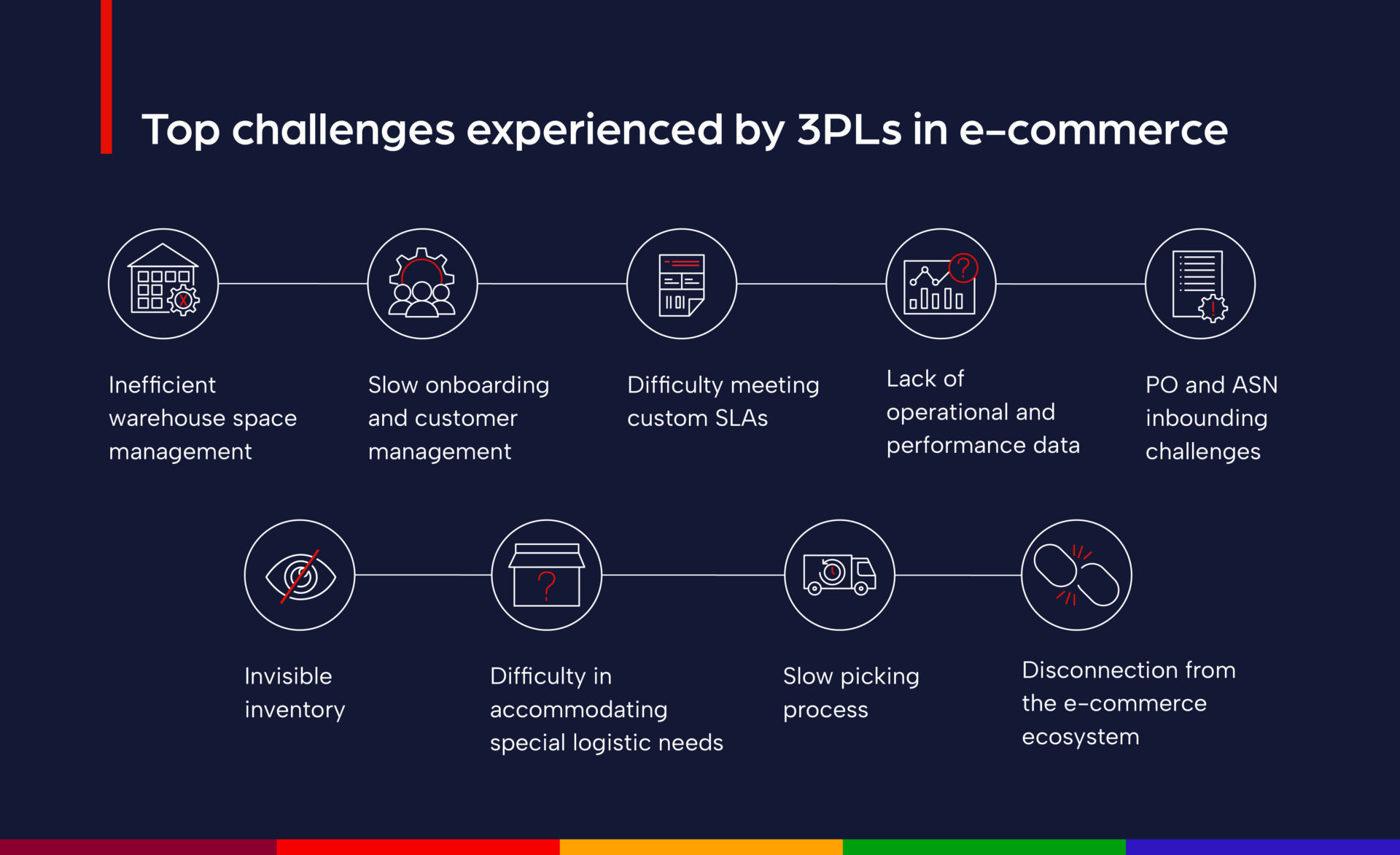 a. Inefficient warehouse space management
As a 3PL, your income is impacted by the number of customers you service. But, with fixed warehousing space, taking on more customers is not only challenging but impossible.
What you can control is the inventory you have in stock. For example, managing your inventory storage sections and maintaining stock units as per order fulfillment rate. However, with a legacy system in place and significant dependence on manual efforts, these are tricky tasks to manage effectively.
You face an added challenge when you have in-stock products from a brand that is not selling. The stock of these products takes up valuable space causing you to experience losses for dead inventory storage.
Without the right resources to track the state of inventory on a regular basis, it's difficult to determine what's in your warehouse, how much, and for how long.
b. Slow onboarding and customer management
Customer onboarding and management is a crucial part of the services you offer as you will be storing products for different brands, distributors, and retailers. When you onboard customers, you must gather information about their products and storage requirements like – cold storage, temperature control storage, secure storage, fragile item storage, etc.
When it comes to fulfillment, you must know if the client needs cross-docking, flow-through, e-commerce fulfillment, special billing, staff to handle their inventory around the clock, etc. After you understand the scope of their requirements, you can determine where to store each customer's goods and how to manage their needs.
Manually, the onboarding process takes a while which can be an obstacle as it delays onboarding other customers, gives rise to errors while noting specific requirements, or may misalign inventory storage and fulfillment arrangements. This results in poor customer management and substandard service.
Similarly, if all staff have their own way of understanding customer needs, conveying these details to the next person (arranging or providing services required) becomes chaotic and time-consuming. This further lengthens your customers' go-to-market time.
"Performing repeated tasks like onboarding without systems to handle them smoothly and cost-effectively feeds the challenge every time new products and customers come in," says Anirudh Venkat, Country Head for Singapore and South Korea at Anchanto.
c. Difficulty meeting custom SLAs
Your customers are looking for value-added services from 3PLs like you and this value is appreciated when received in the form of custom services. That's because they have different SLAs (service level agreements) to meet and need you to customize your services to achieve this.
The SLAs can be related to the way you respond when certain needs or problems arise, how quickly you implement changes requested, and how effective your workflows are in the event of new circumstances. You need to offer timed services to meet customer deadlines and have functional solutions in place to overcome any challenges or ad-hoc requests.
The toughest part is executing customized requirements like:
fulfilling orders within 24 hours to 48 hours
setting stock replenishment alerts when inventory levels are at 30% (or any other set percent)
executing streamlined put aways for unplanned inventory received
effectively managing pre-orders, or
ensuring pending orders are fulfilled first when stocks are replenished
Depending on human resources alone to satisfy customized SLAs is the least effective way to perform your 3PL operations in e-commerce. This approach is known to have the opposite effect, causing customers to question your capabilities.
d. Lack of operational and performance data
When your customers entrust you with a key component of their business – that is getting their products to their customers, they expect to have visibility over this operation and some form of performance data to analyze. Maintaining day-to-day operations and performance records is a time-consuming task, especially when serving several customers and fulfilling their orders across different marketplaces.
You'll have to hire a team to capture data and create regular inventory and fulfillment reports every day then convert these into monthly reports. If specific insights are requested by customers, finding these is going to be challenging as you'll have to go through heaps of data before you find the information needed. This lengthy process prevents you from delivering real-time insights, which hampers urgent decisions like restocking.
e. PO and ASN inbounding challenges
Every time you receive inventory from your customers, you should acquire an ASN (Advanced Shipment Notice) and store shipment information. This is essential for systematic inbounding.
If you're the one requesting inventory replenishment, you'll need a PO (Purchase Order) that a vendor shipment is going to fulfill. Managing these shipment documents and having them on hand when processing new inventory is tricky with a legacy system or manual procedures.
Processing the new inventory is equally challenging with technology limitations. When you don't have an advanced tech stack to manage POs and ASNs, each item from the newly received consignment has to be checked and manually recorded to register its receipt and availability in stock.
Another shortcoming you may experience when processing inbound inventory is the time-consuming process of sorting the new stocks into different categories so they are stored in the right location.
f. Invisible inventory
As and when orders come in for fulfillment, you need to set about picking the required stock units from your vast facility. Executing this task through purely manual means is time-intensive and laborious. That's because most inventory isn't visible as each stock unit is placed within packaging on various racks across different aisles.
Sure each aisle and rack may be labeled, but locating the correct ones takes time, and so does determining whether the item ordered is in stock. This is especially the case when managing inventory manually or through legacy systems. It's difficult to track inventory through these methods but very easy to over or under-estimate stock levels. And this can lead to fulfillment delays, unnecessary expenses, unmet SLAs, and poor customer experience.
To top it off, you have thousands of SKUs to manage across brands, sizes, colors, patterns, etc. Tracking, managing, and matching these with the right orders, especially in fashion and cosmetics, is a nightmare.
g. Difficulty in accommodating special logistic needs
In addition to storing products, you also need to segregate them based on storage requirements – i.e., temperature-controlled storage, cold storage, fragile storage, etc. Similarly, when fulfilling orders for perishable products, special care should be taken to ensure those items closest to expiry are sold first.
If your customers want to kit and bundle products for promotional purposes, special inventory picking arrangements need to be made. For example, a promotion offering a free conditioner with the purchase of shampoo should trigger your team to pair the correct products together during the picking, packing, and fulfillment process. The same goes for personalized requests like gift-wrapped orders or special messages with orders.
Legacy systems usually have limitations when it comes to inventory segregation, product expiry management, promotional campaigns, and personalized requests. Manually managing these tasks is equally challenging as it calls for dedicated resources. And as you know, manually managing special tasks can result in errors and delays.
Billing customers based on their special requirements is also difficult without a proper system that accounts for the unique needs of customers' inventory. If you do it manually, you must be patient and double-check your calculations to ensure you have the correct figure. This often delays service quotes to customers and monthly billing.
h. Slow picking process
Order picking is a manual process that you currently cannot do away with. At the same time, it is one of the most time-consuming 3PL operations in e-commerce. Every now and then you will have large order volumes coming in from different sales channels for various customers. It's illogical to have a picker head to the vast storage area and back to the packing station every time an order comes in.
Based on order urgency and the number of orders received, you will assign them to different pickers to save time. But again, this isn't as effective as required. By solely depending on your pickers to sort through different aisles and shelves, several minutes are wasted. Also, assigning orders randomly to pickers means they may have to travel from one end of your warehouse to another to pick the items ordered. This again wastes a lot of time.
You again add to the picking time by arranging inventory without analyzing purchase habits, customers' kitting and bundling requirements, and frequent pickup routes. Assessing these different aspects is challenging through legacy systems that don't have the necessary features. And manually creating workflows is a long-drawn-out process.
i. Disconnection from the e-commerce ecosystem
A key part of successful e-commerce involves syncing up with your customers' sales channels, carriers, and last-mile delivery partners. That way, you receive immediate and uninterrupted orders plus special instructions and have access to the delivery options your customers desire.
But, without smart technology to link you to partners and platforms, it's difficult to receive real-time order updates and communicate with delivery associates. You additionally lack the means to connect with accounting systems like QuickBooks and other enterprise software (like SAP) which are essential to run your business operations.
3. An all-inclusive solution for 3PL Operations in e-commerce
If you're tired of the above challenges, it's time you changed the way you operate. Even more so if you use manual processes, legacy systems, or basic warehousing software that barely support your evolving business needs.
"If you want to transform, you need technology. It's as simple as that," says Mr. Natal Iman Ginting, Managing Director of TELKOM Metra, Telkom Indonesia, a leading logistics company in Indonesia.
Given that e-commerce is expected to grow by 50% in the next three years[2], you need a progressive technology stack that can do more. It should be able to support your services, manage your customers well, and meet end-consumer expectations – like a Warehouse Management System or a WMS. This SaaS software is feature-rich, powerful, and can serve a variety of needs today and in the future. Moreover, it can streamline your logistics business and help you overcome various hurdles.
Here are some of the tech advancements a WMS provides to tame your operational challenges and add value to your services:
a. Storage space management technology
A WMS or e-Warehouse Management System is a powerful platform providing multiple advantages. An essential one is the capacity to manage storage space effectively so you can take on more customers.
Based on the type and quantity of products you have in stock and the space you have available, the system will help you determine where you can add more products. It generates reports of products in stock, items restocked or inbounded frequently. That way, you know what kind of products are doing well and moving quickly.
The reports generated by a WMS also help you track products that aren't selling so you can inform your customers about them. And, when you know what's not selling, you can charge customers extra for the additional duration their products spend in your warehouse or have them recalled to make space for other products.
b. Systematic customer onboarding technology
If you struggle with customer onboarding, a smart WMS will serve you well. This system allows you to predesign onboarding templates making it easy to intake details like stock quantities, product size, and special instructions such as temperature control, cold storage, fragile care, cross-docking, e-commerce fulfillment, special billing, SLA requirements, etc.
When the WMS is conditioned with these requirements all you have to do is create an account for your new customer and upload the inventory master file and stock type then select the desired storage category and management instructions so your staff knows what to do with the new stock.
"A WMS offers you a market-ready e-commerce solution that you can go live with within 6 weeks. It can also be white-labeled for a seamless experience for your customers from onboarding to maintenance," explains Venkat.
The systematic onboarding technology offered by a WMS reduces back and forth communication, limits confusion, saves time, and eliminates errors. It even helps create a simplified way of handling the receipt of new stock and is formulated to speed up fulfillment processes.
An e-Warehouse Management System will check if you have enough space before taking on new customers and inventory. It can help allocate specific rows or storage space for the new products based on availability.
Doing these little things beforehand with WMS technology makes the customer onboarding and inventory management process fast and streamlined.
c. Custom SLA workflow technology
Predesigned onboarding templates created with a WMS also help you meet custom SLAs as they gather what clients need you to do in the event of low stock levels, stockouts, promotions, same-day or next-day delivery, special packaging for gifts, free gifts with purchases, kits, and bundles, etc.
Based on the instructions collected from customers, you can program your e-Warehouse Management System to oversee your inventory and alert you, your staff, and customers. For example, if you run out of stock and your customer wants to still accept orders and have you fulfill them the moment you receive the next inventory batch, you can use your WMS to prioritize these orders. You can also set alerts to stay updated when stocks are running low and maintain reserve stocks to help meet urgent orders.
d. Data visualization technology
Your customers expect to have visibility of the inventory they give you and how efficiently you handle it. For this, they need real-time access to your day-to-day performance, order fulfillment count for each marketplace, fulfillment durations, stock levels, and other reports to gauge your ability to meet set SLAs.
With the right e-Warehouse Management System, you can break down your inbounding, storage, picking, packing, and fulfillment activities for each of your customers through a single dashboard. Based on your agreement with your customers you can then generate the required reports or have them ready on request.
"A WMS that can automate or schedule report generation for your customers saves a great deal of time and significantly reduces errors," says Anirudh.
Additionally, for your own improvement, you can extract storage optimization data, inventory movement details, fulfillment speed per product or category, picking reports, and other data to analyze your business. Moreover, you can monitor the success of changes you introduce to workflows or performance strategies.
e. PO and ASN inbound management technology
You must have the required PO and ASN available when receiving new stock to ensure you obtain exactly what you ordered and to immediately add the received items to your database. A WMS has a special feature allowing you to store PO and ASN inbound details so you can scan the new inventory and add it immediately to your database, which will reflect all the items that have been received.
A comprehensive WMS will help you save time and reduce confusion by registering and verifying Inventory orders, new stock counts and sharing the new information and instructions with your team.
f. Programable put-aways and inventory tracking technology
To know where your inventory is at all times, an e-Warehouse Management System is the key. It will help you design programable put-aways so the moment new inventory reaches your warehouse, your stock keepers can scan it, and determine which section, aisle, and shelves it needs to be stored in. And every time a specific stock order comes in, your staff will be directed automatically by the system.
Programmable putaways are also handy when you have staff rotations or new employees onboard. They don't have to memorize routes and procedures for specific inventory consignments. The WMS guides them appropriately.
Once your inventory is scanned and in place, you can track every item in your warehouse on an SKU level. And any time an order comes in for a product, you can locate it immediately and correctly, pick it, pack it, and ship it off.
g. Inventory segregation technology
While you may have the facilities to store products in need of temperature control or cold storage, ensuring they get there can be difficult from time to time. But, a WMS system ensures that every product is put away into the correct section based on the temperature it requires.
Anirudh says, "We work on a common inventory model using a unique inventory logic that allows for all stock to be made available across all channels in real-time. The WMS can also be used to create and manage virtual bundles and provide other value-added services."
A powerful WMS like this has the capacity to control the fulfillment of perishable goods based on expiry. It tracks all the expiry dates of these products in stock and helps implement rotation practices like first-in, first-out (FIFO), last-in, first-out (LIFO), or first-expired, first-out (FEFO).
A WMS can cater to special picking requirements too if kitting and bundling products is something your customers want you to handle. For example, if a customer of yours is running a promotion offering a free screen guard with the purchase of an iPhone, the system will inform your team to bundle the correct products together during the picking, packing, and fulfillment process. The same can be said about personalized requests like gift-wrapped orders.
With each special requirement efficiently recorded and executed, it's easier for you to note additional service costs and charge your customers accordingly. A well-equipped e-Warehouse Management System will take note of the add-on services you provide and will also have your bills ready as and when required.
h. Customizable picking technology
The best way to reduce picking time is to automate the generation of picking routes for your pickers. WMS systems use special algorithms to make the picking journey effective. The software notes when a picker has started working and goes through all the orders received the locations of the respective inventory, the location of the picker, and determines the fastest way for them to pick all of those items and reach the packing station.
To put it simply, a WMS directs specific orders received to pickers closest to the corresponding inventory. This saves time and ensures effective use of staff.
Some WMS platforms also incorporate heat map technology to determine where your workforce is often stuck or spending too much time.
There are different picking strategies you can implement through the WMS. But most importantly you can customize them to create the most efficient picking and packing strategy to reduce the time spent on them.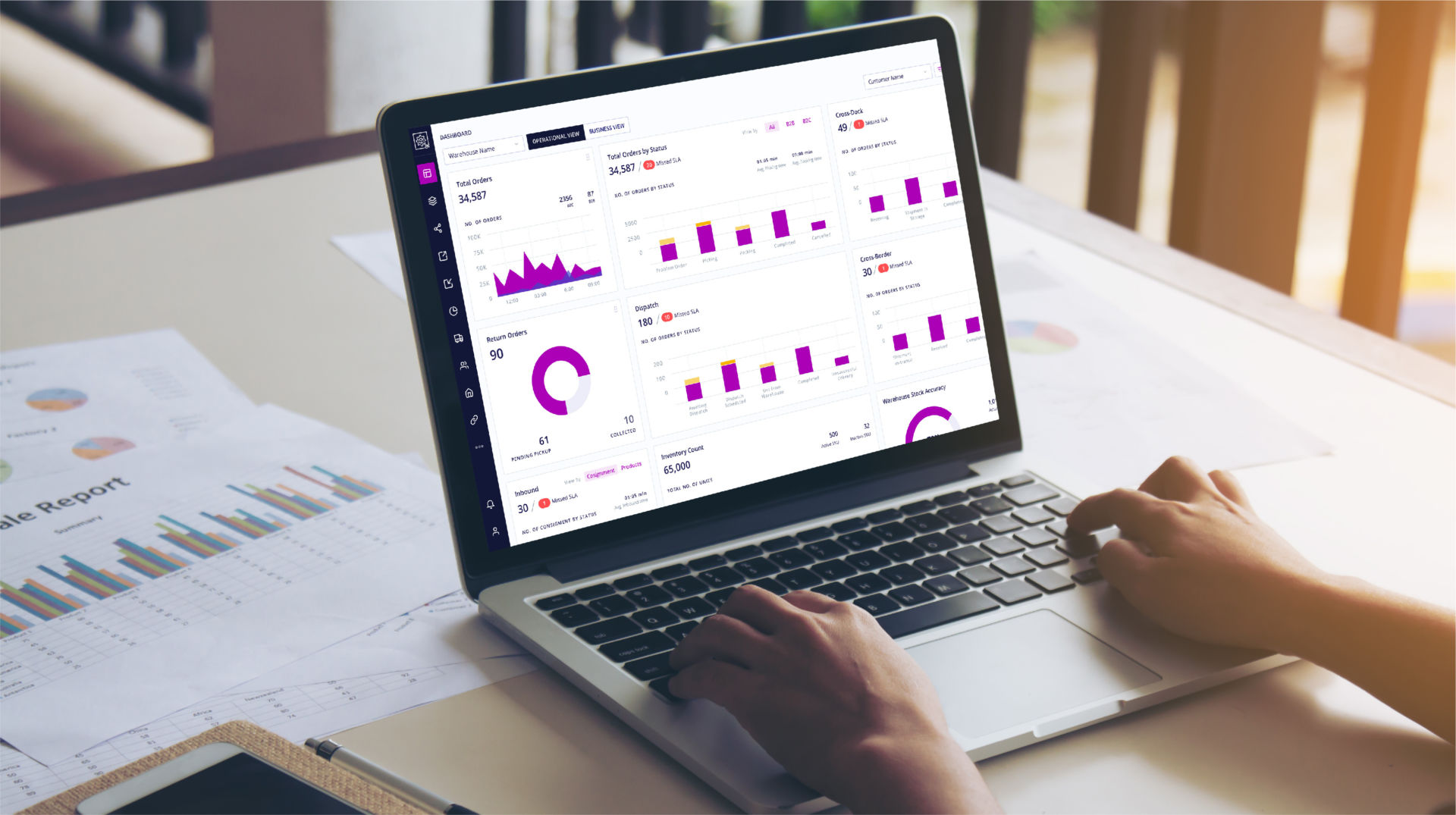 i. Open API integration technology
As a 3PL, you need a robust system to empower your logistics services and make sure you don't lose new customers with special needs or customers willing to pay more for specific services. At the same time, you need to improve your connectivity to customer sales channels for seamless functioning.
A WMS is a reliable technology you can incorporate into your business to serve different customers and also your own business needs. It helps centralize orders from different channels, connect with delivery partners, billing systems, accounting software, administrative tools, and more. With the help of open API integrations, a WMS connects you to your customers' e-commerce ecosystem and helps you consolidate your different tools and technology.
With a well-integrated ecosystem, you reduce lags, miscommunications, and other challenges that may arise on account of disrupted connectivity.
4. Examples of 3PLs using a WMS for improved brand management
A lot can be said about an e-Warehouse Management System. It's a versatile technology that is capable of more than your existing team of people and can even track their efforts. But talking about a WMS is not the same as seeing what it can do.
So, here are a few 3PL company case studies to show you exactly what a WMS has done for them:
a. Telkom Indonesia
Telkom Indonesia is a multinational telecommunications conglomerate that has many offerings. The company provides infrastructure to digital businesses, digital services, logistics services, e-commerce services, and ePayments.
"We are a big country (Indonesia) with 17,000 islands, which are sometimes very challenging to serve," says Mr. Natal Iman Ginting, Managing Director of TELKOM Metra, Telkom Indonesia.
Another challenge they faced was transforming from old patient business practices to newer fast-paced ones that meet modern requirements. This change was essential given that production, distribution, and buying efforts are evolving. But they needed technology to help them transform and better serve their customers, which led them to WMS SaaS technology.
With a WMS, the company is able to:
Automate and integrate orders with their logistics system
Manage orders from different channels
Orchestrate distribution, fulfillment, and logistics

b. SnT Global
SnT Global focuses on logistics for e-commerce and eFulfillment and serves a strong customer base. To conduct multi-channel order fulfillment, they needed connectivity to marketplaces. This was a major challenge for the logistics company. Manually processing orders from different clients' marketplaces and sales channels meant they were continuously playing catch up.
As a result, they decided to try out Anchanto's WMS platform to manage their multi-channel connectivity issue. The WMS offers them:
Ready connectivity to different marketplaces
Shorter go-to-market time
Focus on core functions
Support to extend better service to customers

c. Logistics Warehouse Express – LWE
LWE is a warehousing 3PL that provides its services domestically but also has access to the 700 million population in SouthEast Asia.
Mr. CC NG, Founder, and CEO of Logistics Warehouse Express Malaysia says, "Using Anchanto makes our lives much easier in our warehousing (and) in our pick and pack solution. We can easily categorize different commodities and easily identify where the product is to carry out the pick and pack and 3PL services more efficiently. And we can connect with last-mile (carriers) on the same day if possible."
The WMS also helps LWE with:
Quick and easy-to-operate interface
Onboarding customers in a duration
Integrating with other solutions and marketplaces
Rolling out services to customers in other countries
Reducing pick and pack errors down to 0.5%

d. DIF Logistics
DIF Logistics is in the business of fulfilling sales orders. They store products, receive online and offline orders, then pick, pack, and fulfill those orders. But, meeting e-commerce fulfillment needs was proving tough, so they decided to invest in SaaS technology to manage and automate certain aspects of their operations.
"When we began doing e-commerce manually, (we noticed) there's a lot of documentation that actually goes into e-commerce fulfillment. So what Anchanto WMS did was simplify this – It made it very simple to process B2C orders for many different clients listed on different platforms. Because it all comes into one platform and you can just pull the orders," says Mr. Sidhart Pillai, Operations Manager at DIF Logistics (M) Sdn Bhd.
The WMS system also provides DIF Logistics with:
Improved B2C operations
Effective management of several SKUs
Minimized paperwork
Reduced several processing steps
Continuous transparency

5. Conclusion
Whether you're a new 3PL or have been in the B2B segment for decades and are now exploring B2C, ensure you upgrade to a WMS system. The B2C industry is driven by e-commerce, which is only getting bigger, so your 3PL operations in e-commerce should accommodate the growing market. And this is largely possible with the help of a comprehensive WMS that is capable of helping you work faster, smarter, error-free, and seamlessly.
That said, it's recommended to choose a WMS with the ability to:
Manage B2C picking using mobile applications
Manage inventory and connect to customers' online channels
Provide customer log-ins so they can see their inventory and create orders
Create customer-wise billing via a services rate card
Automate or schedule reports to customers
It also helps to know what challenges you are experiencing, as these can be resolved with the appropriate WMS.
For more information on WMS SaaS technology, read our Warehouse Management System Guide or reach out to our experts here.