How to Use Partnerships & Tools for Shorter Time-to-market?
As a retail brand or distributor, time is of the essence, especially when you want to expand your retail operations to newer markets or launch a new product. So, how much time to market should you have?
What is time to market?
The meaning of time to market can vary from business to business. For the retail industry, it refers to the time taken by a business to study and understand an audience, commit resources and set up offline/online stores and start selling to them. Alternatively, launching a product in a new market is also called time-to-market.
While launching a product, it is crucial to make sure that timing is right. How can you figure out the right time to launch your product while making sure you maintain a shorter time-to-market? The key to a successful new product launch is to integrate your launch plan with various tools that provide you access to data regarding the market, an insight into which partnerships are required and other processes as well. Understanding the market can take a lot of time. However, you can partner with platforms that are experienced with the market requirements and can easily guide you through.
Take too much time to market and you might miss out on an opportunity to prosper. The slower you act, the smaller your chances are of converting a prospect to a customer. But, if you move too quickly, you might end up trying to engage people who are not in your target audience. These people may not have the budget, time, authority, or need to buy your products. Another issue with acting too quickly is, you do not have time to personalize your business approach. This can impact customer experience significantly, in a bad way.
How to reduce time to market effectively?
When entering a new market or launching a new product, it takes a while to observe and analyze how buyers behave. Within this time, you will also need to develop an effective strategy for production or supply, marketing, distribution, and feedback. You can utilize the assistance of third party specialists in these areas. However, their services might be expensive and thus may eat into your profit margins.
An alternative way to reduce time to market effectively is to start selling on that country's popular marketplaces. It requires fewer investments and allows you to work fast enough to build your brand in a new territory. Plus, you can do it yourself with the help of these specialized tools and partnerships.
1. Start selling across multiple online marketplaces
To begin, you can begin selling on eCommerce marketplaces such as Lazada, Zalora,Shopee, Qoo10, Amazon, and eBay. As more people become confident with technology, the greater, online retail grows. This makes eCommerce a great option to start with.
When your business is present across online marketplaces, you save resources you would have spent in setting up your own outlet in a selected location. With the help of these eCommerce platforms, you sell beyond your city and even country. Besides this, marketplaces also have massive customer bases that your company would take a long time to develop. In 2019, Lazada had a total of 50 million users. In 2019, Amazon had 2.15 Billion desktop and mobile combined visits. That's an incredible consumer base you can easily gain access to.
You can begin directly by registering and listing on each marketplace individually. Or, you can also use multi-channel retail management software, wherein, you can directly connect multiple marketplaces & start managing them in one place.
2. Managing logistics & warehousing
When you start selling online, there is still the challenge of logistics. The more you sell, the more taxing warehousing and inventory management gets. Selling to varied locations far and wide brings complex logistics networks into play. Handling all of this on your own can get messy and having multiple people take care of managing these things can make things either worse or costly.
So, to help you minimize efforts spent in operations, you can automate major tasks with the help of these tools –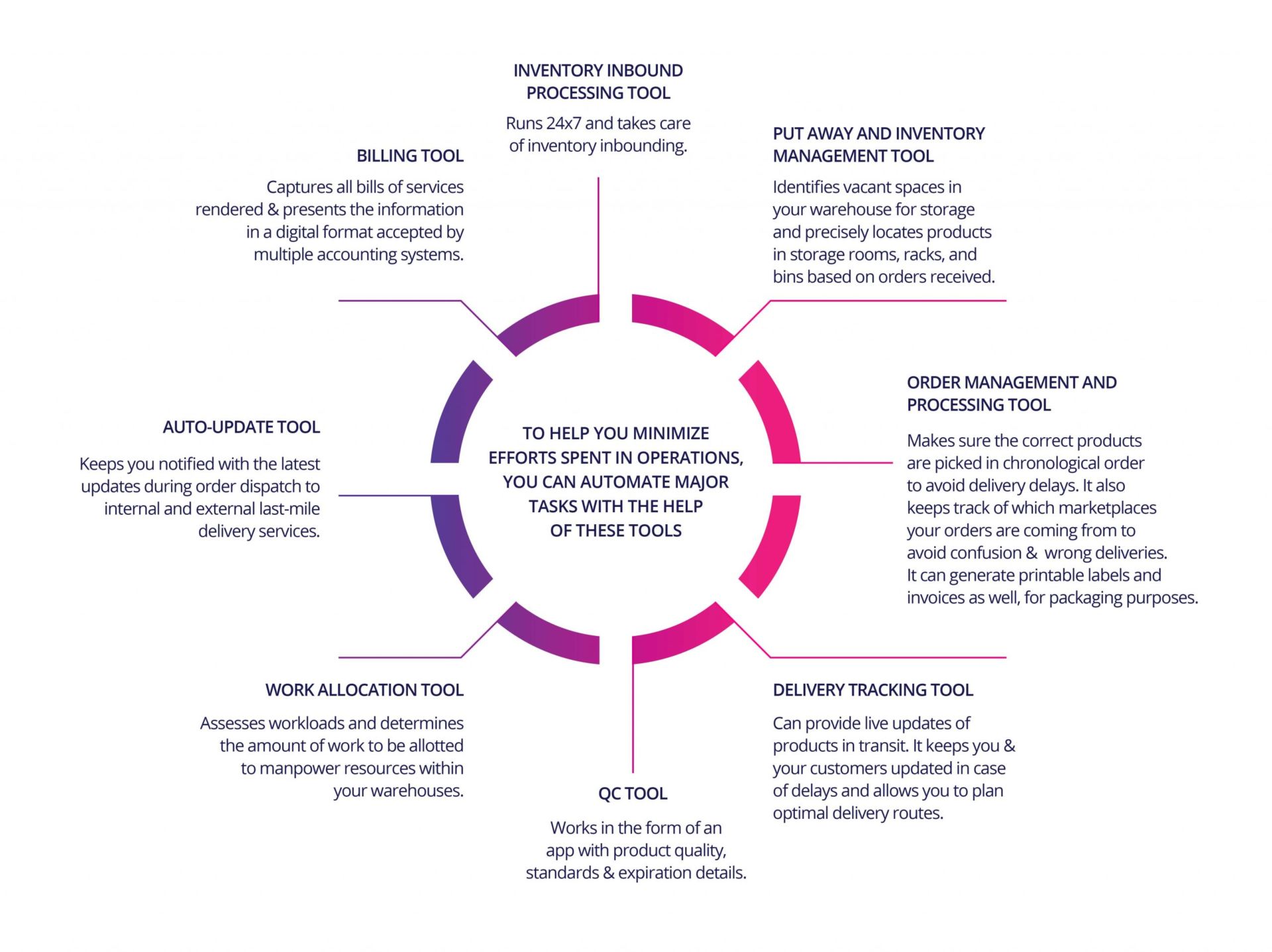 Instead of searching for each of these tools and using them individually, you can pick out a single reliable all-in-one eCommerce warehouse management software that offers all of these functionalities and more. Such a software will easily integrate with marketplaces,enabling 3rd party logistics providers (3PLs) to offer fulfillment to brands and online sellers.
3. Partnerships with fulfillment players
Not everything can be automated and handled remotely. Logistics is a major element that requires fixed assets like vehicles, infrastructure, and manpower. So, a more realistic option would be to partner with a local 3PL provider. There are tons of actors that offer such services which may create the dilemma of selecting a trustworthy 3PL.
Technology has made it possible for eCommerce actors to swiftly gain a shorter time-to- market. The right partnerships and tools can not only help you execute your eCommerce operations smoothly but also result in business scalability like never before. The solutions can transform your market presence by providing you a network of logistics partners on a global level, access connections with consolidators, custom clearing agents, and forwarders across the globe. Are you ready to use them?
Sources: