Manage Split Shipments Easily with Anchanto's New Multiparcel Feature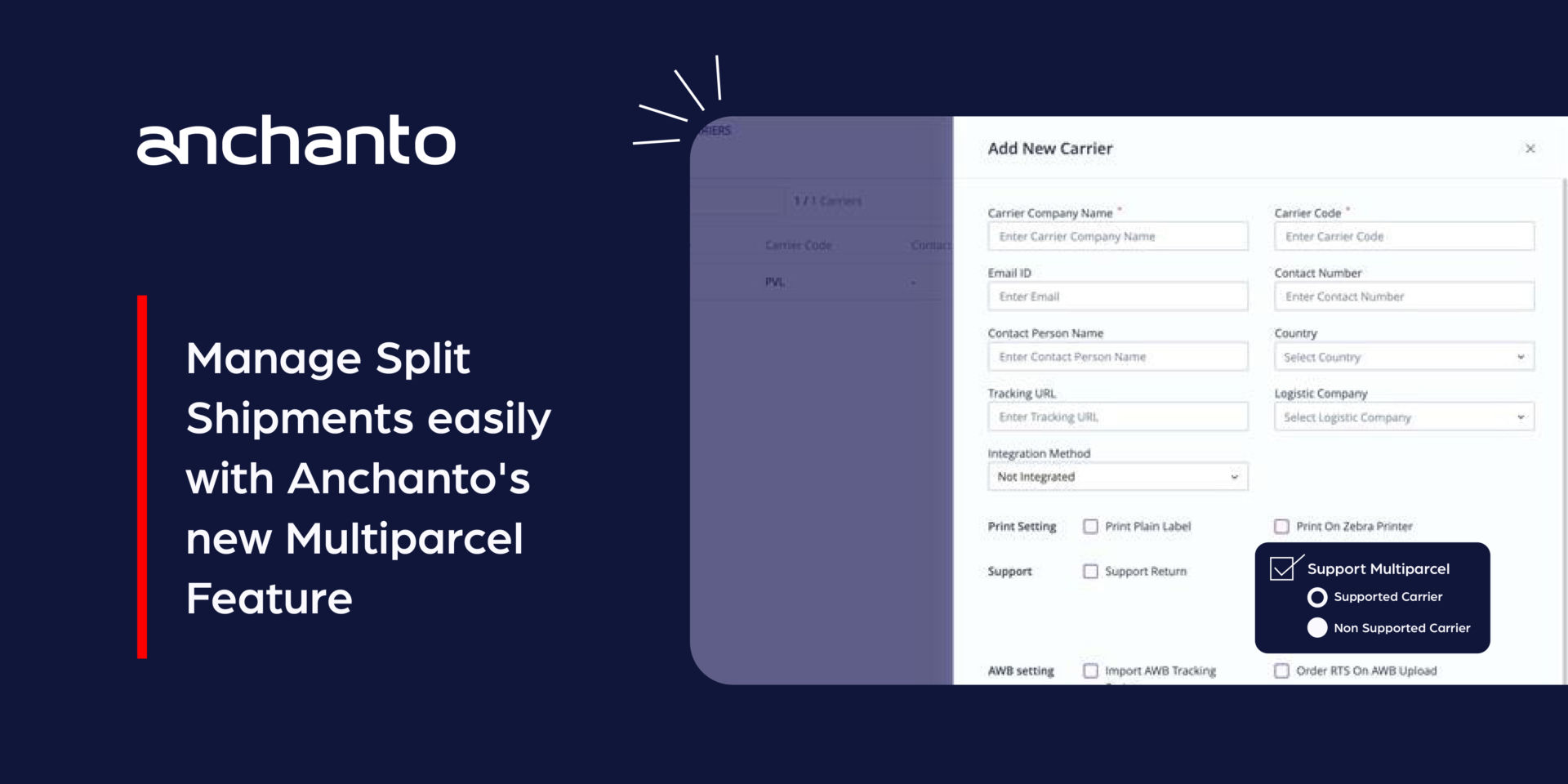 As e-Commerce activities expand, we're witnessing a delightful trend of the increase in individual order volumes. Customers often place orders with multiple items all at once given the various incentives offered by brands and marketplaces on high order volumes. It's a win-win situation for both buyers and sellers, but it does present a unique challenge for logistics.  
Shipping multiple items in a single package can be a logistical nightmare, and there are times when orders need to be split for various reasons, like stocking, availability, weight or presence in different locations. 
We understand the importance of operational efficiency in your warehouse, and that's why we're thrilled to introduce the Multiparcel feature enhancement in Anchanto Warehouse Management. 

What is

Anchanto

Warehouse Management

's

Multiparcel Feature?
The Multiparcel feature simplifies the handling of orders with multiple parcels or shipments, each with unique characteristics and requirements. With the Multiparcel feature, you can easily split your order and generate separate shipping labels and tracking numbers for each shipment. This ensures that every shipment is uniquely identified and tracked independently throughout the entire shipping and delivery process, providing you with enhanced control and visibility. 
Let's dive deeper into its key functionalities and benefits:
Generate Multiple Shipping Labels:

Tailor your package division to meet specific requirements and effortlessly create multiple shipping labels for each component of the package. This allows for easy identification and tracking of individual shipments throughout their journey.

 

Treat Each Component as a Separate Order:

Gain complete visibility and control over each parcel component by accessing essential details such as Carton ID, Tracking ID (AWB), packing material name, and dimensions separately. This enables you to track and monitor the status of each parcel component once it leaves the warehouse.

 

Automatic Manifest Generation:

Even if only one of the orders is scanned, our system automatically adds all the components of the parcel to the manifest. This streamlines the documentation process and ensures accurate record-keeping.

 

Smart Delivery Status Update:

Keep orders organized and easily track their progress. The Multiparcel feature keeps orders in the 'Out from Warehouse' section until all the cartons (shipments) are delivered and marked as completed. Once all shipments are delivered, the order is automatically moved to the completed section.

 

Effective Return Management:

Managing returns is hassle-free with the Multiparcel feature. Integrated carriers have returns created automatically, while for non-integrated carriers, users have the flexibility to create returns for each individual shipment as required. By selecting the tracking number of shipment 1 during the return process, items within carton 1 are eligible for return.

 
With these powerful functionalities, the Multiparcel feature empowers you to optimize your warehouse operations, streamline order processing, and ensure accurate tracking and management of multiple parcels.  
The multiparcel feature is now available on SHYFT, FlashExpress, UPS, Chronopost, GLS, Mondial Relay, MyDelivengo, and many more carriers across the latest version of Anchanto Warehouse Management. Connect with our sales and experience enhanced efficiency and control by incorporating this feature into your workflow.