Poney Group announces Cross-border and Omnichannel expansion beyond Malaysia with Anchanto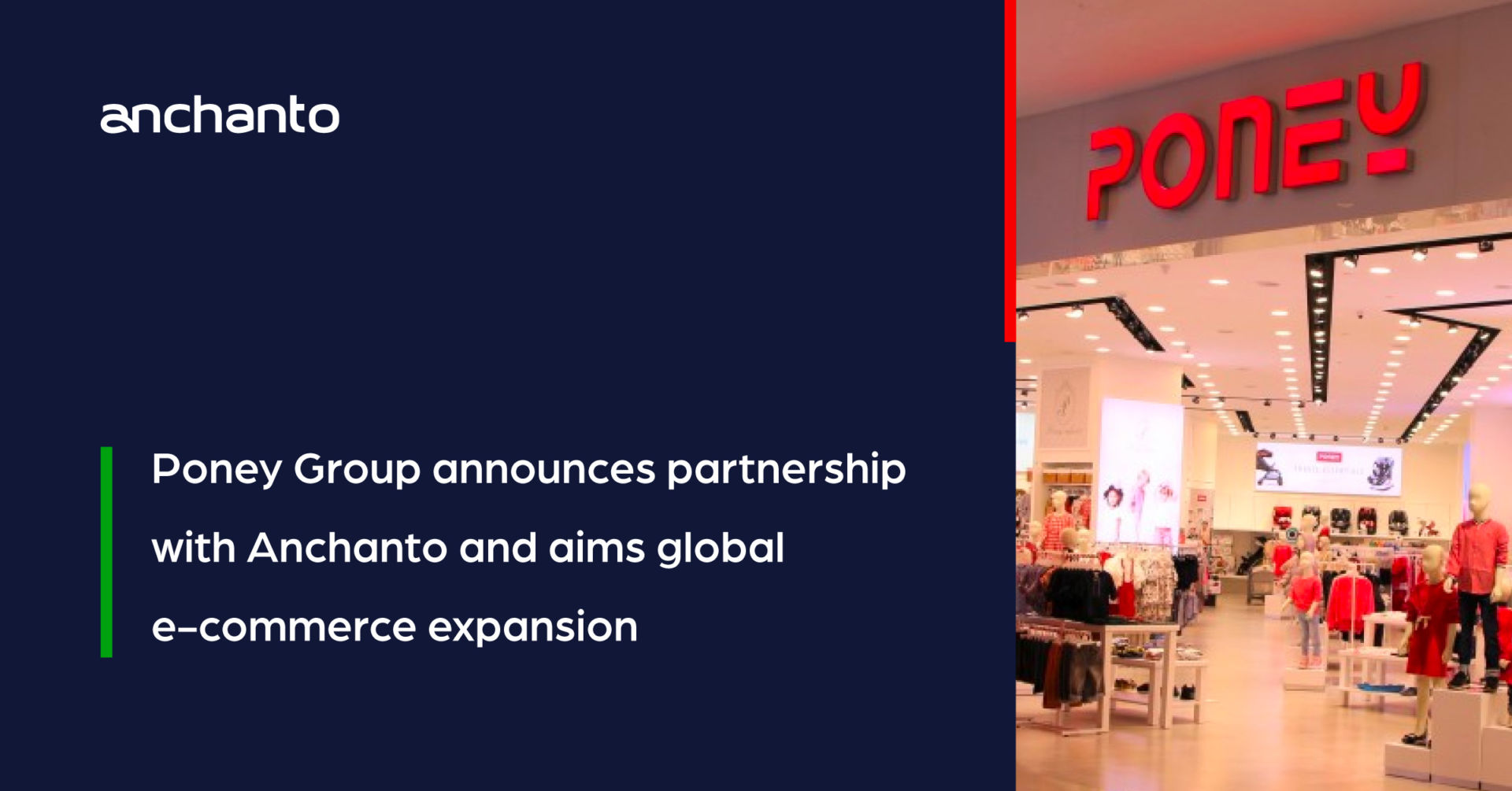 Poney Group leaps towards its ambitious cross-border and omnichannel plans beyond Malaysia with Anchanto

Using Anchanto's technology solutions, the company intends to expand its business into new markets and implement its omnichannel strategy
Kuala Lumpur, 06 July 2022 – Poney Group, a leading Malaysian brand and retailer for a range of comfortable, fashionable children's apparel and related products, announced its partnership with Anchanto, a global SaaS technology company to achieve its ambitious eCommerce growth plans. Through this partnership, Poney Group will leverage Anchanto's purpose-built technology to scale its international presence through eCommerce and offer omnichannel services to Malaysian and shoppers abroad.
Despite the slowdown due to COVID-19 in early 2020, Poney Group's online market share grew exponentially. The brand's eCommerce channels grew 140% year-on-year over the past 2 years. While many brands and retailers struggled on both the retail and supply chain fronts, Poney Group benefited from its strong expertise developed over the years in these areas. But in order to confirm and sustain its growth in the long term, the kid's clothing brand needed to rely on a strong and scalable technology infrastructure adapted to both its home market in Malaysia and also international markets where the brand is present.
Poney Group decided to leverage on Anchanto's potential, and chose to implement its eCommerce solutions globally. Anchanto's products integrate with hundreds of marketplaces, web stores, shipping carriers, and ERPs in Malaysia and across the globe. These integrations, along with other capabilities of Anchanto's Order Management System (OMS) and Warehouse Management System (WMS), improved Poney Group's operational performance and visibility. The brand is now looking to hit RM 80 million revenue in the next 3 years.
Rudy Dong Chao, Head of eCommerce and International Business units of Poney Group, said, "To support our rapid eCommerce growth, we required a proven solution from providers that align with our traits of integrity, quality, and efficiency as they would directly impact our customer's shopping experience. We stressed on having technology that we could count on for the long haul and explore new business opportunities like omnichannel retail, new distribution networks, and franchises. Anchanto matched our requirements, perfectly demonstrating quick action, quality results, and effective support to our team."
"In retail, even incremental changes in systems can lead to multi-fold improvement in customer experience. And Poney has been incredibly bold to experiment, learn & grow in leaps. From outsourcing operations to 3PLs and enablers, they now manage both functions in-house. They benefit from full control & visibility of their fulfilment and eCommerce marketing operations. With them embracing an omnichannel strategy, it is great to see a Malaysia-born brand using local SEA technology to achieve its business vision," said Vishal Desai, Chief Revenue Officer of Anchanto.
Having effectively solved its eCommerce order and warehouse management hurdles, Poney Group's next growth plan is to extend in the Middle East market. Anchanto penetrated the market early this year with first office in the UAE and is developing new partnerships with enterprise distributors, logistics companies, and postal businesses.
In parallel, Anchanto is exploring opportunities in western regions like Europe and has customers in 35 different nations across the globe, including countries aligned with Poney Group's cross-border expansion plan such as Korea, Taiwan, Japan, Hong Kong, the United States, France, the United Kingdom, and more.
"As an eCommerce SaaS technology company, our goal is to help innovative businesses like Poney Group to venture into new markets and grow operations at scale. We are very proud to associate our name with the brand and accompany their growth across borders. The brand will benefit from our robust technology and strong expertise, especially in offering omni-channel services to their customers," said Vaibhav Dabhade, Founder and Chief Executive Officer of Anchanto.
Through Anchanto's vast market presence and dynamic technology, the Malaysian apparel company looks to navigate the complexities of new markets and position itself for success. Anchanto's technology will aid Poney Group in establishing and expanding eCommerce operations quickly on multiple marketplaces and by leveraging the best 3PL & logistic carriers for swift and sound order fulfilment and inventory management.
Poney Group will also benefit from Anchanto's network of more than 200 ready integrations, as it transitions to an omnichannel model to consolidate offline and online efforts. The fashion brand's omnichannel efforts will include trying offline and buying online, especially for kids as their sizes can vary quickly and significantly. By integrating POS systems and its OMS platform, centralizing inventory, and collecting intelligent consumer-related insights, Anchanto will power an interactive online and offline retail ecosystem. Similarly, consolidating operations across sales channels with Anchanto, will aid the easy setup of multiple omnichannel initiatives for Poney Group.