The Influence of COVID 19 on Fashion eCommerce
Zalora recently conducted a live webinar inviting supply chain leaders from the SEA geography and associated markets to understand the new consumer trends in the lockdown period.The main agenda of the webinar was to initiate a dialogue between the panelists on social media domination and helping physical stores adopt to the new normal created by the lockdown can enhance fashion eCommerce.
Zalora recently hosted a live webinar inviting the industry experts to shed light on the impact of COVID on the fashion industry worldwide. The webinar touched upon the behavioral consumer trends that were seen in the initial, mid and exit phases of the lockdown.
Industry experts such as Giulio Xiloyannis, Sasha Ahmad and Marty Buragay from Zalora team, Jerome Hamlin, Industry head and eCommerce from Google (South east Asia), Jonathan Koch, Senior Vice President, Unified Commerce & Strategy, PVH Asia Pacific at PVH Corp (APAC and China) and, Stuart Higgins, General Manager – Wholesale and Marketplace at Cotton On Group, expressed their insights on varied topics relating to the agenda. All the panelists described fashion and consumer insights based on their area of expertise, industry knowledge and the entities they are currently associated with.
Let us discuss some of the most pertinent problems faced by distributors in their channel management operations and viable solutions.
1. The data dictates the trends
Giulio Xiloyannis, who currently leads commercial operations at Zalora, explained the various shifts in consumer behaviour, according to different time intervals of the lockdown across different geographies. Following their in-house analytics tool Trender, here are some of the most important highlights discussed:
Sports apparel and athleisure were least impacted in this period of crisis and noticed young people (age band of 21-25 years) contributing to a new customer base.

From an eCommerce perspective, there was an increase in new customer base from the age bands of 20-30 with 23% rise in terms of share of sales with a consistent rise in desktop usage.

Amongst the six countries Zalora operates in, there was a significant drop in the sales of dresses; however, other apparels have stabilized to become the lead categories.
2. Strong shift to online shopping
During the crucial months of lockdown, Google launched multiple consumer surveys to analyse consumer sentiment with respect to the search data. There has been approximately a 25% increase in new users joining the eCommerce train. Even with the exiting of lockdown period, these users continued to shop online, thus, benefitting different marketplaces.
Youtube on the other hand, saw a completely different set of video consumption- DIY, Cooking, Self-help, personality development which in turn has spiked a demand for products relating to these categories.
With a series of shifts happening during the lockdown and post lockdown period, there have been three types of demand trends in terms of online fashion industry-
China determined a gradual acceleration to the sustained changes that have occurred in women apparels category.

In New Zealand and Germany, there was a sudden drop in the staple fashion category. But with a significant rebound, the category has sustained to the Pre-COVID baseline.

Southeast Asia recorded sudden spikes and drops across different categories. But, it is estimated to see these rebounds sustain in the course of time.
3. Work from home fashion: new norm calls for new fashion
With the lockdown period started just after the chinese new year, people across South east Asia started adapting to the pandemic. As the Muslim population celebrates Hari Raya extensively, SEA market witnessed different trends in modest fashion wear and how people adapted to the new normalcy quickly. Since staying at home became the new norm, consumers initially started prioritizing essentials that led to drop in sales of fashion wear. But, as people got accustomed to the pandemic, fashion eCommerce started picking up gradually. Fashion consumption slowly started regaining its momentum, conditioned to the styles that fit the consumer needs. With Hari Raya celebrated at the brink, modest wear category sales started increasing with respect to the above seasonality. Loungewear, prayer wear, semi-formal fashion increased during these times. In the world of social media domination, consumption of modest fashion and staple workwear was back on track.
4. Social media domination
While we were used to being a social media centric world, the pandemic redefined this stage into a broader perspective.
Almost 300 million people are actively using social media during the lockdown phase. Messaging, voice, and video calling have increased its usage volume to almost 50% higher. Almost 800 million people have started utilizing live streams to join workout sessions, take art and cooking tutorials, and learn about fashion trends etc.
Leveraging this consumer behavior, it is utmost necessary for brands and retailers to connect with users. All the more, brands can build a strong dialogue with the community by being sensitive and mindful of their content.
This can entail brands to have their own voice through social media by leading with empathy, adding value to consumers and acts of care that can spark positivity through unique content generation.
5. Transforming with technology and agility
Considering Southeast Asia (SEA) and specifically China, it is evident that the timing plays a crucial role in defining nation-by-nation rotation of consumers to eCommerce.The role of government decisions, period of complete lockdown and travel ban, have all added to how the fashion eCommerce industry took turns in deliberating consumer decisions. For nations that practiced lockdown at a very nascent stage of the pandemic, there was a pattern of cross- consumer discretionary. The inferences obtained from it have enabled future shopping trends for physical stores- "Consumers are going to dictate the considerations that will enable reinventing a diversified shopping experience."
In terms of post-covid scenario, physical stores will have to adapt to harmonized commerce. Harmonized commerce is a scenario wherein retailers and store owners can operate multiple functions through a single store. Consumers will be expecting more from physical stores- Sanitation, hygienic personnel management, transforming stores with an engagement center for live streaming etc.
Brands and retailers must find ways to test and learn, invest in right technology with SaaS platforms that can have unified multi channel experience through integrations with logistics, marketplaces and support supply chain networks. The Mckinsey Report2020 states that almost one-thirds of fashion brands will become non-existent; probably this is how brands are going to have to sustain the post crisis scenario.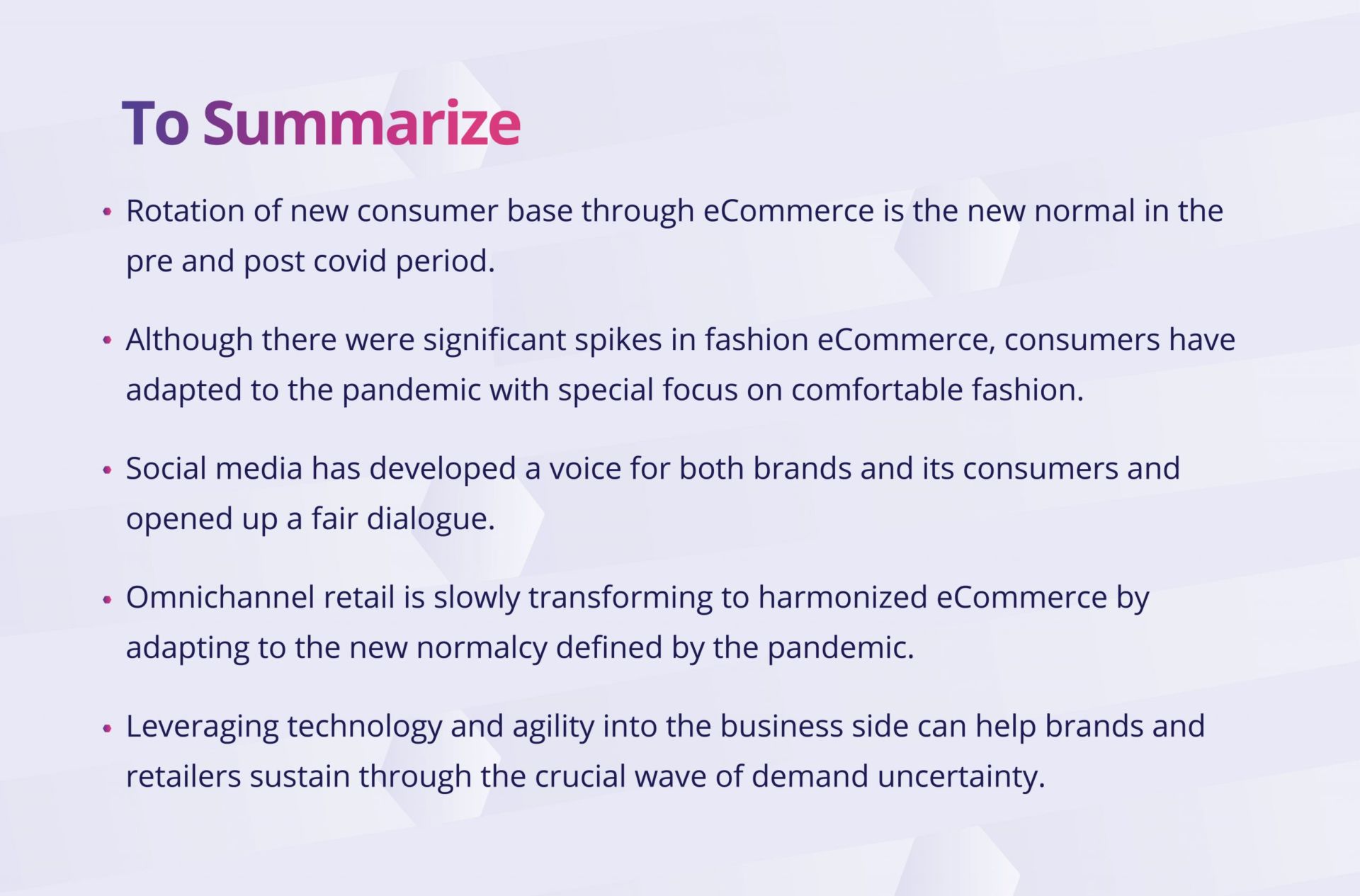 Sources: 1