The Ultimate Solution to B2B Retail and Consignment Inventory Management
Total retail sales worldwide are expected to be $29.7 trillion this year, while e-commerce revenue is projected to reach $5.8 trillion in 2023 too. Most brands and retailers have thus understood the importance of selling on online and offline channels simultaneously and focus on ensuring that their customers have a consistent experience regardless of where they shop.
However, managing the logistics and backend operations of offline B2B retail can be quite challenging. For example, it's very common for brands to sell through a consignment model to reach a wider customer base. A consignment model is when a retailer sells products at its stores, but the supplier (or brand) retains the ownership of the stock or product inventory. In such situations, having visibility on consignment inventory that's no longer in their own warehouses can be a challenge for brands or any supplier.
We are excited to share that we have launched a new capability in Anchanto Warehouse Management that specifically addresses this challenge for brands and retailers. Through our newly launched 'Retail and Consignment Inventory Management' capability, you can manage your B2B retail inventory very efficiently.
Current Challenges in Maintaining B2B Retail and Consignment Inventory
The primary obstacles when managing consignment inventory are traditional processes that are inefficient and costly. We've magnified some of these challenges and their outcomes below.
Manual processes to coordinate with retail store partners
When managing consignment inventory manually, you rely on emails, phone calls, or physical documentation to communicate with retail store partners. This can be time-consuming and error-prone, leading to misunderstandings and delays in inventory management.
Limited control and visibility of inventory in partner stores
Manual consignment inventory management provides limited control and visibility over inventory at partner stores. Businesses may not have real-time access to stock levels, which can result in overstocking, stockouts, and missed sales opportunities.
Fragmented process of managing consignment inventory and orders
Managing consignment inventory manually often involves fragmented processes. Each partner store may have its own unique way of reporting sales, which can lead to inconsistencies in data collection and difficulties in aggregating information for analysis and decision-making.
Difficulty in tracking product sales and performance at individual stores
Manual processes make it challenging to track product sales and performance at individual stores accurately. This lack of granularity can hinder the ability to identify top-performing products, assess demand trends, and optimize product placement.
Inefficient distribution and replenishment processes
Coordinating the distribution and replenishment of consignment inventory without automation can be inefficient. It may involve manual checks of inventory levels, leading to delays in restocking products and potentially affecting customer satisfaction due to product unavailability.
Unable to manage and process returns efficiently
Handling returns from partner stores can be complex without a streamlined system in place. Manual processes may result in confusion over return policies, delayed returns processing, and disputes with retail partners.
How does Retail and Consignment Inventory Management help?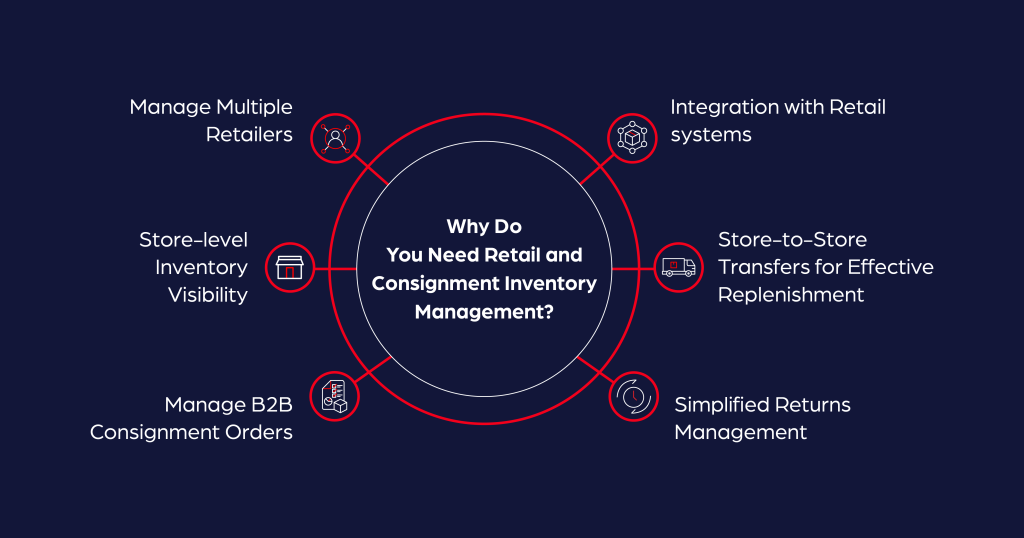 With the Retail and Consignment Inventory Management capability now available with Anchanto Warehouse Management you can monitor and replenish inventory at individual retail stores. Our newly developed feature helps you to:
Manage Multiple Retailers: If you are a brand that sells through multiple retail partners, who in turn have several offline stores, then you can centrally manage all retailers and their associated stores through our platform.
Store-level Inventory Visibility: You can have full visibility of the inventory levels at each store. This is true for businesses that sell through their own official stores as well as through retail partners who might have their own outlets.
Manage B2B Consignment Orders: You can now manage B2B consignment orders centrally. Retailers or individual stores can create an order for products they need at their location. Warehouse admins or store managers can then choose to approve or reject those consignment order requests. Additionally, to make sure that stores are not dependent on you each time, they can also create orders and request stock from other stores and vice versa.
Integrate with Retail systems: Easily connect with POS systems, ERPs or other platforms to get product sales and performance data at the individual store level. Alternatively, you may also choose to track sales orders offline by bulk uploading the data on our platform.
Store-to-Store Transfers for Effective Replenishment: You don't have to depend on the main warehouse or distribution center to send inventory to individual stores anymore. Through our latest update, you can easily initiate inventory replenishment against each store from another store through 'Stock transfer orders'. Stores also can confirm or reject these transfer orders.
Simplified Returns Management: When a store receives an order, they may choose to return excess or defective products back to the warehouse due to multiple reasons. You can initiate and manage these returns easily through the same platform.
Anchanto Warehouse Management is continuously upgraded by our team with new features, so you receive cutting-edge advantages to stay at the top of your game.
For more information, head to our FAQ section by clicking here. You can also reach out to us via help@anchanto.com to learn more about this newest feature and other recent developments available for you.