Top 10 Webstore Builders for E-commerce Businesses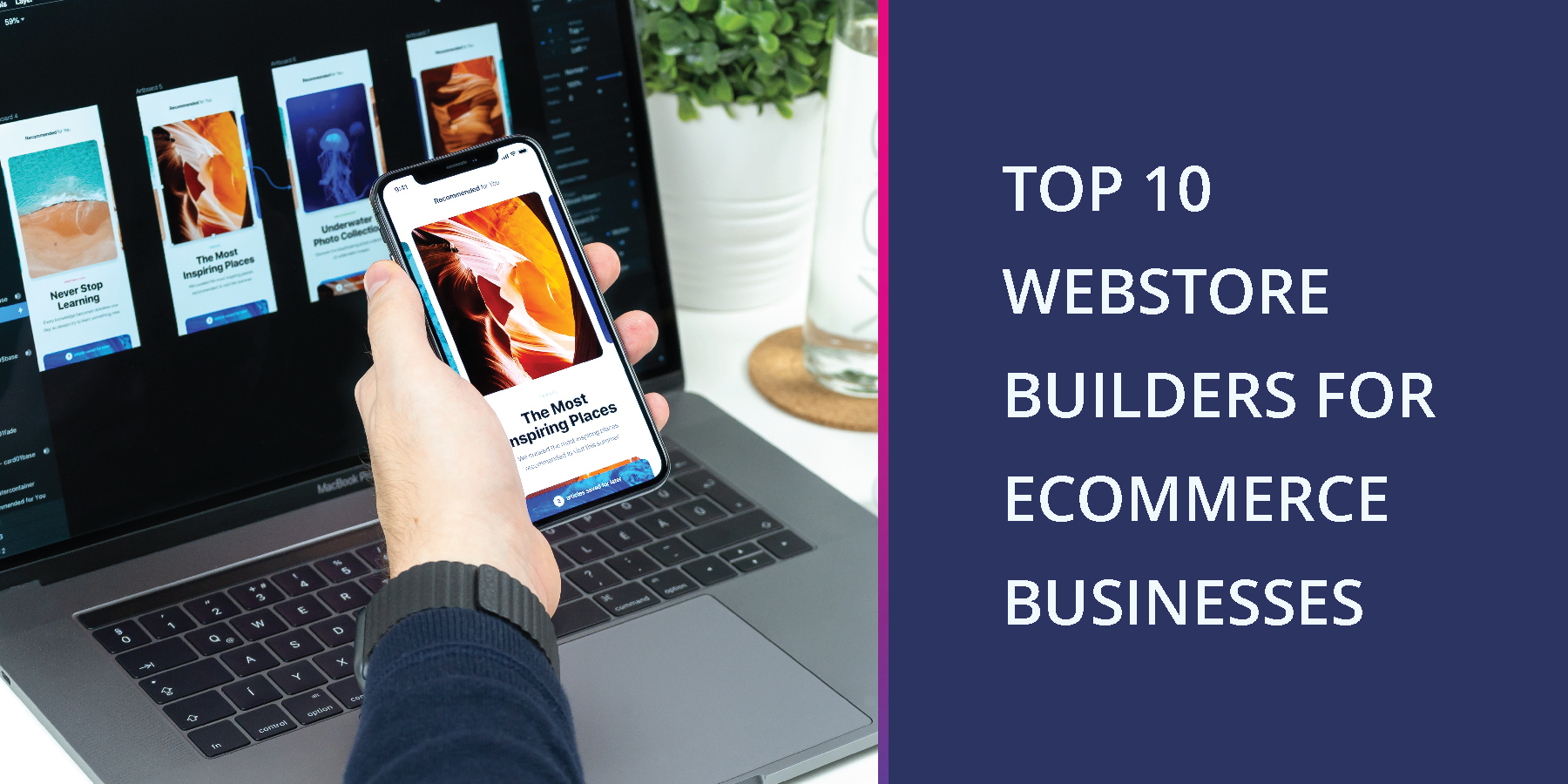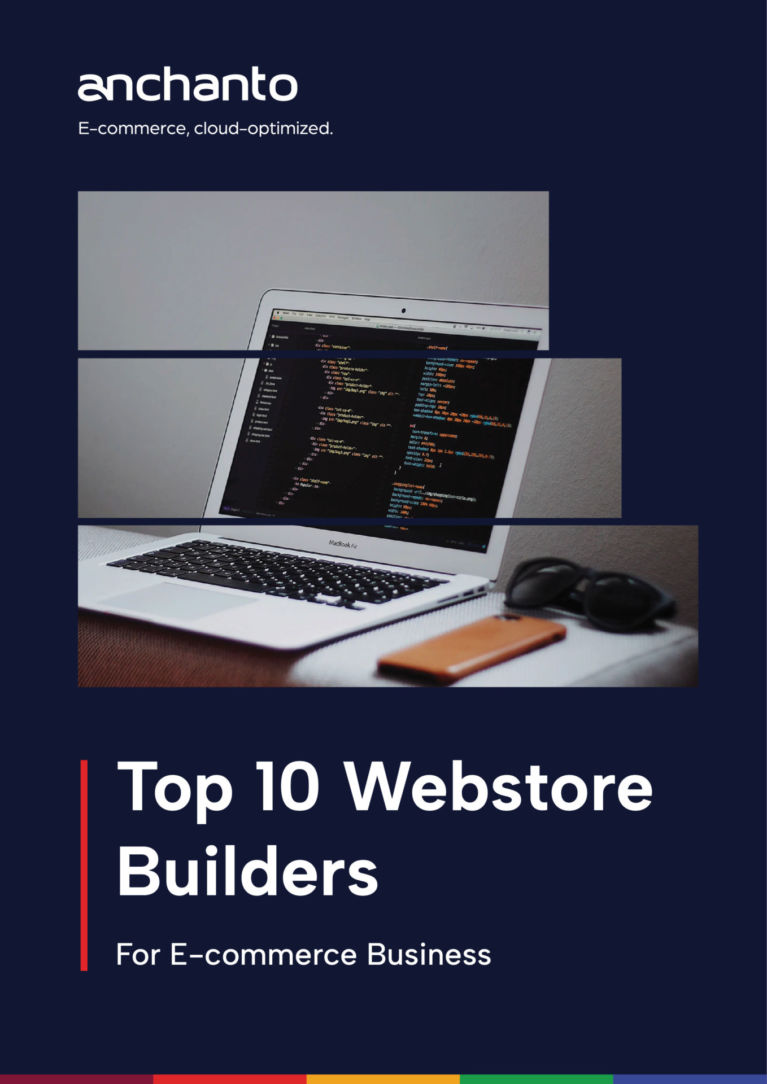 Short on time? Download now and read on the go.
Introduction
With an estimated 2.14 billion global digital buyers in 2021[1], online shopping has completely transformed the retail world. Brands and Retailers' official web stores play a significant role in establishing a strong multichannel strategy.
Not only do they help promote the company online and generate sales, they also offer a direct access to the shoppers, and enable businesses to build a trustworthy shopping experience with them.
We bring you a comprehensive list of the top 10 webstore builders for e-commerce businesses (presented in alphabetical order) to help you identify the technology best suited to your needs and maturity.
1. BigCommerce
BigCommerce is one of the world's leading cloud e-commerce platforms for established and rapidly-growing businesses. It enables B2B and B2C businesses to grow online sales with 80% less cost, time, and complexity than on-premise software.
Headquartered in Austin, Texas, USA, it is an e-commerce SaaS platform with 600+ employees. The features it offers include customer groups and segmentation, search engine optimization, web hosting, and more.
BigCommerce supports thousands of retailers around the world from its offices in San Francisco, Austin, London, and Sydney. It is also one of the leading webstore builders for e-commerce businesses.
Regions: Global

No. of monthly visitors: 81M

No. of businesses: 60K SMBs, + 2K Mid Market Companies, + 25 Fortune-1000 Companies

Solutions for: Brands, Retailers, Omnichannel Experience, etc.
2. GetMeAShop
GetMeAShop is an e-commerce platform designed to help small and medium businesses come online and generate more revenue. It is a single, most comprehensive solution to help you start an online business that encompasses a website builder, e-commerce engine, marketing tools, social media marketing, digital marketing, and CRM suite – all neatly packaged into one solution so that businesses can focus on what they do best.
The platform enables businesses to establish websites quickly at a low cost, maintain IT infrastructure and keep track of the progress they make, Manage transactions in an efficient and secured manner, and offers integrated payment, logistics, and customer acquisition solutions.
Regions: Global

Headquarter: India

Parent Organization: InstaMojo

Product Category: Web Store/ Marketing
Established in 2014, Haravan is a software solution company that provides a cloud-based multichannel platform for SMEs, e-commerce merchants, retailers, shop to run their business online and offline. After 4 years of official product launches, Haravan has been considered as the leading website builder with 15,000 paying merchants.
Haravan, the first Vietnam commerce solution provider was chosen by Google, to join the Google Launchpad Accelerator program at Google headquarter. And the first Vietnam partner as a business solution provider for the Facebook messenger platform.
Region: Asia Pacific

No. of websites running on Haravan: 10,600+

No. of Merchants: 15,000
Magento, an Adobe Company, is a leading provider of cloud commerce innovation to merchants and brands. It helps businesses successfully integrate their digital and physical shopping experiences ranking it with the top webstore builders for e-commerce businesses.
In addition to its flagship open-source commerce platform, Magento boasts a strong portfolio of cloud-based omnichannel solutions including in-store, retail associate, and order management technologies.
Based on the market requirement Magento has launched Magento 1x and 2x for different business needs. A comprehensive solution of Magento offers multi-store features to manage multiple stores under a single Magento backend.
Magento is the preferred solution for mature and enterprise businesses like HP, ALDO, Marie Claire, Canon, etc
Regions: Southeast Asia

Solutions: 1,150+ solution and technology partners

Best Known For: Brands, and branded manufacturers across B2C and B2B e-commerce industries.

No. of stores created: 100K+
Opencart is an easy-to-use, powerful, Open Source online store management program that can manage multiple online stores from a single back-end. It offers 13,000+ modules and themes which can be used to jump-start, grow, and expand a business. With themes suitable for various sectors like service integrations, payment providers, shipping methods, social media, marketing, accounting, reporting, sales, etc.
An OpenCart store can be ready to take orders soon after installation. All businesses have to do is have it installed (any web hosts do it for free), select a template from the many free or low-cost template sites, and add product descriptions and photos, click a few settings, and you are ready to begin accepting orders. The company offers free Installation & Quick Start chapters to guide actors.
Regions: Global

Initial Release: 2010

No. of websites running on OpenCart: 342,000+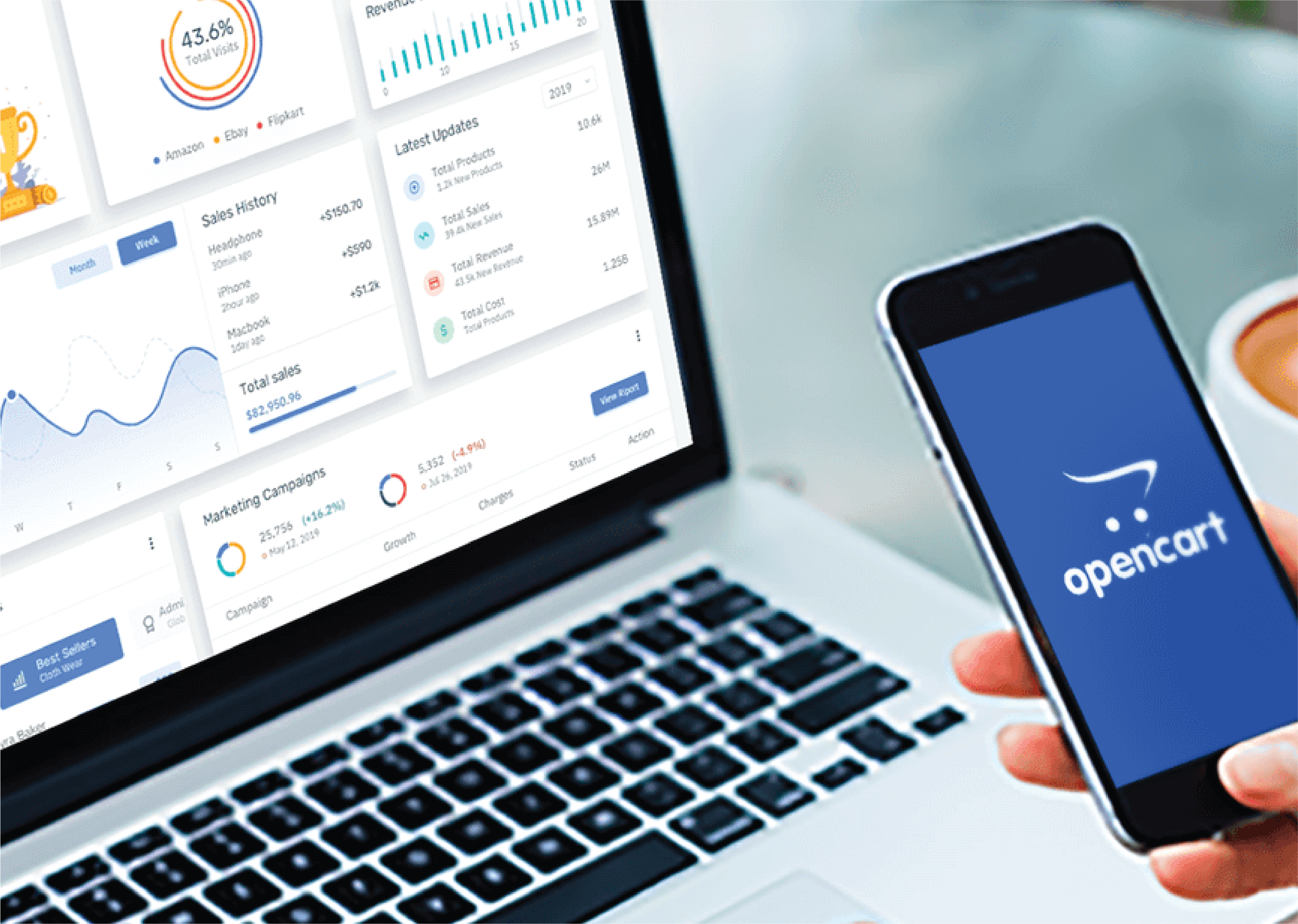 PrestaShop's Linkedin Company page mentions that it is one of the world's most popular e-commerce platforms and most successful open-source projects. PrestaShop is the leading e-commerce platform in Europe and Latin America. It allows entrepreneurs and companies with ambitious projects to create and develop their own e-commerce site.
Since the beginning, PrestaShop has been dedicated to helping entrepreneurs and businesses push the boundaries of commerce and thereby achieve their ambitions.
Regions: Global

Headquarter: India

Parent Organization: InstaMojo

Product Category: Web Store/ Marketing
Salesforce Commerce Cloud empowers businesses to create seamless e-commerce experiences that inspire and convert today's connected shoppers. It is a cloud-based e-commerce software, allowing users to go to market faster and in a smarter way. It delivers personalized customer experiences across mobile, digital, and social platforms.
Commerce Cloud products work to drive growth, strengthen your e-commerce strategy, and enhance your customer base.
It provides a cloud-based unified e-commerce platform with mobile, AI personalization, order management capabilities, and related services for B2C and B2B retailers and brand manufacturers around the world.
Regions: Global

Headquarters: Burlington, Massachusetts

No. of websites running on Demandware: 34,965

Parent Website: Salesforce
Shopify is a cloud-based, multi-channel commerce platform designed for small and medium-sized businesses. It provides trusted tools to start, grow, market, and manage a retail business for delivering a better shopping experience to consumers. It powers over 4.4 million businesses [2] in more than 175 countries.
It is a commerce platform that allows anyone to easily sell online, at a retail location, and everywhere in between. Shopify's total revenue for the full year of 2020 was US$2.929 billion.
Shopify also has a platform for enterprise businesses – Shopify Plus. With its flexibility and fast-to-launch service, it is a preferred choice for businesses. Some of the leading brands using Shopify Plus are Staples, Heinz, AllBirds, Lindt, and Magnolia. The webstore builder offers services like built-in augmented reality, 3D, and product videos to increase sales, and much more. It is one of the most preferred webstore builders for e-commerce businesses across the world.
Regions: Global

Headquarters: Ottawa, Canada

No. of app downloads: 12M+

Solutions for: Brands, Retailers,

Omnichannel Experience, etc.

Market Share: 23% in the USA

Company Size: 10,000+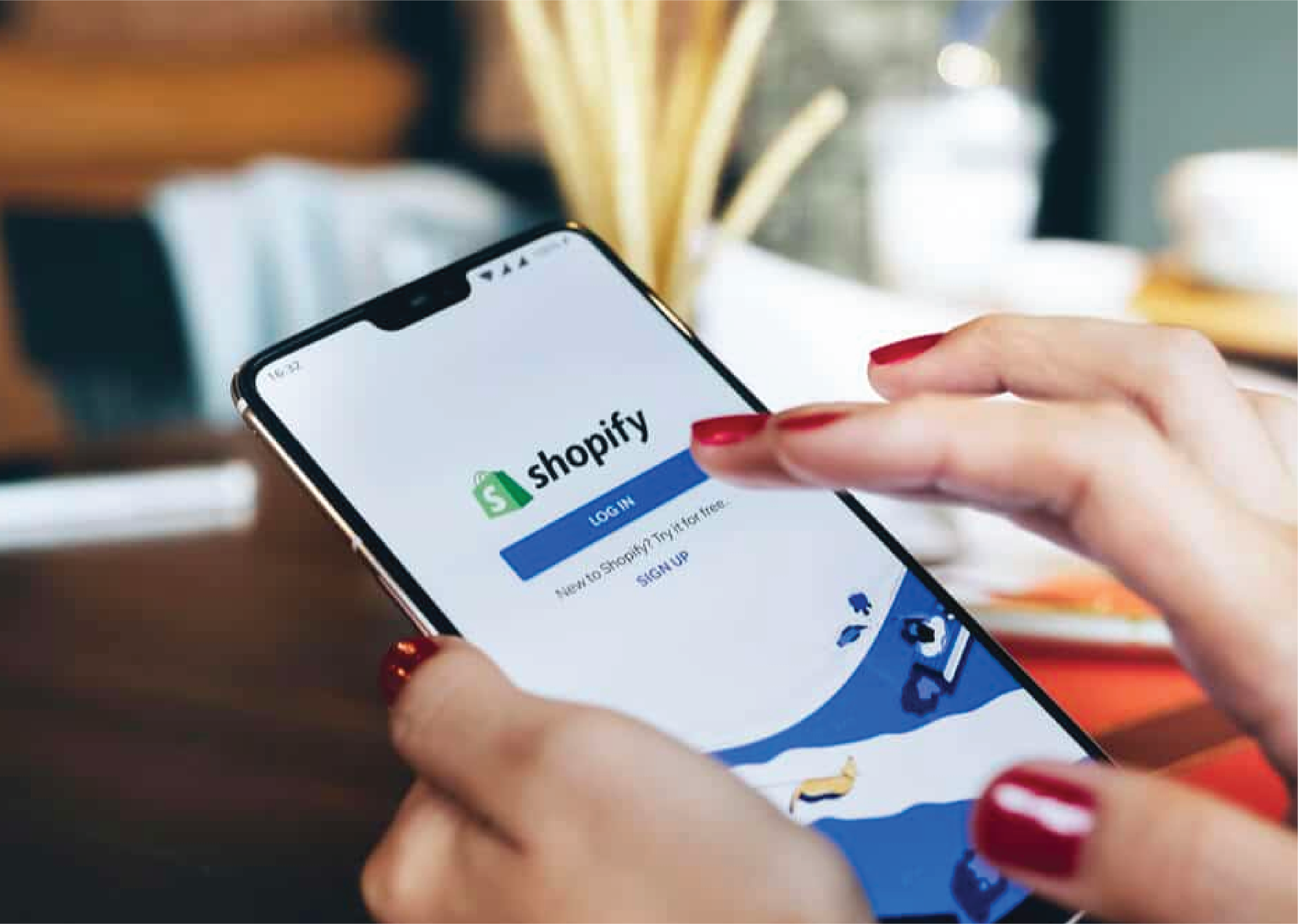 WooCommerce is an open-source e-commerce solution built on WordPress that supports small and medium businesses to build a comprehensive web store they want and sell online. WooCommerce plugin helps transform WordPress websites into customizable e-commerce stores. It offers a wide range of free and paid extensions to meet all logistical, marketing, and technical needs that usually brands and retailers have while transitioning to the e-commerce space.
Popular for its simplicity and customization options, this platform is popular with businesses. By pivoting from commercial themes to e-commerce, Woo quickly became the fastest-growing e-commerce platform on the internet.
In January 2020, it was estimated that WooCommerce was used by around 3.9 million websites.
Regions: The Asia Pacific and Latin America

No. of monthly downloads: 1M+

Solutions for: Brands, Retailers, Omnichannel Experience, etc.
10. Wix
Wix is an Israeli software company that helps businesses build professional websites. With multiple options to customize the designed templates and add sections as per the need of the user, this website builder is smooth and easy to use.
It assists actors to create, manage, and grow their business online. Wix also offers WIX ADI, Artificial Design Intelligence, which will instantly build a personalized website, complete with custom text and images, based on a few questions that businesses answer. Alternatively, users can also hire a professional in the Wix Marketplace, for expert assistance in design, development, SEO, and more.
Regions: Worldwide

No. of Users: 150M as in 2019

Company Size: 5,000

Products: Wix, Wix Analytics