Top tips to boost your social media and social commerce strategy
85% of shoppers find social media channels a quick and easy way to buy something. (1)

82% of shoppers share their online purchases on social media via stories, mentions or timeline posts. (1)

44% of them claim to have made at least 3 to 4 online purchases in one month influenced by social media ads or sponsored posts. (1) 
It's easy to see why brands are favouring social media for their sales and marketing strategies and increasingly prioritizing their investments in social media & social commerce. In fact, a recent report by eTail and Stackla (2) claims that almost 75% of retail businesses plan to realign their investments to social networks.
We explore some of the best known social engagement tactics plus some significant factors to consider when you devise social media and social commerce strategy.
These insights will help you build consumers trust on and boost online sales in 2020:
Defining Clear Objectives and KPIs
Being present on social channels is not the same as managing your social networks or even implementing social commerce. Even though both these business objectives use the same media vehicle, there is a huge difference when you set out to devise a strategy for them.
Depending on your purpose, you must consciously define your objectives and Key Performance Indicators (KPIs) for both social media and social commerce separately. Defining a clear business objective will help you determine the goals and KPIs that follow.
Primarily they should be:
a. To build awareness- Facebook ads, YouTube ads, Twitter, or Facebook Pages, Instagram shop pages etc.
b. To increase follower count and engage with them- Answering pre and post-sales queries on social platforms, guide consumers towards right products etc.
c. To increase sales- Using social technology to complete or facilitate sales transactions.
d. To do market research- Using polls, surveys and user data in social media to better understand customers.
These objectives will become your stepping stone to define KPIs such as subscriber growth rate, purchase frequency, website visits, the time between purchases etc.
Leveraging Influencers Organically  
Another powerful way of implementing social commerce is through digital word of mouth. The more social proof you build, the more authentic your brand will appear to be. So, influencers are a great way to build more credibility.
Identify the top-performing social influencers of your industry, build relations with them and then see how it positively impacts your sales.
Let's say, you are a home improvement brand. Engaging with first-time moms, inspiration speakers, bachelors sharing same interests and content through their pages will be the right set of influencers for your brand. A few mentions about your brand from an influencer in your industry can significantly improve your credibility on these social channels.
As you make use of these influencers frequently, this will not only increase your website traffic but help you gain loyal customers.
Utilizing User-Generated Content
The second most favourable way to implement social commerce is banking on the power of influencers and User-Generated Content (UGC). Brands that have found the right balance between influencers and UGC excel in driving high engagement through social networks.
Here's some food-for-thought- Social channels are prime places where brands and consumers both are product-hungry and leverage unique ways to satisfy their special diet.
One of the most significant tactics to implement social commerce is banking on the power of influencers and User-Generated Content (UGC). In fact, an article from photoslurp states that UGC is seen as 9.8x more influential than traditional influencer content.
To put it in simpler terms, it will help you gain — More Likes. More Clicks. More Conversion
If you are finding it hard, here are a few tips to get you started.
1. Think of your social feed as an online shop display window.
Sure, you may have invested heavily in product photography and optimizing your web stores, but customer photos or reviews are paramount to UGC campaigns. Get on with your likes, sharing and commenting game. Make way for your consumers to share content on your behalf through branded hashtags and contests.
2. Create a complete UGC LookBook.
True, you keep updating your online catalogues and adding new products in the mix. But, how about making your consumers and social followers as the brand ambassadors for your next campaign.
Absolutely no need to invest more in one more advertising campaign, searching the next face of your brand. Simply ask your followers to share their stories, photos and product/service review videos with your mentions. And when you have sufficient data, create a well-presented lookbook with this media for your next set of followers.
3. Headstrong with giveaways and appreciation posts.
From sealing the deal with critiques to providing new buyers with the peace of mind, UGC is the ultimate trust-builder. But, only sharing your followers' posts does not mean you are utilizing UGC to its fullest. Organising contests, giveaways etc. is also a great way to inspire potential followers to become your customers.
Implementing Automated Technology
Leveraging modern-day functionalities released by social channels such as Facebook Shop, Shoppable feeds by Instagram, automated chatbots, etc. are a great way to start. Almost 49% of shoppers claim that the ease and simplicity of shopping(2) on these channels influence them to impulse buying. Since consumers want nothing less than an exceptional shopping experience, combining your tools and techniques with social commerce is a great way to succeed through this new trend. A Multichannel management system enables you to have the same visibility on your social commerce as you get with your other sales channels.  But, if you want to execute it successfully, you need to understand the dynamics of each channel individually.
Exploring Channel-wise Social Commerce: 
Although today's shoppers aren't afraid of spending more, you must ensure you are using the right channel to brand the right products. For instance, if you want to promote a new fragrance, you would want to be on a channel that has maximum fashion and grooming content feed.
With engagement-focused actions such as exchanging DMs, tagging friends and followers, and organic commenting, Instagram can be a better choice than any other channel. That's why you need to make sure you are selecting the right social channels according to your brand or product.
The more you study your consumers, the better you'll be able to map their social footprint. This will lead you to focus your marketing efforts on the channels that are best used by your consumers.
As shoppers want to share and show off their purchases, you need to ensure you provide the customers with a seamless and personalized shopping experience across all your social channels.
a. Facebook: 
Facebook has evolved to more than a tech platform or a communication platform. Realizing the sudden demand for online shopping solutions, it rolled out the 'Shop' feature in the early stages of the pandemic to offer a lifeline to brands, businesses, and retailers. Through a Facebook Shop, you can:
Upload a visual lookbook with some of the latest products and their information

Curate and customize seasonal product catalogue

Sell directly from your Page

Manage orders

Run a Facebook ad to promote your products

Get actionable insights
It extends Facebook's existing Marketplace and Shop Instagram features also. The platform collects the transaction fee by including a checkout inside the app, thus simplifying the purchase journey for the users.  Hosting live streaming enables you to connect with your shoppers on a more personal level. Which is why Facebook allows the influencers to tag products, and host sponsors to essentially simplify the product search.
b. Instagram:
Termed as a discovery platform in social commerce, Instagram is all about searching for new content. Instagram's recent focus on shopping-related capabilities inspires its users to tap on a featured product, DM or tag their friends, or get creative by posting stories. To influence more shopping, you can connect both of your Facebook and Instagram shops with each other and capitalize on added visits to them.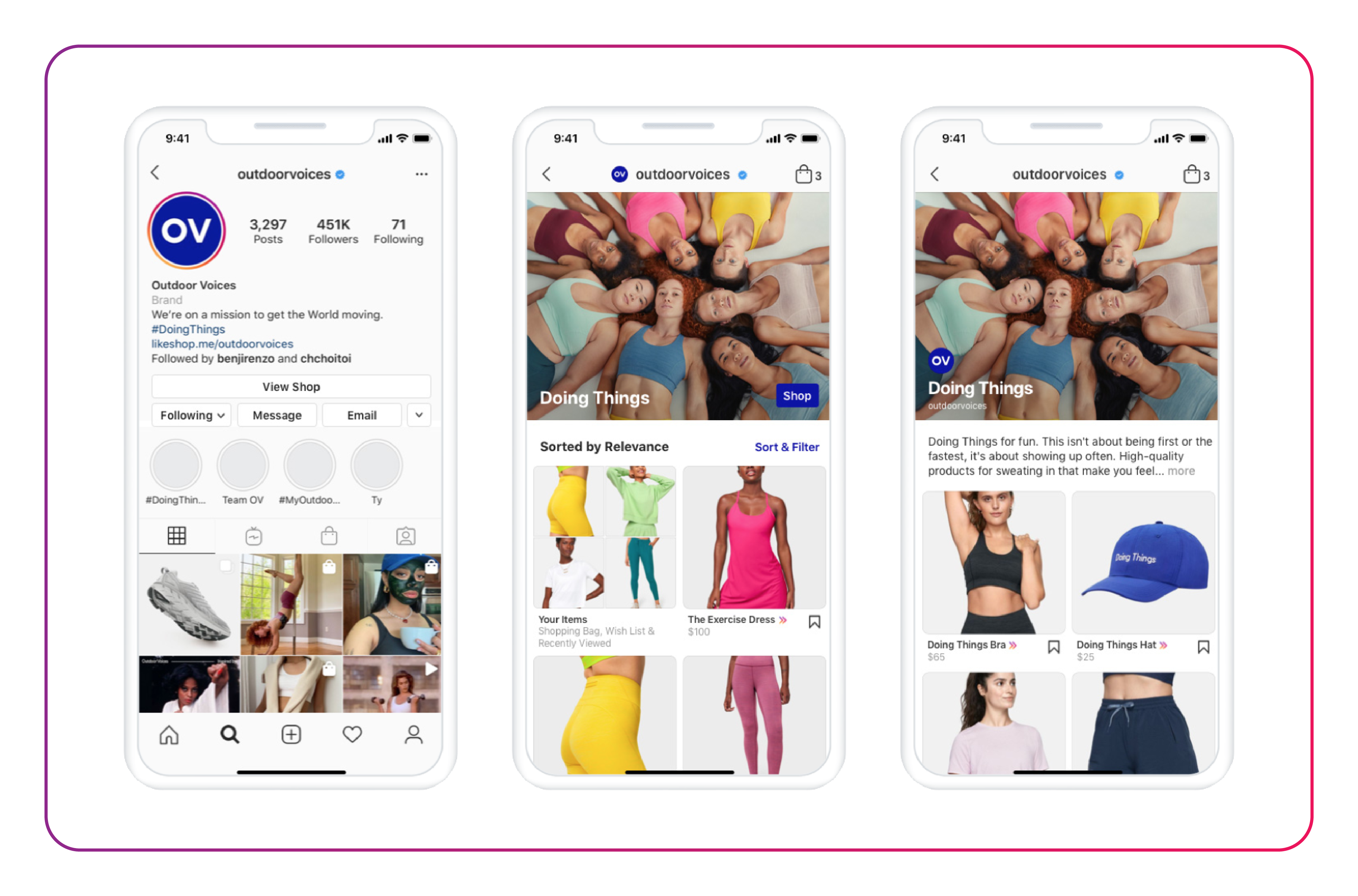 Image Source: business.instagram.com
From Shop Now links to shoppable tags to company links mentioned in the page bio, Instagram has embraced its place in social commerce. Quizzes and polls are not only a way to engage with your shoppers, but they also act as a tool to gather customer interests to help you deliver personalized experiences, unlike your brick-and-mortar models.  And if you want to experiment with such content, Instagram stories are the best way to do that.
c. Pinterest:
Almost 83% of Pinterest users purchase products they see on the brands' boards. Using Pinterest's search data you can create appropriate content, upload the entire product range, and instantly create shoppable pins to boost your social commerce sales.

Image Source: Pinterest_Zara
Think of your Pinterest board as your online shop display window. Make way for your consumers to share content on your behalf through branded hashtags and inspire them to save these pins.
d. Twitter: 
In Twitter's reinvention to endorse social commerce, the platform has experimented with many functionalities over the past few years such as Product Cards, Buy Button, etc. Since the platform is most used for customer relation, it has had a sluggish growth in this front. However, you can use this platform to your advantage, by engaging with your followers extensively.
Schedule interactive tweets, prompt appropriate hashtags and develop the habit of social listening.
Keep a close watch on what your followers are talking about, what are they sensitive to, and what influences them. For example, some of your followers might be avid fans of green products such as eco-friendly fabric, cruelty-free cosmetics, etc. So if you have a chance to brand such products in the near future, you know whom to sell them to, and how to influence them to check out the new range.
Constantly interacting with your followers lets you transform the insights into actionable data through the ability of social listening. At the end of the day, Twitter is a top social media platform that can connect you instantly with your shoppers and humanize the digital shopping experience.
Today's shoppers have no qualms in engaging with sales-based social content, granted it's relevant, personalized, and one-of-a-kind; which is where social commerce is leading to these days. Whether through encouraging UGC or leveraging new-age shopping experiences, don't forget to tap into this opportunity before your competitors. 
Sources: