Practical insights to implement a robust Omnichannel strategy for your retail business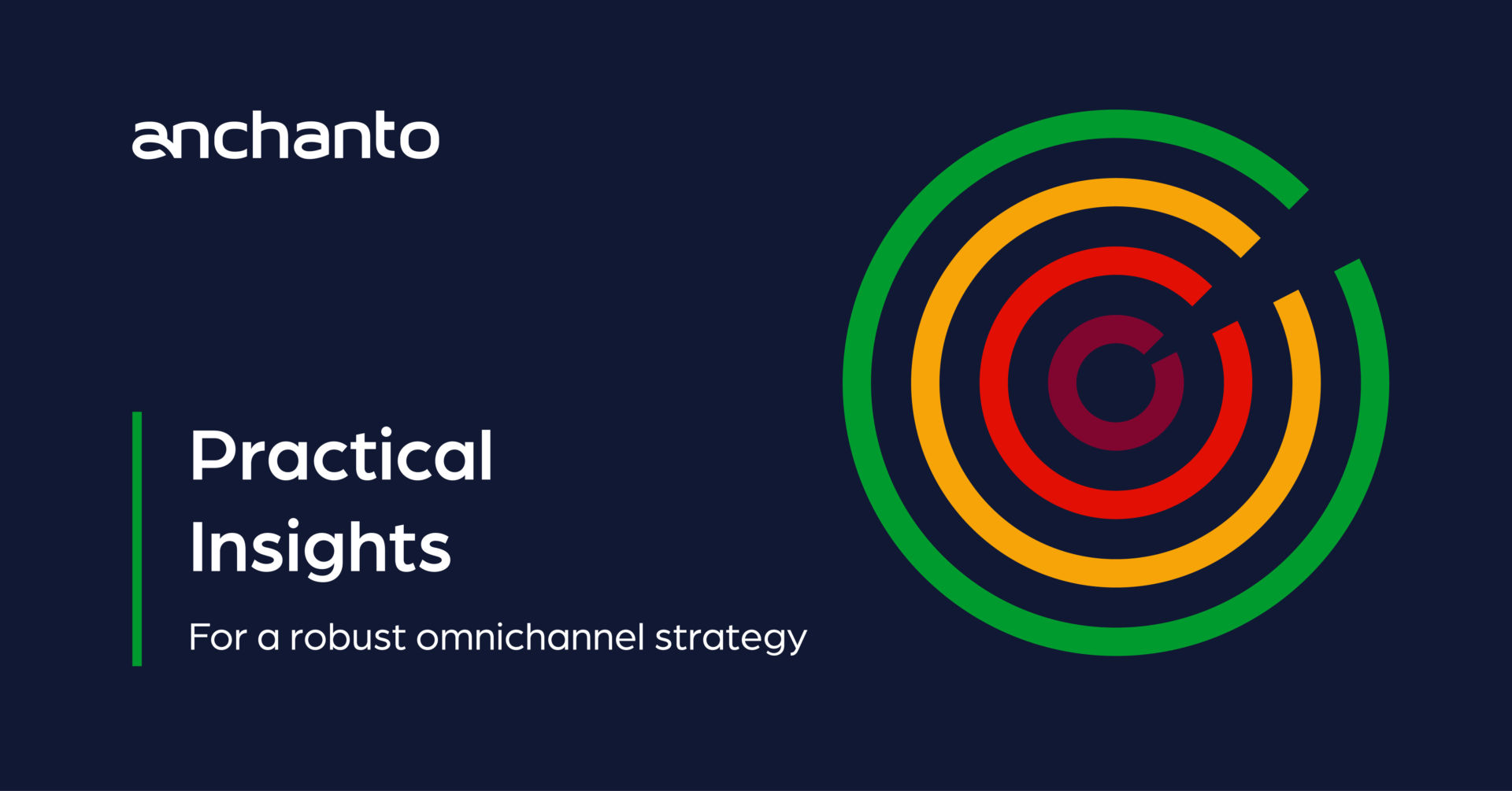 A few years back, 'Omnichannel' was merely a buzzword, a theoretical concept that was just discussed among the industry experts. Today, it is no longer just that. The modern customer is looking for a seamless shopping experience, whether it is online or offline. Omnichannel retail allows better brand interaction as today's customers do not differentiate between channels while shopping. They may start browsing on a desktop, check the product on their mobiles, and actually purchase it in the store.
According to a report by Aberdeen Group, companies with omnichannel customer engagement strategies retain, on average, 89% of their customers, compared to the customer retention rate of 33% for companies with weak omnichannel customer engagement. With more and more shoppers looking for an integrated experience across all touch-points, retailers today face the daunting task of offering the modern customer just that.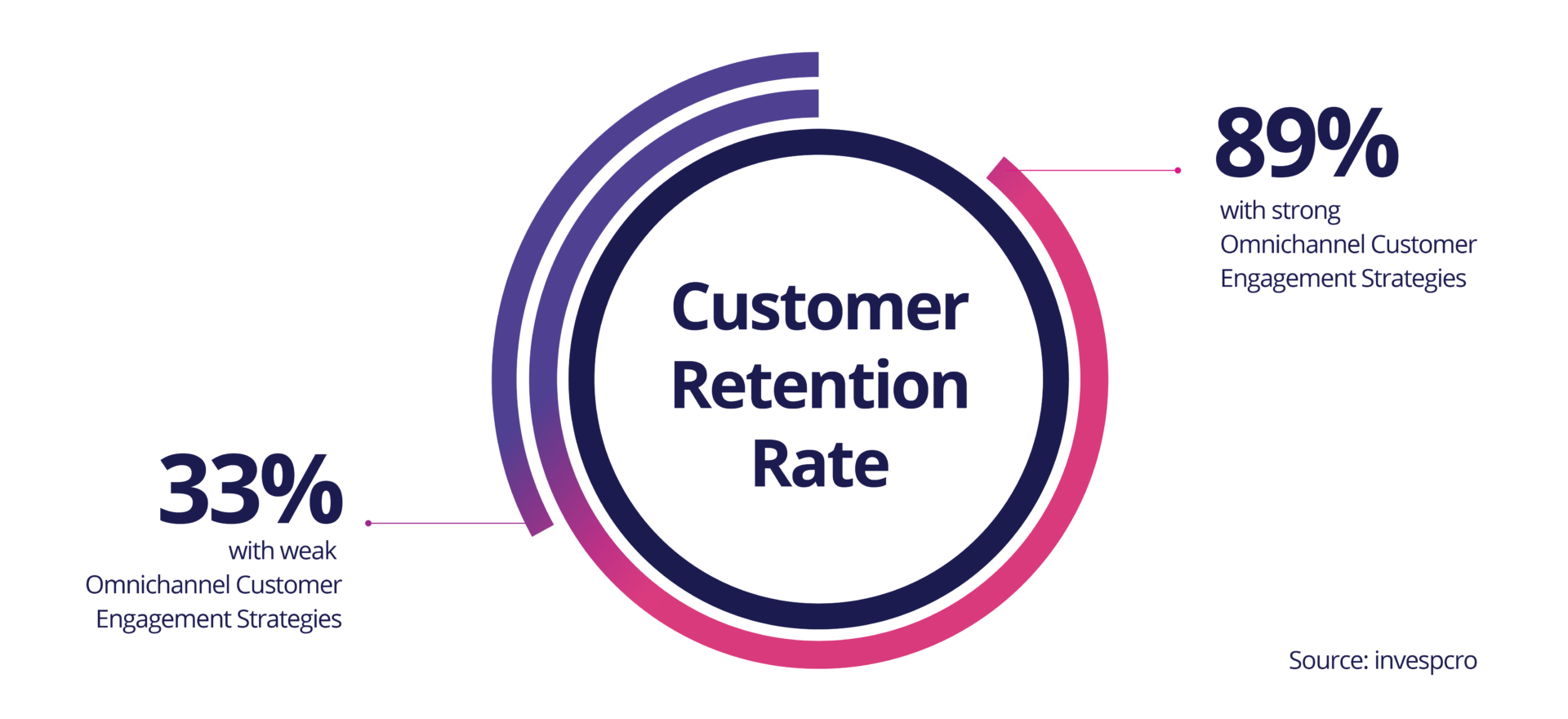 What is omnichannel retail?
Omnichannel retail involves offering customers a truly unified shopping experience across all channels. Whether it is over brick-and-mortar stores, social media, eCommerce, or online stores. The focus is to make the 'how they shop' journey as smooth and high quality as can be irrespective of 'where they shop'.
Why is Omnichannel marketing important?
According to a study conducted by invespcro.com, shoppers who buy from a business both in- store and online have a 30% higher lifetime value than those who shop using only one channel. Today's shoppers are more aware than they ever were. They expect a seamless experience from the brand that transcends the boundaries of any channel that they use.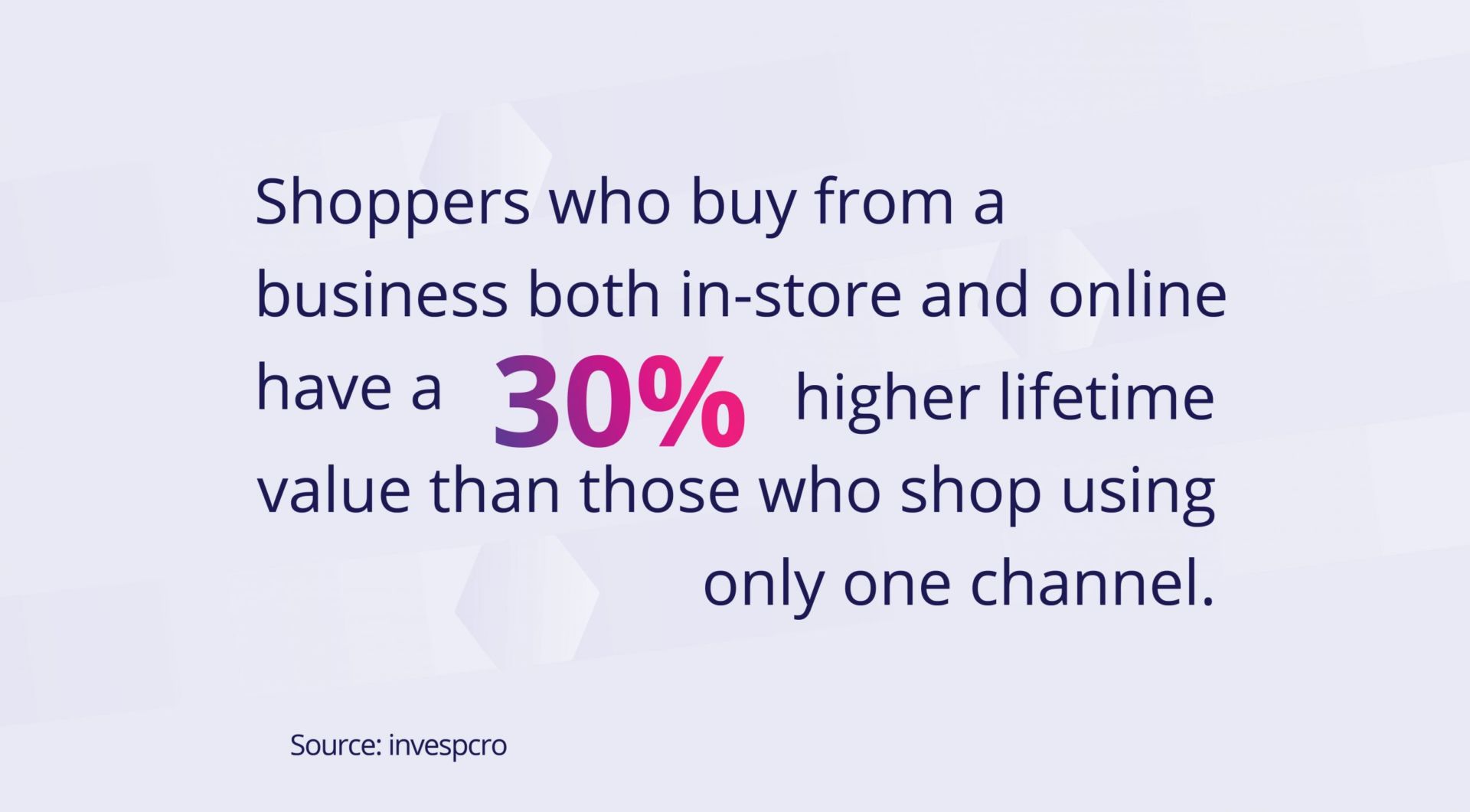 A report from Market Watch suggests that the global omnichannel retail commerce platform market is expected to grow from USD 2.99 billion in 2017 to USD 11.01 billion by 2023, at a compound annual growth rate (CAGR) of 21.48% during the forecast period.
Omnichannel marketers retain more customers than single-channel marketers. They also have a higher average order value and omnichannel marketing ensures greater engagement with the brand.
How can you implement an omnichannel retail strategy for your brand?
With the tech-savvy customer taking over and the touchpoints during a shopping experience increasing significantly, an omnichannel approach is a way forward for all retailers. The advent of technological innovations in the omnichannel world and innovative operational methods have forged the future path for retailers. Achieving a flawless omnichannel experience is easier said than done.
Here are a few pointers to help you implement a robust omnichannel strategy:
Build a unified brand message across all the channels
To develop a clear and precise omnichannel strategy, A clear knowledge of what channels and mediums your customers use will ensure that you only focus on the relevant ones. The single biggest differentiating factor between a multichannel approach and an omnichannel approach is the consistency and seamlessness of messaging and interaction across all channels.
An omnichannel experience can be delivered only if each platform and device a customer uses to interact with you is taken into consideration. Armed with this information you can create a unique and integrated experience for your customers by leveraging the strength of all channels and mediums.
Offer an enriching customer experience through visible inventory
The customer is at the center of the omnichannel approach. Needless to say, the customer experience should be prioritized above everything else when you take this road. A report by Temkin group states that 77% of customers would recommend a brand to a friend after having a single positive experience.
Inventory visibility ensures that your customer has a seamless journey from online ordering to offline pickup. No customer wants to make a purchase only to be told that the product is not in stock.
Use technology tools for inventory management
Using an eCommerce marketplace management software that offers centralized inventory management lets you effectively allocate the in-hand stock to meet the other omnichannel demands.
Determining how much inventory is located at each step along the supply chain also allows for the tracking of specific products/orders from point to point. With improved visibility, you can effectively predict your inventory needs for timely replenishment and remove any glitches in the supply chain. Deeper visibility allows you to get a focused view of your inventory, speed up fulfillment, and thereby increase customer satisfaction.
Provide seamless integration for all online and offline touchpoints
The integration of your offline store with your online presence is one of the key points to offer your customers exemplary brand experience. A highly efficient marketplace management software lets you integrate your offline store with your online channels. By aggregating customer data from both online and offline channels to create accurate customer profiles, you can effectively deliver a highly customized experience. Since these are based on factual customer insights, they can be used to create promotional strategies to retarget customers, activate offline shoppers, and even increase sales when they are sluggish. Careful tracking of all touchpoints of the customer helps in creating a precise map of the customer's journey.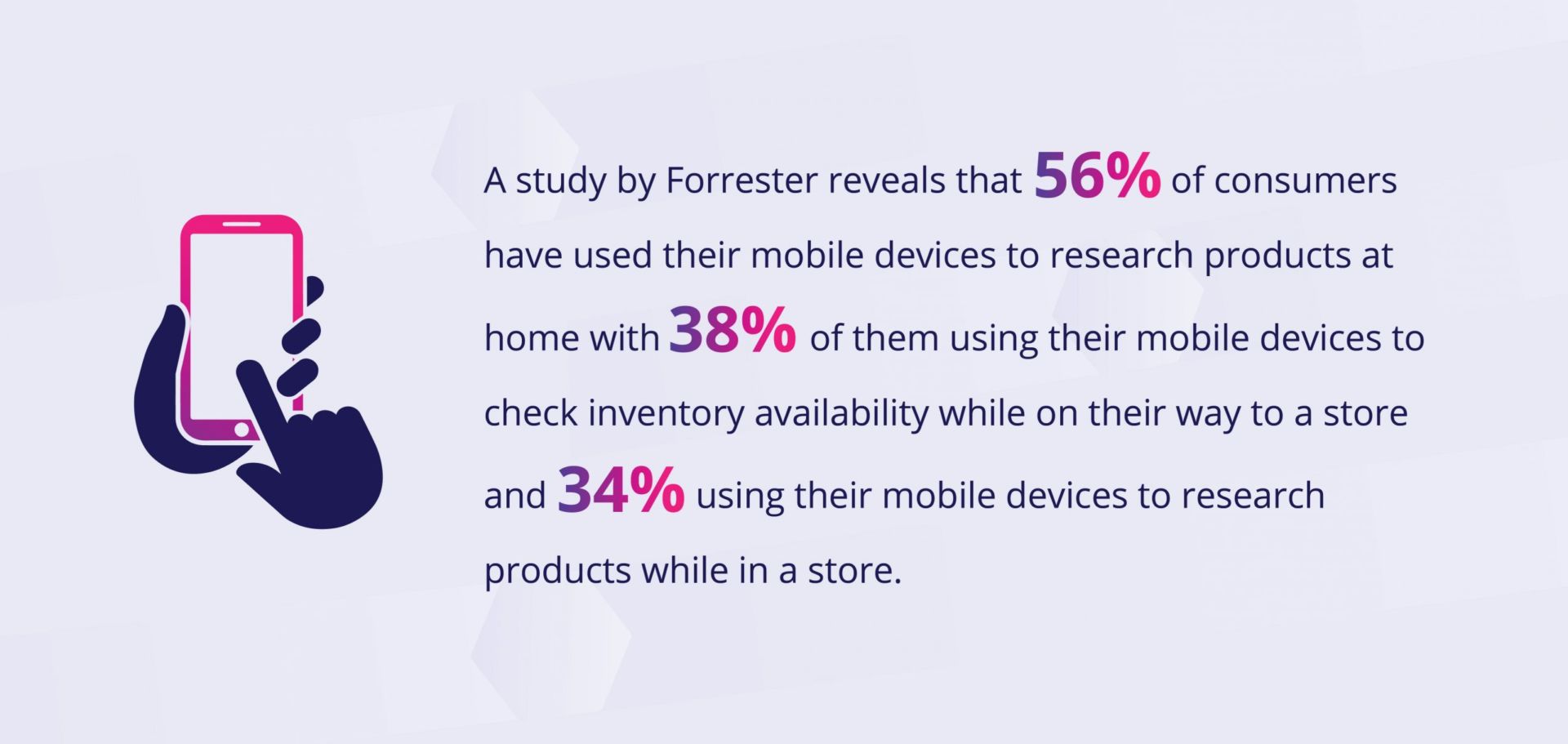 Influence Customer Decisions through Smartphones
Another important tool that can be leveraged for customer journey mapping is smartphones. The place that mobiles hold in omnichannel marketing is too important to be ignored.
A study by Forrester reveals that 56% of consumers have used their mobile devices to research products at home with 38% of them using their mobile devices to check inventory availability while on their way to a store and 34% using their mobile devices to research products while in a store. Thus, mobiles not only serve as a source of information for modern consumers but also play a part in influencing their purchase decisions.
Use discounts and promotions to build loyalty
According to a report by RetailMeNot, 80% of the total consumers surveyed said that coupons and discounts helped them close the deal when they were not sure of a purchase. Many customers also feel that they are being rewarded for loyalty when offered specialized discounts. Not only that, but it is also a sure-shot way for customer retention. After all, who wouldn't want to shop again, given the previous discounts!
Integrating promotions across all channels will drive sales and promote loyalty.
For e.g. You can offer a repeat in-store customer a coupon that he can download online for his next in-store purchase.
Choose SaaS products to Create Promotions
Creating promotions and discounts for an omnichannel strategy is however a tedious task, especially since it not only involves creating them but also tracking and monitoring the details.
This can be simplified with the use of SaaS-based products that allow you to create customized promotions for each marketplace, track them and use the data to compare the before and after- sales respectively, all this on a single platform. The data that you gather from your online campaigns can be used to structure your offline promotions, thus creating a truly streamlined omnichannel strategy.
A robust eCommerce management software also helps in integrating SAP with other marketplaces for effective sales booking and reconciliation. This integration is cost-effective and saves tremendous time. You can utilize all the data to forge a new pathway for creating customized experiences for every consumer.
Get your warehouse ready for omnichannel retail logistics
Another important fact to consider in omnichannel retail is converting your warehouse to an omnichannel ready warehouse. Orders can come from any direction in an omnichannel supply chain- in stores, eCommerce orders, restocking in in-stores and customer service assisted orders. Using a traditional single eCommerce warehouse will lead to lost opportunities and is in fact an impractical solution.
A full-suite e-Warehouse Management System lets you effectively manage your orders and inventory, offer real-time updates, thus increasing order accuracy and offering reliable inventory reports. An efficient eWMS also lets you prioritize your products by providing batch and expiry management so that your customers always get the best quality and your manual intervention is at a minimum. Optimizing your warehouse will go a long way in augmenting your omnichannel strategy.
With eCommerce picking up swiftly across the world and the Internet of Things becoming a reality in the near future, the modern customer expects much more than he did a few years ago. Armed with smartphones and the internet, the customers today want a holistic brand experience irrespective of the channel. It is not just about how great your product is, it is also about how they felt when they bought it. While you may agree on becoming customer-centric, the actual path to keeping the customer in focus may be riddled with obstacles. Creating effective customer databases and understanding customer behavior will help you understand how the customer interacts with you and pinpoint exactly what they want.