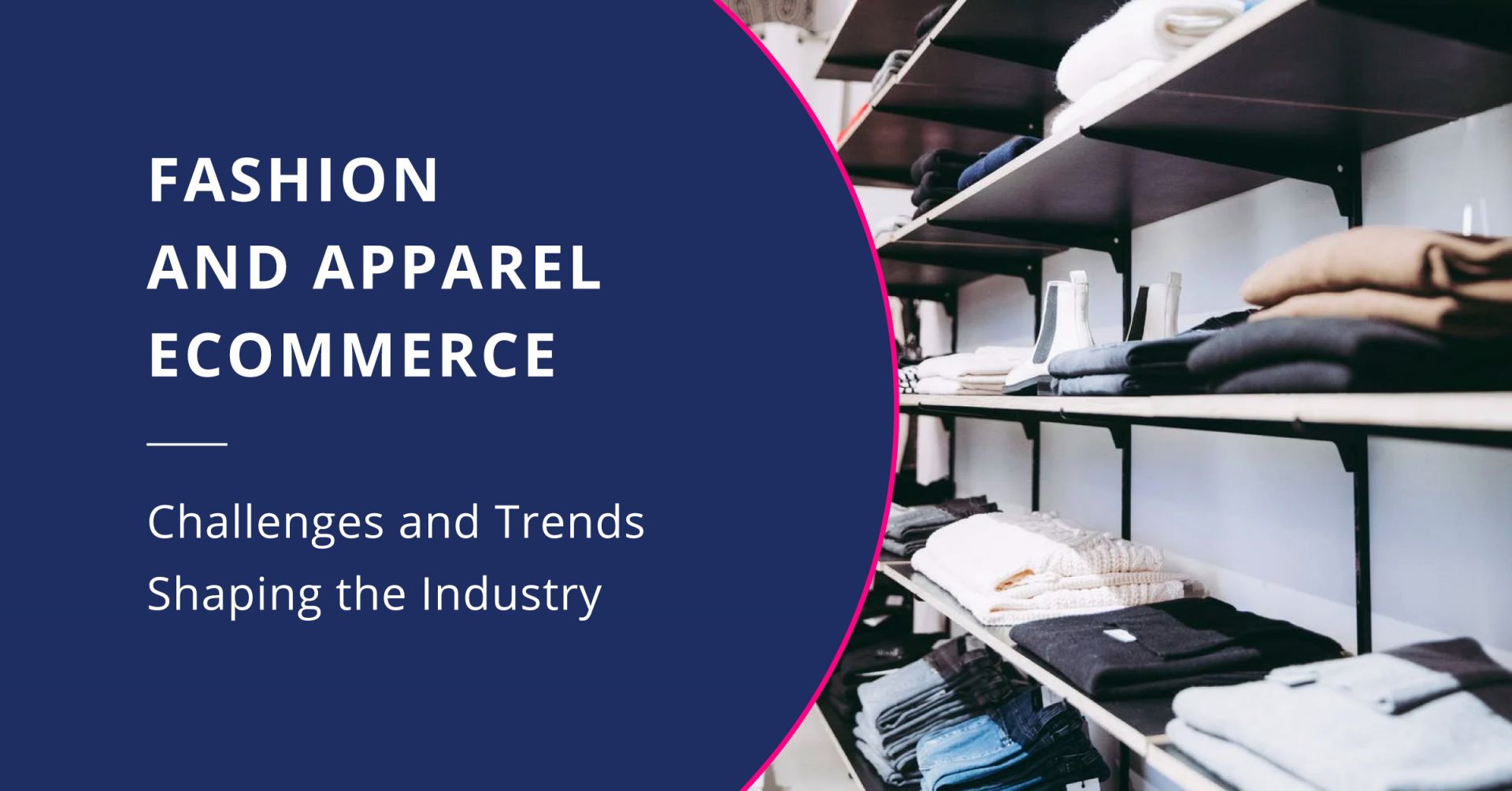 8 E-commerce Challenges Tech Can Solve In The Fashion And Apparel Industry
1. Introduction
The fashion and apparel market segment is the biggest in B2C e-commerce. Its global size was valued at approximately $752.5 billion in 2020[1]. By the end of 2025, this e-commerce market is expected to reach $1.164,7 billion in value if it keeps growing at a compound annual growth rate (CAGR) of 9.1% per year. Much like the beauty and cosmetics industry, geographically, the consumption of fashion and apparel products is the largest in China ($284.3 billion in 2020)[2]. Following China is the US ($126.5 billion in 2020), the UK ($32.5 billion in 2020), Japan ($23.9 billion in 2020), and Germany ($22.5 billion in 2020).
According to GlobalData[3], Asia Pacific countries are catching up with online fashion consumption trends. And by 2024, the APAC region will account for 40% of the global menswear and womenswear sales.
2. What is driving the growth of fashion and apparel e-commerce
The remarkable growth of the global fashion and apparel industry is the result of several factors from the desire to be in vogue to the innovation of retail and consumer experience technology. But three of the most prominent factors influencing the scale of the fashion and apparel industry are these:
a. Increasing online access and smartphone penetration
Mobile access contributes to 66%[4] of online sales in the fashion industry and 76% of online traffic, according to SaleCycle client data. Similarly, as more fashion and apparel brands make it easier to shop for their products online, this number will increase with time.
b. More convenience
Convenience is a big deal in many e-commerce segments. When it comes to the clothing segment, 47%[5] of consumers seek convenience and 61% are happy to pay for a convenient experience. To acquire this experience when shopping online, they look for choice, easy sizing options, varying delivery options, and returns.
c. Better prices
Discounts play a big role in fashion and apparel retail and have become an expectation among consumers shopping online. Around 54%[6] of shoppers will purchase the items in their abandoned shopping cart after receiving a discount for them. So, it's impossible to ignore this aspect and its contribution to online fashion and apparel sales growth.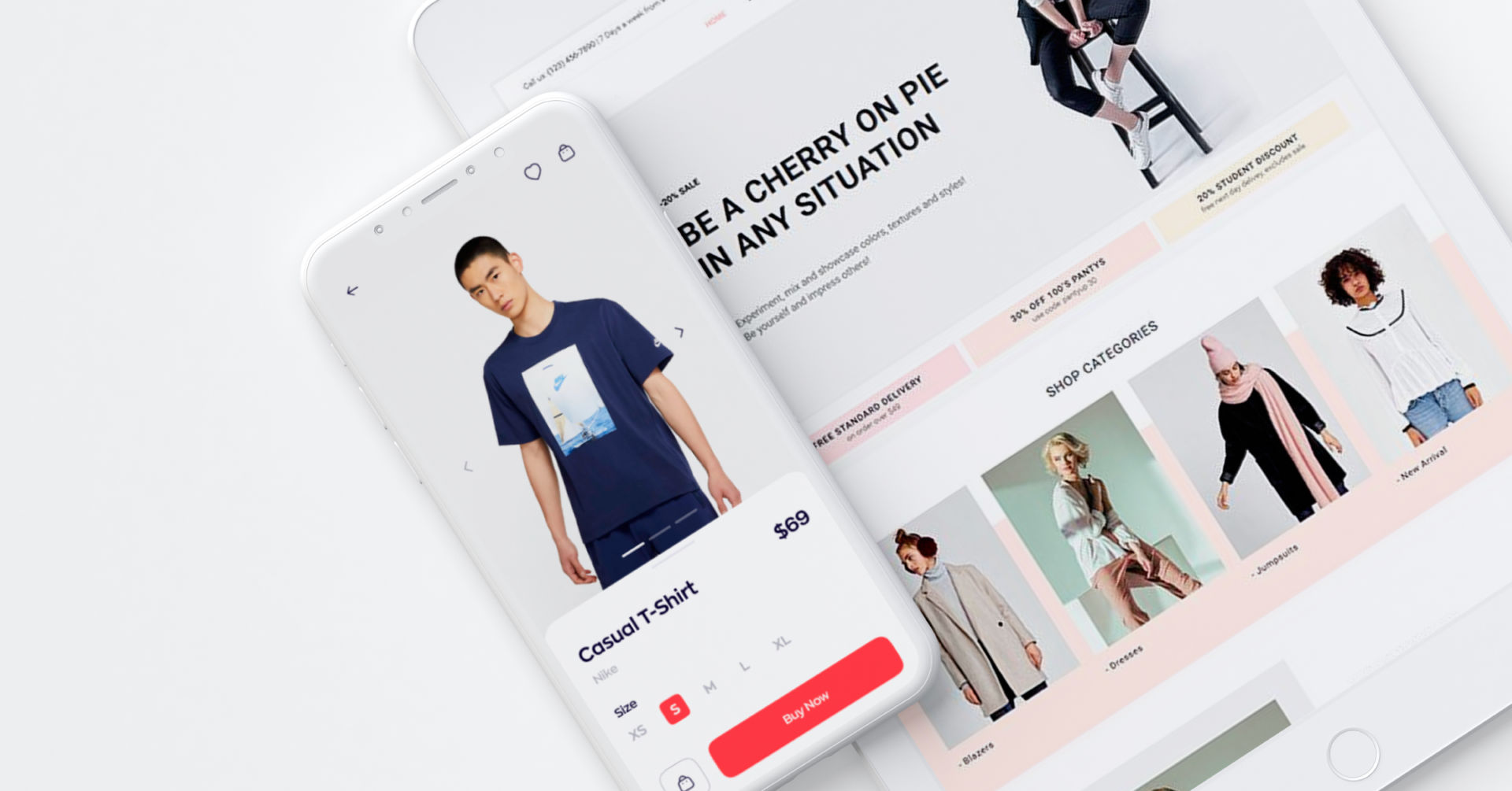 3. Fashion and apparel industry challenges in e-commerce
With online fashion and apparel retail on the rise and more consumers relying on e-commerce, now is a good time to take a closer look at the challenges you face as a brand, distributor, retailer, and logistics player in this industry. To take you through the challenges, here are some of the primary ones that need your immediate attention.
a. Coping with volatile demand
Fashion is a very volatile industry that's influenced by seasons, locations, culture, and personal preferences. This makes it tricky to estimate the inventory required for fashion and apparel.
When buying or distributing fashion and apparel inventory, you need to ensure you don't overstock any product as it may be difficult to sell off when the season is over). Moreover, unsold stock takes up valuable space that could be used for the products that are in-season. This makes seasonal fashion a risky investment.
b. Managing SKU variations
The type of products you may sell as a fashion brand or retailer varies from season to season and category to category. So, you may have thousands, if not millions, of SKUs to handle. This can be a real hassle when managing inventory and even listing on new e-commerce platforms.
For example, if you sell t-shirts, you'll sell them in different sizes (xxs, xs, s, m, l, xl, xxl, etc.). Different colors and patterns will also be available in these sizes. Each of these variations will need its own inventory and managing them all manually is hectic and confusing. It's very easy to lose track of these items, misplace them, and overstock or understock them.
If the same t-shirt has a seasonal variation, managing the inventory for all these variations will be more complicated.
c. Creating and maintaining bundles, offers, and promotions
The fashion and apparel industry online[7] runs more promotional campaigns than other industries. These promotions include buy one get one free, buy two get one free, and discounts. The reason for this is the seasonality and the trendiness of fashion and apparel. These products must be sold while they are in season and trending. With promotions to back them, you create demand and thus sales.
But, managing offers and promotions across different marketplaces for select products is a demanding task. First, you'll need to determine what kind of promotion to run for your seasonal product, what prices to sell them at, and accordingly organize your inventory for distribution. This includes dedicating inventory for bundles and kits. Products must be clubbed together for promotions, which is a very granular effort that requires care and complete visibility to avoid errors.
Next, you'll have to update the pricing and promotion details across all relevant sales platforms. With thousands (if not millions) of SKUs, it can be chaotic to make price updates, track sale progress, and re-update listing prices.
There's also the fact that your product promotions may not be run across all the marketplaces or sales channels you're present on. In this case, ensuring only purchases from certain platforms are discounted or accompanied by free merchandise can be tough.
d. Managing product catalogs across multiple channels
Fashion and apparel is a visual industry. Most shoppers won't buy clothing or accessories online without looking at them from different angles. For this reason, brands and distributors selling these products must upload at least five to six images to cover all the sides and angles of their items.
Videos can offer a seamless visual experience as well. And, insightful and upbeat descriptions will convey the essence of the style or fashion of your products.
But, once these assets are created, ensuring they're used by your authorized partners, distributors, and retailers can be difficult. Some may not be able to access everything they require from you for product listings. Or they may find the files you send them confusing to navigate.
e. Complications from high order returns
The fashion and apparel industry has the highest return rate compared to other e-commerce categories. 67% of shoppers[8] check the returns page before making a purchase. And clothing and shoes are the most common products returned[9] when purchased online or in-store.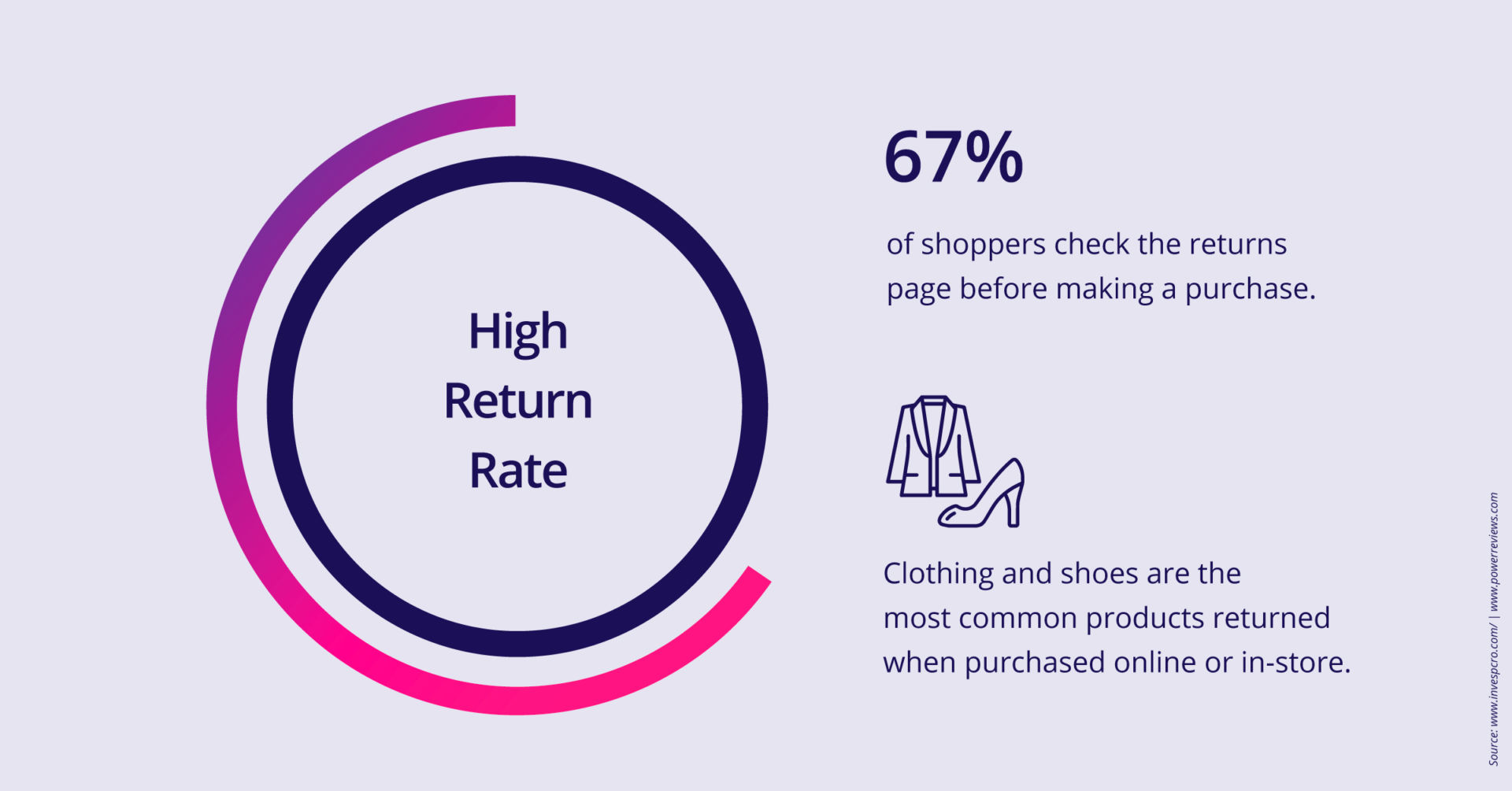 Online shoppers want to try out the products they buy before committing to them. So they expect fashion and apparel brands and retailers to offer return and replacement options. But, this is an expensive feature to offer.
Moving inventory back and forth, from the warehouse to the customer and back, costs money. If your return processes are not optimized, then you're likely to incur heavy costs for logistics and sorting of returned products.
f. Inability to deliver high-speed, high-quality omnichannel experiences
Fast fashion calls for rapid fulfillment. As a result, click and collect options are becoming popular. Consumers are also looking for opportunities to try before buying so integrating your online and offline efforts is a smart way forward.
However, without the right infrastructure, managing online and offline retail simultaneously can be a nightmare. Customer purchase requirements have to flow through all the channels to offer a personalized omnichannel experience. But the absence of technical support makes this very difficult.
g. Difficulty in gathering meaningful consumer and business insights
Leveraging real-time data and insights from interconnected ecosystems is essential to determine the best-performing channels and products. This information also helps you strengthen operations, cope with seasonality, high demand, and more.
Sadly, selling through different sales channels, and using a tiered distribution system on top of that makes it difficult to acquire real-time and accurate data. Due to this, you won't have data to prevent overstocking or understocking goods. You won't know what your top products are in different markets or which promotions are helping you sell better. Judging customer behavior will also be complicated.
h. Stockouts due to inventory mismanagement
With inventory distributed across different sales channels, it's difficult to ensure the continuous availability of products on each platform. At the same time, maintaining inventory in one place and updating each platform once a sale is made is a taxing effort if done manually.
As a warehouse operator, you also have to deal with the task of sifting through all the products stored at one location or central (warehousing/ distribution) locations. With thousands and millions of products from different brands and vendors, it's hard to efficiently identify products due for delivery and have them processed quickly. It's equally challenging to manage stock levels for all products. This adds to delivery delays, stockouts, and customer retention issues.
4. Solutions to the fashion and apparel industry e-commerce challenges
There are several ways of looking at the fashion and apparel industry challenges when doing e-commerce. But to efficiently overcome these roadblocks, consider technological solutions like the ones listed below. These solutions have been carefully curated to match the needs created by the challenges mentioned above.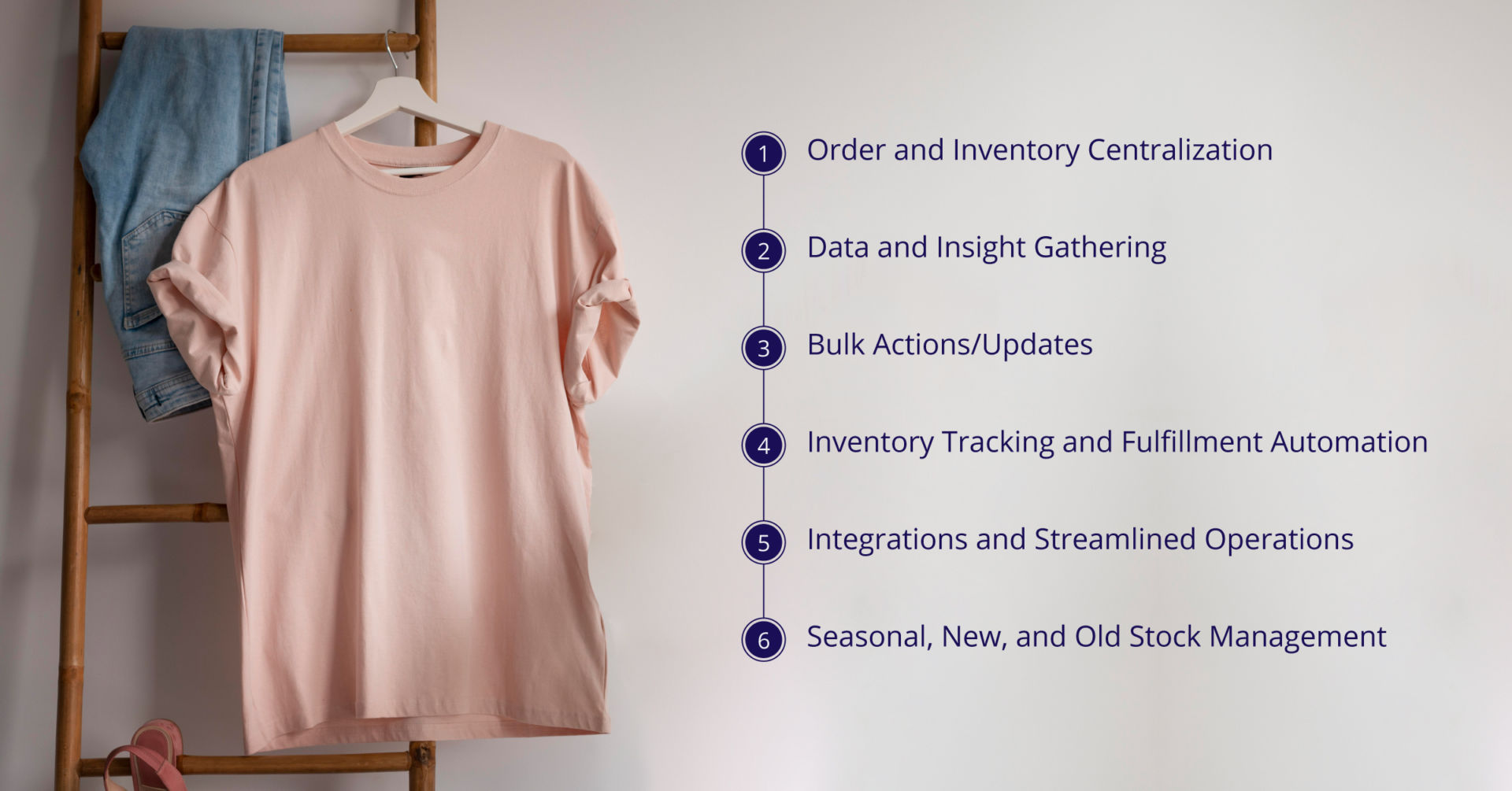 a. Order and inventory centralization
With centralized technology, you can keep an eye on your product inventory and orders across all distribution and retail channels through one platform. There is very little room for inventory going missing, orders being missed, or matched with the wrong product.
This technology can even assess the number of orders and inventory in your warehouses across any geography. Based on this you can determine where more stock is needed, for which products, and the urgency for replenishment. Accordingly, you can identify nearby warehouses with surplus and transfer stock units to the warehouses that need more to fulfill orders.
b. Data and insight gathering
To cope with the volatile demand of the fashion and apparel market, gathering real-time data and insights is the ultimate solution. But to do this, you'll need to maintain an interconnected sales, inventory, and fulfillment ecosystem. A unified ecosystem will allow you to better understand seasonality, demand trends, best performing products and channels, and the weak links when it comes to operations.
According to the insights you receive on changing consumer preferences you can react instantly and stay on top of their needs. Additionally, you can make tweaks to your order and inventory workflows for better customer experience.
c. Bulk actions/updates
Bulk action technology is another resource paving the way for effective e-commerce operations. It's ideal to cope with today's year-round promotional campaigns for fashion products. With this technology, you can make changes to product listings in bulk, instead of changing them one at a time across different marketplaces.
Similarly, you can change images, descriptions, add videos, and more to product listings at once. You can also create bundles and kits for promotions across marketplaces and sales channels to ensure uniformity across these platforms.
d. Inventory tracking and fulfillment automation
Tracking the many SKUs under a fashion or apparel brand is a task in itself, the same goes for managing and tracking promotional kits and bundles created. To know where all your products are at all times so you can dispatch them correctly and immediately, you need trackers and operation automation. This can be achieved with a WMS (warehouse management system).
A WMS allows you to track every product that comes into your warehouse. It helps you manage promotions kits and bundles, without having to set these products aside. The system simply alerts pickers when an order has to be combined with other products and the specifics of these. With this information available on their handheld devices, they don't miss out on a thing.
e. Integrations and streamlined operations
In e-commerce, you need to integrate with several platforms, systems, and partners. Doing so will streamline your operations and allow you to function from a single platform. It will also coordinate orders with inventory and smoothen out the order processing function.
Similarly, the fulfillment function can be streamlined to avoid mismatches and last-mile carriers can be flagged quickly to ensure all the orders are fulfilled on time.
ERP (Enterprise Resource Management) integrations, accounting software integrations, and POS (point of sale) integrations are also possible to ensure all administrative efforts and financial details are tracked appropriately.
f. Seasonal, new, and old stock management
Usually, when apparel, shoes, bags, and other accessories don't sell quickly, they are likely to become out of fashion. This can affect sales and increase your dead stock. To prevent this, stock rotation is essential. It refers to displaying unsold merchandise more prominently compared to previous efforts. These can be put on sale to stimulate demand before they run out of style or before the season ends.
Stock rotation can be done with the help of an inventory management system. It will update you about all the products you sell, the quantities sold, and the frequency of sales per day, week, month, and year. Depending on which products have the lowest sales, you can offer discounts, slash prices, or bundle them with best sellers.
Best practices for improved fashion and apparel sales

Besides the solutions above, fashion and clothing brands must consider taking steps to sell higher-value products and enhancing customer experience as much as possible.

These are two highly-effective steps fashion and apparel businesses can ponder over and customize based on their sales channels and strategies:

a. Upselling and cross-selling

As you know, acquiring new consumers is tough, but obtaining more purchases from existing customers is easier.  To entice customers to buy more, upselling and cross-selling have proven quite useful in the fashion industry.

For cross-selling many fashion brands suggest to customers other products that may complement the one they are interested in (for example, product recommendations or sections saying other customers also purchased these products).

Product recommendations account for up to 31% of e-commerce site revenues.[10]

They attribute to approximately 35% of Amazon's sales[11]

91% of consumers[12] are more likely to shop with brands that remember them and provide relevant offers and recommendations.

Upselling on the other hand, involves suggesting more expensive variations of a product a customer may be looking at. Or recommending the purchase of a set instead of a single product.

b. Technology stack implementation

Every fashion and apparel business uses some or the other form of software or technology to run their business. For example, POS (point of sale), ERPs, finance tools, online retail marketplaces, web stores, etc. These tools help manage sales, operations, and administrative tasks.

In addition to these functions, according to Anirudh Venkat, Country Head for Singapore and South Korea at Anchanto, "Brands are looking for tech that allows them to sell more, be more efficient, acquire and retain customers, and deliver flawless customer experience."
5. Noteworthy fashion and apparel industry trends
Online fashion offers shoppers a broad new world of opportunities and they are keen on making the most of these. But this often leads to new standards for you, your retail efforts and supporting resources or operations.
For a strategic look into what's trending in the fashion and apparel e-commerce market, read through these trending market insights.
a. Buy now, pay later
In 2020, consumers in the US made $20 million worth of retail purchases[13] with the buy now pay later (BNPL) option. The BNPL option is growing popular in other regions too with marketplaces like Amazon introducing this payment feature.
Fashion retailers in particular are already the highest adopters of deferred (BNPL) payments. Fintech group Pace Enterprise[14] will soon be providing the BNPL offering to over twenty international brands within the Asia Pacific region. These brands will be represented by luxury goods and retail specialist, Valiram, through a regional partnership between the two companies.
What does this mean for brands?
Increased sales volumes

Payment reconciliation challenges

Need for accounting and distribution channel integrations
b. High demand for omnichannel retail
With an online and offline presence, fashion brands are able to create tactile customer experience, where there is some form of human touch or interactions. Personal connection is one of the most vital means to make a sale. At the same time, it's something customers look for as it's easier to communicate with people than computers.
Additionally, omnichannel retail allows brands to offer try and buy, click and collect, and scan and purchase options. This enables customers to select what they like online, try it on at a store, and then make a purchase. (Adidas, Levis, and Carhartt all offer try before you buy through Amazon Wardrobe[15]. They also have their own offline stores).
With an omnichannel approach, consumers can also purchase what they like and pick it up at a store for quick fulfillment. Or they can try the items they like at a store and scan the product to make an online purchase.
What does this mean for brands?
Processing high volume orders

Tracking and managing higher returns

Need for online and offline integrations
c. Using interactive technology for personalized offerings
There are thousands of brands competing in the fashion and apparel industry today. To stand out from the noise, brands are trying to build personal relationships with their customers.
To do this, many are taking to social media, hosting interactive polls, allowing customers and potential customers to leave comments and feedback. Some also have personalized chats on their social media pages, social commerce stores, and web stores. That way customers can speak with them directly and acquire personalized suggestions, advice, and insights for a great shopping experience.
What does this mean for brands?
Higher sales volumes

Demand for more product variations

Need for inventory management tech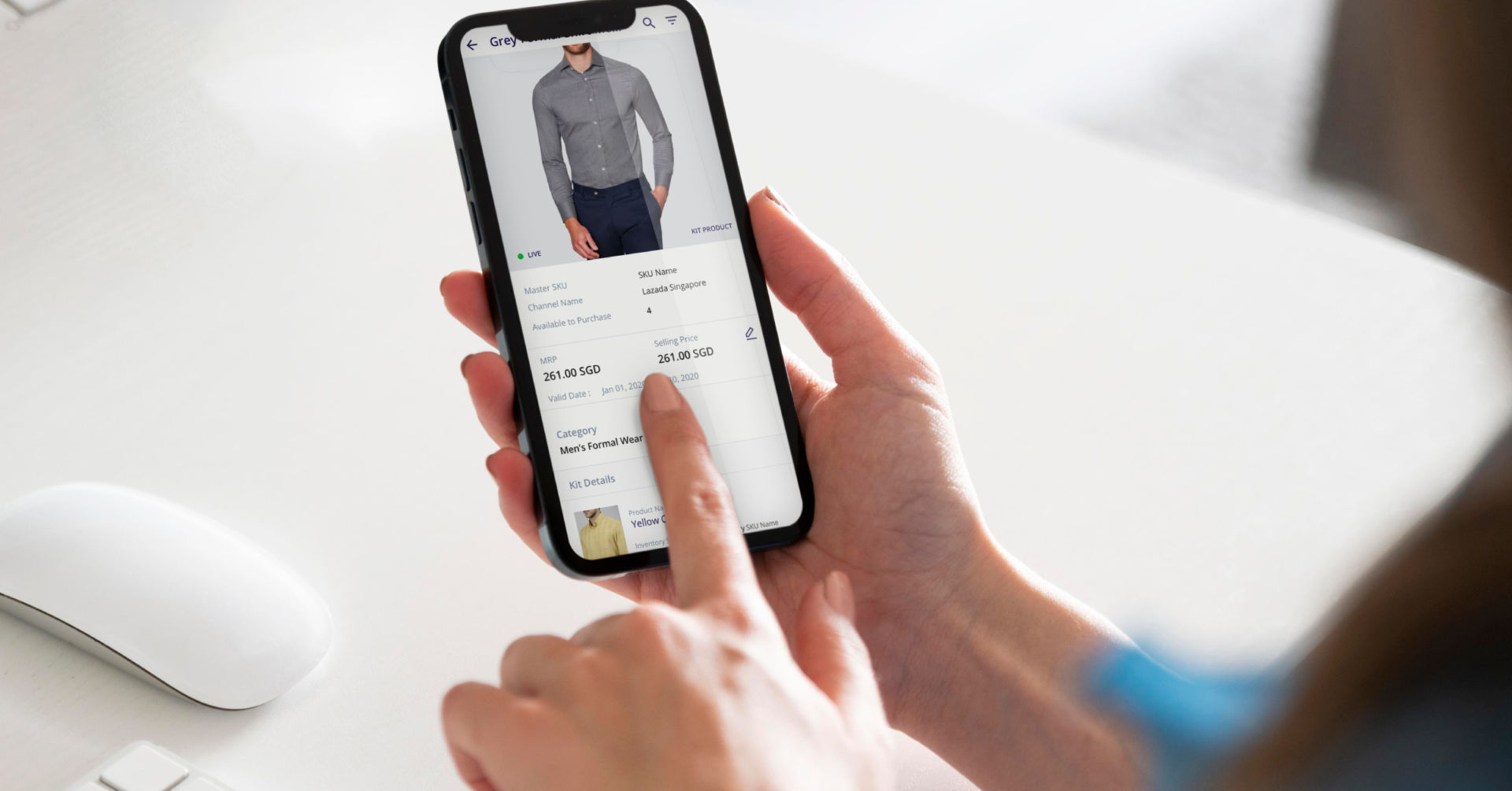 6. Conclusion
As a part of the largest online retail category, efficiency and customer experience should be your top priorities. But for this, you need to ensure every operation is performed smoothly even at the lowest level. Visibility at every level is equally required to gather customer insights, performance reports, and assess roadblocks if any.
Using technological solutions offers extensive control over operations and distribution networks. They provide you with instruments or pathways to take action to resolve issues. Through platforms that integrate your tech solutions, you can step into any of your networks to make estimates, changes, or additions and step back out. That way, you don't just observe but take quick action too.
For a comprehensive tech stack to solve all of your order and inventory management issues, get in touch with Anchanto today!
1, 2, 3, 4, 5, 6, 7, 8, 9, 10, 11, 12, 13, 14, 15
Short on time? Download now and read on the go.