Should you outsource eCommerce operations or manage them in-house for your brand?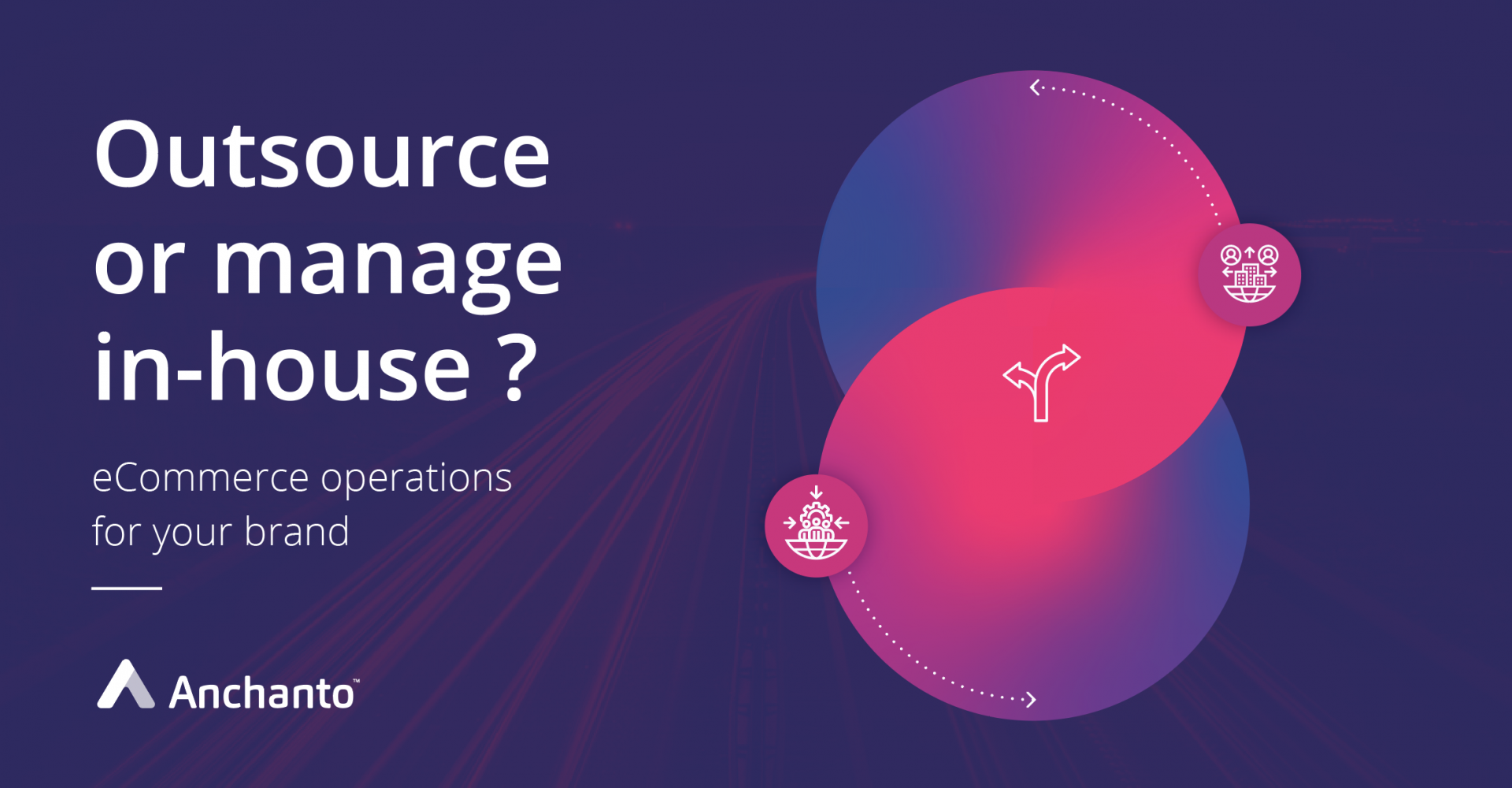 It is no secret that the global retail economy is changing fast and eCommerce has a significant part to play in this. It has resulted in a shift in consumer behavior and expectations, particularly with regards to easy returns, speedy fulfillment, and excellent customer service.
The challenges that your eCommerce brand faces today are not just limited to manufacturing & delivering quality products. Offering a seamless experience across multiple sales channels is the need of the hour. With customer experience becoming the primary focus, the question remains – Should your brand outsource eCommerce operations or manage them in-house?
Outsource vs In-House: A Comparison
In order to decide what is best for your brand, an in-depth understanding of both options is necessary.
Exemplary Customer Experience
When you outsource your operations, your control over customer experience goes away. From managing eCommerce platforms to delivering the product, the entire process is handled by an external party which then also becomes responsible for your brand experience
While managing operations in-house, you gain complete control over end-to-end eCommerce operations such as inventory management, order processing, catalog management, promotions management, etc. This way, you have the power to offer a pleasant brand experience to your customers.
Also, you can receive insights to optimize various factors such as cart abandonment, promotions performance, and customize a memorable shopping experience. It can help you truly differentiate your business from others in this highly competitive world of eCommerce.
Smoother Return Processing
A study conducted by invescpro.com 92% of consumers said that they will buy again if the product return process is easy whereas 79% of consumers want free return shipping.
An easy and quick return process will offer you a highly competitive edge over others. When you outsource your operations, the return process can get complicated. Therein, the product goes back to the 3PL partner and important feedback may be lost as the levels increase between you and the customer.
When operations are managed in-house, with every return, you can figure out the exact reasons behind it and implement strategies for smoother return processing.
Flexibility in demand reaction
When it comes to demand reaction, it is necessary for brands to remain flexible. If you outsource your operations, such situations may become chaotic for you to manage as these situations require immediate attention. If you have to restock a top-selling product, you need to be in sync with your service provider all the time, which may hamper the sales for your business.
In comparison, when you do it in-house, you have complete visibility over the supply chain. You can spot a fast-selling product easily and re-stock it instantly. Similarly, for a low sales product, you can run promotions and discounts through a centralized platform and optimize them efficiently.
Business Scalability
As you scale your business and your order volumes increase, the cost of fulfillment also increases. A change in your business model will lead to an increase in fulfillment related complexities. When you outsource your operations, the scalability of your business depends on your distributor/ service provider and factors like their stability, global reach, and presence across various countries. This may be a lucrative option in case they have a set infrastructure that can facilitate seamless scaling.
However, you can also scale your business in-house with your existing assets & resources and the right technology.
How can you leverage technology for your in-house eCommerce management?
The right technology can help your brand manage their eCommerce operations seamlessly. An appropriate Software-as-a-service (SaaS) technology platform can not only offer you a streamlined way of managing your operations, but also offer insightful data, complete visibility, speedy fulfillment, and much more. Take a look:
Supply chain visibility and order accuracy
Technology tools like an inventory management system ensure that you have complete visibility over your stock at every step of the supply chain- all in real-time. Equipped with this visibility, you will have better control over the order flow across multiple sales channels.
Using a centralized platform with inventory and order sync facility will ensure 100% order accuracy. It helps you keep track of your top and bottom performing products, enhancing product organization, keeping track of fast selling products, and gauging replenishment levels- helping you in enhancing the customer experience.
Pricing Discounts and Promotions
A SaaS platform not only allows you to set pricing discounts and promotions across marketplaces but also track and monitor them closely. With a clear view of your sales, you can set promotions and discounts for low selling products and track them in real-time, thus allowing you the flexibility of reaction to demand. When it becomes simple to perform such operations on just one platform, you can push your eCommerce presence in a new direction.
Speedy fulfillment:
With more and more customers demanding faster deliveries, speedy fulfillment is the need of the hour. By leveraging a multi-channel inventory management system that enables you to integrate an Order Management System (OMS), you can speed up the fulfillment times without any extra cost. Using an OMS connected with a full-suite Warehouse Management System will allow you to keep a check on your stock levels across multiple locations and enable you to send order details to a fulfillment center that is closest to your customer, thus speeding up the fulfillment process.
Cost-effective scaling
With SaaS, you can scale your business at minimum costs. A centralized platform that integrates with multiple marketplaces and facilitates inventory and order sync will help you manage huge order volumes without the hassle or the extra cost. It will also help automate all your warehouse processes and streamline them. It will also help in the efficient use of storage space as you scale.
As the modern customer matures and the competition grows intense, you need to ensure that you offer every customer an exemplary experience right from the start. With the help of sophisticated multi-channel management systems, you can guarantee that you deliver a seamless brand experience and gain a competitive edge.