ท็อป 4 อุปสรรคและวิธีการแก้ไขในโอมนิชาแนล: คู่มือสมบูรณ์ + ตัวอย่างกรณีศึกษา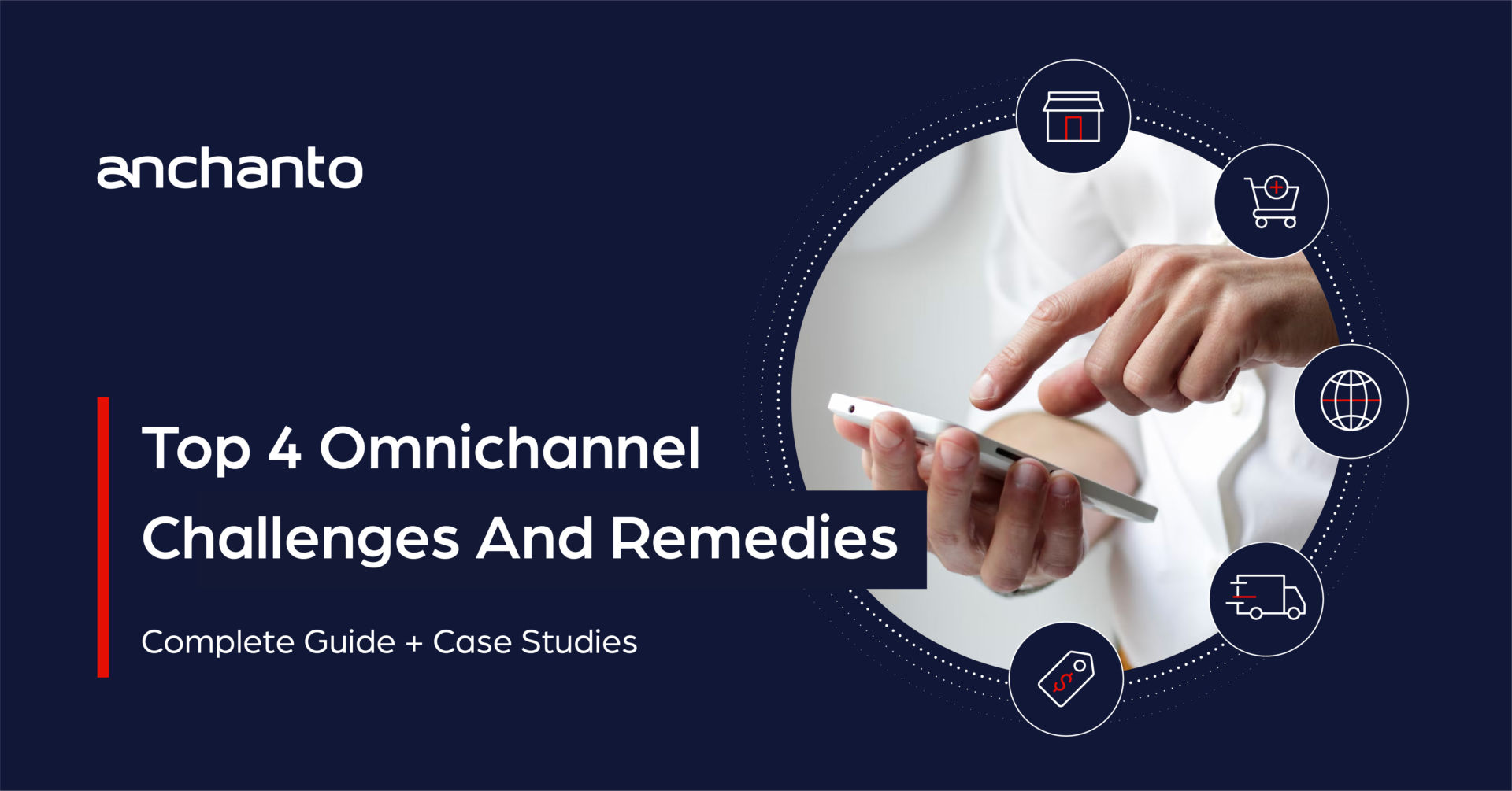 Short on time? Download now and read on the go.
1. บทนำ 
ศักยภาพของช่องทางการค้าทั้งหมดในปัจจุบันนั้นมีอยู่เป็นอย่างมาก แทนที่จะเดินทางระหว่างออนไลน์และแบบดั้งเดิม ผู้บริโภคในปัจจุบันคาดหวังที่จะได้รับประสบการณ์รวมกันจากทั้งสองช่องทางการค้า
Eric Hazan, ผู้รับผิดชอบบริหารสูงสุดในบริษัท McKinsey (ปารีส) ให้ความเห็นเช่นเดียวกัน เขากล่าวว่า "เรากำลังเข้าสู่โลกของ "ไฟจิตอล" – ร่วมกันระหว่างทางกายภาพและดิจิตอล ที่ไม่มีโลกทางกายภาพหรือโลกดิจิตอลอย่างแท้จริงในธุรกิจขายปลีก แต่เป็นโลกที่เชื่อมต่อกันอย่างสมบูรณ์"
นี่คือสถิติการบริโภคบางส่วนจากรายงาน "อนาคตของธุรกิจขายปลีก" เพื่อพิสูจน์ข้อเท็จจริงนี้:
ของผู้บริโภคกล่าวว่าในปีหน้าพวกเขามีแนวโน้มที่จะค้นคว้าสินค้าออนไลน์และซื้อสินค้าทางกายภาพ
55% ของผู้บริโภคตั้งใจที่จะเรียกดูสินค้าออนไลน์และตรวจสอบความพร้อมใช้งานในร้านท้องถิ่น
47% ของผู้บริโภคต้องการตัวเลือกในการซื้อสินค้าออนไลน์และคืนสินค้าที่ร้าน
58% ของผู้บริโภคต้องการตัวเลือกการจัดส่งที่ยืดหยุ่นเช่น BOPIS (ซื้อออนไลน์และรับสินค้าที่ร้าน)
เหล่านี้เป็นเพียงความคาดหวังเล็กน้อยที่ร้านค้าต้องตรงกันในปัจจุบัน ตามเวลาผู้บริโภคคาดหวังจะเติบโตมากขึ้นและความซับซ้อนในการตอบสนองความต้องการของพวกเขาจะเพิ่มขึ้นไปด้วย
Vicky Hardiman, Country Head for Indonesia at Anchanto says, "การค้าปลีกออมนิชาแชนเนลเป็นเรื่องที่ซับซ้อนขึ้นเนื่องจากมีส่วนประกอบหลายอย่างที่เกี่ยวข้องกัน การดำเนินการของการค้าปลีกออมนิชาและขั้นตอนที่เกี่ยวข้องสามารถแตกต่างกันไปในแต่ละอุตสาหกรรม และบางครั้งแม้ว่าจะอยู่ในอุตสาหกรรมเดียวกันแต่ธุรกิจต่างๆอาจมีกระบวนการที่ไม่เหมือนกันตามที่ตลาดหรือความต้องการของลูกค้าต่างๆ."
มาเรียนรู้เรื่องราวเกี่ยวกับปัญหาหลักที่พบในการค้าปลีกออมนิชาและวิธีการแก้ไขบางส่วนกัน
2. ปัญหาที่พบบ่อยในการค้าปลีกออมนิชาแบบออมนิชา
ไม่ใช่เรื่องง่ายที่จะทำการบริหารธุรกิจและปรับปรุงในอุตสาหกรรมค้าปลีกในช่วงเวลาประจำวันโดยใช้ทรัพยากรที่มีอยู่ สถานการณ์ที่เป็นจริงในอุตสาหกรรมค้าปลีกในปัจจุบันคือความต้องการในตัวเลือกออมนิชาที่เพิ่มขึ้น
หากไม่มีวิธีที่เหมาะสมในการทดแทนระหว่างการค้าปลีกออนไลน์และออฟไลน์ คุณอาจพบค่าใช้จ่ายสูง ไม่สะดวกสบาย และอาจพบปัญหาต่อไปนี้ได้เช่นกัน: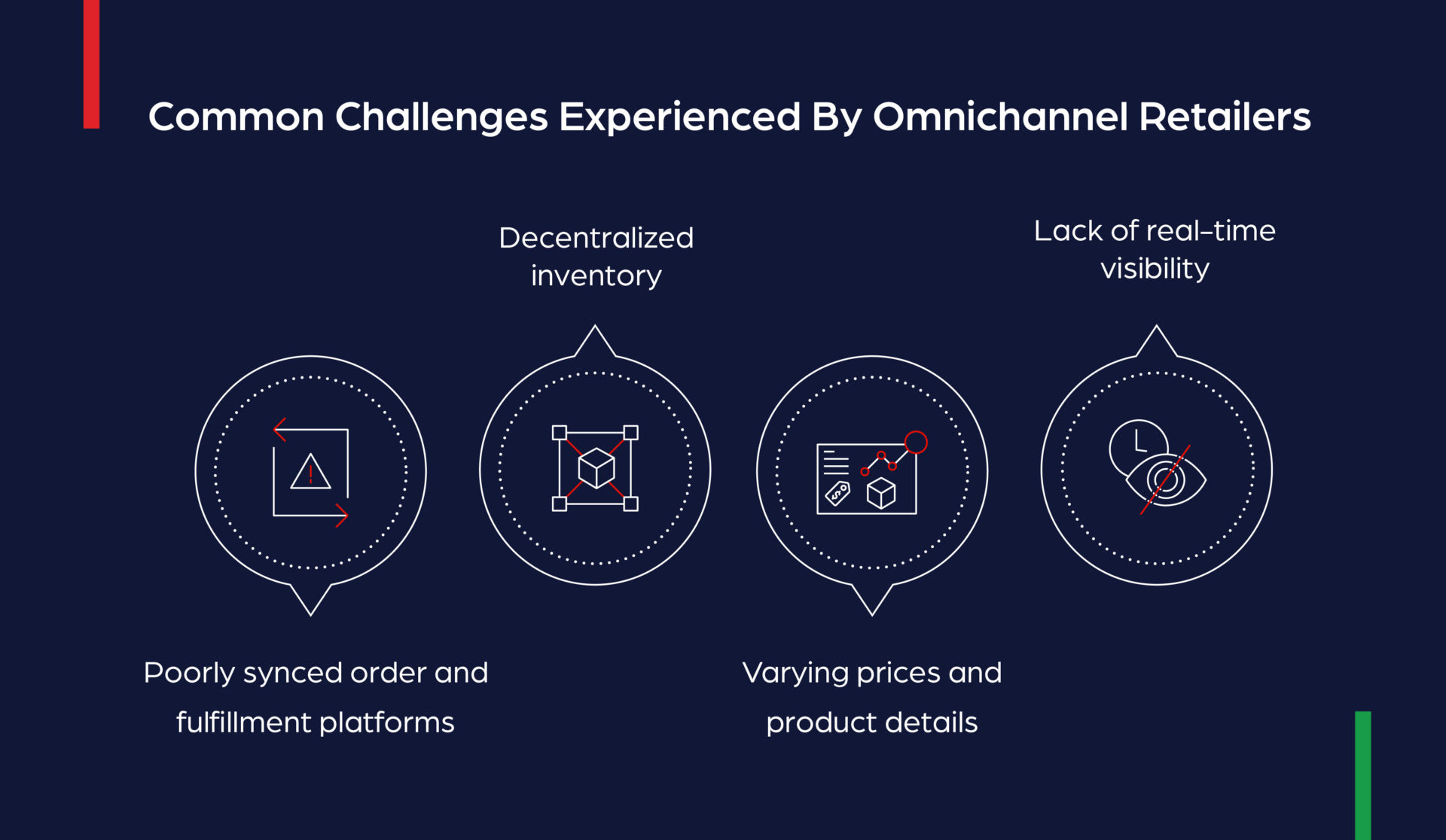 a. ระบบสั่งซื้อและจัดส่งที่ไม่สะดวกสม่ำเสมอ
ในขณะที่การจัดการช่องทางออนไลน์และออฟไลน์แยกกันนั้นท้าทาย ความยากลำบากจะเพิ่มขึ้นเมื่อเรารวมทั้งสองแบบเข้าด้วยกัน ตัวอย่างเช่นการซื้อออนไลน์และรับสินค้าที่ร้าน (BOPIS) การลองสินค้าแบบออฟไลน์แล้วซื้อออนไลน์ การรับสินค้าที่สถานที่รองรับ (curbside pick up) ฯลฯ
ในทุกกรณีนี้ คำสั่งซื้อที่ได้รับต้องถูกสื่อสารไปยังร้านหรือคลังสินค้าที่ใกล้ที่สุดกับลูกค้า หลังจากนั้น สินค้าต้องได้รับการดำเนินการและแพ็คเกจโดยรวดเร็วเพื่อให้ผู้ซื้อสามารถมารับสินค้าได้ในเวลาไม่กี่ชั่วโมง
การใช้ระบบเก่าหรือกระบวนการทำงานด้วยวิธีดั้งเดิมในการสื่อสารคำสั่งซื้อแบบออมนิชาไปยังร้านที่เกี่ยวข้องเป็นสูตรสำหรับความเสียหาย โดยที่ต้องการการแทรกแซงของมนุษย์ เป็นเรื่องที่ใช้เวลาในการส่งคำสั่งซื้อและรายละเอียดอาจถูกสื่อสารผิดหรือไม่ได้สื่อสารเลย
สิ่งนี้ไม่เพียงแต่ทำให้การขายเสร็จสิ้นล่าช้า แต่ยังสร้างประสบการณ์ที่ไม่ได้มีความพอใจสำหรับลูกค้าของคุณ
และที่แย่กว่าคือ การวิจัยพบว่าเพียง 1 ใน 10 ผู้บริโภคเชื่อว่าธุรกิจสามารถสร้างประสบการณ์ออมนิชาที่ไม่มีช่องโหว่ได้ และปัญหาที่เกิดจากการไม่สะดวกตรงของระบบสั่งซื้อและการจัดส่งมีผลมากในเรื่องนี้
b. การจัดเก็บสินค้าแบบกระจาย
When online orders come in and the nearest fulfillment center to the buyer is low on inventory, you need to connect the other with another fulfillment location to complete the orders. And, locating the next nearest center to fulfill the orders can take time.
Also, a legacy system may not offer real-time updates about inventory dips or stockouts. So despite your stock being sold out, you may still accept orders with no alternative fulfillment option. All new orders will have to wait until stock replenishment.
These situations may occur when dealing with online orders but also with BOPIS orders or offline to online orders. If you're not sure about the inventory available in your warehouses, stores, or fulfillment centers you could cause delivery delays, missed SLAs, and customer dissatisfaction.
Moreover, managing multiple retail channels and locations for fulfillment through manual or legacy systems can cause inventory allocation complications and misappropriations.
"This is a major issue omnichannel retailers face. Failing to maintain inventory accuracy across multiple channels can result in overselling and underselling, and could make it difficult to satisfy urgent orders, orders for out-of-stock products, or bulk purchases," says Vicky.
c. Varying prices and product details
Product description and pricing disparity are a big put-off when browsing through products online and offline. You see, today's consumers engage in cross-channel shopping, also known as showrooming and webrooming. This involves examining products in brick-and-mortar stores or researching them in digital stores before buying them through the opposite channel.
For example, a shopper considers examining laptops offline to get a feel of the size, functions, and capabilities of the product before buying it online for convenient delivery. Alternatively, the shopper may want to research the same product online and buy it offline to own it immediately.
A survey shows that currently, 51% of global consumers click and ship, that is buy through their phones while inside a retailer's store from that same retailer's website. The survey also states that 6 out of 10 shoppers buy products through their mobile phones from inside a retailer's store, but the purchase is made with another retailer's website.
It is important to take note of these statistics because if the pricing and product information shared through your online listings differ, consumers may be unhappy. They may think you're selling them a knock-off, cheating them on the pricing, or are unprofessional.
With a legacy system, manual management, or a system that is not built for omnichannel needs, it's challenging to manage uniform product prices and details across online and offline platforms. And this greatly affects omnichannel retail.
d. Lack of real-time visibility
Selling through different online and offline platforms makes it hard to track your sales, customer preferences, and inventory levels. Without the means to collect data quickly and derive fast reports, you lack real-time visibility of your performance, assets, and customer requirements.
A lack of immediate visibility makes it challenging to assess performance levels, meet SLAs, offer personalized experiences, forecast stock requirements and actions, make immediate decisions, etc.
Insufficient promotion data also makes it tough to gauge the effectiveness of your sales and if they justify your costs. This limits your scope during seasonal periods or when you have an inventory surplus or want to introduce a new product to your market.
Additionally, the data visibility issue also prevents you from managing orders across your different outlets to minimize delivery time and avoid stock shortage issues. You even lose track of which brick-and-mortar outlets or fulfillment centers will take care of the delivery, making it difficult to optimize last-mile delivery.
3. Top solutions omnichannel retailers can count on
With more clarity on the challenges of omnichannel retail, it's easier to understand what your business requires to lessen the strain. But to meet these requirements, you'll need structure to connect and sustain your retail network.
Sajal Kohl, Senior Partner at McKinsey Chicago said in an Omnichannel insights report, "A lot of the resource investment—both human capital and capital expenditure in dollars—needs to shift away from opening new brick-and-mortar stores and toward putting it into technology."
To bridge the gaps present in today's omnichannel retail and centralize operations, you need advanced technology, specifically speaking, cloud-based SaaS technology. Without SaaS systems to manage your offline and online operations, the silos between sales, warehousing, and fulfillment operations will persist.
So, here are some of the features you need to look for in the technology solutions you consider using: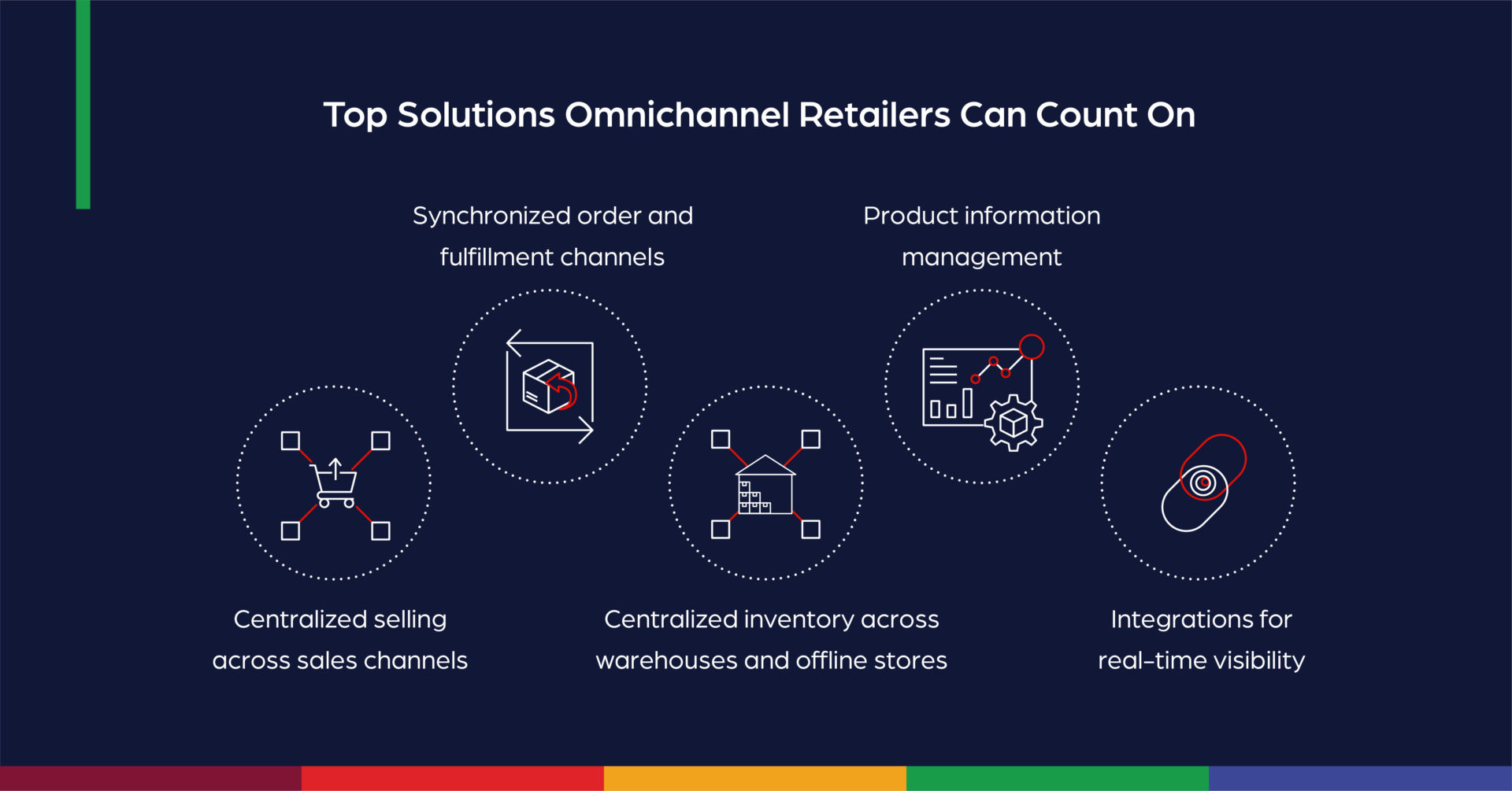 a. Centralized selling across sales channels
If you engage in omnichannel retail where you have online and offline retail outlets, you need to manage your sales appropriately and make sure your inventory is available and visible across all your sales channels whether it's for replenishment or order fulfillment.
This can be handled easily with the combination of an Order Management System (OMS) and Warehouse Management System (WMS).
An OMS centralizes orders for each of your online sales channels so you can monitor sales and ensure pending orders are catered to immediately. The system can also track offline sales through POS integrations so you're alerted of sales completed offline. It's highly suitable if you use 3PLs to manage inventory and fulfillment and want to connect them to your sales channels for faster order processing.
A WMS is a great solution if you manage your own warehouses. It consolidates inventory so you have better control over it. You can automate major order fulfillment processes and sync inventory management with order processing. The WMS even helps complete online order fulfillment quickly and replenish stocks at your warehouses swiftly and efficiently.
WMS and OMS cloud-based SaaS systems also enable the segregation of online-only and offline-only inventory. For example, if you want to promote sales across your offline stores, you may want to sell only specific (high-demand) products through them. The WMS registers the inventory for your brick-and-mortar stores and ensures they are delivered to these outlets without mix-ups.
b. Synchronized order and fulfillment channels
Apart from the straightforward omnichannel practice of owning online and offline retail channels, you can combine their features to offer convenient and personalized services – like BOPIS, try offline buy online, buy online return offline, etc.
These combinations can improve customer experience significantly when managed properly, and a powerful OMS can achieve this. With its advanced capabilities, an OMS can alert the exact store or fulfillment center that needs to meet online-to-offline or offline-to-online fulfillment.
For example, if a customer places an order online for a pair of shoes, the OMS will alert the offline store closest to the customer's location and have the product ready for immediate pick-up.
c. Centralized inventory across warehouses and offline stores
A cloud-based WMS can help centralize stock across your private warehouses and stores so it is visible over a single platform.
Anchanto's Vicky Hardiman says, "A transparent and real-time warehouse management system is mandatory to have visibility for different stock movements."
With this capability, you can check up on the stock levels in your offline stores, warehouses, or fulfillment centers. Once an item is picked from your storage or store shelves and processed (or scanned), your inventory will be deducted accordingly. And every time new stock is received, every item will be scanned and your inventory levels will be updated. The same goes for returned products once they pass quality checks. A WMS can also track the count of damaged, reserved stock, freebies, and more.
With complete visibility of all the items at your retail centers and fulfillment locations, you can easily coordinate online order deliveries and pickups. If you have a store experiencing high demand and depleting stocks, you can easily transfer their purchase orders to your other nearest stores. Or you could offer them the option to buy online now and have the purchase delivered later.
With complete visibility of your inventory, you can control it completely, which means faster fulfillment, SLA completion, fewer delays and errors, and happier customers.
d. Product information management
For you to maintain uniform product and pricing information across all your retail channels, you need to have a central source of product information. That way, all products across your stores are updated appropriately.
With a Product Information Management system, you can maintain universal product details and pricing offline and online. These systems enable auto updates and only provide product information access to authorized individuals. Moreover, new updates can be made immediately across several channels in a single move.
Through the uniformity you offer, your customers will feel more confident shopping with you online and offline. It will also encourage them to use your special omnichannel features like BOPIS.
Besides this, a PIM offers you the opportunity to share and manage customized and complex promotions, offers, discounts, pre-booking options, or even omnichannel flash sales for your different ranges of products.
Competitor insights technology like Digital Shelf can also serve as a big plus when updating pricing and product information. This e-commerce SaaS technology offers competitor insights like product details, reviews, and pricing information for comparison. It also helps you monitor your online performance.
e. Integrations for real-time visibility
Choosing an intelligent OMS and WMS gives you the advantage to integrate with different sales platforms. For example, you can connect these systems to different marketplaces, online stores, and brick-and-mortar outlets. This consolidates real-time data from multiple channels and interconnected ecosystems for complete visibility of sales, inventory, and operational efficiency.
OMS and WMS systems even integrate with different carriers and fulfillment partners to effectively communicate delivery requirements to them. These integrations can track the carriers throughout the delivery journey and foresee delays which can be conveyed to customers or your team at the pickup point.
Given the visibility and control offered by Order Management and Warehouse Management systems, you will find it easier to check on your sales performance, inventory levels, and SLA improvements. At the same time, you'll be able to design and generate reports to forecast sales and inventory requirements, derive customer details for custom experiences, renew sales strategies, and take vital decisions.
An added benefit of the powerful API integration technology of today's OMS and WMS technology is that they have the capacity to sync with other technologies that your business depends on. For example, SAP, Quickbooks, POS systems, and ERPs can be integrated with cloud-based SaaS technology. That way, you don't have to give up the systems you enjoy working with.
4. Examples of omnichannel retailers using OMS and WMS technology
An OMS and WMS in combination can work wonders for your omnichannel retail as these systems track your orders and inventory and share accurate information across your networks. With these systems communicating with each other and the teams operating them, you don't have to invest in more resources or waste time.
A majority of your operations will be automated and large order volumes and complicated requests will be handled with ease. To see these systems in action, here are a few examples of professionals using OMS and WMS technology:
a. Poney Group
Poney Group is a leading children's wear brand in the Malaysian market with over 40 domestic retail locations and a presence in 9 countries. The brand has an e-commerce presence, international business union, and offline retail stores. Given the scale of its operations, Poney Group has a sizeable market, but struggled to manage and fulfill orders efficiently.
"When our orders shot up in 2020, we were unable to keep up through manual processes. That's when we realized we indeed a solution to fulfill orders within limited operation time and fixed manpower," says Rudy Dong Chao, Head of E-commerce and International Business Union at Poney Group
During its search for a solution to manage high order volumes, Poney Group came across Anchanto. The SaaS technology from Anchanto required very little commitment and was aligned with the Poney Group's vision. Anchanto's technology also offered integrations with various marketplaces, carriers, and software providers, which help Poney Group:
Manage inventory
Control sales channels
Significantly reduce error rates
Receive flexibility to fulfill customer requirements
Expose products to different markets
"Before Anchanto, there were a lot of error orders and picking errors adding to costs. Finding the exact products ordered across 1000 locations was a big challenge every day, which again led to delays, cancelation and return expenses," says N. Gopala Krishnan, Warehouse and Distribution Manager at Poney Group.

b. Luxasia
Luxasia is an omnichannel beauty retailer in the APAC region with over 2,000 retail stores across 11 countries. The retailer houses some of the finest beauty brands from all over the world – across niche, prestige, and premium categories. Some of the brands on their luxurious shelves include Guerlain, Hermès, Loewe, Paco Rabanne, and Calvin Klein.
Being a representative of brands synonymous with high status and opulence, Luxasia bears a heavy responsibility to uphold.
But given that their omnichannel network is present across 11 countries and caters to online and offline needs, Luxasia began to experience the following challenges:
Limited control over performance and visibility over operations
Operational errors as the retailer's sales channels weren't aligned
Restricted growth due to limited experience with eCommerce ecosystems
Inability to replace existing SAP systems
After learning about Anchanto Order Management – a leading multichannel eCommerce management software, Luxasia achieved 7X growth and fulfilled its ambition of running seamless operations in just 1 year. The retailer was also able to:
Expand across eCommerce marketplaces
Transform with existing assets
Control and visibility across regions
Achieve error-free eCommerce management

c. Valiram
Valiram is a luxury goods and retail specialist with omnichannel offerings. The retailer has a vast portfolio of more than 200 international brands. They chose Anchanto's OMS and WMS technology to enable their pragmatic eCommerce vision and strategy, grow their sales across countries and categories, and onboard more brands while keeping the same quality insurance and values at heart.
"To expose our portfolio of brands to a wider audience, and offer them a unified experience across online and offline sales channels, we need a strong technology infrastructure," says Mukesh Valiram, Executive Director of Valiram.
Their mission was to build scalable backend operations and so they needed a technology partner to consolidate and standardize their digital processes while working for global brands such as Michael Kors, Tumi, Tory Burch, Victoria's Secret, Bath & Body Works, Giuseppe Zanotti.
With Anchanto's SaaS technology, they plan to achieve a significant increase in the efficiency and quality of operations while growing their business across various channels.

5. Conclusion
Omnichannel retail is evolving to better the shopping experience of consumers today. Consumers want a mix of online and offline retail for convenience and mixing the two can actually help your business cut down delivery and return costs.
While advantageous, you are also aware that omnichannel retail is complicated and challenging. With several moving parts operating inconsistently, it's impossible to believe that omnichannel is picking up today. But this is only the result of implementing supportive tech stacks like OMS and WMS systems. They seamlessly fuse online and offline retail spectrums to deliver a unique and exciting experience to consumers.
These SaaS systems give you complete control over your business, insights, a clear view of your sales, operations, staff, and inventory, and so much more.
For insights and technology to succeed in the omnichannel retail industry, reach out to the experts at Anchanto.