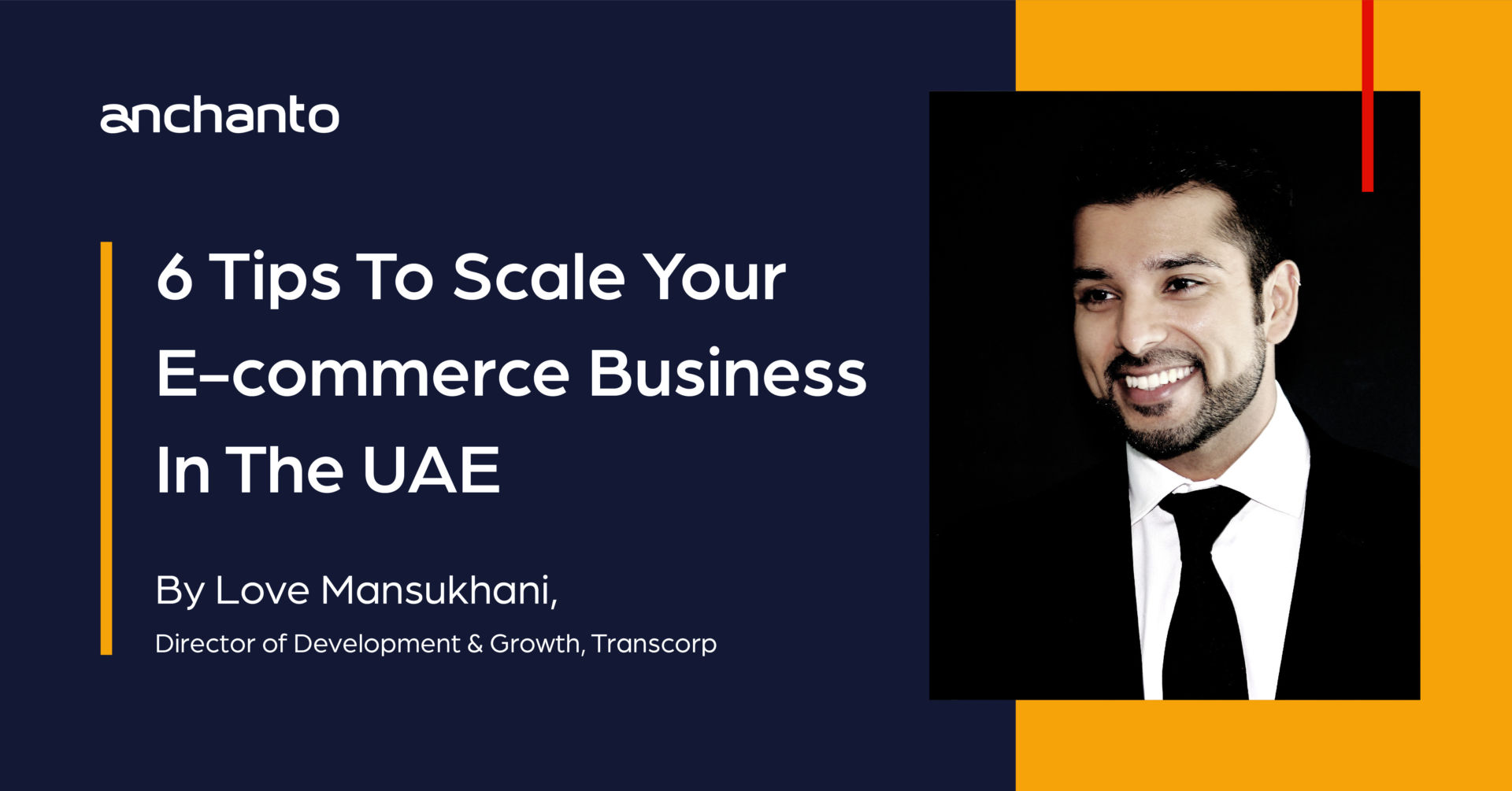 6 Tips To Scale Your E-commerce Business In The UAE
Introduction
The UAE is well known for its glamorous stores and significant retail market size. But how much of this vast market makes up for online retail?
Currently, e-commerce accounts for only 2% of the Middle East's retail market. This presents an opportunity for the growth of various businesses in retail, as two-thirds of customers in this region expect online shopping options.
In the GCC, several consumers are spending money online at least once a day, which is a 50% increase in the last 12 months. The reason for the e-commerce growth spurt is the rising demand for convenient shopping experiences and the evolution of sales strategies and consumer behavior.
"We saw a lot of up-and-coming e-commerce businesses in the Middle East over the last 2 years. And these businesses are looking for solutions in warehousing, cold-chain, and fulfillment," says Love Mansukhani, e-commerce logistics expert and Director of Development & Growth at Transcorp.
In a conversation with us, Love further explained how the e-commerce landscape is changing, how logistics businesses like Transcorp are evolving and supporting the e-commerce industry, and what retail companies should do.
We've highlighted some of his resonating insights below along with 6 tips to scale your e-commerce in the UAE.
1. Seek integration-powered warehousing solutions
To ensure speedy fulfillment, logistics companies are adopting inventory management technology. This technology becomes more powerful when synced with customers' e-commerce ecosystem. Connecting e-commerce platforms with inventory management systems helps quickly centralize orders, match them with appropriate inventory, and dispatch them for delivery.
Realizing the demand for tech-savvy e-commerce logistics solutions, Transcorp advanced its operations and implemented a warehouse management system with integrative technology. The system helps it offer retail customers a seamless connection between its sales platforms, inventory, and carriers, without added costs.
According to Mansukhani, "If a logistics company provides the best solutions but does not integrate them seamlessly and cost-effectively with their customers' ecosystem, they're no longer an option."
2. Employ a backend management partner
Retail businesses today are eyeing opportunities that will help them sell faster in the Middle East. As a result, there will come a day when businesses prioritize online storefronts before seeking a brick-and-mortar setup. This will boost the demand for businesses that take care of warehousing, fulfillment, and logistics.
"In time, businesses and customers will want all orders delivered as soon as possible. Whether it's on the same day or the next day. Anything beyond this is already seemingly unacceptable. To satisfy this demand, e-commerce businesses will need to store certain inventory quantities with companies like ours which offer a one-stop-shop solution to start-ups and larger organizations alike. At Transcorp, we specialize in the cold chain sector and handle the most sensitive segments including F&B, beauty, pharma, and more. Our vision is to be a leading authority in the cold chain cycle offering warehousing, fulfillment, and last-mile delivery services," says Mansukhani.
3. Partner with companies that add value
Making an impact in the Middle East is tough given the number of retail businesses penetrating the market. To stand out and enhance performance, it's vital to work with partners that add business value.
"In the logistics industry, great partners are those who have reach and can cover a larger area that retail businesses are targeting. So, if the goal is to focus on market acquisition in any region, collaborating with a company that has great reach is essential. More importantly, it's imperative to let professionals do what they do best and let entrepreneurs focus on other facets of their business. The warehousing, fulfillment, and logistics game is neither a small investment nor a simple operation, however when powered by technology, like at Transcorp, it makes the process a lot simpler and enables a seamless end-user experience," says Mansukhani.
Retailers can consider working with logistics businesses that have the bandwidth to deliver to all 7 emirates daily including remote areas. At the same time, they should check if these logistics companies offer cold chain storage capabilities for temperature-sensitive products.
Collaborating with logistics companies that offer business insights based on accurate data is also a plus. These data points may include how many deliveries were successful, how many cash-on-delivery orders were completed, how many orders were returned, etc. With this vital information, businesses can make adjustments to their processes and enhance customer experiences.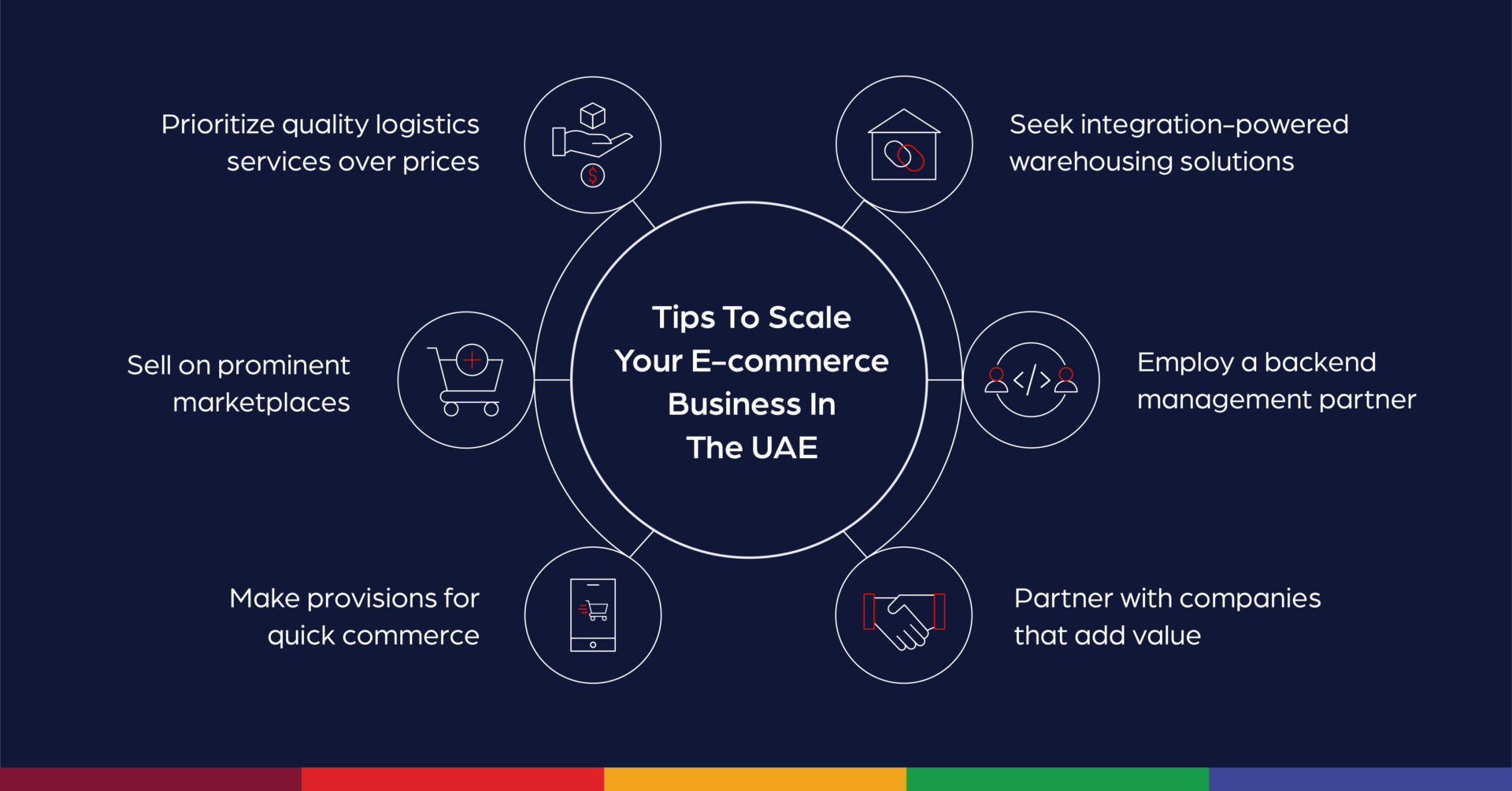 4. Make provisions for quick commerce
Mansukhani says, "Today, quick commerce is popular in the grocery sector. But it will certainly influence other industries as well like the beauty sector, the fashion sector, and so on until every sector offers quick commerce."
To make provisions for quick commerce, retail businesses must assess the capabilities of their logistics providers. A broad delivery network alone isn't enough. These partners must be well-equipped with technology for live inventory tracking, automated order processing, and quick communication with carriers. This will help control the end-to-end experience and reduce the possibility of delays.
5. Sell on prominent marketplaces
The growing number of online marketplaces in the UAE currently provides a broader sales network for businesses. However, businesses need to choose where they sell wisely because some e-commerce platforms will be doing better than others in terms of footfall, reach, and more.
"I feel marketplaces are becoming too common as there are way too many, and that is something we need to keep an eye on," says Mansukhani.
For now, it's possible that more marketplaces will emerge. But over time, there are high chances that only a few strong ones will remain. That's why it makes sense to keep a close watch on the various online marketplaces that exist today and understand what they're offering.
6. Prioritize quality logistics services over prices
Service costs are always a concern in business but can be worth it if the desired quality is received. Online consumers seek high-quality shopping experiences and while retailers take care of online interactions, they rely heavily on logistics providers to deliver great experiences.Businesses must consider logistics services with niche offerings that match their requirements like cold storage, temperature control, automated product expiry management, etc.
Mansukhani says, "Transcorp delivers over 20,000 boxes a day with a success rate of over 98% making us one the leading service providers in the region. Our offering allows us to optimize costs for a premium service which serves as a double-edged sword enabling us to help our partners in different ways and earn their loyalty."
For more tips to make an impact in e-commerce, dive through our resources or reach out to our experts here.